The Europe Green Coating market is witnessing a high growth due to the rise in construction and automotive markets. The report estimates the size of the Green Coating market both in terms of volume and value. The report provides a comprehensive overview of the key market drivers, challenges and issues. Europe Green Coating Market is estimated to reach $14,766.09 million by 2019, growing at a CAGR of 0.9% from 2014 to 2019. The key driver of the market is the stringent government regulations especially those concerning air pollution continues to be a driving force behind the adoption of new,low-pollution coating technologies.
The report "Europe Green Coating Market" defines and segments the Green Coating market in the region with analyses and projections of the size of the Europe Green Coating Market with respect to volume (KT) and value ($million).
Any coating that does not pollute the environment or indirectly reduces pollution during any of its stages can be termed as green coating. Basic raw materials for green coatings are additives, binders, and pigments.
Green coatings material is usually expensive compared to solvent or other local paints and coatings available in the market but these green coatings show higher/comparable performance properties than the conventional toxic paints.
Waterborne Coatings, Powder Coatings, High-Solids Coatings and Radiation Cure Coatings are the major types of the green coating in the coating industry.
The companies that deal with green coatings are constantly focusing to develop new waterborne coatings with different formulations that have antibacterial and anti-odor properties with them and that follows the regulatory environmental standards defined by EPA, REACH, and other environment & health care agencies.
The rapidly growing supplies of cost competitive biobased materials, increased demand and an emphasis on decreasing carbon footprints are the ideal factors that drive the rise in sales of biobased raw materials in the European region.
The Europe Green Coating Market report covers the Green Coating market in Europe and its key trends concerning with major countries such as Germany, U.K., Italy and others in the region. The major applications covered in the Europe Green Coating Market are architectural coatings, automotive coatings, industrial coatings, high performance coatings, wood coatings, packaging coatings, & product finishes.
Further, as a part of qualitative analysis, the research report provides a comprehensive review of important drivers, restraints, opportunities, and key burning issues in the Europe Green Coating Market.
The Europe Green Coating Market report also provides an extensive competitive landscape of the companies operating in this market. It also includes the company profiles and competitive strategies adopted by various market players, AkzoNobel N.V. (The Netherlands), BASF S.E. (Germany) and other market players in the Europe Green Coating Market.
Customization Options:
Along with market data, you can also customize MMM offerings that are in keeping with your company's specific needs. Customize your report on the Europe Green Coatings Market to get an insight into all-inclusive industry standards and a deep-dive analysis of the following considerations:
A detailed analysis of the types of green coatings can be provided i.e. waterborne coatings, powder coatings in terms of resin types, its applications and its consumption at country level
Detailed information of Radiation Cure coatings can be provided (on the basis of its additives)
Comparison between Green & Solvent borne coatings
Historic data of the global waterborne coatings can be provided from 1990 – 2010
SWOT Analysis of the top companies of the Europe Green Coatings Market
1 Introduction
1.1 Objective of the study
1.2 Market Definitions
1.3 Market Segmentation & Aspects Covered
1.4 Research Methodology
1.4.1 Assumptions (Market Size, Forecast, etc)
2 Executive Summary
3 Market Overview
4 Green Coating-Europe, By Applications
4.1 Split By Geography
4.1 Green Coating-United Kingdom by Applications
4.1 Green Coating-Germany by Applications
4.1 Green Coating-Italy by Applications
4.1 Green Coating-Others Europe by Applications
4.2 Green Coating-Building & Construction-Europe
4.3 Green Coating-Automotive Paints-Europe
4.4 Green Coating-Industrial Applications-Europe
4.5 Green Coating-Packaging-Europe
4.6 Green Coating-Bedding-Europe
5 Green Coating-Europe, By Geographies
5.1 Green Coating-United Kingdom
5.2 Green Coating-Germany
5.3 Green Coating-Italy
5.4 Green Coating-Others Europe
6 Green Coating-Europe, By Companies
6.1 Competitive landscape
6.2 Split By Geography
6.2 Green Coating-United Kingdom by Companies
6.1 Green Coating-Germany by Companies
6.1 Green Coating-Italy by Companies
6.1 Green Coating-Others Europe by Companies
6.3 Green Coating-Europe-AkzoNobel N.V.
6.4 Green Coating-Europe-BASF SE
6.5 Green Coating-Europe-Axalta Coating Systems Llc
6.6 Green Coating-Europe-Nippon Paint Company Ltd.
6.7 Green Coating-Europe-Berger Paints India Limited
6.8 Green Coating-Europe-The Sherwin-Williams Company
6.9 Green Coating-Europe-The Valspar Corporation
6.10 Green Coating-Europe-PPG Industries Inc
6.11 Green Coating-Europe-Asian Paints Limited
6.12 Green Coating-Europe-Deutsche Amphibolin Works Se (Daw)
6.13 Green Coating-Europe-Hempel A/S
6.14 Green Coating-Europe-Jotun A/S
6.15 Green Coating-Europe-Kansai Paint Company Limited
6.16 Green Coating-Europe-Masco Corporation
6.17 Green Coating-Europe-Rpm International Inc
6.18 Green Coating-Europe-Tikkurila OYJ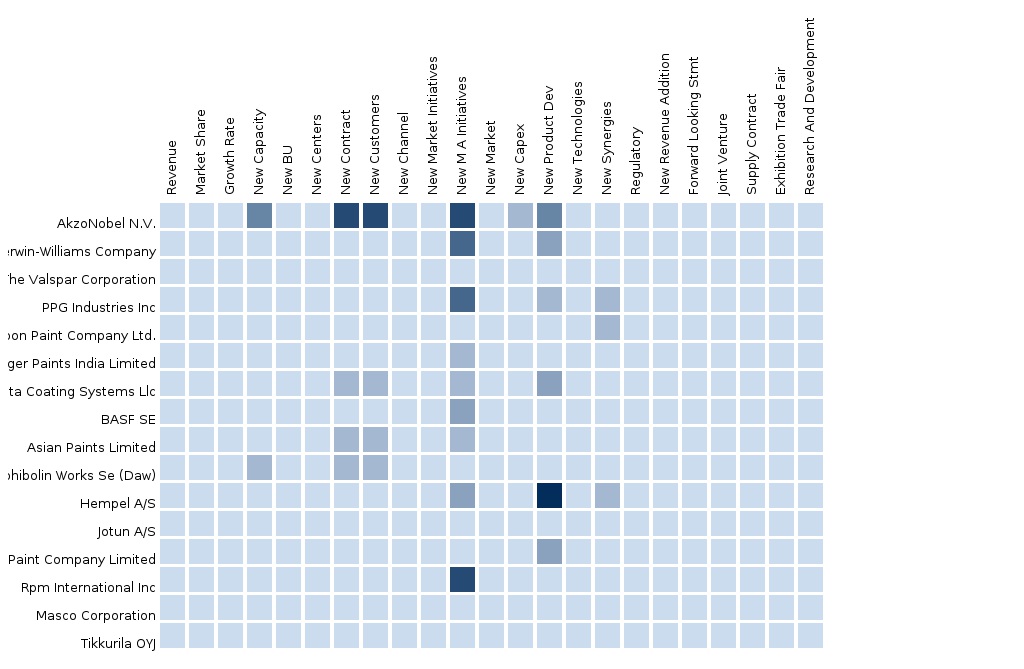 Please fill in the form below to receive a free copy of the Summary of this Report
Custom Market Research Services
We will customize the research for you, in case the report listed above does not meet with your exact requirements. Our custom research will comprehensively cover the business information you require to help you arrive at strategic and profitable business decisions.
Please visit
http://www.micromarketmonitor.com/custom-research-services.html
to specify your custom Research Requirement