European Gas Chromatography (GC) Systems Market
Description
Table of Contents
Customer Intelligence
The gas chromatography systems market was valued at $191.1 million in 2013 that is estimated to reach $247.6 million by 2018, at a CAGR of 5.3% from 2013 to 2018. The European market is the second-largest market, globally. The European GC systems market constitutes 12.8% of the overall European chromatography systems market, which is projected to maintain its share at 12.8% by 2018.
The report analyzes the gas chromatography systems market in terms of products, components, and end-users. All these segments experienced positive growth till 2013.
The European gas chromatography systems market is mainly governed by the pharmaceuticals and chemicals end-users. These sectors require systems with enhanced speed and accuracy. However, the market growth has slowed down in recent years as it attained maturity. In 2013, Germany led the market with a share of 23%, followed by France with a share of 22%.
Key players in the gas chromatography systems market include Agilent technologies, Inc., Thermo Fisher Scientific Inc., Waters Corporation, Shimadzu Corporation, and PerkinElmer, Inc., among others.
Customization Options
Along with the market data, you can customize the MMM assessments to meet your company's specific requirements. A customization will provide you with a comprehensive summary of the industry standards and a DeepDive analysis of the following parameters:
Product Analysis
Usage pattern (in-depth trend analysis) of products (segment-wise)
A product matrix that provides a detailed comparison of the product portfolios of each company that have been mapped at the country and sub-segment levels
Applications of the products (segment and country-wise)
A comprehensive coverage of product approvals, pipeline products, and product recalls
Brand/Product Perception Matrix
A comprehensive study of the customers' perception and behavior through our inbuilt social connection tool that checks the virality and tonality of blogs
An analysis of the overall brand usage & familiarity, along with a brand advocacy distribution (detractor/neutral/familiar)
Alternative Products: Impact analysis
MMM's Healthcare Decision Making Quadrant is innovative and useful for vendors who wish to analyze the potential growth markets based on parameters such as patient dynamics (patient pool, epidemiology of disease, preference towards surgeries/alternative therapies) and macroeconomic indicators (aging population, reimbursement scenario, treatment rate and healthcare expenditure).
1 Introduction
1.1 Introduce the Market
1.2 Objective of the study
1.3 Market Definition and Scope of the study
1.3.1 Market Definition
1.3.2 Areas covered
1.3.3 Markets Covered
1.4 Stakeholders
1.5 Research Methodology
1.5.1 Secondary sources
1.5.2 Primary Sources
1.5.3 Market estimation methodology (Top-down, bottom-up, data triangulation.)
1.5.4 Macro indicators for the study
1.6 Assumptions
1.7 List of Acronyms
2 Market Overview
3 Gas Chromatography (GC) Systems Europe, By Products
3.1 Split By Geography
3.2 Reverse Phase (RP) columns
3.2.1 Gas Chromatography (GC) Systems Europe, Reverse Phase (RP) columns, By Endusers
3.2.1.1 Reverse Phase (RP) columns-Pharmaceuticals
3.2.1.2 Reverse Phase (RP) columns-Biotechnology
3.2.1.3 Reverse Phase (RP) columns-Academics
3.2.1.4 Reverse Phase (RP) columns-Other Endusers-Europe
3.2.1.5 Reverse Phase (RP) columns-Agriculture Industry
3.2.1.6 Reverse Phase (RP) columns-Environmental Biotechnology
3.2.2 Gas Chromatography (GC) Systems Europe, Reverse Phase (RP) columns, By Geographies
3.2.2.1 United Kingdom-Reverse Phase (RP) columns
3.2.2.2 France-Reverse Phase (RP) columns
3.2.2.3 Germany-Reverse Phase (RP) columns
3.2.2.4 Italy-Reverse Phase (RP) columns
3.2.2.5 Spain-Reverse Phase (RP) columns
3.2.2.6 Europe - Europe - Other Geographies-Reverse Phase (RP) columns
3.2.3 Gas Chromatography (GC) Systems Europe, Reverse Phase (RP) columns, By Products
3.2.3.1 Reverse Phase (RP) columns - Empty columns
3.2.3.2 Reverse Phase (RP) columns - Pre-packed columns
3.2.3.3 Reverse Phase (RP) columns - Glass
3.2.3.4 Reverse Phase (RP) columns - Plastic
3.2.3.5 Reverse Phase (RP) columns - Metals
3.3 Ion exchange phase columns
3.3.1 Gas Chromatography (GC) Systems Europe, Ion exchange phase columns, By Endusers
3.3.1.1 Ion exchange phase columns-Pharmaceuticals
3.3.1.2 Ion exchange phase columns-Biotechnology
3.3.1.3 Ion exchange phase columns-Academics
3.3.1.4 Ion exchange phase columns-Other Endusers-Europe
3.3.1.5 Ion exchange phase columns-Agriculture Industry
3.3.1.6 Ion exchange phase columns-Environmental Biotechnology
3.3.2 Gas Chromatography (GC) Systems Europe, Ion exchange phase columns, By Geographies
3.3.2.1 United Kingdom-Ion exchange phase columns
3.3.2.2 France-Ion exchange phase columns
3.3.2.3 Germany-Ion exchange phase columns
3.3.2.4 Italy-Ion exchange phase columns
3.3.2.5 Spain-Ion exchange phase columns
3.3.2.6 Europe - Europe - Other Geographies-Ion exchange phase columns
3.3.3 Gas Chromatography (GC) Systems Europe, Ion exchange phase columns, By Products
3.3.3.1 Ion exchange phase columns - Empty columns
3.3.3.2 Ion exchange phase columns - Pre-packed columns
3.3.3.3 Ion exchange phase columns - Glass
3.3.3.4 Ion exchange phase columns - Plastic
3.3.3.5 Ion exchange phase columns - Metals
3.4 Size Exclusion columns
3.4.1 Gas Chromatography (GC) Systems Europe, Size Exclusion columns, By Endusers
3.4.1.1 Size Exclusion columns-Pharmaceuticals
3.4.1.2 Size Exclusion columns-Biotechnology
3.4.1.3 Size Exclusion columns-Academics
3.4.1.4 Size Exclusion columns-Other Endusers-Europe
3.4.1.5 Size Exclusion columns-Agriculture Industry
3.4.1.6 Size Exclusion columns-Environmental Biotechnology
3.4.2 Gas Chromatography (GC) Systems Europe, Size Exclusion columns, By Geographies
3.4.2.1 United Kingdom-Size Exclusion columns
3.4.2.2 France-Size Exclusion columns
3.4.2.3 Germany-Size Exclusion columns
3.4.2.4 Italy-Size Exclusion columns
3.4.2.5 Spain-Size Exclusion columns
3.4.2.6 Europe - Europe - Other Geographies-Size Exclusion columns
3.4.3 Gas Chromatography (GC) Systems Europe, Size Exclusion columns, By Products
3.4.3.1 Size Exclusion columns - Empty columns
3.4.3.2 Size Exclusion columns - Pre-packed columns
3.4.3.3 Size Exclusion columns - Glass
3.4.3.4 Size Exclusion columns - Plastic
3.4.3.5 Size Exclusion columns - Metals
3.5 Chiral separation columns
3.5.1 Gas Chromatography (GC) Systems Europe, Chiral separation columns, By Endusers
3.5.1.1 Chiral separation columns-Pharmaceuticals
3.5.1.2 Chiral separation columns-Biotechnology
3.5.1.3 Chiral separation columns-Academics
3.5.1.4 Chiral separation columns-Other Endusers-Europe
3.5.1.5 Chiral separation columns-Agriculture Industry
3.5.1.6 Chiral separation columns-Environmental Biotechnology
3.5.2 Gas Chromatography (GC) Systems Europe, Chiral separation columns, By Geographies
3.5.2.1 United Kingdom-Chiral separation columns
3.5.2.2 France-Chiral separation columns
3.5.2.3 Germany-Chiral separation columns
3.5.2.4 Italy-Chiral separation columns
3.5.2.5 Spain-Chiral separation columns
3.5.2.6 Europe - Europe - Other Geographies-Chiral separation columns
3.5.3 Gas Chromatography (GC) Systems Europe, Chiral separation columns, By Products
3.5.3.1 Chiral separation columns - Empty columns
3.5.3.2 Chiral separation columns - Pre-packed columns
3.5.3.3 Chiral separation columns - Glass
3.5.3.4 Chiral separation columns - Plastic
3.5.3.5 Chiral separation columns - Metals
3.6 Affinity columns
3.6.1 Gas Chromatography (GC) Systems Europe, Affinity columns, By Endusers
3.6.1.1 Affinity columns-Pharmaceuticals
3.6.1.2 Affinity columns-Biotechnology
3.6.1.3 Affinity columns-Academics
3.6.1.4 Affinity columns-Other Endusers-Europe
3.6.1.5 Affinity columns-Agriculture Industry
3.6.1.6 Affinity columns-Environmental Biotechnology
3.6.2 Gas Chromatography (GC) Systems Europe, Affinity columns, By Geographies
3.6.2.1 United Kingdom-Affinity columns
3.6.2.2 France-Affinity columns
3.6.2.3 Germany-Affinity columns
3.6.2.4 Italy-Affinity columns
3.6.2.5 Spain-Affinity columns
3.6.2.6 Europe - Europe - Other Geographies-Affinity columns
3.6.3 Gas Chromatography (GC) Systems Europe, Affinity columns, By Products
3.6.3.1 Affinity columns - Empty columns
3.6.3.2 Affinity columns - Pre-packed columns
3.6.3.3 Affinity columns - Glass
3.6.3.4 Affinity columns - Plastic
3.6.3.5 Affinity columns - Metals
3.7 Normal phase/hydrophilic interaction columns
3.7.1 Gas Chromatography (GC) Systems Europe, Normal phase/hydrophilic interaction columns, By Endusers
3.7.1.1 Normal phase/hydrophilic interaction columns-Pharmaceuticals
3.7.1.2 Normal phase/hydrophilic interaction columns-Biotechnology
3.7.1.3 Normal phase/hydrophilic interaction columns-Academics
3.7.1.4 Normal phase/hydrophilic interaction columns-Other Endusers-Europe
3.7.1.5 Normal phase/hydrophilic interaction columns-Agriculture Industry
3.7.1.6 Normal phase/hydrophilic interaction columns-Environmental Biotechnology
3.7.2 Gas Chromatography (GC) Systems Europe, Normal phase/hydrophilic interaction columns, By Geographies
3.7.2.1 United Kingdom-Normal phase/hydrophilic interaction columns
3.7.2.2 France-Normal phase/hydrophilic interaction columns
3.7.2.3 Germany-Normal phase/hydrophilic interaction columns
3.7.2.4 Italy-Normal phase/hydrophilic interaction columns
3.7.2.5 Spain-Normal phase/hydrophilic interaction columns
3.7.2.6 Europe - Europe - Other Geographies-Normal phase/hydrophilic interaction columns
3.7.3 Gas Chromatography (GC) Systems Europe, Normal phase/hydrophilic interaction columns, By Products
3.7.3.1 Normal phase/hydrophilic interaction columns - Empty columns
3.7.3.2 Normal phase/hydrophilic interaction columns - Pre-packed columns
3.7.3.3 Normal phase/hydrophilic interaction columns - Glass
3.7.3.4 Normal phase/hydrophilic interaction columns - Plastic
3.7.3.5 Normal phase/hydrophilic interaction columns - Metals
3.8 Other Products
3.8.1 Gas Chromatography (GC) Systems Europe, Other Products, By Endusers
3.8.1.1 Other Products-Pharmaceuticals-Europe
3.8.1.2 Other Products-Biotechnology-Europe
3.8.1.3 Other Products-Academics-Europe
3.8.1.4 Other Products-Other Endusers-Europe
3.8.1.5 Other Products-Agriculture Industry-Europe
3.8.1.6 Other Products-Environmental Biotechnology-Europe
3.8.2 Gas Chromatography (GC) Systems Europe, Other Products, By Geographies
3.8.2.1 United Kingdom-Other Products
3.8.2.2 France-Other Products
3.8.2.3 Germany-Other Products
3.8.2.4 Italy-Other Products
3.8.2.5 Spain-Other Products
3.8.2.6 Europe - Other Geographies-Other Products
4 Europe, By Endusers
4.1 Split By Geography
4.2 Pharmaceuticals
4.2.1 Gas Chromatography (GC) Systems Europe, Pharmaceuticals, By Products
4.2.1.1 Reverse Phase (RP) columns-Pharmaceuticals
4.2.1.2 Ion exchange phase columns-Pharmaceuticals
4.2.1.3 Size Exclusion columns-Pharmaceuticals
4.2.1.4 Chiral separation columns-Pharmaceuticals
4.2.1.5 Affinity columns-Pharmaceuticals
4.2.1.6 Normal phase/hydrophilic interaction columns-Pharmaceuticals
4.2.1.7 Other Products-Pharmaceuticals-Europe
4.2.2 Gas Chromatography (GC) Systems, Pharmaceuticals, By Geographies
4.2.2.1 United Kingdom-Pharmaceuticals
4.2.2.2 France-Pharmaceuticals
4.2.2.3 Germany-Pharmaceuticals
4.2.2.4 Italy-Pharmaceuticals
4.2.2.5 Spain-Pharmaceuticals
4.2.2.6 Europe - Europe - Other Geographies-Pharmaceuticals
4.3 Biotechnology
4.3.1 Gas Chromatography (GC) Systems Europe, Biotechnology, By Products
4.3.1.1 Reverse Phase (RP) columns-Biotechnology
4.3.1.2 Ion exchange phase columns-Biotechnology
4.3.1.3 Size Exclusion columns-Biotechnology
4.3.1.4 Chiral separation columns-Biotechnology
4.3.1.5 Affinity columns-Biotechnology
4.3.1.6 Normal phase/hydrophilic interaction columns-Biotechnology
4.3.1.7 Other Products-Biotechnology-Europe
4.3.2 Gas Chromatography (GC) Systems, Biotechnology, By Geographies
4.3.2.1 United Kingdom-Biotechnology
4.3.2.2 France-Biotechnology
4.3.2.3 Germany-Biotechnology
4.3.2.4 Italy-Biotechnology
4.3.2.5 Spain-Biotechnology
4.3.2.6 Europe - Europe - Other Geographies-Biotechnology
4.4 Academics
4.4.1 Gas Chromatography (GC) Systems Europe, Academics, By Products
4.4.1.1 Reverse Phase (RP) columns-Academics
4.4.1.2 Ion exchange phase columns-Academics
4.4.1.3 Size Exclusion columns-Academics
4.4.1.4 Chiral separation columns-Academics
4.4.1.5 Affinity columns-Academics
4.4.1.6 Normal phase/hydrophilic interaction columns-Academics
4.4.1.7 Other Products-Academics-Europe
4.4.2 Academics, By Geographies
4.4.2.1 United Kingdom-Academics
4.4.2.2 France-Academics
4.4.2.3 Germany-Academics
4.4.2.4 Italy-Academics
4.4.2.5 Spain-Academics
4.4.2.6 Europe - Europe - Other Geographies-Academics
4.5 Other Endusers
4.5.1 Gas Chromatography (GC) Systems Europe, By Products
4.5.1.1 Reverse Phase (RP) columns-Other Endusers-Europe
4.5.1.2 Ion exchange phase columns-Other Endusers-Europe
4.5.1.3 Size Exclusion columns-Other Endusers-Europe
4.5.1.4 Chiral separation columns-Other Endusers-Europe
4.5.1.5 Affinity columns-Other Endusers-Europe
4.5.1.6 Normal phase/hydrophilic interaction columns-Other Endusers-Europe
4.5.1.7 Other Products-Other Endusers-Europe
4.6 Agriculture Industry
4.6.1 Gas Chromatography (GC) Systems Europe, By Products
4.6.1.1 Reverse Phase (RP) columns-Agriculture Industry
4.6.1.2 Ion exchange phase columns-Agriculture Industry
4.6.1.3 Size Exclusion columns-Agriculture Industry
4.6.1.4 Chiral separation columns-Agriculture Industry
4.6.1.5 Affinity columns-Agriculture Industry
4.6.1.6 Normal phase/hydrophilic interaction columns-Agriculture Industry
4.6.1.7 Other Products-Agriculture Industry-Europe
4.6.2 Gas Chromatography (GC) Systems Europe, By Geographies
4.6.2.1 United Kingdom-Agriculture Industry
4.6.2.2 France-Agriculture Industry
4.6.2.3 Germany-Agriculture Industry
4.6.2.4 Italy-Agriculture Industry
4.6.2.5 Spain-Agriculture Industry
4.6.2.6 Europe - Europe - Other Geographies-Agriculture Industry
4.7 Environmental Biotechnology
4.7.1 Environmental Gas Chromatography (GC) Systems Europe, Biotechnology, By Products
4.7.1.1 Reverse Phase (RP) columns-Environmental Biotechnology
4.7.1.2 Ion exchange phase columns-Environmental Biotechnology
4.7.1.3 Size Exclusion columns-Environmental Biotechnology
4.7.1.4 Chiral separation columns-Environmental Biotechnology
4.7.1.5 Affinity columns-Environmental Biotechnology
4.7.1.6 Normal phase/hydrophilic interaction columns-Environmental Biotechnology
4.7.1.7 Other Products-Environmental Biotechnology-Europe
4.7.2 Environmental Gas Chromatography (GC) Systems Europe, Biotechnology, By Geographies
4.7.2.1 United Kingdom-Environmental Biotechnology
4.7.2.2 France-Environmental Biotechnology
4.7.2.3 Germany-Environmental Biotechnology
4.7.2.4 Italy-Environmental Biotechnology
4.7.2.5 Spain-Environmental Biotechnology
4.7.2.6 Europe - Europe - Other Geographies-Environmental Biotechnology
5 Gas Chromatography (GC) Systems Europe, By Components
5.1 Split By Geography
5.2 Flame ionization detectors
5.2.1 Gas Chromatography (GC) Systems Europe, Flame ionization detectors, By Geographies
5.2.1.1 United Kingdom-Flame ionization detectors
5.2.1.2 France-Flame ionization detectors
5.2.1.3 Germany-Flame ionization detectors
5.2.1.4 Italy-Flame ionization detectors
5.2.1.5 Spain-Flame ionization detectors
5.2.1.6 Europe - Europe - Other Geographies-Flame ionization detectors
5.3 Mass detectors
5.3.1 Gas Chromatography (GC) Systems Europe,Mass detectors, By Geographies
5.3.1.1 United Kingdom-Mass detectors
5.3.1.2 France-Mass detectors
5.3.1.3 Germany-Mass detectors
5.3.1.4 Italy-Mass detectors
5.3.1.5 Spain-Mass detectors
5.3.1.6 Europe - Europe - Other Geographies-Mass detectors
5.4 Thermal conductivity detectors
5.4.1 Gas Chromatography (GC) Systems Europe, Thermal conductivity detectors, By Geographies
5.4.1.1 United Kingdom-Thermal conductivity detectors
5.4.1.2 France-Thermal conductivity detectors
5.4.1.3 Germany-Thermal conductivity detectors
5.4.1.4 Italy-Thermal conductivity detectors
5.4.1.5 Spain-Thermal conductivity detectors
5.4.1.6 Europe - Europe - Other Geographies-Thermal conductivity detectors
5.5 Other Components
5.5.1 Gas Chromatography (GC) Systems Europe, Other Components, By Geographies
5.5.1.1 United Kingdom-Other Components
5.5.1.2 France-Other Components
5.5.1.3 Germany-Other Components
5.5.1.4 Italy-Other Components
5.5.1.5 Spain-Other Components
5.5.1.6 Europe - Europe - Other Geographies-Other Components
6 Europe, By Geographies
6.1 United Kingdom
6.1.1 Gas Chromatography (GC) Systems Europe, United Kingdom, By Products
6.1.1.1 United Kingdom-Reverse Phase (RP) columns
6.1.1.2 United Kingdom-Ion exchange phase columns
6.1.1.3 United Kingdom-Size Exclusion columns
6.1.1.4 United Kingdom-Chiral separation columns
6.1.1.5 United Kingdom-Affinity columns
6.1.1.6 United Kingdom-Normal phase/hydrophilic interaction columns
6.1.1.7 United Kingdom-Other Products
6.1.2 Gas Chromatography (GC) Systems Europe, United Kingdom, By Endusers
6.1.2.1 United Kingdom-Pharmaceuticals
6.1.2.2 United Kingdom-Biotechnology
6.1.2.3 United Kingdom-Academics
6.1.2.4 United Kingdom-Other Endusers
6.1.2.5 United Kingdom-Agriculture Industry
6.1.2.6 United Kingdom-Environmental Biotechnology
6.1.3 Gas Chromatography (GC) Systems Europe, United Kingdom, By Components
6.1.3.1 United Kingdom-Flame ionization detectors
6.1.3.2 United Kingdom-Mass detectors
6.1.3.3 United Kingdom-Thermal conductivity detectors
6.1.3.4 United Kingdom-Other Components
6.2 France
6.2.1 Gas Chromatography (GC) Systems Europe, France, By Products
6.2.1.1 France-Reverse Phase (RP) columns
6.2.1.2 France-Ion exchange phase columns
6.2.1.3 France-Size Exclusion columns
6.2.1.4 France-Chiral separation columns
6.2.1.5 France-Affinity columns
6.2.1.6 France-Normal phase/hydrophilic interaction columns
6.2.1.7 France-Other Products
6.2.2 France, By Endusers
6.2.2.1 France-Pharmaceuticals
6.2.2.2 France-Biotechnology
6.2.2.3 France-Academics
6.2.2.4 France-Other Endusers
6.2.2.5 France-Agriculture Industry
6.2.2.6 France-Environmental Biotechnology
6.2.3 France, By Components
6.2.3.1 France-Flame ionization detectors
6.2.3.2 France-Mass detectors
6.2.3.3 France-Thermal conductivity detectors
6.2.3.4 France-Other Components
6.3 Germany
6.3.1 Gas Chromatography (GC) Systems Europe, Germany, By Products
6.3.1.1 Germany-Reverse Phase (RP) columns
6.3.1.2 Germany-Ion exchange phase columns
6.3.1.3 Germany-Size Exclusion columns
6.3.1.4 Germany-Chiral separation columns
6.3.1.5 Germany-Affinity columns
6.3.1.6 Germany-Normal phase/hydrophilic interaction columns
6.3.1.7 Germany-Other Products
6.3.2 Gas Chromatography (GC) Systems Europe, Germany, By Endusers
6.3.2.1 Germany-Pharmaceuticals
6.3.2.2 Germany-Biotechnology
6.3.2.3 Germany-Academics
6.3.2.4 Germany-Other Endusers
6.3.2.5 Germany-Agriculture Industry
6.3.2.6 Germany-Environmental Biotechnology
6.3.3 Gas Chromatography (GC) Systems Europe, Germany, By Components
6.3.3.1 Germany-Flame ionization detectors
6.3.3.2 Germany-Mass detectors
6.3.3.3 Germany-Thermal conductivity detectors
6.3.3.4 Germany-Other Components
6.4 Italy
6.4.1 Gas Chromatography (GC) Systems Europe, Italy, By Products
6.4.1.1 Italy-Reverse Phase (RP) columns
6.4.1.2 Italy-Ion exchange phase columns
6.4.1.3 Italy-Size Exclusion columns
6.4.1.4 Italy-Chiral separation columns
6.4.1.5 Italy-Affinity columns
6.4.1.6 Italy-Normal phase/hydrophilic interaction columns
6.4.1.7 Italy-Other Products
6.4.2 Gas Chromatography (GC) Systems Europe, Italy, By Endusers
6.4.2.1 Italy-Pharmaceuticals
6.4.2.2 Italy-Biotechnology
6.4.2.3 Italy-Academics
6.4.2.4 Italy-Other Endusers
6.4.2.5 Italy-Agriculture Industry
6.4.2.6 Italy-Environmental Biotechnology
6.4.3 Gas Chromatography (GC) Systems Europe, Italy, By Components
6.4.3.1 Italy-Flame ionization detectors
6.4.3.2 Italy-Mass detectors
6.4.3.3 Italy-Thermal conductivity detectors
6.4.3.4 Italy-Other Components
6.5 Spain
6.5.1 Gas Chromatography (GC) Systems Europe, Spain, By Products
6.5.1.1 Spain-Reverse Phase (RP) columns
6.5.1.2 Spain-Ion exchange phase columns
6.5.1.3 Spain-Size Exclusion columns
6.5.1.4 Spain-Chiral separation columns
6.5.1.5 Spain-Affinity columns
6.5.1.6 Spain-Normal phase/hydrophilic interaction columns
6.5.1.7 Spain-Other Products
6.5.2 Gas Chromatography (GC) Systems Europe, Spain, By Endusers
6.5.2.1 Spain-Pharmaceuticals
6.5.2.2 Spain-Biotechnology
6.5.2.3 Spain-Academics
6.5.2.4 Spain-Other Endusers
6.5.2.5 Spain-Agriculture Industry
6.5.2.6 Spain-Environmental Biotechnology
6.5.3 Gas Chromatography (GC) Systems Europe, Spain, By Components
6.5.3.1 Spain-Flame ionization detectors
6.5.3.2 Spain-Mass detectors
6.5.3.3 Spain-Thermal conductivity detectors
6.5.3.4 Spain-Other Components
6.6 Other Geographies
6.6.1 Gas Chromatography (GC) Systems Europe, Other Geographies, By Products
6.6.1.1 Europe - Europe - Other Geographies-Reverse Phase (RP) columns
6.6.1.2 Europe - Europe - Other Geographies-Ion exchange phase columns
6.6.1.3 Europe - Europe - Other Geographies-Size Exclusion columns
6.6.1.4 Europe - Europe - Other Geographies-Chiral separation columns
6.6.1.5 Europe - Europe - Other Geographies-Affinity columns
6.6.1.6 Europe - Europe - Other Geographies-Normal phase/hydrophilic interaction columns
6.6.1.7 Europe - Europe - Other Geographies-Other Products
6.6.2 Gas Chromatography (GC) Systems Europe, Other Geographies, By Endusers
6.6.2.1 Europe - Europe - Other Geographies-Pharmaceuticals
6.6.2.2 Europe - Europe - Other Geographies-Biotechnology
6.6.2.3 Europe - Europe - Other Geographies-Academics
6.6.2.4 Europe - Europe - Other Geographies-Other Endusers
6.6.2.5 Europe - Europe - Other Geographies-Agriculture Industry
6.6.2.6 Europe - Europe - Other Geographies-Environmental Biotechnology
6.6.3 Gas Chromatography (GC) Systems Europe, Other Geographies, By Components
6.6.3.1 Europe - Europe - Other Geographies-Flame ionization detectors
6.6.3.2 Europe - Europe - Other Geographies-Mass detectors
6.6.3.3 Europe - Europe - Other Geographies-Thermal conductivity detectors
6.6.3.4 Europe - Europe - Other Geographies-Other Components
7 Gas Chromatography (GC) Systems Europe,By Companies
7.1 Split By Geography
7.2 Agilent Technologies
7.3 Other Companies
7.4 Thermo Fisher Scientific
7.5 Waters Corporation
7.6 Shimadzu Corporation
7.7 Chromatec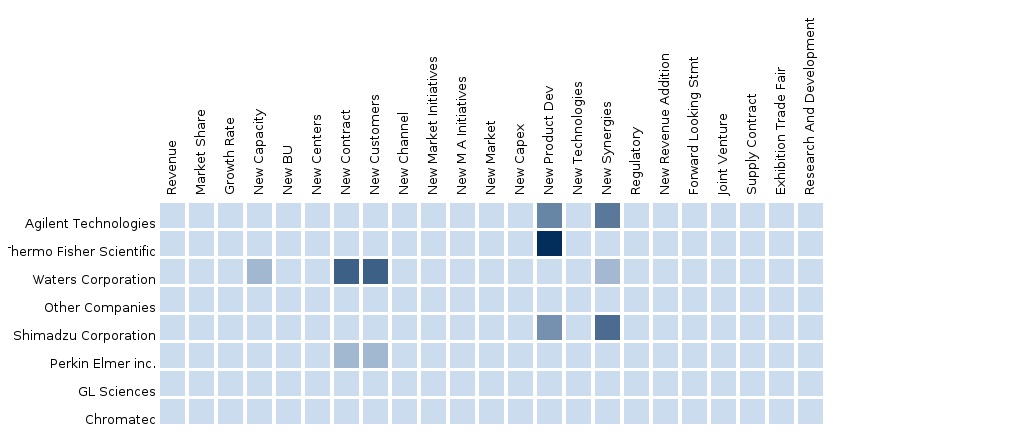 PRODUCT TITLE
PUBLISHED
PRICE
Asian Chromatography Systems Market Report


Asia is the fastest growing chromatography systems market globally and is expected to reach a value of $1497 Billion by 2018; growing at a CAGR of approximately 6.0% from 2013 to 2018. The Asian chromatography market is segmented into products, end users, sub markets and geographies. The key players in this market are Agilent Technologies, Inc., Thermo Fisher Scientific, Waters Corporation, Shimadzu Corporation and other companies.



17 Feb 2015
$ 3500
North American Chromatography Systems Market


North America is the largest chromatography systems market globally and is expected to reach a value of $2.7 billion by 2018; achieving a CAGR of approximately 5.8% during the period 2013 - 2018. The North American chromatography market is segmented into products, end users, sub markets and geographies.Deep dive analysis of the key players of this domain, have been considered in this report.



17 Feb 2015
$ 3500
European Chromatography Systems Market


Globally, Europe is the second largest chromatography systems market and is expected to reach a value of $1179.8 million by 2018; growing at 8.7% annually during 2013 -2018. The European chromatography market is segmented into products, end users, sub markets and geographies. Deep dive analysis of the key players of this domain, have been considered in this report.



17 Feb 2015
$ 3500
Global Chromatography Systems