European Gas Chromatography (GC) Systems Market
Description
Table of Contents
Customer Intelligence
Gas chromatography (GC) is a common technique used in analytical chemistry for separating and analyzing volatile compounds. Gas chromatography is typically used for separating volatile organic compounds.
The Gas chromatography systems market in Europe can be segmented by components, products, end users, and geography.
Globally, Europe is the second-largest gas chromatography systems market, and is expected to reach a value of $247.55 million by 2018. It is expected to grow at a CAGR of 5.5%, from 2013 to 2018.
The key players in the European gas chromatography systems market include Agilent technologies, Inc., Thermo Fisher Scientific Inc., Waters Corporation, Shimadzu Corporation, and Chromatec Scientific.
What makes our report unique?
You can request a 10% customization in the research that matches your requirement. For example, you could request a deep dive research in any specific region, technology, or application.
Key questions answered
What are the market estimates and forecasts based on which the markets are doing well, and which are not?
What is the competitive landscape?
Who are the main players in each segment?
What are their strategic directives, operational strengths, key selling products, and product pipelines?
Audience for this report
Gas Chromatography Companies
1 Introduction
1.1 Introduce the Market
1.2 Objective of the study
1.3 Market Definition and Scope of the study
1.3.1 Market Definition
1.3.2 Areas covered
1.3.3 Markets Covered
1.4 Stakeholders
1.5 Research Methodology
1.5.1 Secondary sources
1.5.2 Primary Sources
1.5.3 Market estimation methodology (Top-down, bottom-up, data triangulation.)
1.5.4 Macro indicators for the study
1.6 Assumptions
1.7 List of Acronyms
2 Market Overview
3 Gas Chromatography (GC) Systems Europe, By Products
3.1 Split By Geography
3.2 Reverse Phase (RP) columns
3.2.1 Gas Chromatography (GC) Systems Europe, Reverse Phase (RP) columns, By Endusers
3.2.1.1 Reverse Phase (RP) columns-Pharmaceuticals
3.2.1.2 Reverse Phase (RP) columns-Biotechnology
3.2.1.3 Reverse Phase (RP) columns-Academics
3.2.1.4 Reverse Phase (RP) columns-Other Endusers-Europe
3.2.1.5 Reverse Phase (RP) columns-Agriculture Industry
3.2.1.6 Reverse Phase (RP) columns-Environmental Biotechnology
3.2.2 Gas Chromatography (GC) Systems Europe, Reverse Phase (RP) columns, By Geographies
3.2.2.1 United Kingdom-Reverse Phase (RP) columns
3.2.2.2 France-Reverse Phase (RP) columns
3.2.2.3 Germany-Reverse Phase (RP) columns
3.2.2.4 Italy-Reverse Phase (RP) columns
3.2.2.5 Spain-Reverse Phase (RP) columns
3.2.2.6 Europe - Europe - Other Geographies-Reverse Phase (RP) columns
3.2.3 Gas Chromatography (GC) Systems Europe, Reverse Phase (RP) columns, By Products
3.2.3.1 Reverse Phase (RP) columns - Empty columns
3.2.3.2 Reverse Phase (RP) columns - Pre-packed columns
3.2.3.3 Reverse Phase (RP) columns - Glass
3.2.3.4 Reverse Phase (RP) columns - Plastic
3.2.3.5 Reverse Phase (RP) columns - Metals
3.3 Ion exchange phase columns
3.3.1 Gas Chromatography (GC) Systems Europe, Ion exchange phase columns, By Endusers
3.3.1.1 Ion exchange phase columns-Pharmaceuticals
3.3.1.2 Ion exchange phase columns-Biotechnology
3.3.1.3 Ion exchange phase columns-Academics
3.3.1.4 Ion exchange phase columns-Other Endusers-Europe
3.3.1.5 Ion exchange phase columns-Agriculture Industry
3.3.1.6 Ion exchange phase columns-Environmental Biotechnology
3.3.2 Gas Chromatography (GC) Systems Europe, Ion exchange phase columns, By Geographies
3.3.2.1 United Kingdom-Ion exchange phase columns
3.3.2.2 France-Ion exchange phase columns
3.3.2.3 Germany-Ion exchange phase columns
3.3.2.4 Italy-Ion exchange phase columns
3.3.2.5 Spain-Ion exchange phase columns
3.3.2.6 Europe - Europe - Other Geographies-Ion exchange phase columns
3.3.3 Gas Chromatography (GC) Systems Europe, Ion exchange phase columns, By Products
3.3.3.1 Ion exchange phase columns - Empty columns
3.3.3.2 Ion exchange phase columns - Pre-packed columns
3.3.3.3 Ion exchange phase columns - Glass
3.3.3.4 Ion exchange phase columns - Plastic
3.3.3.5 Ion exchange phase columns - Metals
3.4 Size Exclusion columns
3.4.1 Gas Chromatography (GC) Systems Europe, Size Exclusion columns, By Endusers
3.4.1.1 Size Exclusion columns-Pharmaceuticals
3.4.1.2 Size Exclusion columns-Biotechnology
3.4.1.3 Size Exclusion columns-Academics
3.4.1.4 Size Exclusion columns-Other Endusers-Europe
3.4.1.5 Size Exclusion columns-Agriculture Industry
3.4.1.6 Size Exclusion columns-Environmental Biotechnology
3.4.2 Gas Chromatography (GC) Systems Europe, Size Exclusion columns, By Geographies
3.4.2.1 United Kingdom-Size Exclusion columns
3.4.2.2 France-Size Exclusion columns
3.4.2.3 Germany-Size Exclusion columns
3.4.2.4 Italy-Size Exclusion columns
3.4.2.5 Spain-Size Exclusion columns
3.4.2.6 Europe - Europe - Other Geographies-Size Exclusion columns
3.4.3 Gas Chromatography (GC) Systems Europe, Size Exclusion columns, By Products
3.4.3.1 Size Exclusion columns - Empty columns
3.4.3.2 Size Exclusion columns - Pre-packed columns
3.4.3.3 Size Exclusion columns - Glass
3.4.3.4 Size Exclusion columns - Plastic
3.4.3.5 Size Exclusion columns - Metals
3.5 Chiral separation columns
3.5.1 Gas Chromatography (GC) Systems Europe, Chiral separation columns, By Endusers
3.5.1.1 Chiral separation columns-Pharmaceuticals
3.5.1.2 Chiral separation columns-Biotechnology
3.5.1.3 Chiral separation columns-Academics
3.5.1.4 Chiral separation columns-Other Endusers-Europe
3.5.1.5 Chiral separation columns-Agriculture Industry
3.5.1.6 Chiral separation columns-Environmental Biotechnology
3.5.2 Gas Chromatography (GC) Systems Europe, Chiral separation columns, By Geographies
3.5.2.1 United Kingdom-Chiral separation columns
3.5.2.2 France-Chiral separation columns
3.5.2.3 Germany-Chiral separation columns
3.5.2.4 Italy-Chiral separation columns
3.5.2.5 Spain-Chiral separation columns
3.5.2.6 Europe - Europe - Other Geographies-Chiral separation columns
3.5.3 Gas Chromatography (GC) Systems Europe, Chiral separation columns, By Products
3.5.3.1 Chiral separation columns - Empty columns
3.5.3.2 Chiral separation columns - Pre-packed columns
3.5.3.3 Chiral separation columns - Glass
3.5.3.4 Chiral separation columns - Plastic
3.5.3.5 Chiral separation columns - Metals
3.6 Affinity columns
3.6.1 Gas Chromatography (GC) Systems Europe, Affinity columns, By Endusers
3.6.1.1 Affinity columns-Pharmaceuticals
3.6.1.2 Affinity columns-Biotechnology
3.6.1.3 Affinity columns-Academics
3.6.1.4 Affinity columns-Other Endusers-Europe
3.6.1.5 Affinity columns-Agriculture Industry
3.6.1.6 Affinity columns-Environmental Biotechnology
3.6.2 Gas Chromatography (GC) Systems Europe, Affinity columns, By Geographies
3.6.2.1 United Kingdom-Affinity columns
3.6.2.2 France-Affinity columns
3.6.2.3 Germany-Affinity columns
3.6.2.4 Italy-Affinity columns
3.6.2.5 Spain-Affinity columns
3.6.2.6 Europe - Europe - Other Geographies-Affinity columns
3.6.3 Gas Chromatography (GC) Systems Europe, Affinity columns, By Products
3.6.3.1 Affinity columns - Empty columns
3.6.3.2 Affinity columns - Pre-packed columns
3.6.3.3 Affinity columns - Glass
3.6.3.4 Affinity columns - Plastic
3.6.3.5 Affinity columns - Metals
3.7 Normal phase/hydrophilic interaction columns
3.7.1 Gas Chromatography (GC) Systems Europe, Normal phase/hydrophilic interaction columns, By Endusers
3.7.1.1 Normal phase/hydrophilic interaction columns-Pharmaceuticals
3.7.1.2 Normal phase/hydrophilic interaction columns-Biotechnology
3.7.1.3 Normal phase/hydrophilic interaction columns-Academics
3.7.1.4 Normal phase/hydrophilic interaction columns-Other Endusers-Europe
3.7.1.5 Normal phase/hydrophilic interaction columns-Agriculture Industry
3.7.1.6 Normal phase/hydrophilic interaction columns-Environmental Biotechnology
3.7.2 Gas Chromatography (GC) Systems Europe, Normal phase/hydrophilic interaction columns, By Geographies
3.7.2.1 United Kingdom-Normal phase/hydrophilic interaction columns
3.7.2.2 France-Normal phase/hydrophilic interaction columns
3.7.2.3 Germany-Normal phase/hydrophilic interaction columns
3.7.2.4 Italy-Normal phase/hydrophilic interaction columns
3.7.2.5 Spain-Normal phase/hydrophilic interaction columns
3.7.2.6 Europe - Europe - Other Geographies-Normal phase/hydrophilic interaction columns
3.7.3 Gas Chromatography (GC) Systems Europe, Normal phase/hydrophilic interaction columns, By Products
3.7.3.1 Normal phase/hydrophilic interaction columns - Empty columns
3.7.3.2 Normal phase/hydrophilic interaction columns - Pre-packed columns
3.7.3.3 Normal phase/hydrophilic interaction columns - Glass
3.7.3.4 Normal phase/hydrophilic interaction columns - Plastic
3.7.3.5 Normal phase/hydrophilic interaction columns - Metals
3.8 Other Products
3.8.1 Gas Chromatography (GC) Systems Europe, Other Products, By Endusers
3.8.1.1 Other Products-Pharmaceuticals-Europe
3.8.1.2 Other Products-Biotechnology-Europe
3.8.1.3 Other Products-Academics-Europe
3.8.1.4 Other Products-Other Endusers-Europe
3.8.1.5 Other Products-Agriculture Industry-Europe
3.8.1.6 Other Products-Environmental Biotechnology-Europe
3.8.2 Gas Chromatography (GC) Systems Europe, Other Products, By Geographies
3.8.2.1 United Kingdom-Other Products
3.8.2.2 France-Other Products
3.8.2.3 Germany-Other Products
3.8.2.4 Italy-Other Products
3.8.2.5 Spain-Other Products
3.8.2.6 Europe - Other Geographies-Other Products
4 Europe, By Endusers
4.1 Split By Geography
4.2 Pharmaceuticals
4.2.1 Gas Chromatography (GC) Systems Europe, Pharmaceuticals, By Products
4.2.1.1 Reverse Phase (RP) columns-Pharmaceuticals
4.2.1.2 Ion exchange phase columns-Pharmaceuticals
4.2.1.3 Size Exclusion columns-Pharmaceuticals
4.2.1.4 Chiral separation columns-Pharmaceuticals
4.2.1.5 Affinity columns-Pharmaceuticals
4.2.1.6 Normal phase/hydrophilic interaction columns-Pharmaceuticals
4.2.1.7 Other Products-Pharmaceuticals-Europe
4.2.2 Gas Chromatography (GC) Systems, Pharmaceuticals, By Geographies
4.2.2.1 United Kingdom-Pharmaceuticals
4.2.2.2 France-Pharmaceuticals
4.2.2.3 Germany-Pharmaceuticals
4.2.2.4 Italy-Pharmaceuticals
4.2.2.5 Spain-Pharmaceuticals
4.2.2.6 Europe - Europe - Other Geographies-Pharmaceuticals
4.3 Biotechnology
4.3.1 Gas Chromatography (GC) Systems Europe, Biotechnology, By Products
4.3.1.1 Reverse Phase (RP) columns-Biotechnology
4.3.1.2 Ion exchange phase columns-Biotechnology
4.3.1.3 Size Exclusion columns-Biotechnology
4.3.1.4 Chiral separation columns-Biotechnology
4.3.1.5 Affinity columns-Biotechnology
4.3.1.6 Normal phase/hydrophilic interaction columns-Biotechnology
4.3.1.7 Other Products-Biotechnology-Europe
4.3.2 Gas Chromatography (GC) Systems, Biotechnology, By Geographies
4.3.2.1 United Kingdom-Biotechnology
4.3.2.2 France-Biotechnology
4.3.2.3 Germany-Biotechnology
4.3.2.4 Italy-Biotechnology
4.3.2.5 Spain-Biotechnology
4.3.2.6 Europe - Europe - Other Geographies-Biotechnology
4.4 Academics
4.4.1 Gas Chromatography (GC) Systems Europe, Academics, By Products
4.4.1.1 Reverse Phase (RP) columns-Academics
4.4.1.2 Ion exchange phase columns-Academics
4.4.1.3 Size Exclusion columns-Academics
4.4.1.4 Chiral separation columns-Academics
4.4.1.5 Affinity columns-Academics
4.4.1.6 Normal phase/hydrophilic interaction columns-Academics
4.4.1.7 Other Products-Academics-Europe
4.4.2 Academics, By Geographies
4.4.2.1 United Kingdom-Academics
4.4.2.2 France-Academics
4.4.2.3 Germany-Academics
4.4.2.4 Italy-Academics
4.4.2.5 Spain-Academics
4.4.2.6 Europe - Europe - Other Geographies-Academics
4.5 Other Endusers
4.5.1 Gas Chromatography (GC) Systems Europe, By Products
4.5.1.1 Reverse Phase (RP) columns-Other Endusers-Europe
4.5.1.2 Ion exchange phase columns-Other Endusers-Europe
4.5.1.3 Size Exclusion columns-Other Endusers-Europe
4.5.1.4 Chiral separation columns-Other Endusers-Europe
4.5.1.5 Affinity columns-Other Endusers-Europe
4.5.1.6 Normal phase/hydrophilic interaction columns-Other Endusers-Europe
4.5.1.7 Other Products-Other Endusers-Europe
4.6 Agriculture Industry
4.6.1 Gas Chromatography (GC) Systems Europe, By Products
4.6.1.1 Reverse Phase (RP) columns-Agriculture Industry
4.6.1.2 Ion exchange phase columns-Agriculture Industry
4.6.1.3 Size Exclusion columns-Agriculture Industry
4.6.1.4 Chiral separation columns-Agriculture Industry
4.6.1.5 Affinity columns-Agriculture Industry
4.6.1.6 Normal phase/hydrophilic interaction columns-Agriculture Industry
4.6.1.7 Other Products-Agriculture Industry-Europe
4.6.2 Gas Chromatography (GC) Systems Europe, By Geographies
4.6.2.1 United Kingdom-Agriculture Industry
4.6.2.2 France-Agriculture Industry
4.6.2.3 Germany-Agriculture Industry
4.6.2.4 Italy-Agriculture Industry
4.6.2.5 Spain-Agriculture Industry
4.6.2.6 Europe - Europe - Other Geographies-Agriculture Industry
4.7 Environmental Biotechnology
4.7.1 Environmental Gas Chromatography (GC) Systems Europe, Biotechnology, By Products
4.7.1.1 Reverse Phase (RP) columns-Environmental Biotechnology
4.7.1.2 Ion exchange phase columns-Environmental Biotechnology
4.7.1.3 Size Exclusion columns-Environmental Biotechnology
4.7.1.4 Chiral separation columns-Environmental Biotechnology
4.7.1.5 Affinity columns-Environmental Biotechnology
4.7.1.6 Normal phase/hydrophilic interaction columns-Environmental Biotechnology
4.7.1.7 Other Products-Environmental Biotechnology-Europe
4.7.2 Environmental Gas Chromatography (GC) Systems Europe, Biotechnology, By Geographies
4.7.2.1 United Kingdom-Environmental Biotechnology
4.7.2.2 France-Environmental Biotechnology
4.7.2.3 Germany-Environmental Biotechnology
4.7.2.4 Italy-Environmental Biotechnology
4.7.2.5 Spain-Environmental Biotechnology
4.7.2.6 Europe - Europe - Other Geographies-Environmental Biotechnology
5 Gas Chromatography (GC) Systems Europe, By Components
5.1 Split By Geography
5.2 Flame ionization detectors
5.2.1 Gas Chromatography (GC) Systems Europe, Flame ionization detectors, By Geographies
5.2.1.1 United Kingdom-Flame ionization detectors
5.2.1.2 France-Flame ionization detectors
5.2.1.3 Germany-Flame ionization detectors
5.2.1.4 Italy-Flame ionization detectors
5.2.1.5 Spain-Flame ionization detectors
5.2.1.6 Europe - Europe - Other Geographies-Flame ionization detectors
5.3 Mass detectors
5.3.1 Gas Chromatography (GC) Systems Europe,Mass detectors, By Geographies
5.3.1.1 United Kingdom-Mass detectors
5.3.1.2 France-Mass detectors
5.3.1.3 Germany-Mass detectors
5.3.1.4 Italy-Mass detectors
5.3.1.5 Spain-Mass detectors
5.3.1.6 Europe - Europe - Other Geographies-Mass detectors
5.4 Thermal conductivity detectors
5.4.1 Gas Chromatography (GC) Systems Europe, Thermal conductivity detectors, By Geographies
5.4.1.1 United Kingdom-Thermal conductivity detectors
5.4.1.2 France-Thermal conductivity detectors
5.4.1.3 Germany-Thermal conductivity detectors
5.4.1.4 Italy-Thermal conductivity detectors
5.4.1.5 Spain-Thermal conductivity detectors
5.4.1.6 Europe - Europe - Other Geographies-Thermal conductivity detectors
5.5 Other Components
5.5.1 Gas Chromatography (GC) Systems Europe, Other Components, By Geographies
5.5.1.1 United Kingdom-Other Components
5.5.1.2 France-Other Components
5.5.1.3 Germany-Other Components
5.5.1.4 Italy-Other Components
5.5.1.5 Spain-Other Components
5.5.1.6 Europe - Europe - Other Geographies-Other Components
6 Europe, By Geographies
6.1 United Kingdom
6.1.1 Gas Chromatography (GC) Systems Europe, United Kingdom, By Products
6.1.1.1 United Kingdom-Reverse Phase (RP) columns
6.1.1.2 United Kingdom-Ion exchange phase columns
6.1.1.3 United Kingdom-Size Exclusion columns
6.1.1.4 United Kingdom-Chiral separation columns
6.1.1.5 United Kingdom-Affinity columns
6.1.1.6 United Kingdom-Normal phase/hydrophilic interaction columns
6.1.1.7 United Kingdom-Other Products
6.1.2 Gas Chromatography (GC) Systems Europe, United Kingdom, By Endusers
6.1.2.1 United Kingdom-Pharmaceuticals
6.1.2.2 United Kingdom-Biotechnology
6.1.2.3 United Kingdom-Academics
6.1.2.4 United Kingdom-Other Endusers
6.1.2.5 United Kingdom-Agriculture Industry
6.1.2.6 United Kingdom-Environmental Biotechnology
6.1.3 Gas Chromatography (GC) Systems Europe, United Kingdom, By Components
6.1.3.1 United Kingdom-Flame ionization detectors
6.1.3.2 United Kingdom-Mass detectors
6.1.3.3 United Kingdom-Thermal conductivity detectors
6.1.3.4 United Kingdom-Other Components
6.2 France
6.2.1 Gas Chromatography (GC) Systems Europe, France, By Products
6.2.1.1 France-Reverse Phase (RP) columns
6.2.1.2 France-Ion exchange phase columns
6.2.1.3 France-Size Exclusion columns
6.2.1.4 France-Chiral separation columns
6.2.1.5 France-Affinity columns
6.2.1.6 France-Normal phase/hydrophilic interaction columns
6.2.1.7 France-Other Products
6.2.2 France, By Endusers
6.2.2.1 France-Pharmaceuticals
6.2.2.2 France-Biotechnology
6.2.2.3 France-Academics
6.2.2.4 France-Other Endusers
6.2.2.5 France-Agriculture Industry
6.2.2.6 France-Environmental Biotechnology
6.2.3 France, By Components
6.2.3.1 France-Flame ionization detectors
6.2.3.2 France-Mass detectors
6.2.3.3 France-Thermal conductivity detectors
6.2.3.4 France-Other Components
6.3 Germany
6.3.1 Gas Chromatography (GC) Systems Europe, Germany, By Products
6.3.1.1 Germany-Reverse Phase (RP) columns
6.3.1.2 Germany-Ion exchange phase columns
6.3.1.3 Germany-Size Exclusion columns
6.3.1.4 Germany-Chiral separation columns
6.3.1.5 Germany-Affinity columns
6.3.1.6 Germany-Normal phase/hydrophilic interaction columns
6.3.1.7 Germany-Other Products
6.3.2 Gas Chromatography (GC) Systems Europe, Germany, By Endusers
6.3.2.1 Germany-Pharmaceuticals
6.3.2.2 Germany-Biotechnology
6.3.2.3 Germany-Academics
6.3.2.4 Germany-Other Endusers
6.3.2.5 Germany-Agriculture Industry
6.3.2.6 Germany-Environmental Biotechnology
6.3.3 Gas Chromatography (GC) Systems Europe, Germany, By Components
6.3.3.1 Germany-Flame ionization detectors
6.3.3.2 Germany-Mass detectors
6.3.3.3 Germany-Thermal conductivity detectors
6.3.3.4 Germany-Other Components
6.4 Italy
6.4.1 Gas Chromatography (GC) Systems Europe, Italy, By Products
6.4.1.1 Italy-Reverse Phase (RP) columns
6.4.1.2 Italy-Ion exchange phase columns
6.4.1.3 Italy-Size Exclusion columns
6.4.1.4 Italy-Chiral separation columns
6.4.1.5 Italy-Affinity columns
6.4.1.6 Italy-Normal phase/hydrophilic interaction columns
6.4.1.7 Italy-Other Products
6.4.2 Gas Chromatography (GC) Systems Europe, Italy, By Endusers
6.4.2.1 Italy-Pharmaceuticals
6.4.2.2 Italy-Biotechnology
6.4.2.3 Italy-Academics
6.4.2.4 Italy-Other Endusers
6.4.2.5 Italy-Agriculture Industry
6.4.2.6 Italy-Environmental Biotechnology
6.4.3 Gas Chromatography (GC) Systems Europe, Italy, By Components
6.4.3.1 Italy-Flame ionization detectors
6.4.3.2 Italy-Mass detectors
6.4.3.3 Italy-Thermal conductivity detectors
6.4.3.4 Italy-Other Components
6.5 Spain
6.5.1 Gas Chromatography (GC) Systems Europe, Spain, By Products
6.5.1.1 Spain-Reverse Phase (RP) columns
6.5.1.2 Spain-Ion exchange phase columns
6.5.1.3 Spain-Size Exclusion columns
6.5.1.4 Spain-Chiral separation columns
6.5.1.5 Spain-Affinity columns
6.5.1.6 Spain-Normal phase/hydrophilic interaction columns
6.5.1.7 Spain-Other Products
6.5.2 Gas Chromatography (GC) Systems Europe, Spain, By Endusers
6.5.2.1 Spain-Pharmaceuticals
6.5.2.2 Spain-Biotechnology
6.5.2.3 Spain-Academics
6.5.2.4 Spain-Other Endusers
6.5.2.5 Spain-Agriculture Industry
6.5.2.6 Spain-Environmental Biotechnology
6.5.3 Gas Chromatography (GC) Systems Europe, Spain, By Components
6.5.3.1 Spain-Flame ionization detectors
6.5.3.2 Spain-Mass detectors
6.5.3.3 Spain-Thermal conductivity detectors
6.5.3.4 Spain-Other Components
6.6 Other Geographies
6.6.1 Gas Chromatography (GC) Systems Europe, Other Geographies, By Products
6.6.1.1 Europe - Europe - Other Geographies-Reverse Phase (RP) columns
6.6.1.2 Europe - Europe - Other Geographies-Ion exchange phase columns
6.6.1.3 Europe - Europe - Other Geographies-Size Exclusion columns
6.6.1.4 Europe - Europe - Other Geographies-Chiral separation columns
6.6.1.5 Europe - Europe - Other Geographies-Affinity columns
6.6.1.6 Europe - Europe - Other Geographies-Normal phase/hydrophilic interaction columns
6.6.1.7 Europe - Europe - Other Geographies-Other Products
6.6.2 Gas Chromatography (GC) Systems Europe, Other Geographies, By Endusers
6.6.2.1 Europe - Europe - Other Geographies-Pharmaceuticals
6.6.2.2 Europe - Europe - Other Geographies-Biotechnology
6.6.2.3 Europe - Europe - Other Geographies-Academics
6.6.2.4 Europe - Europe - Other Geographies-Other Endusers
6.6.2.5 Europe - Europe - Other Geographies-Agriculture Industry
6.6.2.6 Europe - Europe - Other Geographies-Environmental Biotechnology
6.6.3 Gas Chromatography (GC) Systems Europe, Other Geographies, By Components
6.6.3.1 Europe - Europe - Other Geographies-Flame ionization detectors
6.6.3.2 Europe - Europe - Other Geographies-Mass detectors
6.6.3.3 Europe - Europe - Other Geographies-Thermal conductivity detectors
6.6.3.4 Europe - Europe - Other Geographies-Other Components
7 Gas Chromatography (GC) Systems Europe,By Companies
7.1 Split By Geography
7.2 Agilent Technologies
7.3 Other Companies
7.4 Thermo Fisher Scientific
7.5 Waters Corporation
7.6 Shimadzu Corporation
7.7 Chromatec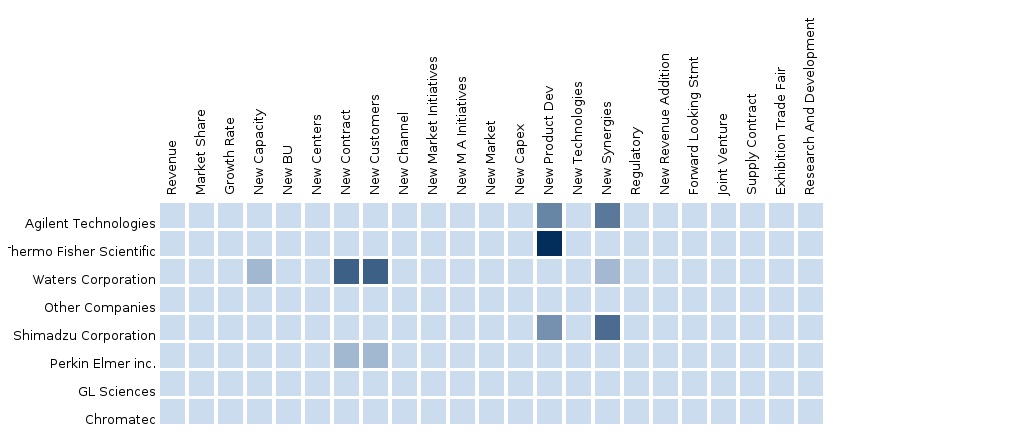 PRODUCT TITLE
PUBISHED
PRICE
Asian Chromatography Systems Market Report


Asia is the fastest growing chromatography systems market globally and is expected to reach a value of $1497 Billion by 2018; growing at a CAGR of approximately 6.0% from 2013 to 2018. The Asian chromatography market is segmented into products, end users, sub markets and geographies. The key players in this market are Agilent Technologies, Inc., Thermo Fisher Scientific, Waters Corporation, Shimadzu Corporation and other companies.



28 Aug 2014
$ 3500
North American Chromatography Systems Market


North America is the largest chromatography systems market globally and is expected to reach a value of $2.7 billion by 2018; achieving a CAGR of approximately 5.8% during the period 2013 - 2018. The North American chromatography market is segmented into products, end users, sub markets and geographies.Deep dive analysis of the key players of this domain, have been considered in this report.



28 Aug 2014
$ 3500
European Chromatography Systems Market


Globally, Europe is the second largest chromatography systems market and is expected to reach a value of $1179.8 million by 2018; growing at 8.7% annually during 2013 -2018. The European chromatography market is segmented into products, end users, sub markets and geographies. Deep dive analysis of the key players of this domain, have been considered in this report.



28 Aug 2014
$ 3500
Global Chromatography Systems