The South America Coating Additives market is witnessing a high growth due to the strengthening of construction, automotive, and industrial sectors in the region. The report estimates the size of the Coating Additives market both in terms of volume and value. The report provides a comprehensive overview of the key market drivers, challenges and issues. South America Coating Additives Market is estimated to reach $666 million by 2018, growing at a CAGR of 5.9% from 2013 to 2018. The key driver of the market is the strong and growing economy of the region.
The report "South America Coating Additives Market" defines and segments the Coating Additives market in the region with analyses and projections of the size of the South America Coating Additives Market with respect to volume (KT) and value ($million).
Coating additives are special additives that are added to the paint and/or coating to enhance its performance and quality. The main function of the products available in coating additives market is to modify the properties of the coating such as viscosity, gloss, impact resistance, foam, etc. to enhance the effectiveness of the coatings.
The industry players have begun focusing on developing and launching additives which would facilitate the formulators to achieve the right proportion along with high performance.
The global coating additives market is matured and diversified with most companies offering different types of coating additives, which offer a wide range of applicability in different end-user industries.
Coating, in general, can be classified in to two types i.e. paint and powder coating. The main types of coating additives are acrylic, urethane, metallic and fluoropolymers-based. Among the various types of additives, acrylic-based additives capture major market volume.
The South America Coating Additives Market report covers the Coating Additives market in South America and its key trends concerning with major countries such as Brazil, Argentina and others in the region. The major applications covered in the South America Coating Additives Market are architecture, industrial, wood & furniture, and automotive sectors.
Further, as a part of qualitative analysis, the research report provides a comprehensive review of important drivers, restraints, opportunities, and key burning issues in the South America Coating Additives Market.
The South America Coating Additives Market report also provides an extensive competitive landscape of the companies operating in this market. It also includes the company profiles and competitive strategies adopted by various market players in the South America Coating Additives Market.
Customization Options:
Along with the market data, customize the MMM offerings in alignment with your company's specific needs. Customize your report to get an insight into the industry standards and a deep-dive analysis of the following considerations:
SWOT analysis of top 3 companies in coating additives market
Trade data of acrylic resins and polyurethane can be provided
Comparison of coating applications of acrylic and polyurethane resins can be provided at global level
Technology trends in acrylic and PU coating additives can be provided
1 Introduction
1.1 Analyst Insights
1.2 Market Definitions
1.3 Market Segmentation & Aspects Covered
1.4 Research Methodology
2 Executive Summary
3 Market Overview
4 Coating Additives-South America by Applications
4.1 Industrial Applications
4.2 Bedding & Furniture
4.3 Construction
4.4 Automotive Paints
5 Coating Additives-South America by Ingredients
5.1 Metallic Compounds
5.2 Polyacrylamide
5.3 Ingredients (Others)
5.4 Polyurethane Coating
6 Coating Additives-South America by Functions
6.1 Wetting Agent
6.2 Dispersants
6.3 Anti-Foaming Agents
7 Coating Additives-South America by Companies
7.1 Arkema S.A.
7.2 Ashland Inc
7.3 BASF SE
7.4 Cytec Industries Inc.
7.5 Dow Chemical
7.6 Eastman Chemical Company
7.7 Evonik Industries
7.8 Momentive Specialty Chemicals Inc
7.9 Clariant Chemicals
7.10 Omnova Solutions Inc.
7.11 Byk-Chemie GmbH
7.12 Cabot Corporation
7.13 Elementis plc
7.14 Rhodia S.A.
7.15 Lubrizol Corporation
7.16 Wacker Chemie Ag
7.17 Sun Chemical
7.18 AkzoNobel N.V.
7.19 Daikin Industries, Ltd.
7.20 Asahi Kasei Chemicals Corp.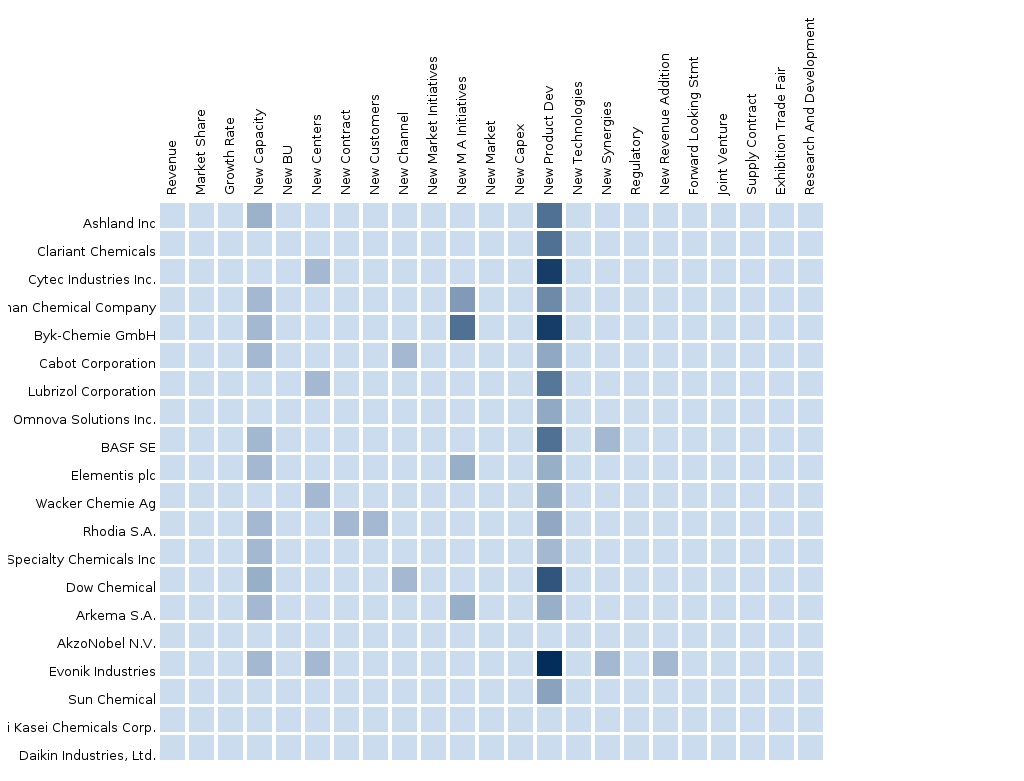 Please fill in the form below to receive a free copy of the Summary of this Report
Custom Market Research Services
We will customize the research for you, in case the report listed above does not meet with your exact requirements. Our custom research will comprehensively cover the business information you require to help you arrive at strategic and profitable business decisions.
Please visit
http://www.micromarketmonitor.com/custom-research-services.html
to specify your custom Research Requirement
South America Coating Additives