Dermatological procedures can improve the way the skin looks by correcting certain flaws such as acnes, scars, and wrinkles. They can also treat skin ailments that may not be harmful, but can affect one's appearance. There has been significant demand for surgeries and procedures to treat various skin ailments in the recent past. Since an increasing number of people opt for aesthetic procedures, there has been a rise in the demand for dermatology treatment devices such as cryotherapy devices and electrosurgical equipment.
The dermatology treatment devices market in Europe is expected to grow at a CAGR of 12.5% from 2012 to 2018. In the European region, electro surgery is one of the most preferred modes of treatment for skin disorders, which leads to a rise in the demand for electrosurgical equipment. This is anticipated to drive the overall dermatology treatment devices market in this region. However, LED light therapy devices contributed the most to the dermatology devices market in North America, as of 2013.
The other important factor that influences the growth of this market in Europe is the increasing need for skin diagnosis and treatment of diseases such as melanoma and non-melanoma skin cancers. A rise in the number of people who require minimally invasive cosmetic surgeries and the growing demand for devices that efficiently diagnose and treat dermatological diseases is also expected to drive this market.
Stringent norms by healthcare regulatory authorities are projected to create various innovations in the dermatology treatment devices market, which will help improve the quality of care, while simultaneously reducing costs.
Submarkets of the dermatology devices market are LED light therapy devices, lasers, electrosurgical equipment, and liposuction devices that comprised 38.0%, 29.8%, 17.6%, and 6.8% respectively, of the global dermatology treatment devices market in 2013.
The market is segmented and forecast based on end-users and geographies. The end-user segment is further segmented into hospitals and private clinics. The geographies segment comprises major countries in this region, which includes the U.K., France, and Germany. Companies that operate in this market are Cutera, Inc., Cynosure, Inc., Ellex medical lasers, Ellipse A/S, Fosun Pharmaceutical (Group) Co., Hamilton thorne, Inc., and so on. The company profiles and competitive landscape of key market players have been included in the report.
The market dynamics, along with the drivers and restraints for this market, have been elaborated in this report. These market dynamics help study the current and future trends that define the growth of the market.
1 Introduction
1.1 Objective of the study
1.2 Market Definitions
1.3 Market Segmentation & Aspects Covered
1.4 Research Methodology
1.4.1 Assumptions (Market Size, Forecast, etc)
2 Executive Summary
3 Market Overview
4 Treatment Devices-Europe, By Segments
4.1 Electrosurgical Equipment-Europe
4.2 Liposuction Devices-Europe
4.3 Microdermabrasion-Europe
4.4 Cryotherapy Devices-Europe
4.5 Led Light Therapy Devices-Europe
4.6 Lasers-Europe
4.6.1 Lasers-Europe, By Types
4.6.1.1 Lasers-Intense pulse light-Europe
4.6.1.2 Lasers-CO2 laser-Europe
4.6.1.3 Lasers-ND:YAG Laser-Europe
4.6.1.4 Lasers-ER: YAG Laser-Europe
4.6.1.5 Lasers-Ruby Laser-Europe
4.6.1.6 Lasers-Laser Diode-Europe
4.6.1.7 Lasers-Argon laser-Europe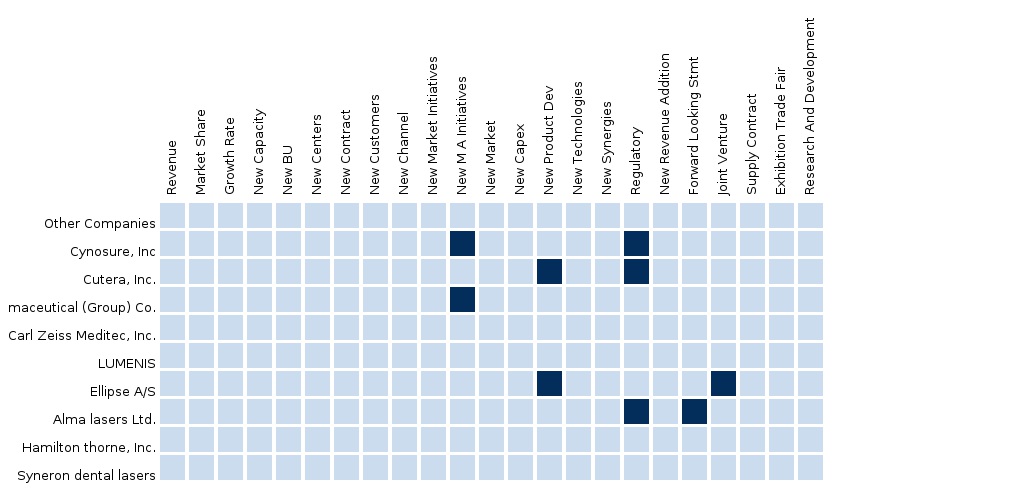 Please fill in the form below to receive a free copy of the Summary of this Report
Custom Market Research Services
We will customize the research for you, in case the report listed above does not meet with your exact requirements. Our custom research will comprehensively cover the business information you require to help you arrive at strategic and profitable business decisions.
Please visit
http://www.micromarketmonitor.com/custom-research-services.html
to specify your custom Research Requirement
PRODUCT TITLE
PUBLISHED
Asia Dermatology Devices


The report also provides the strategic analysis of the key players in this market. Based on product types, the Asian dermatology devices market has been segmented into dermatology treatment devices and dermatology diagnostic devices, wherein the dermatology treatment devices segment dominates the market, having accounted for a 94.6% of the overall market share in 2014. On the basis of end-users, the dermatology devices market is categorized into hospitals and clinics.



Feb 2015
North America Dermatology Devices


The major factors driving the demand for dermatological devices in the U.S. are the desire for youthful appearance, increasing incidence rates of skin diseases, increasing trend towards non-invasive aesthetic procedures, and technological advancements. People are becoming more conscious about their appearance and are aware of the skin disorders caused due to exposure to the sun.



Feb 2015
European Dermatology Treatment Devices