The Europe Caprolactam market is witnessing a high growth due to growing demand from various end user applications. The report estimates the size of the Caprolactam market, both in terms of volume and value. The report provides a comprehensive overview of the key market drivers, challenges and issues. Europe Caprolactam Market is estimated to reach $5,467.7 million by 2018, at a CAGR of 3.1% from 2013 to 2018. The key driver of the market is the growing demand from the automotive market.
The report "Europe Caprolactam Market" defines and segments the Caprolactam market in the region with analyses and projections of the size of the Europe Caprolactam Market with respect to volume (KT) and value ($million).
Caprolactam is best known for its commercial usage in polyamide 6 and is consumed globally for the large scale development and socio-economical advancements of the end user industries.
The volumetric consumption of caprolactam is increasing due to new projects and environmental rules and regulations of the polyamide 6 market.
The demand for caprolactam is supported by stringent government regulations, increasing pressure for lightweight and durable polyamide 6, and the need for improving the standard of processing and manufacturing end-products.
The demand of caprolactam is more due to the popularity of polyamide 6 in the European market and also because it is mainly used in extrusion applications. Areas of application for polyamide 6 are film, stock shapes, bearings, bushings, and blow molded. It is also used in power tools, air-conditioning ducts, and tanks.
The Europe Caprolactam Market report covers the Caprolactam market in Europe and its key trends concerning with major countries such as Germany, France, Italy and others in the region. The major applications covered in the Europe Caprolactam Market are textile, industrial, carpet, automotive, film & coating, machinery, electrical & electronics, consumer goods, appliances, wire & cable, & others.
Further, as a part of qualitative analysis, the research report provides a comprehensive review of important drivers, restraints, opportunities, and key burning issues in the Europe Caprolactam Market.
The Europe Caprolactam Market report also provides an extensive competitive landscape of the companies operating in this market. It also includes the company profiles and competitive strategies adopted by various market players, BASF SE (Germany), Royal DSM N.V. (The Netherlands), LANXESS AG (Germany), and other market players in the Europe Caprolactam Market.
Customization Options:
Along with the market data, you can also customize MMM offerings that meet your company's specific needs. Customize your report on the Europe Caprolactam Market to get an insight into all-inclusive industry standards and a deep-dive analysis of the following considerations:
Production capacity (market share) of the caprolactam and polyamide 6,6 can be provided for different geographic regions such as North America, Europe, Asia-Pacific and Rest of World
Detailed in-depth analysis of polyamide 6,6 can be provided on the basis of its types, applications and the consumption trend (demand & supply)
SWOT Analysis of the top players of Caprolactam market can be provided
Trade data, by country - Import-export data, by each country of the region and other key countries of different geographic regions
1 Introduction
1.1 Objective of the study
1.2 Market Definitions
1.3 Market Segmentation & Aspects Covered
1.4 Research Methodology
1.4.1 Assumptions (Market Size, Forecast, etc)

2 Executive Summary

3 Market Overview

4 Caprolactam-Europe, By Applications
4.1 Split By Geography
4.1 Caprolactam-France by Applications
4.1 Caprolactam-Germany by Applications
4.1 Caprolactam-Italy by Applications
4.2 Caprolactam-Europe-Nylon-6 (PA 6)
4.2.1 Caprolactam-Europe-Nylon-6 (PA 6), By Geographies
4.2.1.1 Caprolactam-Italy-Nylon-6 (PA 6)
4.2.1.2 Caprolactam-Germany-Nylon-6 (PA 6)
4.2.1.3 Caprolactam-France-Nylon-6 (PA 6)
4.2.2 Caprolactam-Europe-Nylon-6 (PA 6), By Applications
4.2.2.1 Caprolactam-Nylon-6 (PA 6) Engineering Plastics-Europe
4.2.2.2 Caprolactam-Nylon-6 (PA 6) Fibers-Europe

5 Caprolactam-Europe, By Geographies
5.1 Caprolactam-France
5.1.1 Caprolactam-France, By Applications
5.1.1.1 Caprolactam-France-Nylon-6 (PA 6)
5.2 Caprolactam-Germany
5.2.1 Caprolactam-Germany, By Applications
5.2.1.1 Caprolactam-Germany-Nylon-6 (PA 6)
5.3 Caprolactam-Italy
5.3.1 Caprolactam-Italy, By Applications
5.3.1.1 Caprolactam-Italy-Nylon-6 (PA 6)
6 Caprolactam-Europe, By Companies
6.1 Competitive landscape
6.2 Split By Geography
6.2 Caprolactam-France by Companies
6.1 Caprolactam-Germany by Companies
6.1 Caprolactam-Italy by Companies
6.3 Caprolactam-Europe-BASF SE
6.4 Caprolactam-Europe-Koninklijke DSM N.V.
6.5 Caprolactam-Europe-Lanxess AG
6.6 Caprolactam-Europe-Domo Chemicals
6.7 Caprolactam-Europe-Ube Industries Ltd.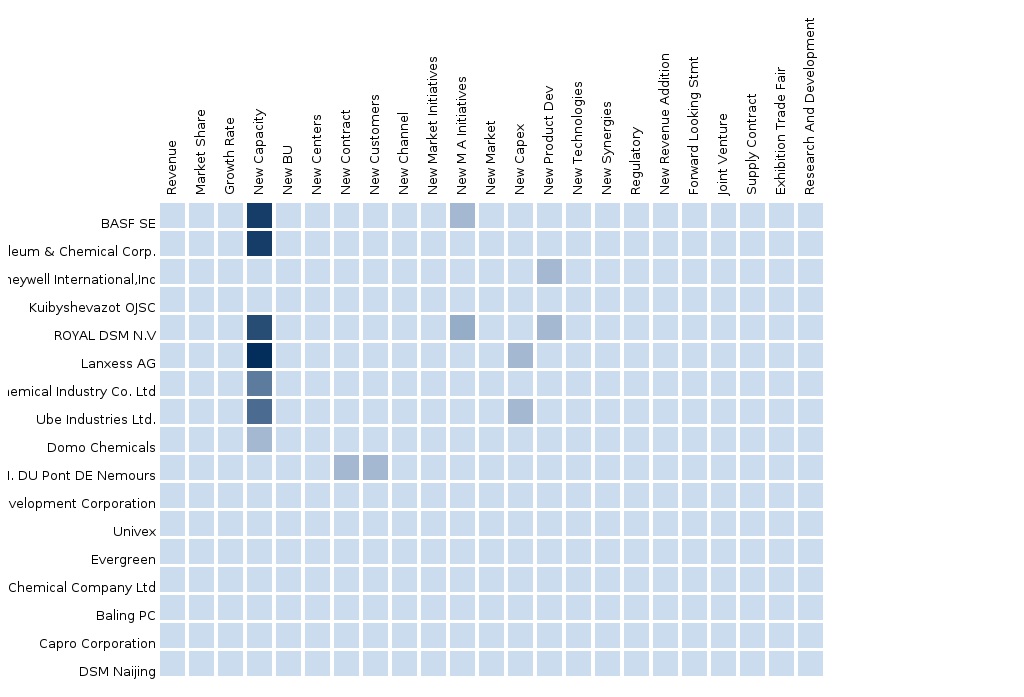 Please fill in the form below to receive a free copy of the Summary of this Report
Custom Market Research Services
We will customize the research for you, in case the report listed above does not meet with your exact requirements. Our custom research will comprehensively cover the business information you require to help you arrive at strategic and profitable business decisions.
Please visit
http://www.micromarketmonitor.com/custom-research-services.html
to specify your custom Research Requirement