Isocyanates can be segmented by Geographies, Applications, Companies and Submarkets. Geographies of Isocyanates are Asia-Pacific, Americas, Europe and Rest of World. Applications of Isocyanates are Polyurethane Coating and Polyurethane Adhesive. Companies of Isocyanates are Asahi Kasei Group, BASF SE , Bayer MaterialScience, Chemtura Corporation, Dow Corning Corporation, Evonik Industries, Huntsman Corporation, HEBEI CANGZHOU DAHUA GROUP CO. LTD, KUMHO MITSUI CHEMICALS INC., Mitsui Chemicals Inc., Nan Ya Plastics Corporation, Vencorex Holding and Yantai Wanhua Polyurethanes Co. Ltd.. Submarkets of Isocyanates are Aliphatic Isocyanates and Aromatic Isocyanates.

Top developments
Bayer broke ground on its new 50kT/year HDI facility at Bayer Integrated Site Shanghai.
Bayer MaterialScience acquired DuPont's aniline production facility in baytown
Bayer MaterialScience opened its new coatings
Vencorx is planning to increase the production of speciality isocyanates
Vencorex announced to increase its pices on HDI and HDI derivatives
Dow chemical company is building a new R&D center near its massive chemical complex in Freeport
Mitsui Chemicals announced to construct the world's first large scale plant for XDI within its Omuta works
Mitsui Chemiclas announced to shut down its Kashima TDI plant
SBPC palns to expand the production capacity
The Dow chemical company announced to increase its price for MDI products.
1 Introduction
1.1 Analyst Insights
1.2 Market Definitions
1.3 Market Segmentation & Aspects Covered
1.4 Research Methodology
2 Executive Summary
3 Market Overview
4 Isocyanates by Submarkets
4.1 Aliphatic Isocyanates
4.2 Aromatic Isocyanates
5 Isocyanates by Applications
5.1 Polyurethane Coating
5.2 Polyurethane Adhesive
6 Isocyanates by Geographies
6.1 Asia-Pacific
6.2 Americas
6.3 Europe
6.4 Rest of World
7 Isocyanates by Companies
7.1 Asahi Kasei Group
7.2 BASF SE
7.3 Bayer MaterialScience
7.4 Chemtura Corporation
7.5 Dow Corning Corporation
7.6 Evonik Industries
7.7 Huntsman Corporation
7.8 HEBEI CANGZHOU DAHUA GROUP CO. LTD
7.9 KUMHO MITSUI CHEMICALS INC.
7.10 Mitsui Chemicals Inc.
7.11 Nan Ya Plastics Corporation
7.12 Vencorex Holding
7.13 Yantai Wanhua Polyurethanes Co. Ltd.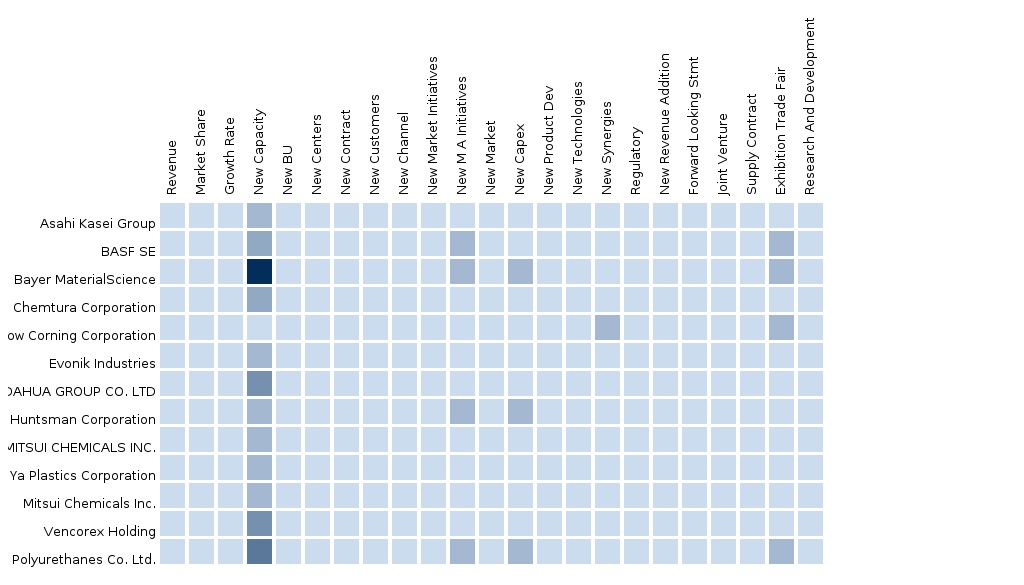 Please fill in the form below to receive a free copy of the Summary of this Report
Custom Market Research Services
We will customize the research for you, in case the report listed above does not meet with your exact requirements. Our custom research will comprehensively cover the business information you require to help you arrive at strategic and profitable business decisions.
Please visit
http://www.micromarketmonitor.com/custom-research-services.html
to specify your custom Research Requirement
PRODUCT TITLE
PUBLISHED
Aliphatic Isocyanates


The global Aliphatic Isocyanates market is segmented on the basis of region and applications. The major applications covered are Paints & Coatings, Elastomers and Adhesive. The report analyzes the market for Asia Pacific, North America, Europe and Rest of World. The major companies operating in this market are Bayer Material Science, Asahi Kasehi and Vencorex.



Upcoming
Aromatic Isocyanates


Aromatic Isocyanates and Aliphatic Isocyanates adds up to total



Upcoming
2 of 2 items
2 reports | Show