Isopropanol (IPA) is one of the most widely used solvent in the world due to its good solvency properties with most of the solvents including water. The Global Isopropanol Market was valued at $2838.3 million in 2012, and is projected to reach $4231.5 million by 2018, at a CAGR of 6.9%. Global Isopropanol market has grown considerably during the past few years and is expected to grow at a more rapid pace in the next five years, mainly driven by growing demand in ROW & Asia-Pacific region.
Isopropanol is a clear and colorless solvent which is used in the industry as a general cleaner and as a precursor for manufacturing various chemicals. It is manufactured by direct or indirect hydration on propylene and by catalytic hydrogenation of acetone. It is used in diverse applications such as solvents (process solvent, coating solvent, cleaning agent, aerosol solvent, etc.), precursor to various chemicals (isopropyl esters, isopropyl amines, etc.), pharmaceuticals, and household applications.
The Global Isopropanol market is experiencing significant growth that is expected to continue in the near future, majorly driven by growth in Asia-Pacific and increased use in the pharmaceutical industry. A significant amount of investments is being made by various market players in order to prepare to serve high potential markets in future. Presently, regions such as Asia-Pacific and North America are major consumers of isopropanol.
Asia-Pacific is the major isopropanol market among all the regions, accounting for almost 39.6% of the total global demand. The region is further expected to show a very high growth in future, mainly due to high growth potential of Chinese and Indian market. Demand for isopropanol in Europe and North America is growing at a lower rate due to stringent VOC's emission norms. Share of ROW in isopropanol market is currently least, but the region is expected to show the highest growth rate in future.
The key regions covered in the report are Asia-Pacific, Europe and North America and ROW. The various applications studied include Solvent, Chemical intermediate, Pharmaceutical and others. Further, as a part of qualitative analysis, the market research report provides a comprehensive review of the important drivers, restraints, opportunities, and issues in the isopropanol market.
The Market report also provides an extensive competitive landscape of the companies operating in this market. It also includes the company profiles of and competitive strategies adopted by various market players, including Royal Dutch Shell Plc. (The Netherlands), The Dow Chemical Company (U.S.), Exxon Mobil Chemical Company (U.S.), and Sasol Ltd (South Africa).
Customization Options:
Along with the market data, you can also customize MMM assessments that meet your company's specific needs. Customize to get comprehensive industry standards and deep dive analysis of the following parameters:
Competitive landscape with a detailed comparison of portfolio of each company mapped at the regional- and country-level
Comprehensive Production Data on Isopropanol Raw material suppliers as well as producers at country level
Comprehensive data showing isopropanol plant capacities, production, consumption, trade statistics, price analysis
Analysis of forward chain integration as well as backward chain integration to understand the approach of business prevailing in the isopropanol market
Detailed analysis of Competitive Strategies like new product launch, expansions, merger & acquisitions that are adopted by various companies and their impact on the Market
Detailed Analysis of various opportunities in the Isopropanol Market
Issues, information on the market under consideration
1. Introduction
1.1. Objectives of the Study
1.2. Report Description
1.3. Markets Covered By
1.3.1. Applications
1.3.2. Geographies
1.4. Stakeholders
1.5. Research Methodology
1.6. Assumptions

2. Market Snapshot

3. Global Isopropanol Market Overview
3.1. Introduction
3.1.1. Average Selling Price
3.1.2. Regional Market Summary
3.2. Market Dynamics
3.2.1. Drivers
3.2.2. Restraints
3.2.3. Opportunities
3.3. Supporting Data
3.3.1. Trade Data
3.3.2. Economic Indicators

4. Global Isopropanol Market -By Applications
4.1. Pharmaceutical Manufacturing
4.2. Oxygenated Solvents
4.3. Chemical Manufacturing
4.4. Other Applications
5. Global Isopropanol Market -By Geography
5.1. North America
5.1.1. U.S.
5.1.2. Canada
5.1.3. Mexico
5.2. Asia-Pacific
5.2.1. China
5.2.2. Japan
5.2.3. India
5.2.4. South Korea
5.2.5. Taiwan
5.2.6. Others
5.3. Europe
5.3.1. Germany
5.3.2. The Netherlands
5.3.3. France
5.3.4. Others
5.4. Rest of World
5.4.1. Argentina
5.4.2. Brazil
5.4.3. Others

6. Global Isopropanol Market -Competitive Landscape
6.1. Isopropanol -Market Share Analysis
6.2. Isopropanol -Market Developments
6.2.1. Mergers and acquisitions
6.2.2. New product launches
6.2.3. Agreements and collaborations
6.2.4. Strategic expansions

7. Global Isopropanol Market -Company Profiles
7.1. BASF SE
7.2. Carboclor S.A.
7.3. China National Petroleum Corporation
7.4. Deepak Fertilizers And Petrochemicals Corporation Limited
7.5. Eastman Chemical Company
7.6. Exxon Mobil Chemical Company
7.7. ISU Chemical Co. Ltd.
7.8. JX Nippon Oil & Energy Corporation
7.9. LCY Chemical Corp.
7.10. LG Chem Ltd.
7.11. LyondellBasell Industries N.V.
7.12. Mitsui Chemicals Inc.
7.13. Novacap SAS
7.14. Rhodia S.A.
7.15. Royal Dutch Shell Plc
7.16. Sasol Limited
7.17. The Dow Chemical Company
7.18. Tokuyama Corporation
7.19. Zhejiang Xinhua Chemical Co. Ltd.

8. Technological Advancements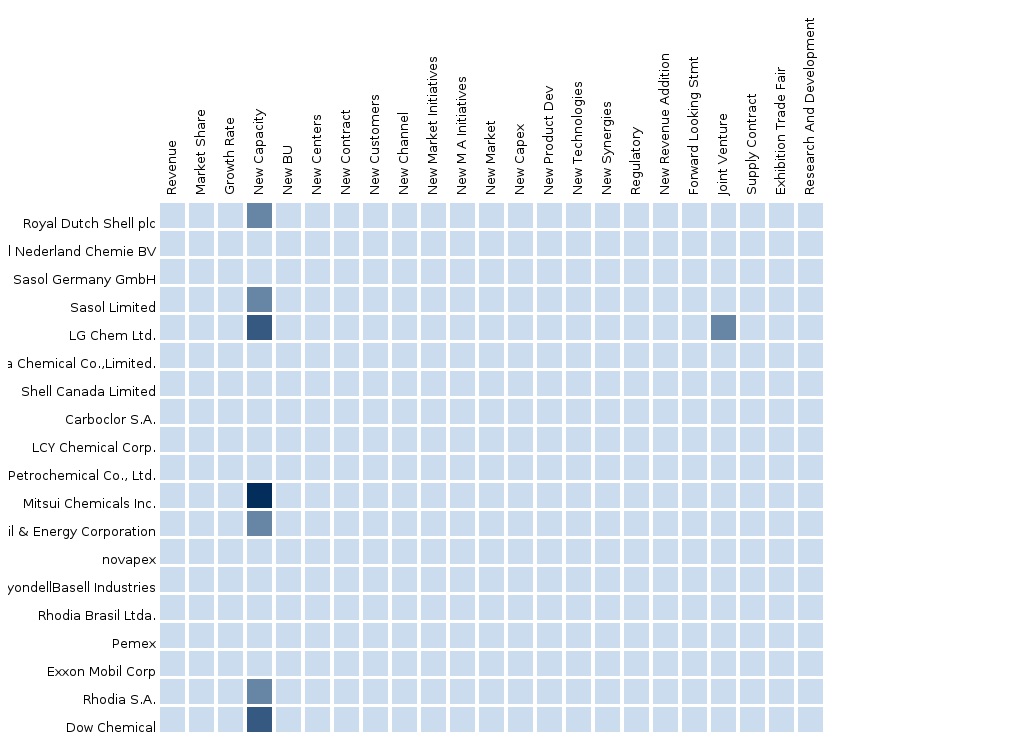 Please fill in the form below to receive a free copy of the Summary of this Report
Custom Market Research Services
We will customize the research for you, in case the report listed above does not meet with your exact requirements. Our custom research will comprehensively cover the business information you require to help you arrive at strategic and profitable business decisions.
Please visit
http://www.micromarketmonitor.com/custom-research-services.html
to specify your custom Research Requirement
PRODUCT TITLE
PUBLISHED
Asia-Pacific Isopropanol


The Asia-Pacific isopropanol market has been pegged at $1.03b in the year 2013 growing at 8.3% annually and Asia-Pacific isopropanol market is projected to reach $1.5b by the end of the year 2018. Asia-Pacific Isopropanol market constitutes 36.4% of the global Isopropanol market and its market share is poised to reach 38.8% by the end of 2018. The report is segmented on basis of applications and geographies.



Upcoming
North America Isopropanol


The North American isopropanol market has been pegged at $0.87b in the year 2013 growing at 5.3% annually and and is projected to reach $1.1b by the end of the year 2018. The North American isopropanol report segments the market into major applications including Oxygenated Solvents, Chemical Manufacturing, and Pharmaceutical Manufacturing.



Upcoming
Europe Isopropanol


The European isopropanol market constitutes 24.9% of the global isopropanol market. The report is segmented on the basis of applications and geographies.



Upcoming
3 of 3 items
3 reports | Show