Europe Air Quality Control Systems Market
Description
Table of Contents
Customer Intelligence
The air quality control system (AQCS) market was estimated to be $10.19 billion by 2014, and is forecasted to reach $13.20 billion by 2019. It is expected to grow at a CAGR of 5.3% from 2014 to 2019. The demand of fabric filter is very high in the European region with $3.73 million in 2014.
The report 'Europe Air Quality Control System Market forecast, 2014-2019' analyzes the AQCS market by types and geography, such as U.K., Germany, Italy, and France. In terms of types, the reports is segmented into various types of AQCS equipment, such as flue gas desulphurization, electrostatic precipitator, fabric filters, NOx control systems, and mercury control systems.
Fabric filters holds around 36.7% share of the AQCS market, and expected to grow by end of 2019 with CAGR of 8.5%. This region is the fastest-growing for the AQCS market, due to huge industrialization and the largest number of players in developing countries such as Germany.
Europe is the third-highest market for AQCS with approximately value of $10.19 million. The region is characterized with continuous technical innovative applications in various types of the AQCS equipment with the presence of top service providers such as Babcock & Wilcox (U.S.), Mitsubishi Hitachi (U.S.), Alstom (France), and Thermax (India). The region witnesses the highest share of fabric filters with value of $3.73 million, and is expected to grow by $5.60 million by 2019, at CAGR of 8.5%, from 2014 to 2019.
The report also provides an extensive competitive landscaping of companies operating in the AQCS. Some of the key players operating in the market are Babcock & Wilcox, Alstom, Mitsubishi Hitachi, and Thermax. European region market shares, new product or service launches, M&A, and the product portfolio of key market players have been detailed in the report.
Customization Options
Along with the market data, you can also customize MMM assessments that meet your company's specific needs. Customize to get comprehensive industry standard and deep dive analysis of the following parameters:
Key competitors
Increase in company profiling
Product advancement
Product Analysis
Comparison of service portfolio of each company mapped
Key upcoming projects analysis (news, contracts, M & A)
Technological updates analysis (news, M & A, contracts)
Macro data
Industrialization, coal-fired power plants (country level data)
Environmental concerns (country level data)
Increase in power plants (country level)
Increase in energy demands
Expert forum
Qualitative inputs on AQCS activities - trends in different countries
1 Introduction
1.1 Objective of the study
1.2 Market Definitions
1.3 Market Segmentation & Aspects Covered
1.4 Research Methodology
1.4.1 Assumptions (Market Size, Forecast, etc)
2 Executive Summary
3 Market Overview
4 Air Quality Control Systems-Europe, By Technologies
4.1 Split By Geography
4.1 United Kingdom by Technologies
4.1 France by Technologies
4.1 Germany by Technologies
4.1 Italy by Technologies
4.1 Europe - Europe - Other Geographies by Technologies
4.1 Europe - Norway by Technologies
4.2 Other Control Systems-Europe
4.2.1 Other Control Systems-Europe, By Geographies
4.2.1.1 Other Control Systems-United Kingdom
4.2.1.2 Other Control Systems-Germany
4.2.1.3 Other Control Systems-Italy
4.2.1.4 Other Control Systems-France
4.2.1.5 Other Control Systems-Europe - Europe - Other Geographies
4.3 Electrostatic Precipitator-Europe
4.3.1 Electrostatic Precipitator-Europe, By Geographies
4.3.1.1 Electrostatic Precipitator-United Kingdom
4.3.1.2 Electrostatic Precipitator-Germany
4.3.1.3 Electrostatic Precipitator-Italy
4.3.1.4 Electrostatic Precipitator-France
4.3.1.5 Electrostatic Precipitator-Europe - Europe - Other Geographies
4.4 Fabric Filters-Europe
4.4.1 Fabric Filters-Europe, By Geographies
4.4.1.1 Fabric Filters-United Kingdom
4.4.1.2 Fabric Filters-Germany
4.4.1.3 Fabric Filters-Italy
4.4.1.4 Fabric Filters-France
4.4.1.5 Fabric Filters-Europe - Europe - Other Geographies
4.5 SCR-Europe
4.5.1 SCR-Europe, By Geographies
4.5.1.1 SCR-United Kingdom
4.5.1.2 SCR-Germany
4.5.1.3 SCR-Italy
4.5.1.4 SCR-France
4.5.1.5 SCR-Europe - Europe - Other Geographies
4.6 Scrubbers/ Adsorbers/ Biofilters Market-Europe
4.6.1 Scrubbers/ Adsorbers/ Biofilters Market-Europe, By Geographies
4.6.1.1 Scrubbers/ Adsorbers/ Biofilters Market-United Kingdom
4.6.1.2 Scrubbers/ Adsorbers/ Biofilters Market-Germany
4.6.1.3 Scrubbers/ Adsorbers/ Biofilters Market-Italy
4.6.1.4 Scrubbers/ Adsorbers/ Biofilters Market-France
4.6.1.5 Scrubbers/ Adsorbers/ Biofilters Market-Europe - Europe - Other Geographies
4.7 FGD-Europe
4.7.1 FGD-Europe, By Geographies
4.7.1.1 FGD-United Kingdom
4.7.1.2 FGD-Germany
4.7.1.3 FGD-Italy
4.7.1.4 FGD-France
4.7.1.5 FGD-Europe - Europe - Other Geographies

5 Air Quality Control Systems-Europe, By Geographies
5.1 Air Quality Control Systems-United Kingdom
5.1.1 Air Quality Control Systems-United Kingdom, By Technologies
5.1.1.1 Other Control Systems-United Kingdom
5.1.1.2 Electrostatic Precipitator-United Kingdom
5.1.1.3 Fabric Filters-United Kingdom
5.1.1.4 SCR-United Kingdom
5.1.1.5 Scrubbers/ Adsorbers/ Biofilters Market-United Kingdom
5.1.1.6 FGD-United Kingdom
5.2 France
5.2.1 France, By Technologies
5.2.1.1 Other Control Systems-France
5.2.1.2 Electrostatic Precipitator-France
5.2.1.3 Fabric Filters-France
5.2.1.4 SCR-France
5.2.1.5 Scrubbers/ Adsorbers/ Biofilters Market-France
5.2.1.6 FGD-France
5.3 Germany
5.3.1 Germany, By Technologies
5.3.1.1 Other Control Systems-Germany
5.3.1.2 Electrostatic Precipitator-Germany
5.3.1.3 Fabric Filters-Germany
5.3.1.4 SCR-Germany
5.3.1.5 Scrubbers/ Adsorbers/ Biofilters Market-Germany
5.3.1.6 FGD-Germany
5.4 Italy
5.4.1 Italy, By Technologies
5.4.1.1 Other Control Systems-Italy
5.4.1.2 Electrostatic Precipitator-Italy
5.4.1.3 Fabric Filters-Italy
5.4.1.4 SCR-Italy
5.4.1.5 Scrubbers/ Adsorbers/ Biofilters Market-Italy
5.4.1.6 FGD-Italy
5.5 Europe - Europe - Other Geographies
5.5.1 Europe - Europe - Other Geographies, By Technologies
5.5.1.1 Other Control Systems-Europe - Europe - Other Geographies
5.5.1.2 Electrostatic Precipitator-Europe - Europe - Other Geographies
5.5.1.3 Fabric Filters-Europe - Europe - Other Geographies
5.5.1.4 SCR-Europe - Europe - Other Geographies
5.5.1.5 Scrubbers/ Adsorbers/ Biofilters Market-Europe - Europe - Other Geographies
5.5.1.6 FGD-Europe - Europe - Other Geographies
5.6 Europe - Norway
5.6.1 Europe - Norway, By Companies
5.6.1.1 Europe - Norway-Alstom Renewable power
6 Europe, By Companies
6.1 Split By Geography
6.2 United Kingdom by Companies
6.1 France by Companies
6.1 Germany by Companies
6.1 Italy by Companies
6.1 Europe - Europe - Other Geographies by Companies
6.1 Europe - Norway by Companies
6.2 Alstom Renewable power-Europe
6.3 Europe-BABCOCK &WILCOX CO.
6.4 Europe-MITSUBISHI HITACHI POWER SYSTEMS LTD.
6.5 Europe-Thermax Environment
6.6 Europe-Foster Wheeler AG Global Power Group
6.7 Europe-Other Companies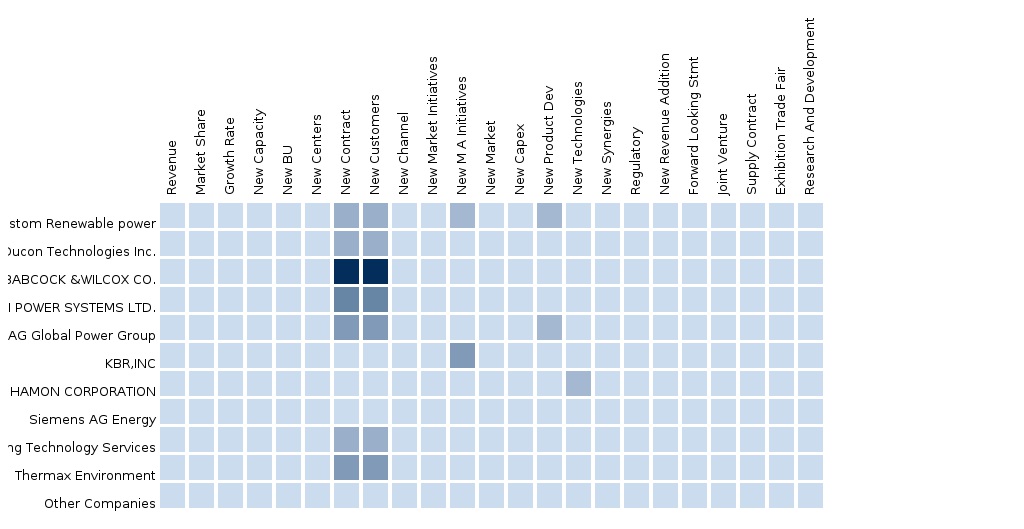 Europe Air Quality Control Systems