Asia-Pacific Water Soluble Fertilizers Market
Description
Table of Contents
Customer Intelligence
Water Soluble Fertilizers-Asia market has been pegged at $1,849m in the year 2013 growing at 6.1% annually and is projected to reach $2,482.3m by the end of the year 2018.
Water Soluble Fertilizers-Asia constitute 16.2% of Global Water Soluble Fertilizers market and are poised to grow its market share to 16.8% by the end of year 2018.
It is segmented on basis of geographies and types.
Key question answered
What are market estimates and forecasts; which of Water Soluble Fertilizers-Asia markets are doing well and which are not?
Audience for this report
Water Soluble Fertilizers-Asia companies
How below markets are influencing the growth of Water Soluble Fertilizers
Agricultural Land-Brazil
Water Soluble Fertilizers
Nitrogenous
Potassic
Phosphatic
Micronutrients
CUSTOMIZATION OPTIONS FOR WATER SOLUBLE FERTILIZERS (WSF) - ASIA
Along with the market data, you can also customize MMM assessments that meet your company's specific needs. Customize your report to get a summary of the industry standards and a deep-dive analysis of the following parameters.
Technical Analysis
The expansion of the Asia-Pacific region has made the market very diverse and differential in the agricultural sector. The use and efficiency of water soluble fertilizers depends upon the type of soil and other geographical factors essential for agriculture. Nitrogenous and phosphatic water soluble fertilizers may deliver different results for similar conditions.
A regional geographical analysis and its suitability for particular type of water soluble fertilizer product will be done.
To increase the utility of fertilizer, it is necessary to understand the soil nature as the salinity of the soil will not support acidic fertilizer and vice-versa. This will help in deeper understanding of the market size.
Regions with high precipitation tend to drain away the components of water soluble fertilizers. The analysis of the climate of the Asia-Pacific region will help to understand such pockets where water soluble fertilizers market will be affected due to climatic reasons.
Pattern in Usage of Fertilizers
Asia-Pacific, being a developing region lacks advanced western technology. Primitive agricultural practices use fertilizers differently and in varying amounts.
The report covers the study of the usage pattern of water soluble fertilizers (nitrogenous, phosphatic, potassic, micronutrients), which is often non-scientific.
The report also covers the study of the usage of water soluble fertilizers in terms of volume, which is often applied arbitrarily.
Low-cost Sourcing Locations
With the rising cost of raw material, prices have been increasing. Cost optimization is taking place at every value addition process. But a good percentage of reduction in cost can be achieved at the input level itself.
Various raw material sourcing locations can be studied and a comparative analysis of low-cost raw material sourcing locations can be provided.
Locations with good logistics and connectivity, can be discovered along with low cost of inputs.
Competitive Intelligence
The advantage that the competitor is enjoying over others
The companies operating in the segment with a similar product portfolio or targeting similar markets
Arriving at a competitive benchmarking by taking into account the top industry players in the same category
Regulatory Framework
To study if the regulatory issues in import policies of the countries are adversely affecting the business
To study whether the government is offering any fertilizer subsidies or non-tariff barriers for agricultural inputs
Crop - application usage data
Type of water soluble fertilizer (Nitrogenous, Phosphatic, Potassic, Micronutrients) preferred for a particular crop (field, horticultural, turf & ornamental crops).
Type of water soluble fertilizer (Nitrogenous, Phosphatic, Potassic, Micronutrients) is preferred for a particular application (Fertigation, Foliar).
1 Introduction
1.1 Objective of the study
1.1.1 Overall goal of writing the report
1.2 Market Definition and Scope of the study
1.2.1 Market Definition
1.2.2 Areas covered
1.2.3 Markets Covered
1.3 Stakeholders
1.4 Research Methodology
1.4.1 Secondary sources
1.4.2 Primary Sources
1.4.3 Market estimation methodology (Top-down, bottom-up, data triangulation.)
1.4.4 Macro indicators for the study
1.5 Assumptions
1.6 List of Acronyms
2 Market Overview
3 Water Soluble Fertilizers-Asia, By Types
3.1 Split By Geography
3.2 Nitrogenous-Asia
3.2.1 Nitrogenous-Asia, By Geographies
3.2.1.1 Nitrogenous-India
3.2.1.2 Nitrogenous-China
3.2.1.3 Nitrogenous-Israel
3.2.1.4 Nitrogenous-Australia
3.2.1.5 Nitrogenous-Malaysia
3.2.1.6 Nitrogenous-Asia - Other Geographies
3.3 Phosphatic-Asia
3.3.1 Phosphatic-Asia, By Companies
3.3.1.1 Phosphatic-Rashtriya Chemical and Fertilizers Ltd (RCF Ltd.)-Asia
3.3.1.2 Phosphatic-Qatar Fertiliser Company (S.A.Q.)-Asia
3.3.1.3 Phosphatic-Coromandel Fertilisers-Asia
3.3.1.4 Phosphatic-Sinochem agricultural business-Asia
3.3.1.5 Phosphatic-Fertilizer products (GSFC)-Asia
3.3.2 Phosphatic-Asia, By MacroIndicators
3.3.2.1 Phosphatic-Agricultural Land-Asia
3.3.3 Phosphatic-Asia, By Geographies
3.3.3.1 Phosphatic-India
3.3.3.2 Phosphatic-China
3.3.3.3 Phosphatic-Israel
3.3.3.4 Phosphatic-Australia
3.3.3.5 Phosphatic-Malaysia
3.3.3.6 Phosphatic-Asia - Other Geographies
3.4 Potassic-Asia
3.4.1 Potassic-Asia, By Companies
3.4.1.1 Potassic-SQM Potassium-Asia
3.4.1.2 Potassic-Potash Corp. of Saskatchewan Inc.-Asia
3.4.1.3 Potassic-The Mosaic Co.-Asia
3.4.1.4 Potassic-Agrium Crop protection products-Asia
3.4.1.5 Potassic-Sichuan Meifeng Compound fertilizer-Asia
3.4.1.6 Potassic-Arab Potash Company PLC (APC)-Asia
3.4.1.7 Potassic-Migao Corporation (China)-Asia
3.4.2 Potassic-Asia, By MacroIndicators
3.4.2.1 Potassic-Agricultural Land-Asia
3.4.3 Potassic-Asia, By Geographies
3.4.3.1 Potassic-India
3.4.3.2 Potassic-China
3.4.3.3 Potassic-Israel
3.4.3.4 Potassic-Australia
3.4.3.5 Potassic-Malaysia
3.4.3.6 Potassic-South Korea
3.4.3.7 Potassic-Indonesia
3.4.3.8 Potassic-Asia - Other Geographies
3.5 Micronutrients-Asia
3.5.1 Micronutrients-Asia, By MacroIndicators
3.5.1.1 Micronutrients-Agricultural Land-Asia
3.5.2 Micronutrients-Asia, By Geographies
3.5.2.1 Micronutrients-India
3.5.2.2 Micronutrients-China
3.5.2.3 Micronutrients-Israel
3.5.2.4 Micronutrients-Australia
3.5.2.5 Micronutrients-Malaysia
3.5.2.6 Micronutrients-Asia - Other Geographies
4 Water Soluble Fertilizers-Asia, By Geographies
4.1 Water Soluble Fertilizers-India
4.1.1 Water Soluble Fertilizers-India, By MacroIndicators
4.1.1.1 Water Soluble Fertilizers-Agricultural Land-India
4.1.2 Water Soluble Fertilizers-India, By Companies
4.1.2.1 Water Soluble Fertilizers-The Mosaic Co.-India
4.1.2.2 Water Soluble Fertilizers-Potash Corp. of Saskatchewan Inc.-India
4.1.2.3 Water Soluble Fertilizers-Aries Agro Limited-India
4.1.2.4 Water Soluble Fertilizers-Coromandel Fertilisers-India
4.1.2.5 Water Soluble Fertilizers-SQM Potassium-India
4.1.2.6 Water Soluble Fertilizers-Fertilizer products (GSFC)-India
4.1.2.7 Water Soluble Fertilizers-ICL Fertilizers-India
4.1.2.8 Water Soluble Fertilizers-Zuari Fertilizers-India
4.1.3 Water Soluble Fertilizers-India, By Types
4.1.3.1 Phosphatic-India
4.1.3.2 Potassic-India
4.1.3.3 Nitrogenous-India
4.1.3.4 Micronutrients-India
4.2 Water Soluble Fertilizers-China
4.2.1 Water Soluble Fertilizers-China, By MacroIndicators
4.2.1.1 Water Soluble Fertilizers-Agricultural Land-China
4.2.2 Water Soluble Fertilizers-China, By Companies
4.2.2.1 Water Soluble Fertilizers-The Mosaic Co.-China
4.2.2.2 Water Soluble Fertilizers-Potash Corp. of Saskatchewan Inc.-China
4.2.2.3 Water Soluble Fertilizers-Sinochem agricultural business-China
4.2.2.4 Water Soluble Fertilizers-Yara International ASA-China
4.2.2.5 Water Soluble Fertilizers-EuroChem-China
4.2.3 Water Soluble Fertilizers-China, By Types
4.2.3.1 Phosphatic-China
4.2.3.2 Potassic-China
4.2.3.3 Nitrogenous-China
4.2.3.4 Micronutrients-China
4.3 Water Soluble Fertilizers-Israel
4.3.1 Water Soluble Fertilizers-Israel, By MacroIndicators
4.3.1.1 Water Soluble Fertilizers-Agricultural Land-Israel
4.3.2 Water Soluble Fertilizers-Israel, By Types
4.3.2.1 Phosphatic-Israel
4.3.2.2 Potassic-Israel
4.3.2.3 Nitrogenous-Israel
4.3.2.4 Micronutrients-Israel
4.4 Water Soluble Fertilizers-Australia
4.4.1 Water Soluble Fertilizers-Australia, By MacroIndicators
4.4.1.1 Water Soluble Fertilizers-Agricultural Land-Australia
4.4.2 Water Soluble Fertilizers-Australia, By Companies
4.4.2.1 Water Soluble Fertilizers-Apache Corporation-Australia
4.4.2.2 Water Soluble Fertilizers-Yara International ASA-Australia
4.4.2.3 Water Soluble Fertilizers-Agrium Crop protection products-Australia
4.4.3 Water Soluble Fertilizers-Australia, By Types
4.4.3.1 Phosphatic-Australia
4.4.3.2 Potassic-Australia
4.4.3.3 Nitrogenous-Australia
4.4.3.4 Micronutrients-Australia
4.5 Water Soluble Fertilizers-Malaysia
4.5.1 Water Soluble Fertilizers-Malaysia, By MacroIndicators
4.5.1.1 Water Soluble Fertilizers-Agricultural Land-Malaysia
4.5.2 Water Soluble Fertilizers-Malaysia, By Types
4.5.2.1 Phosphatic-Malaysia
4.5.2.2 Potassic-Malaysia
4.5.2.3 Nitrogenous-Malaysia
4.5.2.4 Micronutrients-Malaysia
4.6 Water Soluble Fertilizers-South Korea
4.6.1 Water Soluble Fertilizers-South Korea, By Companies
4.6.1.1 Water Soluble Fertilizers-The Mosaic Co.-South Korea
4.6.1.2 Water Soluble Fertilizers-Potash Corp. of Saskatchewan Inc.-South Korea
4.6.2 Water Soluble Fertilizers-South Korea, By Types
4.6.2.1 Potassic-South Korea
4.7 Water Soluble Fertilizers-Indonesia
4.7.1 Water Soluble Fertilizers-Indonesia, By Companies
4.7.1.1 Water Soluble Fertilizers-Arab Potash Company PLC (APC)-Indonesia
4.7.2 Water Soluble Fertilizers-Indonesia, By Types
4.7.2.1 Potassic-Indonesia
4.8 Water Soluble Fertilizers-Asia - Other Geographies
4.8.1 Water Soluble Fertilizers-Asia - Other Geographies, By MacroIndicators
4.8.1.1 Water Soluble Fertilizers-Agricultural Land-Asia - Other Geographies
4.8.2 Water Soluble Fertilizers-Asia - Other Geographies, By Types
4.8.2.1 Nitrogenous-Asia - Other Geographies
4.8.2.2 Phosphatic-Asia - Other Geographies
4.8.2.3 Potassic-Asia - Other Geographies
4.8.2.4 Micronutrients-Asia - Other Geographies
5 Water Soluble Fertilizers-Asia, By Companies
5.1 Split By Geography
5.2 Water Soluble Fertilizers-Others(Company)-Asia
5.3 Water Soluble Fertilizers-Uralkali JSC-Asia
5.4 Water Soluble Fertilizers-Sinochem agricultural business-Asia
5.4.1 Water Soluble Fertilizers-Sinochem agricultural business-Asia, By Geographies
5.4.1.1 Water Soluble Fertilizers-Sinochem agricultural business-China
5.4.2 Water Soluble Fertilizers-Sinochem agricultural business-Asia, By Types
5.4.2.1 Phosphatic-Sinochem agricultural business-Asia
5.5 Water Soluble Fertilizers-Yara International ASA-Asia
5.5.1 Water Soluble Fertilizers-Yara International ASA-Asia, By Geographies
5.5.1.1 Water Soluble Fertilizers-Yara International ASA-Australia
5.5.1.2 Water Soluble Fertilizers-Yara International ASA-China
5.5.2 Water Soluble Fertilizers-Yara International ASA-Asia, By Types
5.5.2.1 Nitrogenous-Yara International ASA-Asia
5.6 Water Soluble Fertilizers-SQM Potassium-Asia
5.6.1 Water Soluble Fertilizers-SQM Potassium-Asia, By Geographies
5.6.1.1 Water Soluble Fertilizers-SQM Potassium-India
5.6.2 Water Soluble Fertilizers-SQM Potassium-Asia, By Types
5.6.2.1 Potassic-SQM Potassium-Asia
5.7 Water Soluble Fertilizers-The Mosaic Co.-Asia
5.7.1 Water Soluble Fertilizers-The Mosaic Co.-Asia, By Geographies
5.7.1.1 Water Soluble Fertilizers-The Mosaic Co.-South Korea
5.7.1.2 Water Soluble Fertilizers-The Mosaic Co.-India
5.7.1.3 Water Soluble Fertilizers-The Mosaic Co.-China
5.7.2 Water Soluble Fertilizers-The Mosaic Co.-Asia, By Types
5.7.2.1 Potassic-The Mosaic Co.-Asia
5.8 Water Soluble Fertilizers-Arab Potash Company PLC (APC)-Asia
5.8.1 Water Soluble Fertilizers-Arab Potash Company PLC (APC)-Asia, By Geographies
5.8.1.1 Water Soluble Fertilizers-Arab Potash Company PLC (APC)-Indonesia
5.8.2 Water Soluble Fertilizers-Arab Potash Company PLC (APC)-Asia, By Types
5.8.2.1 Potassic-Arab Potash Company PLC (APC)-Asia
5.9 Water Soluble Fertilizers-Apache Corporation-Asia
5.9.1 Water Soluble Fertilizers-Apache Corporation-Asia, By Geographies
5.9.1.1 Water Soluble Fertilizers-Apache Corporation-Australia
5.9.2 Water Soluble Fertilizers-Apache Corporation-Asia, By Types
5.9.2.1 Nitrogenous-Apache Corporation-Asia
5.10 Water Soluble Fertilizers-Rashtriya Chemical and Fertilizers Ltd (RCF Ltd.)-Asia
5.10.1 Water Soluble Fertilizers-Rashtriya Chemical and Fertilizers Ltd (RCF Ltd.)-Asia, By Types
5.10.1.1 Phosphatic-Rashtriya Chemical and Fertilizers Ltd (RCF Ltd.)-Asia
5.11 Water Soluble Fertilizers-Agrium Crop protection products-Asia
5.11.1 Water Soluble Fertilizers-Agrium Crop protection products-Asia, By Geographies
5.11.1.1 Water Soluble Fertilizers-Agrium Crop protection products-Australia
5.11.2 Water Soluble Fertilizers-Agrium Crop protection products-Asia, By Types
5.11.2.1 Potassic-Agrium Crop protection products-Asia
5.12 Water Soluble Fertilizers-ICL Fertilizers-Asia
5.12.1 Water Soluble Fertilizers-ICL Fertilizers-Asia, By Geographies
5.12.1.1 Water Soluble Fertilizers-ICL Fertilizers-India
5.13 Water Soluble Fertilizers-Sichuan Meifeng Compound fertilizer-Asia
5.13.1 Water Soluble Fertilizers-Sichuan Meifeng Compound fertilizer-Asia, By Types
5.13.1.1 Potassic-Sichuan Meifeng Compound fertilizer-Asia
5.13.1.2 Nitrogenous-Sichuan Meifeng Compound fertilizer-Asia
5.14 Water Soluble Fertilizers-OCI Fertilizer-Asia
5.15 Water Soluble Fertilizers-Coromandel Fertilisers-Asia
5.15.1 Water Soluble Fertilizers-Coromandel Fertilisers-Asia, By Geographies
5.15.1.1 Water Soluble Fertilizers-Coromandel Fertilisers-India
5.15.2 Water Soluble Fertilizers-Coromandel Fertilisers-Asia, By Types
5.15.2.1 Phosphatic-Coromandel Fertilisers-Asia
5.16 Water Soluble Fertilizers-Fertilizer products (GSFC)-Asia
5.16.1 Water Soluble Fertilizers-Fertilizer products (GSFC)-Asia, By Geographies
5.16.1.1 Water Soluble Fertilizers-Fertilizer products (GSFC)-India
5.16.2 Water Soluble Fertilizers-Fertilizer products (GSFC)-Asia, By Types
5.16.2.1 Phosphatic-Fertilizer products (GSFC)-Asia
5.17 Water Soluble Fertilizers-EuroChem-Asia
5.17.1 Water Soluble Fertilizers-EuroChem-Asia, By Geographies
5.17.1.1 Water Soluble Fertilizers-EuroChem-China
5.18 Water Soluble Fertilizers-Zuari Fertilizers-Asia
5.18.1 Water Soluble Fertilizers-Zuari Fertilizers-Asia, By Geographies
5.18.1.1 Water Soluble Fertilizers-Zuari Fertilizers-India
5.19 Water Soluble Fertilizers-Petróleo Brasileiro S.A (Petrobras)-Asia
5.20 Water Soluble Fertilizers-Qatar Fertiliser Company (S.A.Q.)-Asia
5.20.1 Water Soluble Fertilizers-Qatar Fertiliser Company (S.A.Q.)-Asia, By Types
5.20.1.1 Nitrogenous-Qatar Fertiliser Company (S.A.Q.)-Asia
5.20.1.2 Phosphatic-Qatar Fertiliser Company (S.A.Q.)-Asia
5.21 Water Soluble Fertilizers-Aries Agro Limited-Asia
5.21.1 Water Soluble Fertilizers-Aries Agro Limited-Asia, By Geographies
5.21.1.1 Water Soluble Fertilizers-Aries Agro Limited-India
5.22 Water Soluble Fertilizers-Kuibyshevazot Ammonia & nitrogen fertilizer-Asia
5.23 Water Soluble Fertilizers-Potash Corp. of Saskatchewan Inc.-Asia
5.23.1 Water Soluble Fertilizers-Potash Corp. of Saskatchewan Inc.-Asia, By Geographies
5.23.1.1 Water Soluble Fertilizers-Potash Corp. of Saskatchewan Inc.-South Korea
5.23.1.2 Water Soluble Fertilizers-Potash Corp. of Saskatchewan Inc.-India
5.23.1.3 Water Soluble Fertilizers-Potash Corp. of Saskatchewan Inc.-China
5.23.2 Water Soluble Fertilizers-Potash Corp. of Saskatchewan Inc.-Asia, By Types
5.23.2.1 Potassic-Potash Corp. of Saskatchewan Inc.-Asia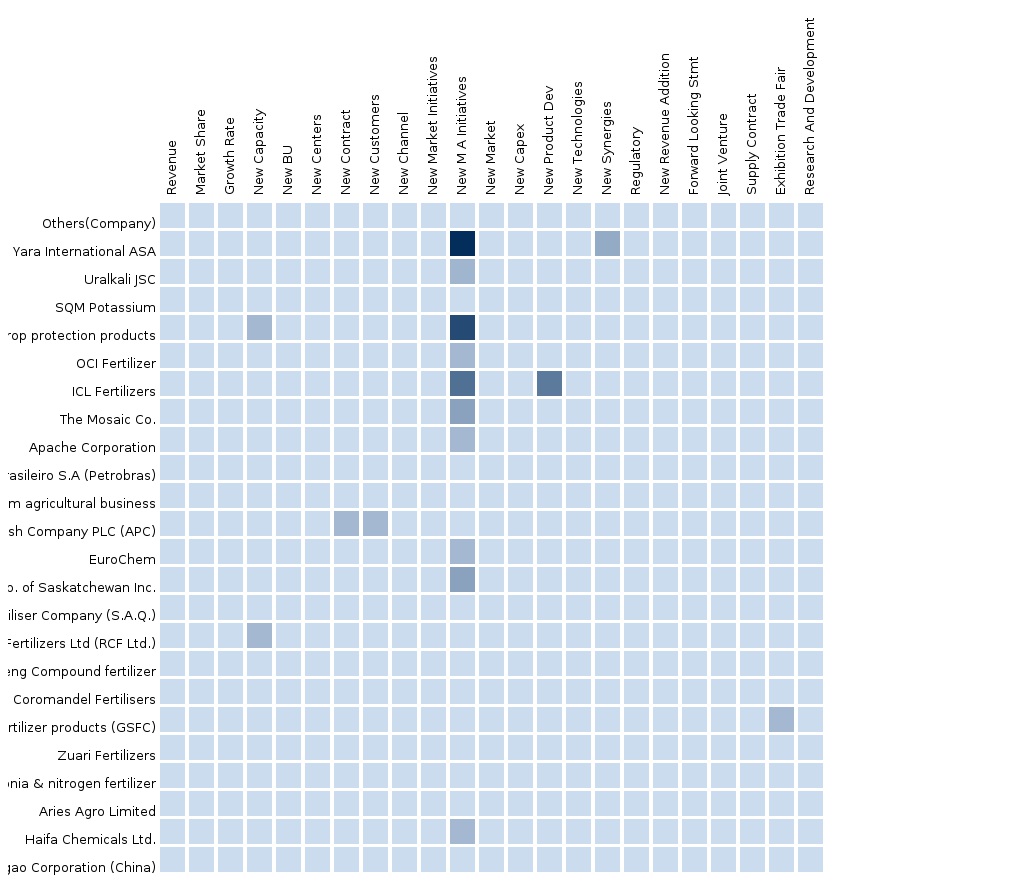 Asia Water Soluble Fertilizers