Asian Outpatient Pharmacy Information system Market
Description
Table of Contents
Customer Intelligence
The Asian outpatient pharmacy information system (PIS) market is expected to grow at a CAGR of 9.5%, between 2013 and 2018, to reach $128.15 million in 2018. The PIS have been used to deliver pharmacy services by collecting and storing information on medication usage. A PIS assists in patient care by keeping track of medications, drug interactions, drug allergies, and other medication related complications. Outpatient pharmacy services include preparation of prescription in order to offer accurate medication and convenient filling of prescription therapy, speeding up the entire process.
The growth is attributed to the cost benefits of healthcare IT, growing expenditure on healthcare IT, and increase in number of healthcare equipment manufacturers. Interoperability issues of products from different suppliers and shortage of healthcare IT professionals are the factors restraining the outpatient PIS market in Asia. However, increasing adoption in emerging markets like India, Singapore, and South Korea offers important growth opportunity for the outpatient pharmacy information system market in Asia.
In this report, the outpatient PIS market is segmented on the basis of its types, applications, deployment, component, and end-user. The outpatient pharmacy information system market, by type is segmented into integrated and standalone. The application is further segmented into, clinical guidelines, clinical reminders, drug allergy alerts, drug dosing support, drug-drug interactions, and other applications. The market by deployment is further categorized as on-premises, web-premises, and cloud-premises while market by component comprises of hardware, software, and services. The end-users sub-segments are office-based physicians, hospitals, emergency healthcare service providers, nurses, and other end-users.
The major players in this market are Athenahealth (U.S.), Allscripts (U.S.), Carestream Health Inc. (U.S.), Cerner Corporation (U.S.), eClinicalWorks LLC (U.S.), Epic Systems (U.S.), GE Healthcare (U.K.), McKesson Corporation (U.S.), Philips Healthcare (Netherlands), Practice Fusion (U.S.), Siemens Healthcare AG (Germany), and other companies.
1 Introduction
1.1 Introduce the Market
1.2 Objective of the study
1.3 Market Definition and Scope of the study
1.3.1 Market Definition
1.3.2 Areas covered
1.3.3 Markets Covered
1.4 Stakeholders
1.5 Research Methodology
1.5.1 Secondary sources
1.5.2 Primary Sources
1.5.3 Market estimation methodology (Top-down, bottom-up, data triangulation.)
1.5.4 Macro indicators for the study
1.6 Assumptions
1.7 List of Acronyms
2 Market Overview
3 Outpatient Outpatient Pharmacy Information system Asia, By Applications
3.1 Outpatient Pharmacy Information System, Split By Geography
3.2 Clinical Guidelines
3.2.1 Clinical Guidelines, By Geographies
3.2.1.1 Outpatient-Asia - Japan-Clinical Guidelines
3.2.1.2 Outpatient-China-Clinical Guidelines
3.2.1.3 Outpatient-India-Clinical Guidelines
3.2.1.4 Outpatient-Asia - Other Geographies-Clinical Guidelines
3.2.2 Clinical Guidelines, By Products
3.2.2.1 Integrated Outpatient PIS Asia-Clinical Guidelines
3.2.2.2 Standalone Outpatient PIS Asia-Clinical Guidelines
3.3 Clinical Reminders
3.3.1 Clinical Reminders, By Geographies
3.3.1.1 Outpatient-Asia - Japan-Clinical Reminders
3.3.1.2 Outpatient-China-Clinical Reminders
3.3.1.3 Outpatient-India-Clinical Reminders
3.3.1.4 Outpatient-Asia - Other Geographies-Clinical Reminders
3.3.2 Clinical Reminders, By Products
3.3.2.1 Integrated Outpatient PIS Asia-Clinical Reminders
3.3.2.2 Standalone Outpatient PIS Asia-Clinical Reminders
3.4 Drug Allergy Alerts
3.4.1 Drug Allergy Alerts, By Geographies
3.4.1.1 Outpatient-Asia - Japan-Drug Allergy Alerts
3.4.1.2 Outpatient-China-Drug Allergy Alerts
3.4.1.3 Outpatient-India-Drug Allergy Alerts
3.4.1.4 Outpatient-Asia - Other Geographies-Drug Allergy Alerts
3.4.2 Drug Allergy Alerts, By Products
3.4.2.1 Integrated Outpatient PIS Asia-Drug Allergy Alerts
3.4.2.2 Standalone Outpatient PIS Asia-Drug Allergy Alerts
3.5 Drug-Drug Interactions
3.5.1 Drug-Drug Interactions, By Geographies
3.5.1.1 Outpatient-Asia - Japan-Drug-Drug Interactions
3.5.1.2 Outpatient-China-Drug-Drug Interactions
3.5.1.3 Outpatient-India-Drug-Drug Interactions
3.5.1.4 Outpatient-Asia - Other Geographies-Drug-Drug Interactions
3.5.2 Drug-Drug Interactions, By Products
3.5.2.1 Integrated Outpatient PIS Asia-Drug-Drug Interactions
3.5.2.2 Standalone Outpatient PIS Asia-Drug-Drug Interactions
3.6 Drug Dosing Support
3.6.1 Drug Dosing Support, By Geographies
3.6.1.1 Outpatient-Asia - Japan-Drug Dosing Support
3.6.1.2 Outpatient-China-Drug Dosing Support
3.6.1.3 Outpatient-India-Drug Dosing Support
3.6.1.4 Outpatient-Asia - Other Geographies-Drug Dosing Support
3.6.2 Drug Dosing Support, By Products
3.6.2.1 Integrated Outpatient PIS Asia-Drug Dosing Support
3.6.2.2 Standalone Outpatient PIS Asia-Drug Dosing Support
4 Outpatient Outpatient Pharmacy Information system Asia, By Deployments
4.1 Outpatient Pharmacy Information System, Split By Geography
4.2 Cloud-based
4.2.1 Cloud-based, By Geographies
4.2.1.1 Outpatient-Asia - Japan-Cloud-based
4.2.1.2 Outpatient-China-Cloud-based
4.2.1.3 Outpatient-India-Cloud-based
4.2.1.4 Outpatient-Asia - Other Geographies-Cloud-based
4.2.2 Cloud-based, By Products
4.2.2.1 Standalone Outpatient PIS Asia-Cloud-based
4.2.2.2 Integrated Outpatient PIS Asia-Cloud-based
4.3 On-premise
4.3.1 On-premise, By Geographies
4.3.1.1 Outpatient-Asia - Japan-On-premise
4.3.1.2 Outpatient-China-On-premise
4.3.1.3 Outpatient-India-On-premise
4.3.1.4 Outpatient-Asia - Other Geographies-On-premise
4.3.2 On-premise, By Products
4.3.2.1 Standalone Outpatient PIS Asia-On-premise
4.3.2.2 Integrated Outpatient PIS Asia-On-premise
4.4 Web-based
4.4.1 Web-based, By Geographies
4.4.1.1 Outpatient-Asia - Japan-Web-based
4.4.1.2 Outpatient-China-Web-based
4.4.1.3 Outpatient-India-Web-based
4.4.1.4 Outpatient-Asia - Other Geographies-Web-based
4.4.2 Web-based, By Products
4.4.2.1 Standalone Outpatient PIS Asia-Web-based
4.4.2.2 Integrated Outpatient PIS Asia-Web-based
5 Outpatient Outpatient Pharmacy Information system Asia, By Components
5.1 Outpatient Pharmacy Information System, Split By Geography
5.2 Services (Healthcare IT)
5.2.1 Services (Healthcare IT), By Geographies
5.2.1.1 Outpatient-Asia - Japan-Services (Healthcare IT)
5.2.1.2 Outpatient-China-Services (Healthcare IT)
5.2.1.3 Outpatient-India-Services (Healthcare IT)
5.2.1.4 Outpatient-Asia - Other Geographies-Services (Healthcare IT)
5.2.2 Services (Healthcare IT), By Products
5.2.2.1 Integrated Outpatient PIS Asia-Services (Healthcare IT)
5.2.2.2 Standalone Outpatient PIS Asia-Services (Healthcare IT)
5.3 Software (Healthcare IT)
5.3.1 Software (Healthcare IT), By Geographies
5.3.1.1 Outpatient-Asia - Japan-Software (Healthcare IT)
5.3.1.2 Outpatient-China-Software (Healthcare IT)
5.3.1.3 Outpatient-India-Software (Healthcare IT)
5.3.1.4 Outpatient-Asia - Other Geographies-Software (Healthcare IT)
5.3.2 Software (Healthcare IT), By Products
5.3.2.1 Integrated Outpatient PIS Asia-Software (Healthcare IT)
5.3.2.2 Standalone Outpatient PIS Asia-Software (Healthcare IT)
5.4 Hardware (Healthcare IT)
5.4.1 Hardware (Healthcare IT), By Geographies
5.4.1.1 Outpatient-Asia - Japan-Hardware (Healthcare IT)
5.4.1.2 Outpatient-China-Hardware (Healthcare IT)
5.4.1.3 Outpatient-India-Hardware (Healthcare IT)
5.4.1.4 Outpatient-Asia - Other Geographies-Hardware (Healthcare IT)
5.4.2 Hardware (Healthcare IT), By Products
5.4.2.1 Integrated Outpatient PIS Asia-Hardware (Healthcare IT)
5.4.2.2 Standalone Outpatient PIS Asia-Hardware (Healthcare IT)
6 Outpatient Outpatient Pharmacy Information system Asia, By Endusers
6.1 Outpatient Pharmacy Information System, Split By Geography
6.2 Office based Physicians
6.2.1 Office based Physicians, By Geographies
6.2.1.1 Outpatient-Asia - Japan-Office based Physicians
6.2.1.2 Outpatient-China-Office based Physicians
6.2.1.3 Outpatient-India-Office based Physicians
6.2.1.4 Outpatient-Asia - Other Geographies-Office based Physicians
6.2.2 Office based Physicians, By Products
6.2.2.1 Integrated Outpatient PIS Asia-Office based Physicians
6.2.2.2 Standalone Outpatient PIS Asia-Office based Physicians
6.3 Hospitals
6.3.1 Hospitals, By Geographies
6.3.1.1 Outpatient-Asia - Japan-Hospitals
6.3.1.2 Outpatient-China-Hospitals
6.3.1.3 Outpatient-India-Hospitals
6.3.1.4 Outpatient-Asia - Other Geographies-Hospitals
6.3.2 Hospitals, By Endusers
6.3.2.1 <100 beds
6.3.2.2 >500 beds
6.3.2.3 100-199 beds
6.3.2.4 200-299 beds
6.3.2.5 300-399 beds
6.3.2.6 400-499 beds
6.3.3 Hospitals, By Products
6.3.3.1 Integrated Outpatient PIS Asia-Hospitals
6.3.3.2 Standalone Outpatient PIS Asia-Hospitals
6.4 Emergency Healthcare Service providers
6.4.1 Emergency Healthcare Service providers, By Geographies
6.4.1.1 Outpatient-Asia - Japan-Emergency Healthcare Service providers
6.4.1.2 Outpatient-China-Emergency Healthcare Service providers
6.4.1.3 Outpatient-India-Emergency Healthcare Service providers
6.4.1.4 Outpatient-Asia - Other Geographies-Emergency Healthcare Service providers
6.4.2 Emergency Healthcare Service providers, By Products
6.4.2.1 Integrated Outpatient PIS Asia-Emergency Healthcare Service providers
6.4.2.2 Standalone Outpatient PIS Asia-Emergency Healthcare Service providers
6.5 Nurses
6.5.1 Nurses, By Geographies
6.5.1.1 Outpatient-Asia - Japan-Nurses
6.5.1.2 Outpatient-China-Nurses
6.5.1.3 Outpatient-India-Nurses
6.5.1.4 Outpatient-Asia - Other Geographies-Nurses
6.5.2 Nurses, By Products
6.5.2.1 Integrated Outpatient PIS Asia-Nurses
6.5.2.2 Standalone Outpatient PIS Asia-Nurses
7 Outpatient Outpatient Pharmacy Information system Asia, By Products
7.1 Outpatient Pharmacy Information System, Split By Geography
7.2 Integrated Outpatient PIS Asia
7.2.1 Integrated Outpatient PIS Asia, By Components
7.2.1.1 Integrated Outpatient PIS Asia-Hardware (Healthcare IT)
7.2.1.2 Integrated Outpatient PIS Asia-Software (Healthcare IT)
7.2.1.3 Integrated Outpatient PIS Asia-Services (Healthcare IT)
7.2.2 Integrated Outpatient PIS Asia, By Deployments
7.2.2.1 Integrated Outpatient PIS Asia-On-premise
7.2.2.2 Integrated Outpatient PIS Asia-Web-based
7.2.2.3 Integrated Outpatient PIS Asia-Cloud-based
7.2.3 Integrated Outpatient PIS Asia, By Endusers
7.2.3.1 Integrated Outpatient PIS Asia-Office based Physicians
7.2.3.2 Integrated Outpatient PIS Asia-Hospitals
7.2.3.3 Integrated Outpatient PIS Asia-Emergency Healthcare Service providers
7.2.3.4 Integrated Outpatient PIS Asia-Nurses
7.2.4 Integrated Outpatient PIS Asia, By Applications
7.2.4.1 Integrated Outpatient PIS Asia-Clinical Guidelines
7.2.4.2 Integrated Outpatient PIS Asia-Clinical Reminders
7.2.4.3 Integrated Outpatient PIS Asia-Drug Allergy Alerts
7.2.4.4 Integrated Outpatient PIS Asia-Drug-Drug Interactions
7.2.4.5 Integrated Outpatient PIS Asia-Drug Dosing Support
7.2.5 Integrated Outpatient PIS Asia, By Geographies
7.2.5.1 Integrated Outpatient PIS Asia - Japan
7.2.5.2 Integrated Outpatient PIS China
7.2.5.3 Integrated Outpatient PIS India
7.2.5.4 Integrated Outpatient PIS Asia - Other Geographies
7.3 Standalone Outpatient PIS Asia
7.3.1 Standalone Outpatient PIS Asia, By Components
7.3.1.1 Standalone Outpatient PIS Asia-Hardware (Healthcare IT)
7.3.1.2 Standalone Outpatient PIS Asia-Software (Healthcare IT)
7.3.1.3 Standalone Outpatient PIS Asia-Services (Healthcare IT)
7.3.2 Standalone Outpatient PIS Asia, By Deployments
7.3.2.1 Standalone Outpatient PIS Asia-On-premise
7.3.2.2 Standalone Outpatient PIS Asia-Web-based
7.3.2.3 Standalone Outpatient PIS Asia-Cloud-based
7.3.3 Standalone Outpatient PIS Asia, By Endusers
7.3.3.1 Standalone Outpatient PIS Asia-Office based Physicians
7.3.3.2 Standalone Outpatient PIS Asia-Hospitals
7.3.3.3 Standalone Outpatient PIS Asia-Emergency Healthcare Service providers
7.3.3.4 Standalone Outpatient PIS Asia-Nurses
7.3.4 Standalone Outpatient PIS Asia, By Applications
7.3.4.1 Standalone Outpatient PIS Asia-Clinical Guidelines
7.3.4.2 Standalone Outpatient PIS Asia-Clinical Reminders
7.3.4.3 Standalone Outpatient PIS Asia-Drug Allergy Alerts
7.3.4.4 Standalone Outpatient PIS Asia-Drug-Drug Interactions
7.3.4.5 Standalone Outpatient PIS Asia-Drug Dosing Support
7.3.5 Standalone Outpatient PIS Asia, By Geographies
7.3.5.1 Standalone Outpatient PIS Asia - Japan
7.3.5.2 Standalone Outpatient PIS China
7.3.5.3 Standalone Outpatient PIS India
7.3.5.4 Standalone Outpatient PIS Asia - Other Geographies
8 Outpatient Outpatient Pharmacy Information system Asia, By Geographies
8.1 Outpatient-Asia - Japan
8.1.1 Outpatient-Asia - Japan, By Deployments
8.1.1.1 Outpatient-Asia - Japan-Cloud-based
8.1.1.2 Outpatient-Asia - Japan-On-premise
8.1.1.3 Outpatient-Asia - Japan-Web-based
8.1.2 Outpatient-Asia - Japan, By Components
8.1.2.1 Outpatient-Asia - Japan-Services (Healthcare IT)
8.1.2.2 Outpatient-Asia - Japan-Software (Healthcare IT)
8.1.2.3 Outpatient-Asia - Japan-Hardware (Healthcare IT)
8.1.3 Outpatient-Asia - Japan, By Endusers
8.1.3.1 Outpatient-Asia - Japan-Office based Physicians
8.1.3.2 Outpatient-Asia - Japan-Hospitals
8.1.3.3 Outpatient-Asia - Japan-Emergency Healthcare Service providers
8.1.3.4 Outpatient-Asia - Japan-Nurses
8.1.4 Outpatient-Asia - Japan, By Applications
8.1.4.1 Outpatient-Asia - Japan-Clinical Guidelines
8.1.4.2 Outpatient-Asia - Japan-Clinical Reminders
8.1.4.3 Outpatient-Asia - Japan-Drug Allergy Alerts
8.1.4.4 Outpatient-Asia - Japan-Drug-Drug Interactions
8.1.4.5 Outpatient-Asia - Japan-Drug Dosing Support
8.1.5 Outpatient-Asia - Japan, By Products
8.1.5.1 Integrated Outpatient PIS Asia - Japan
8.1.5.2 Standalone Outpatient PIS Asia - Japan
8.2 Outpatient-China
8.2.1 Outpatient-China, By Deployments
8.2.1.1 Outpatient-China-Cloud-based
8.2.1.2 Outpatient-China-On-premise
8.2.1.3 Outpatient-China-Web-based
8.2.2 Outpatient-China, By Components
8.2.2.1 Outpatient-China-Services (Healthcare IT)
8.2.2.2 Outpatient-China-Software (Healthcare IT)
8.2.2.3 Outpatient-China-Hardware (Healthcare IT)
8.2.3 Outpatient-China, By Endusers
8.2.3.1 Outpatient-China-Office based Physicians
8.2.3.2 Outpatient-China-Hospitals
8.2.3.3 Outpatient-China-Emergency Healthcare Service providers
8.2.3.4 Outpatient-China-Nurses
8.2.4 Outpatient-China, By Applications
8.2.4.1 Outpatient-China-Clinical Guidelines
8.2.4.2 Outpatient-China-Clinical Reminders
8.2.4.3 Outpatient-China-Drug Allergy Alerts
8.2.4.4 Outpatient-China-Drug-Drug Interactions
8.2.4.5 Outpatient-China-Drug Dosing Support
8.2.5 Outpatient-China, By Products
8.2.5.1 Integrated Outpatient PIS China
8.2.5.2 Standalone Outpatient PIS China
8.3 Outpatient-India
8.3.1 Outpatient-India, By Deployments
8.3.1.1 Outpatient-India-Cloud-based
8.3.1.2 Outpatient-India-On-premise
8.3.1.3 Outpatient-India-Web-based
8.3.2 Outpatient-India, By Components
8.3.2.1 Outpatient-India-Services (Healthcare IT)
8.3.2.2 Outpatient-India-Software (Healthcare IT)
8.3.2.3 Outpatient-India-Hardware (Healthcare IT)
8.3.3 Outpatient-India, By Endusers
8.3.3.1 Outpatient-India-Office based Physicians
8.3.3.2 Outpatient-India-Hospitals
8.3.3.3 Outpatient-India-Emergency Healthcare Service providers
8.3.3.4 Outpatient-India-Nurses
8.3.4 Outpatient-India, By Applications
8.3.4.1 Outpatient-India-Clinical Guidelines
8.3.4.2 Outpatient-India-Clinical Reminders
8.3.4.3 Outpatient-India-Drug Allergy Alerts
8.3.4.4 Outpatient-India-Drug-Drug Interactions
8.3.4.5 Outpatient-India-Drug Dosing Support
8.3.5 Outpatient-India, By Products
8.3.5.1 Integrated Outpatient PIS India
8.3.5.2 Standalone Outpatient PIS India
8.4 Outpatient-Asia - Other Geographies
8.4.1 Outpatient-Asia - Other Geographies, By Deployments
8.4.1.1 Outpatient-Asia - Other Geographies-Cloud-based
8.4.1.2 Outpatient-Asia - Other Geographies-On-premise
8.4.1.3 Outpatient-Asia - Other Geographies-Web-based
8.4.2 Outpatient-Asia - Other Geographies, By Components
8.4.2.1 Outpatient-Asia - Other Geographies-Services (Healthcare IT)
8.4.2.2 Outpatient-Asia - Other Geographies-Software (Healthcare IT)
8.4.2.3 Outpatient-Asia - Other Geographies-Hardware (Healthcare IT)
8.4.3 Outpatient-Asia - Other Geographies, By Endusers
8.4.3.1 Outpatient-Asia - Other Geographies-Office based Physicians
8.4.3.2 Outpatient-Asia - Other Geographies-Hospitals
8.4.3.3 Outpatient-Asia - Other Geographies-Emergency Healthcare Service providers
8.4.3.4 Outpatient-Asia - Other Geographies-Nurses
8.4.4 Outpatient-Asia - Other Geographies, By Applications
8.4.4.1 Outpatient-Asia - Other Geographies-Clinical Guidelines
8.4.4.2 Outpatient-Asia - Other Geographies-Clinical Reminders
8.4.4.3 Outpatient-Asia - Other Geographies-Drug Allergy Alerts
8.4.4.4 Outpatient-Asia - Other Geographies-Drug-Drug Interactions
8.4.4.5 Outpatient-Asia - Other Geographies-Drug Dosing Support
8.4.5 Outpatient-Asia - Other Geographies, By Products
8.4.5.1 Integrated Outpatient PIS Asia - Other Geographies
8.4.5.2 Standalone Outpatient PIS Asia - Other Geographies
9 Outpatient Outpatient Pharmacy Information system Asia, By Companies
9.1 Outpatient Pharmacy Information System, Split By Geography
9.2 Outpatient Pharmacy Information system-Asia-McKesson Corporation
9.3 Outpatient Pharmacy Information system-Asia-Cerner Corporation
9.4 Outpatient Pharmacy Information system-Asia-Epic Systems
9.5 Outpatient Pharmacy Information system-Asia-GE Healthcare
9.6 Outpatient Pharmacy Information system-Asia-Emdeon
9.7 Outpatient Pharmacy Information system-Asia-Athenahealth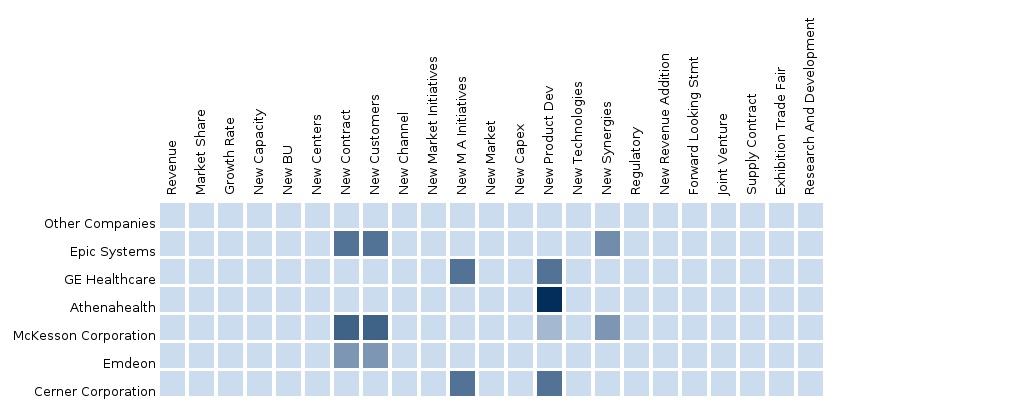 PRODUCT TITLE
PUBISHED
PRICE
Asian Pharmacy Information System Market


The Asian Pharmacy Information Systems (PIS) market, mainly driven by the growing popularity of e-prescriptions, was valued at $350.37 million in 2013 and is expected to reach $506.15 million by 2018, growing at a CAGR of 7.6% from 2013 to 2018. The report on this market analyzes the market under two segments: inpatient pharmacy information systems and outpatient pharmacy information systems. The companies covered in the report include McKesson Corporation, ScriptPro LLC, Parata Systems, LLC, and Swisslog Holding AG.



28 Nov 2014
$ 3500
North American Pharmacy Information System Market


The North American Pharmacy Information Systems (PIS) market, mainly driven by the growing popularity of e-prescriptions, was valued at $1,294.70 million in 2013 and is expected to reach $1,892.02 million by 2018, growing at a CAGR of 7.9% from 2013 to 2018. The report on this market analyzes the market under two segments: inpatient pharmacy information systems and outpatient pharmacy information systems. The companies covered in the report include McKesson Corporation, ScriptPro LLC, Parata Systems, LLC, and Swisslog Holding AG.



28 Nov 2014
$ 3500
European Pharmacy Information System Market


The European Pharmacy Information Systems (PIS) market, mainly driven by the growing popularity of e-prescriptions, was valued at $695.13 million in 2013 and is expected to reach $1,004.39 million by 2018, growing at a CAGR of 7.6% from 2013 to 2018. The report on this market analyzes the market under two segments: inpatient pharmacy information systems and outpatient pharmacy information systems. The companies covered in the report include McKesson Corporation, ScriptPro LLC, Parata Systems, LLC, and Swisslog Holding AG.



28 Nov 2014
$ 3500
Pharmacy Information System