Renewable Chemicals and its peer markets - Aerogel, De-icer solutions, Rubber chemicals, Photosensitive Chemicals, Wet Chemicals, Cementing Chemicals, Refining Catalysts, Mining Chemicals, Construction Chemicals and 21 other markets - adds up to total Specialty Chemicals market.

Renewable Chemicals can be segmented by Ingredients, Applications, Companies and Types. Ingredients of this market are Ethane, Propane, Butanes and Bio Mass. Applications of this market are Electronic Chemicals & Materials, Construction Chemicals, Semiconductors & Ic Process Chemicals, Mining Chemicals, Pesticides, Plastic Additives, Printing Ink, Rubber chemicals, Ceramic Industry, Textiles, Specialty Polymers and Water Treatment & Management. Companies of this market are Archer Daniels Midland Company, BASF SE , E.I. du Pont de Nemours and Company (DuPont), Evonik Industries, Novozymes A/S, Solvay S.A., Dow Chemical, Verenium Corporation, Amyris, Inc., BioAmber Inc., Bio Methanol Chemie Nederland B.V., Braskem S.A, Royal DSM, Genomatica, Inc., Metabolix, Inc., Myriant Corporation., NatureWorks LLC, OPX Biotechnologies, Inc., Solazyme Inc., UOP LLC and Cargill Incorporated. Types of this market are Polyhydroxyalkanoate (PHA).

Key Questions Answered
What are market estimates and forecasts; which of Renewable Chemicals markets are doing well and which are not?
What is the competitive landscape; How companies like Archer Daniels Midland Company, BASF SE and E.I. du Pont de Nemours and Company (DuPont) doing in Renewable Chemicals?

What makes our report unique?

It will provide you market insights into Electronic Chemicals & Materials, Construction Chemicals, Semiconductors & Ic Process Chemicals and Mining Chemicals.
This report provides market sizing and forecast for the Renewable Chemicals market. It also provides market sizing and forecast along with the drivers/inhibitors/opportunity analysis for each of the micro markets.
The report provides deep dive competitive landscape covering the top players such as Archer Daniels Midland Company, BASF SE , E.I. du Pont de Nemours and Company (DuPont) and Evonik Industries.
The reports provides benchmarking insight on the top players Archer Daniels Midland Company, BASF SE , E.I. du Pont de Nemours and Company (DuPont) and Evonik Industries.
The report provide competitive intelligence on Archer Daniels Midland Company, BASF SE , E.I. du Pont de Nemours and Company (DuPont) and Evonik Industries.

Audience for this report

Global Renewable Chemicals companies
Manufacturing Companies
Traders, distributors, and suppliers
Governmental and research organizations
Associations and industry bodies
Technology providers

Top developments

went public raising $80 million
NatureWorks announced that PTT Polymer Marketing Co., Ltd. (Thailand) will distribute the company Igneo products in Thailand and Vietnam.
OPX Biotechnologies announced that it has entered into a partnership with Evonik Industries
Solazyme announced that it has partnered with AkzoNobel
Evonik announced that it has entered into an agreement with OPX Biotechnologies
DuPont announced collaboration with USDA's Natural Resource Conservation Service
Genomatica announced that it has formed a joint venture with Versalis/Eni (Italy)
Genomatica will supply Toray Industries Inc. (Japan)
DuPont announced it plans to sell its bio-based solutions
Myriant signed an agreement with BCD Chemie




1 Introduction
1.1 Analyst Insights
1.2 Market Definitions
1.3 Market Segmentation & Aspects Covered
1.4 Research Methodology
2 Executive Summary
3 Market Overview
4 By Applications
4.1 Electronic Chemicals & Materials
4.2 Construction Chemicals
4.3 Semiconductors & Ic Process Chemicals
4.4 Mining Chemicals
4.5 Pesticides
4.6 Plastic Additives
4.7 Printing Ink
4.8 Rubber chemicals
4.9 Ceramic Industry
4.10 Textiles
4.11 Specialty Polymers
4.12 Water Treatment & Management
5 By Ingredients
5.1 Ethane
5.2 Propane
5.3 Butanes
5.4 Bio Mass
6 By Types
6.1 Polyhydroxyalkanoate (PHA)
7 By Companies
7.1 Archer Daniels Midland Company
7.2 BASF SE
7.3 E.I. du Pont de Nemours and Company (DuPont)
7.4 Evonik Industries
7.5 Novozymes A/S
7.6 Solvay S.A.
7.7 Dow Chemical
7.8 Verenium Corporation
7.9 Amyris, Inc.
7.10 BioAmber Inc.
7.11 Bio Methanol Chemie Nederland B.V.
7.12 Braskem S.A
7.13 Royal DSM
7.14 Genomatica, Inc.
7.15 Metabolix, Inc.
7.16 Myriant Corporation.
7.17 NatureWorks LLC
7.18 OPX Biotechnologies, Inc.
7.19 Solazyme Inc.
7.20 UOP LLC
7.21 Cargill Incorporated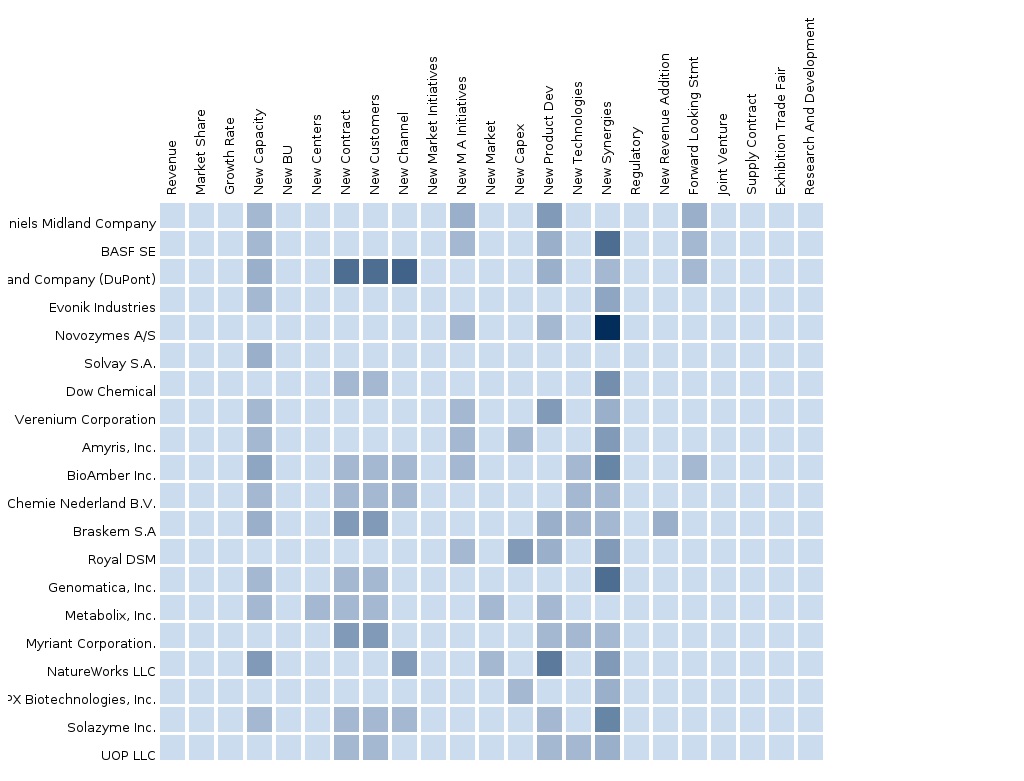 Please fill in the form below to receive a free copy of the Summary of this Report
Custom Market Research Services
We will customize the research for you, in case the report listed above does not meet with your exact requirements. Our custom research will comprehensively cover the business information you require to help you arrive at strategic and profitable business decisions.
Please visit
http://www.micromarketmonitor.com/custom-research-services.html
to specify your custom Research Requirement
PRODUCT TITLE
PUBLISHED
Asia-Pacific Renewable Chemicals


Renewable Chemicals - Asia-Pacific can be segmented by Ingredients, Applications, Companies and Types. Ingredients of this market are Ethane,



Upcoming
Europe Renewable Chemicals


Renewable Chemicals - Europe can be segmented by Ingredients, Applications, Companies and Types. Ingredients of this market are Ethane,



Upcoming
North America Renewable Chemicals


Renewable Chemicals - North America can be segmented by Ingredients, Applications, Companies and Types. Ingredients of this market are Ethane,



Upcoming
3 of 3 items
3 reports | Show