Polymer Foam and its peer markets - Polylactic Acid, Styrene-Acrylonitrile (SAN) Resins, Polycarboxylic Acid, Styrene-Butadiene Elastomers (SBR), Polybutadiene, Water Soluble Polymers, Polyimides and Imide Polymers, Butyl Elastomers, Fibers and 125 other markets - adds up to total Polymers market.

Polymer Foam can be segmented by Applications, Companies, Geographies, Types and Ingredients. Applications of this market are Building & Construction, Bedding & Furniture, Packaging, Wind Turbine and Automotive Interior. Companies of this market are Arkema S.A., Ineos Styrenics, Nitto Denko Corporation, Recticel SA/NV, Rogers Corporation, Sekisui Alveo AG, The Vita Group, Woodbridge Foams Corporation, BASF SE , Carpenter Co., Saint-Gobain Corporation, Armacell Enterprise GmbH & Co. KG, Synthos S.A., Dyplast Products, LLC, FoamPartner Fritz Nauer AG, JSP Corporation, Ming Dih Industry Co.,Limited., POLYPREEN NV, Zotefoams plc, Sealed Air Corporation and SUNPOR KUNSTSTOFF GmbH. Geographies of this market are Asia-Pacific, North America, Rest of World and Europe. Types of this market are Melamine Foam, Phenolic Foam, Polyvinyl Chloride Foams, Polyolefin Foams, Polyurethane Foams and Expanded Polystyrene. Ingredients of this market are Formaldehyde, Melamine, Methylene Diphenyl Diisocyanate (MDI), Phenol Formaldehyde, Polyethylene (PE), Polyols, Polypropylene (PP) and Styrene.

Key Questions Answered
What are market estimates and forecasts; which of Polymer Foam markets are doing well and which are not?
What is the competitive landscape; How companies like Arkema S.A., Ineos Styrenics and Nitto Denko Corporation doing in Polymer Foam?

What makes our report unique?

It will provide you market insights into Building & Construction, Bedding & Furniture, Packaging and Wind Turbine.
This report provides market sizing and forecast for the Polymer Foam market. It also provides market sizing and forecast along with the drivers/inhibitors/opportunity analysis for each of the micro markets.
The report provides deep dive competitive landscape covering the top players such as Arkema S.A., Ineos Styrenics, Nitto Denko Corporation and Recticel SA/NV.
The reports provides benchmarking insight on the top players Arkema S.A., Ineos Styrenics, Nitto Denko Corporation and Recticel SA/NV.
The report provide competitive intelligence on Arkema S.A., Ineos Styrenics, Nitto Denko Corporation and Recticel SA/NV.
Many times, customers do not get specific intelligence they are looking for in multi-client syndicated studies. So we offer 10% customization which will ensure you get the desired market intelligence, may it be specific to Building & Construction, Bedding & Furniture, Packaging and Wind Turbine applications or Polymer Foam market in Asia-Pacific, North America, Rest of World and Europe.

Audience for this report

Global Polymer Foam companies
Manufacturing Companies
Traders, distributors, and suppliers
Governmental and research organizations
Associations and industry bodies
Technology providers

Top developments

Armacell introduced new PET foam core
Woodbridge Group introduced Strata Plush HD polyurethane flexible laminate coverstock foam technology
rkema launched low GWP blowing agent for polyurethane foams
Woodbridge Group developed new technology
Sekisui Alveo collaborated with Mergon Automotive
The Woodbridge Group developed new technology
Zotefoams launched a new flotation foam,
Zotefoams launched a new polyvinylidene fluoride (PVDF) foam
BASF launched Infinergy, first expanded thermoplastic polyurethane (E-TPU)
BASF got together with Samsung Heavy Industries




1 Introduction
1.1 Analyst Insights
1.2 Market Definitions
1.3 Market Segmentation & Aspects Covered
1.4 Research Methodology
2 Executive Summary
3 Market Overview
4 By Applications
4.1 Building & Construction
4.2 Bedding & Furniture
4.3 Packaging
4.4 Wind Turbine
4.5 Automotive Interior
5 By Types
5.1 Melamine Foam
5.2 Phenolic Foam
5.3 Polyvinyl Chloride Foams
5.4 Polyolefin Foams
5.5 Polyurethane Foams
5.6 Expanded Polystyrene
6 By Ingredients
6.1 Formaldehyde
6.2 Melamine
6.3 Methylene Diphenyl Diisocyanate (MDI)
6.4 Phenol Formaldehyde
6.5 Polyethylene (PE)
6.6 Polyols
6.7 Polypropylene (PP)
6.8 Styrene
7 By Geographies
7.1 Asia-Pacific
7.2 North America
7.3 Rest of World
7.4 Europe
8 By Companies
8.1 Arkema S.A.
8.2 Ineos Styrenics
8.3 Nitto Denko Corporation
8.4 Recticel SA/NV
8.5 Rogers Corporation
8.6 Sekisui Alveo AG
8.7 The Vita Group
8.8 Woodbridge Foams Corporation
8.9 BASF SE
8.10 Carpenter Co.
8.11 Saint-Gobain Corporation
8.12 Armacell Enterprise GmbH & Co. KG
8.13 Synthos S.A.
8.14 Dyplast Products, LLC
8.15 FoamPartner Fritz Nauer AG
8.16 JSP Corporation
8.17 Ming Dih Industry Co.,Limited.
8.18 POLYPREEN NV
8.19 Zotefoams plc
8.20 Sealed Air Corporation
8.21 SUNPOR KUNSTSTOFF GmbH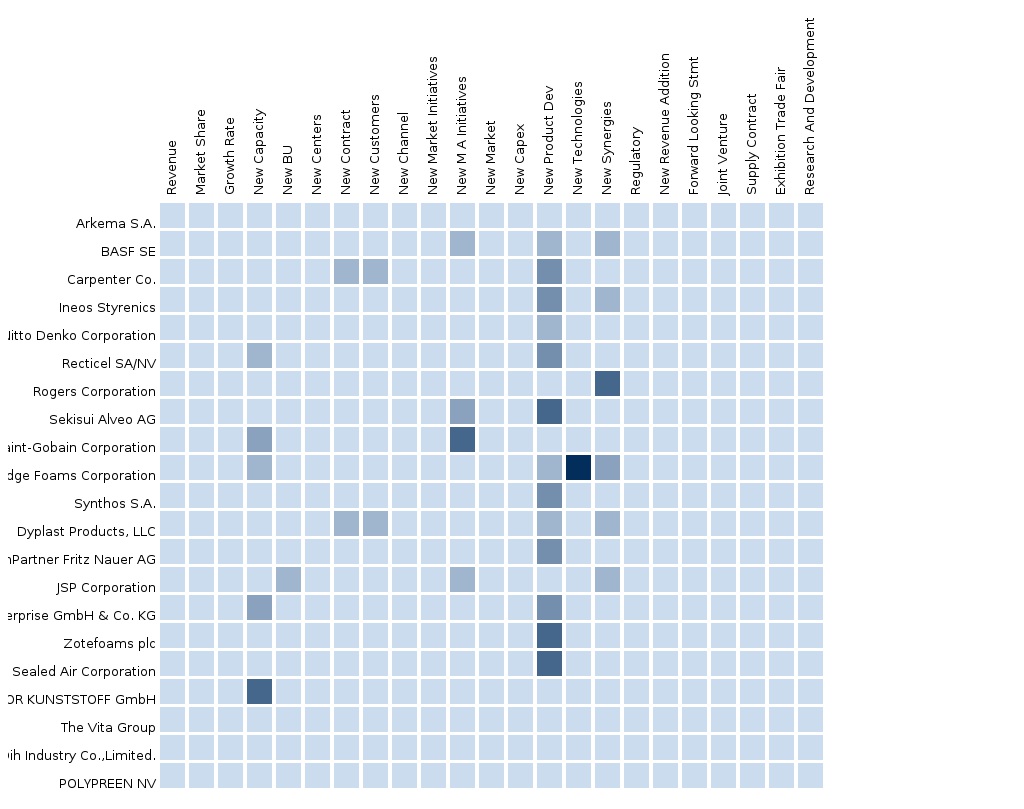 Please fill in the form below to receive a free copy of the Summary of this Report
Custom Market Research Services
We will customize the research for you, in case the report listed above does not meet with your exact requirements. Our custom research will comprehensively cover the business information you require to help you arrive at strategic and profitable business decisions.
Please visit
http://www.micromarketmonitor.com/custom-research-services.html
to specify your custom Research Requirement
PRODUCT TITLE
PUBLISHED
Shock-Absorbing Foam


Shock-Absorbing Foam and Spray Foam adds up to total Polymer Foam market. Shock-Absorbing Foam can be segmented by Applications, Companies, Geographies, Types...



Upcoming
Spray Foam


Spray Foam and Shock-Absorbing Foam adds up to total Polymer...



Upcoming
2 of 2 items
2 reports | Show