Permanent Magnet and Carbon Nano-tubes, Microsphere and Laywood adds up to total Materials market.

Permanent Magnet can be segmented by Geographies, Applications, Ingredients, Companies and Submarkets. Geographies of this market are Asia-Pacific, North America, Europe, Middle East and Africa and Latin America. Applications of this market are Electrical & Electronics, Industrial Machinery, Automotive Materials, Medical Devices, Wind Energy and Aerospace & Defense. Ingredients of this market are Iron, Cobalt, Nickel, Aluminium, Neodymium, Boron Minerals and Samarium. Companies of this market are Hitachi, Shin-Etsu Chemical Co Ltd., Lynas Corp. Ltd., Molycorp Chemicals and Oxides, TDK Corporation, Tengam Engineering Inc., Arnold Magnetic, Electron Energy, Thomas and Skinner, Inc., Eclipse Magnetics Ltd, Molycorp Magnetic Materials and Alloys, VACUUMSCHMELZE GmbH & Co. KG, Goudsmit Magnetics Group, Hangzhou Permanent Magnet Group, Ningbo Yunsheng High-tech Magnetics Co., Ltd, Daido Steel Co., Ltd., JPMF Guangdong Co. Ltd, Adam Magnetics Product Co., Bunting Magnetics Co., Magnet Applications, MagX America Inc., Magnum Magnetics Corporation, Kolektor Group, Arte M GmbH & Co. KG, Yantai Zhenghai Magnetic Material Co., Ltd. (Zhmag), Intermetallics Japan Corporation, Permanent magnets, Ningbo Co-star Materials Hi-Tech Co., Ltd., Risheng Magnets International Co.,Ltd., Zhejiang Tiannu Group R.E. Permanent MagnetCo.,Ltd., SANVAC (Beijing) Magnetics Co., LTD and Anhui Earth-Panda Advance Magnetic Material Co., Ltd. Submarkets of this market are Neodymium Iron Boron Magnets, Ferrite Magnets, Samarium Cobalt Magnets and Alnico Magnets.

Key Questions Answered
What are market estimates and forecasts; which of Permanent Magnet markets are doing well and which are not?
What is the competitive landscape; How companies like Hitachi, Shin-Etsu Chemical Co Ltd. and Lynas Corp. Ltd. doing in Permanent Magnet?

What makes our report unique?

This reports provides most granular segmentation on Neodymium Iron Boron Magnets, Ferrite Magnets, Samarium Cobalt Magnets and Alnico Magnets.
It will provide you market insights into Electrical & Electronics, Industrial Machinery, Automotive Materials and Medical Devices.
This report provides market sizing and forecast for the Permanent Magnet market. It also provides market sizing and forecast along with the drivers/inhibitors/opportunity analysis for each of the micro markets.
The report provides deep dive competitive landscape covering the top players such as Hitachi, Shin-Etsu Chemical Co Ltd., Lynas Corp. Ltd. and Molycorp Chemicals and Oxides.
The reports provides benchmarking insight on the top players Hitachi, Shin-Etsu Chemical Co Ltd., Lynas Corp. Ltd. and Molycorp Chemicals and Oxides.
The report provide competitive intelligence on Hitachi, Shin-Etsu Chemical Co Ltd., Lynas Corp. Ltd. and Molycorp Chemicals and Oxides.
Many times, customers do not get specific intelligence they are looking for in multi-client syndicated studies. So we offer 10% customization which will ensure you get the desired market intelligence, may it be specific to Electrical & Electronics, Industrial Machinery, Automotive Materials and Medical Devices applications or Permanent Magnet market in Asia-Pacific, North America, Europe and Middle East and Africa.

Audience for this report

Global Permanent Magnet companies
Manufacturing Companies
Traders, distributors, and suppliers
Governmental and research organizations
Associations and industry bodies
Technology providers

Top developments

Lynas Corporation commenced its operations
Hitachi Metals signed a patent licensing contract
Hitachi Metals America, a subsidiary of Hitachi Metals introduced the new reduced dysprosium
Hitachi Metals signed a patent licensing agreement
Hitachi Metals inked a patent licensing agreement
. The company expects to attain its phase I production target of 19,050 metric tons of rare earth
Hitachi Metals extended its range of applications
Shin-Etsu Chemical plans to reduce the level of dysprosium
. The company invested $18 million
Shin-Etsu Chemical formed a new subsidiary




1 Introduction
1.1 Analyst Insights
1.2 Market Definitions
1.3 Market Segmentation & Aspects Covered
1.4 Research Methodology
2 Executive Summary
3 Market Overview
4 By Submarkets
4.1 Neodymium Iron Boron Magnets
4.2 Ferrite Magnets
4.3 Samarium Cobalt Magnets
4.4 Alnico Magnets
5 By Applications
5.1 Electrical & Electronics
5.2 Industrial Machinery
5.3 Automotive Materials
5.4 Medical Devices
5.5 Wind Energy
5.6 Aerospace & Defense
6 By Ingredients
6.1 Iron
6.2 Cobalt
6.3 Nickel
6.4 Aluminium
6.5 Neodymium
6.6 Boron Minerals
6.7 Samarium
7 By Geographies
7.1 Asia-Pacific
7.2 North America
7.3 Europe
7.4 Middle East and Africa
7.5 Latin America
8 By Companies
8.1 Hitachi
8.2 Shin-Etsu Chemical Co Ltd.
8.3 Lynas Corp. Ltd.
8.4 Molycorp Chemicals and Oxides
8.5 TDK Corporation
8.6 Tengam Engineering Inc.
8.7 Arnold Magnetic
8.8 Electron Energy
8.9 Thomas and Skinner, Inc.
8.10 Eclipse Magnetics Ltd
8.11 Molycorp Magnetic Materials and Alloys
8.12 VACUUMSCHMELZE GmbH & Co. KG
8.13 Goudsmit Magnetics Group
8.14 Hangzhou Permanent Magnet Group
8.15 Ningbo Yunsheng High-tech Magnetics Co., Ltd
8.16 Daido Steel Co., Ltd.
8.17 JPMF Guangdong Co. Ltd
8.18 Adam Magnetics Product Co.
8.19 Bunting Magnetics Co.
8.20 Magnet Applications
8.21 MagX America Inc.
8.22 Magnum Magnetics Corporation
8.23 Kolektor Group
8.24 Arte M GmbH & Co. KG
8.25 Yantai Zhenghai Magnetic Material Co., Ltd. (Zhmag)
8.26 Intermetallics Japan Corporation
8.27 Permanent magnets
8.28 Ningbo Co-star Materials Hi-Tech Co., Ltd.
8.29 Risheng Magnets International Co.,Ltd.
8.30 Zhejiang Tiannu Group R.E. Permanent MagnetCo.,Ltd.
8.31 SANVAC (Beijing) Magnetics Co., LTD
8.32 Anhui Earth-Panda Advance Magnetic Material Co., Ltd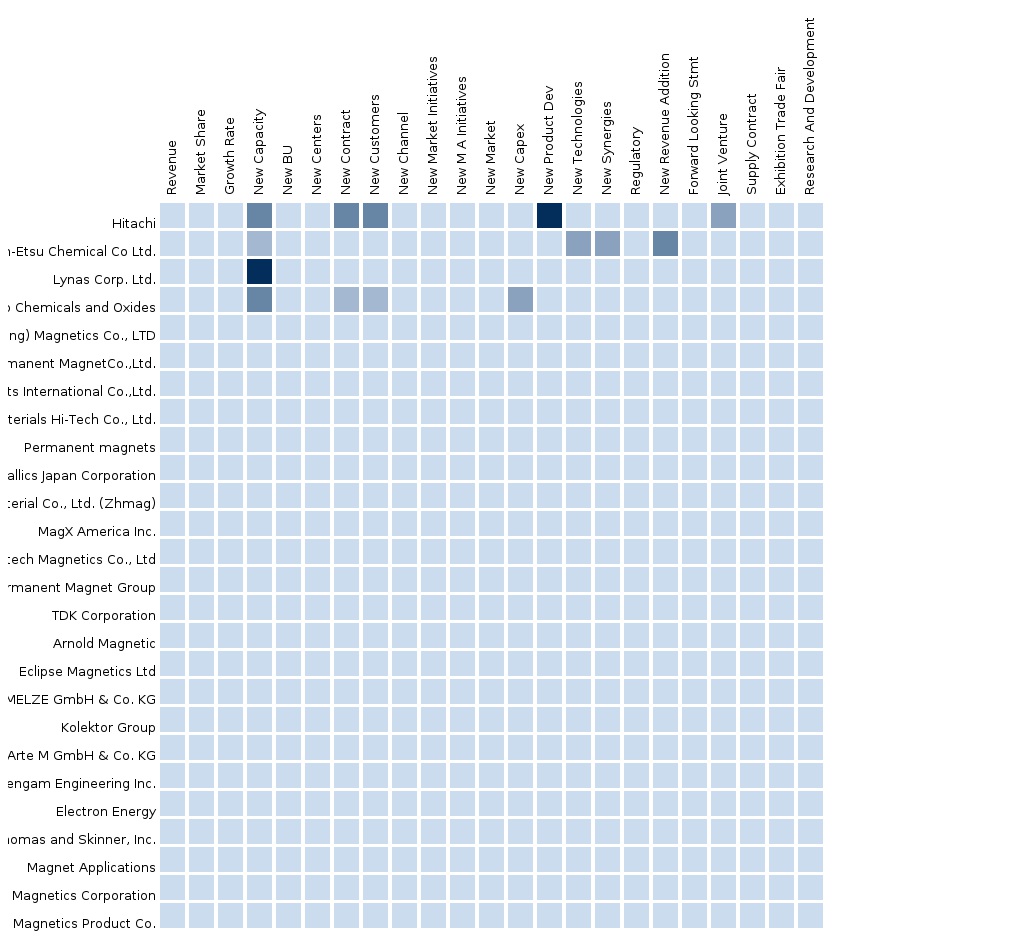 Please fill in the form below to receive a free copy of the Summary of this Report
Custom Market Research Services
We will customize the research for you, in case the report listed above does not meet with your exact requirements. Our custom research will comprehensively cover the business information you require to help you arrive at strategic and profitable business decisions.
Please visit
http://www.micromarketmonitor.com/custom-research-services.html
to specify your custom Research Requirement
PRODUCT TITLE
PUBLISHED
Neodymium Iron Boron Magnets


The global market for neodymium iron boron magnets is growing on account of increasing applications. This market was valued at $7.59 billion in 2012 and is expected to reach $12.25 billion by 2018, growing at a CAGR of 8.90% from 2013 to 2018. It is majorly driven by the growing demand for high magnetic strength and miniaturization of equipment in existing and emerging applications.



Upcoming
Ferrite Magnets


Ferrite Magnets and Neodymium Iron Boron Magnets,



Upcoming
Samarium Cobalt Magnets


Samarium Cobalt Magnets and Neodymium Iron Boron Magnets,



Upcoming
Alnico Magnets


The alnico magnet market is witnessing high growth on an account of increasing applications, especially in automotive and consumer electronics. The global market was valued at $101.4 million in 2012 and is expected to reach $997.3 million by 2018. This report covers market trends in key regions, namely, Asia-Pacific, North America, Europe, Latin America, and Middle East & Africa. It includes the company profiles of and competitive strategies adopted by various market players including Hitachi, Shin-Etsu Chemical Co., Ltd., Lynas Corporation, Ltd., Molycorp Chemicals and Oxides, Hangzhou Permanent Magnet Group, Ningbo Yunsheng High-tech Magnetics Co., Ltd., Daido Steel Co., Ltd., and JPMF Guangdong Co. Ltd.



Upcoming
Asia-Pacific Permanent Magnet


The Asia-Pacific permanent magnet market was valued at $9.75 billion in 2012 and is projected to reach $15.80 billion by 2018, growing at a CAGR of 8.8% between 2013 and 2018. This market is mainly driven by the growing demand for permanent magnets due to rising demand for miniaturization together with advancement in technology.



Upcoming
North America Permanent Magnet


North America's permanent magnet market was valued at $850.0 million in 2012 and is expected to reach $1,500 million by 2018, growing at a CAGR of 8.4% from 2013 to 2018. The market is majorly driven by the budding demand for permanent magnets, which is primarily due to an increase in the demand for advanced materials in existing and emerging applications.



Upcoming
Europe Permanent Magnet


The European permanent magnet market was valued at $700.0 million in 2012 and is expected to reach $1,100.0 million by 2018, growing at a CAGR of 6.6% from 2013 to 2018. This market is experiencing significant growth mainly driven by an increase in the demand for advanced materials in existing and emerging applications.



Upcoming
Middle East and Africa Permanent Magnet


Middle East and Africa's permanent magnet market was valued at $130.0 million in 2012 and is estimated to reach $220.0 million by 2018, growing at a CAGR of 8.0% from 2013 to 2018. This market is experiencing high growth mainly driven by the development initiatives of various countries such as Saudi Arabia, which will boost the permanent magnet consumption in the region.



Upcoming
Latin America Permanent Magnet


Latin America's permanent magnet market was valued at $80.0 million in 2012 and is estimated to reach $180.0 million by 2018, growing at a CAGR of 12.5% from 2013 to 2018. This market is experiencing high growth mainly driven by the development initiatives of various countries, which will boost the permanent magnet consumption in the region.



Upcoming
Asia-Pacific Neodymium Iron Boron Magnets


The Asia-Pacific market for neodymium iron boron magnets is growing on account of increasing applications. This market was valued at $6.45 billion in 2012 and is expected to reach $10.35 billion by 2018, growing at a CAGR of 9.10% from 2013 to 2018. The market is majorly driven by the growing demand for high magnetic strength and miniaturization of equipment in existing and emerging applications.



Upcoming
Europe Neodymium Iron Boron Magnets


The neodymium iron boron magnets market in Europe is growing on account of increasing applications. This market was valued at $461.4 million in 2012 and is expected to reach $715.9 million by 2018, growing at a CAGR of 6.8% from 2013 to 2018. The market is majorly driven by the growing demand for high magnetic strength and miniaturization of equipment in existing and emerging applications.



Upcoming
Latin America Neodymium Iron Boron Magnets


The neodymium iron boron magnets market in Latin America is growing on account of increasing applications. This market was valued at $50.3 million in 2012 and is expected to reach $109.9 million by 2018, growing at a CAGR of 12.3% from 2013 to 2018. The market is majorly driven by the growing demand for high magnetic strength and miniaturization of equipment in existing and emerging applications.



Upcoming
Middle East and Africa Neodymium Iron Boron Magnets


The neodymium iron boron magnets market in the Middle East and Africa is growing on account of increasing applications. This market was valued at $83.1 million in 2012 and is expected to reach $138.6 million by 2018, growing at a CAGR of 8.2% from 2013 to 2018. The market is majorly driven by the growing demand for high magnetic strength and miniaturization of equipment in existing and emerging applications.



Upcoming
North America Neodymium Iron Boron Magnets


The neodymium iron boron magnets market in North America is growing on account of increasing applications. This market was valued at $546.4 million in 2012 and is expected to reach $936.5 million by 2018, growing at a CAGR of 8.3% from 2013 to 2018. The market is majorly driven by the growing demand for high magnetic strength and miniaturization of equipment in existing and emerging applications.



Upcoming
North America Alnico Magnets


The North American alnico magnet market is witnessing high growth on an account of increasing applications, especially in the automotive and consumer electronics industries. This market was valued at $14.1 million in 2012 and is expected to reach $191.6 million by 2018. This report covers market trends in key countries, namely, the U.S., Canada, and Mexico. It includes the company profiles of and competitive strategies adopted by various market players including Hitachi, Shin-Etsu Chemical Co., Ltd., Lynas Corporation, Ltd., Molycorp Chemicals and Oxides, Hangzhou Permanent Magnet Group, Ningbo Yunsheng High-tech Magnetics Co., Ltd., Daido Steel Co., Ltd., and JPMF Guangdong Co. Ltd.



Upcoming
Middle East and Africa Alnico Magnets


The alnico magnet market in the Middle East and Africa is witnessing high growth on an account of increasing applications, especially in the automotive and consumer electronics industries. This market was valued at $1.1 million in 2012 and is expected to reach $11.9 million by 2018. The report on this market covers trends in key countries, namely, Saudi Arabia, UAE, Nigeria, Kuwait, Qatar, and others. The report also provides an extensive competitive landscape of companies operating in this market. It includes the company profiles of and competitive strategies adopted by various market players.



Upcoming
Latin America Alnico Magnets


The Latin American alnico magnet market is witnessing high growth on an account of increasing applications, especially in the automotive and consumer electronics industries. This market was valued $0.7 million in 2012 and is expected to reach $214.8 million by 2018. This report covers market trends in key countries, namely, Brazil, Argentina, and others. The report also provides an extensive competitive landscape of companies operating in this market. It includes the company profiles of and competitive strategies adopted by various market players.



Upcoming
Europe Alnico Magnets


The European alnico magnet market is witnessing high growth on an account of increasing applications, especially in the automotive and consumer electronics industries. This market was valued at $6.2 million in 2012 and is expected to reach $56.4 million by 2018. This report covers market trends in key countries, namely, Germany, the U.K., France, Italy, and others. It includes the company profiles of and competitive strategies adopted by various market players including Hitachi, Shin-Etsu Chemical Co., Ltd., Lynas Corporation, Ltd., Molycorp Chemicals and Oxides, Hangzhou Permanent Magnet Group, Ningbo Yunsheng High-tech Magnetics Co., Ltd., Daido Steel Co., Ltd., and JPMF Guangdong Co. Ltd.



Upcoming
Asia-Pacific Alnico Magnets


The Asia-Pacific alnico magnet market is witnessing high growth on an account of increasing applications, especially in automotive and consumer electronics. This market was valued at $79.4 million in 2012 and is expected to reach $728.2 million by 2018. This report covers market trends in key countries, namely, China, India, Japan, and South Korea. It includes the company profiles of and competitive strategies adopted by various market players including Hitachi, Shin-Etsu Chemical Co., Ltd., Lynas Corporation, Ltd., Molycorp Chemicals and Oxides, Hangzhou Permanent Magnet Group, Ningbo Yunsheng High-tech Magnetics Co., Ltd., Daido Steel Co., Ltd., and JPMF Guangdong Co. Ltd.



Upcoming
Asia-Pacific Ferrite Magnets


Ferrite Magnets-Asia-Pacific can be segmented by Applications and Ingredients. Applications of this market are Electrical & Electronics,



Upcoming