Carbon Nano-tubes and Microsphere, Permanent Magnet and Laywood adds up to total Materials market.

Carbon Nano-tubes can be segmented by Geographies, Ingredients, Applications, Companies, Groups and Submarkets. Geographies of this market are North America, Europe, Asia-Pacific and Rest of World. Ingredients of this market are Graphite. Applications of this market are Electrical & Electronics, Battery, Energy & Utilities, Conductive Inks, Aerospace & Defense, Composites and Medical & Diagnostic Laboratories. Companies of this market are Arkema S.A., Nano-C, Inc., SouthWest NanoTechnologies Inc., Hyperion Catalysis International, Inc., Thomas Swan & Co. Ltd., Continental Carbon Company, Showa Denko K. K. and Carbon Solutions, Inc.. Groups of this market are Conductive Plastics. Submarkets of this market are Single-Walled Carbon Nano-tubes (SWCNTS) and Multi-Walled Carbon Nano-tubes (MWCNTS).

Key Questions Answered
What are market estimates and forecasts; which of Carbon Nano-tubes markets are doing well and which are not?
What is the competitive landscape; How companies like Arkema S.A., Nano-C, Inc. and SouthWest NanoTechnologies Inc. doing in Carbon Nano-tubes?

What makes our report unique?

This reports provides most granular segmentation on Single-Walled Carbon Nano-tubes (SWCNTS) and Multi-Walled Carbon Nano-tubes (MWCNTS).
It will provide you market insights into Electrical & Electronics, Battery, Energy & Utilities and Conductive Inks.
This report provides market sizing and forecast for the Carbon Nano-tubes market. It also provides market sizing and forecast along with the drivers/inhibitors/opportunity analysis for each of the micro markets.
The report provides deep dive competitive landscape covering the top players such as Arkema S.A., Nano-C, Inc., SouthWest NanoTechnologies Inc. and Hyperion Catalysis International, Inc..
The reports provides benchmarking insight on the top players Arkema S.A., Nano-C, Inc., SouthWest NanoTechnologies Inc. and Hyperion Catalysis International, Inc..
The report provide competitive intelligence on Arkema S.A., Nano-C, Inc., SouthWest NanoTechnologies Inc. and Hyperion Catalysis International, Inc..
Many times, customers do not get specific intelligence they are looking for in multi-client syndicated studies. So we offer 10% customization which will ensure you get the desired market intelligence, may it be specific to Electrical & Electronics, Battery, Energy & Utilities and Conductive Inks applications or Carbon Nano-tubes market in North America, Europe, Asia-Pacific and Rest of World.

Audience for this report

Global Carbon Nano-tubes companies
Manufacturing Companies
Traders, distributors, and suppliers
Governmental and research organizations
Associations and industry bodies
Technology providers

Top developments

Nano-C signed a deal with Merck KGaA
SouthWest NanoTechnologies launched three new research grade carbon nanotube
Carbon Solutions introduced industrial grade SWNT products;
Carbon Solutions through research founded
Nano-C received growth financing
Arkema signed an agreement with OXIS Energy Ltd.,
Showa Denko developed VGCF-H grade
SouthWest NanoTechnologies signed a distribution agreement
SouthWest NanoTechnologies launched two new grades in its SMW line of specialty
Thomas Swan collaborated with the Centre for Research




1 Introduction
1.1 Analyst Insights
1.2 Market Definitions
1.3 Market Segmentation & Aspects Covered
1.4 Research Methodology
2 Executive Summary
3 Market Overview
4 By Submarkets
4.1 Single-Walled Carbon Nano-tubes (SWCNTS)
4.2 Multi-Walled Carbon Nano-tubes (MWCNTS)
5 By Applications
5.1 Electrical & Electronics
5.2 Battery
5.3 Energy & Utilities
5.4 Conductive Inks
5.5 Aerospace & Defense
5.6 Composites
5.7 Medical & Diagnostic Laboratories
6 By Ingredients
6.1 Graphite
7 By Groups
7.1 Conductive Plastics
8 By Geographies
8.1 North America
8.2 Europe
8.3 Asia-Pacific
8.4 Rest of World
9 By Companies
9.1 Arkema S.A.
9.2 Nano-C, Inc.
9.3 SouthWest NanoTechnologies Inc.
9.4 Hyperion Catalysis International, Inc.
9.5 Thomas Swan & Co. Ltd.
9.6 Continental Carbon Company
9.7 Showa Denko K. K.
9.8 Carbon Solutions, Inc.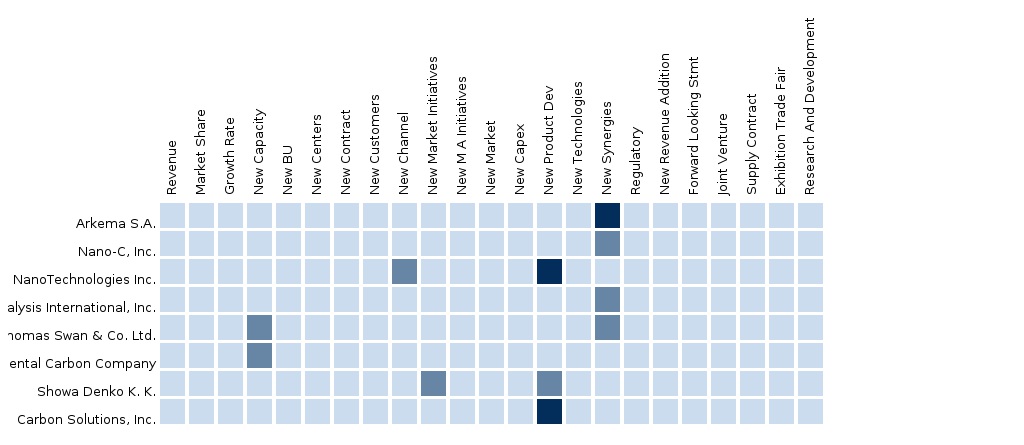 Please fill in the form below to receive a free copy of the Summary of this Report
Custom Market Research Services
We will customize the research for you, in case the report listed above does not meet with your exact requirements. Our custom research will comprehensively cover the business information you require to help you arrive at strategic and profitable business decisions.
Please visit
http://www.micromarketmonitor.com/custom-research-services.html
to specify your custom Research Requirement
2 of 2 items
2 reports | Show