Hydrogen and its peer markets - Argon, Phosphorus, Pentene, Antimony Oxides, Iodine, Methane, dummy_Formic Acid, Boron Minerals, Oxalic acid and 73 other markets - adds up to total Basic Chemicals market.

Hydrogen can be segmented by Geographies, Applications and Companies. Geographies of this market are Asia-Pacific, Americas, Europe and Rest of World. Applications of this market are Hydrogen Bromide OR Hydrobromic Acid, Aliphatic Isocyanates and Polyvinylidene Fluoride (PVDF). Companies of this market are Air Liquide, Hydrogenics Corporation, Sezal Glass Ltd., Nanomakers SA, Enel Green Power SpA, SHARP Corporation, STMicroelectronics, Air Products and Chemicals, Inc, Marathon Petroleum Corporation, Monsanto Company, Nestlé Water, Sysco Corporation, Technip SA, Tesoro Corp., Shell Oil Co., Airgas, Inc., Nuvera Fuel Cells, AlumiFuel Power Corp., Avalence Llc, BOC Industrial Gases, Bridgelux Inc., Praxair, Inc., Caloric Anlagenbau GmbH, Eltron Research & Development Incorporated, Eastman Chemical Company, FUKAI Environmental Research Institute Inc., H2scan Corporation, Linde AG, Bhushan Power & Steel Limited, Rosetti Marino SpA, Inox Air Products Limited, POSCO Maharashtra Steel Pvt. Ltd., Iwatani Corp., GCL-Poly Energy Holdings Ltd., Atco Energy Solutions Ltd, Beijing Jin Jing Solar Materials Co. Ltd, Cetane Energy L.L.C., Dynamic Fuels Llc, Proton Energy Systems Inc., SSE Plc, Soxal-Mi Technologies Pte Ltd, Tokuyama Corp. and Hy9 Corporation.

Key Questions Answered
What are market estimates and forecasts; which of Hydrogen markets are doing well and which are not?
What is the competitive landscape; How companies like Air Liquide, Hydrogenics Corporation and Sezal Glass Ltd. doing in Hydrogen?

What makes our report unique?

It will provide you market insights into Hydrogen Bromide OR Hydrobromic Acid, Aliphatic Isocyanates and Polyvinylidene Fluoride (PVDF).
This report provides market sizing and forecast for the Hydrogen market. It also provides market sizing and forecast along with the drivers/inhibitors/opportunity analysis for each of the micro markets.
The report provides deep dive competitive landscape covering the top players such as Air Liquide, Hydrogenics Corporation, Sezal Glass Ltd. and Nanomakers SA.
The reports provides benchmarking insight on the top players Air Liquide, Hydrogenics Corporation, Sezal Glass Ltd. and Nanomakers SA.
The report provide competitive intelligence on Air Liquide, Hydrogenics Corporation, Sezal Glass Ltd. and Nanomakers SA.
Many times, customers do not get specific intelligence they are looking for in multi-client syndicated studies. So we offer 10% customization which will ensure you get the desired market intelligence, may it be specific to Hydrogen Bromide OR Hydrobromic Acid, Aliphatic Isocyanates and Polyvinylidene Fluoride (PVDF) applications or Hydrogen market in Asia-Pacific, Americas, Europe and Rest of World.

Audience for this report

Global Hydrogen companies
Manufacturing Companies
Traders, distributors, and suppliers
Governmental and research organizations
Associations and industry bodies
Technology providers

Top developments

BOC, a subsidiary of The Linde Group awarded two contracts for fueling stations in the UK to Hydrogenics Corporation
Hydrogenics Corporation received two contracts for fueling stations in the UK
Hydrogenics received contract to supply a micro-grid energy storage application in Canada
US Department of Energy awarded Fuel Cell and Vehicle Project to Hydrogenics
Air Products & Chemicals Inc. extended its PRISM Hydrogen Generator product line
Airgas Inc. (Airgas) received approval for its Airgas Refrigerants Inc. plant in Smyrna
Iwatani Corporation started production of liquid hydrogen at its new plant in Shunan, Yamaguchi
Iwatani Corporation and Toho Gas Co., Ltd started operations at its Hydrogen Station in Toyota
Air Products & Chemicals, developed a new microsite design
Hy9 Corp and Clean Energy Investment entered into joint venture




1 Introduction
1.1 Analyst Insights
1.2 Market Definitions
1.3 Market Segmentation & Aspects Covered
1.4 Research Methodology
2 Executive Summary
3 Market Overview
4 By Applications
4.1 Hydrogen Bromide OR Hydrobromic Acid
4.2 Aliphatic Isocyanates
4.3 Polyvinylidene Fluoride (PVDF)
5 By Geographies
5.1 Asia-Pacific
5.2 Americas
5.3 Europe
5.4 Rest of World
6 By Companies
6.1 Air Liquide
6.2 Hydrogenics Corporation
6.3 Sezal Glass Ltd.
6.4 Nanomakers SA
6.5 Enel Green Power SpA
6.6 SHARP Corporation
6.7 STMicroelectronics
6.8 Air Products and Chemicals, Inc
6.9 Marathon Petroleum Corporation
6.10 Monsanto Company
6.11 Nestlé Water
6.12 Sysco Corporation
6.13 Technip SA
6.14 Tesoro Corp.
6.15 Shell Oil Co.
6.16 Airgas, Inc.
6.17 Nuvera Fuel Cells
6.18 AlumiFuel Power Corp.
6.19 Avalence Llc
6.20 BOC Industrial Gases
6.21 Bridgelux Inc.
6.22 Praxair, Inc.
6.23 Caloric Anlagenbau GmbH
6.24 Eltron Research & Development Incorporated
6.25 Eastman Chemical Company
6.26 FUKAI Environmental Research Institute Inc.
6.27 H2scan Corporation
6.28 Linde AG
6.29 Bhushan Power & Steel Limited
6.30 Rosetti Marino SpA
6.31 Inox Air Products Limited
6.32 POSCO Maharashtra Steel Pvt. Ltd.
6.33 Iwatani Corp.
6.34 GCL-Poly Energy Holdings Ltd.
6.35 Atco Energy Solutions Ltd
6.36 Beijing Jin Jing Solar Materials Co. Ltd
6.37 Cetane Energy L.L.C.
6.38 Dynamic Fuels Llc
6.39 Proton Energy Systems Inc.
6.40 SSE Plc
6.41 Soxal-Mi Technologies Pte Ltd
6.42 Tokuyama Corp.
6.43 Hy9 Corporation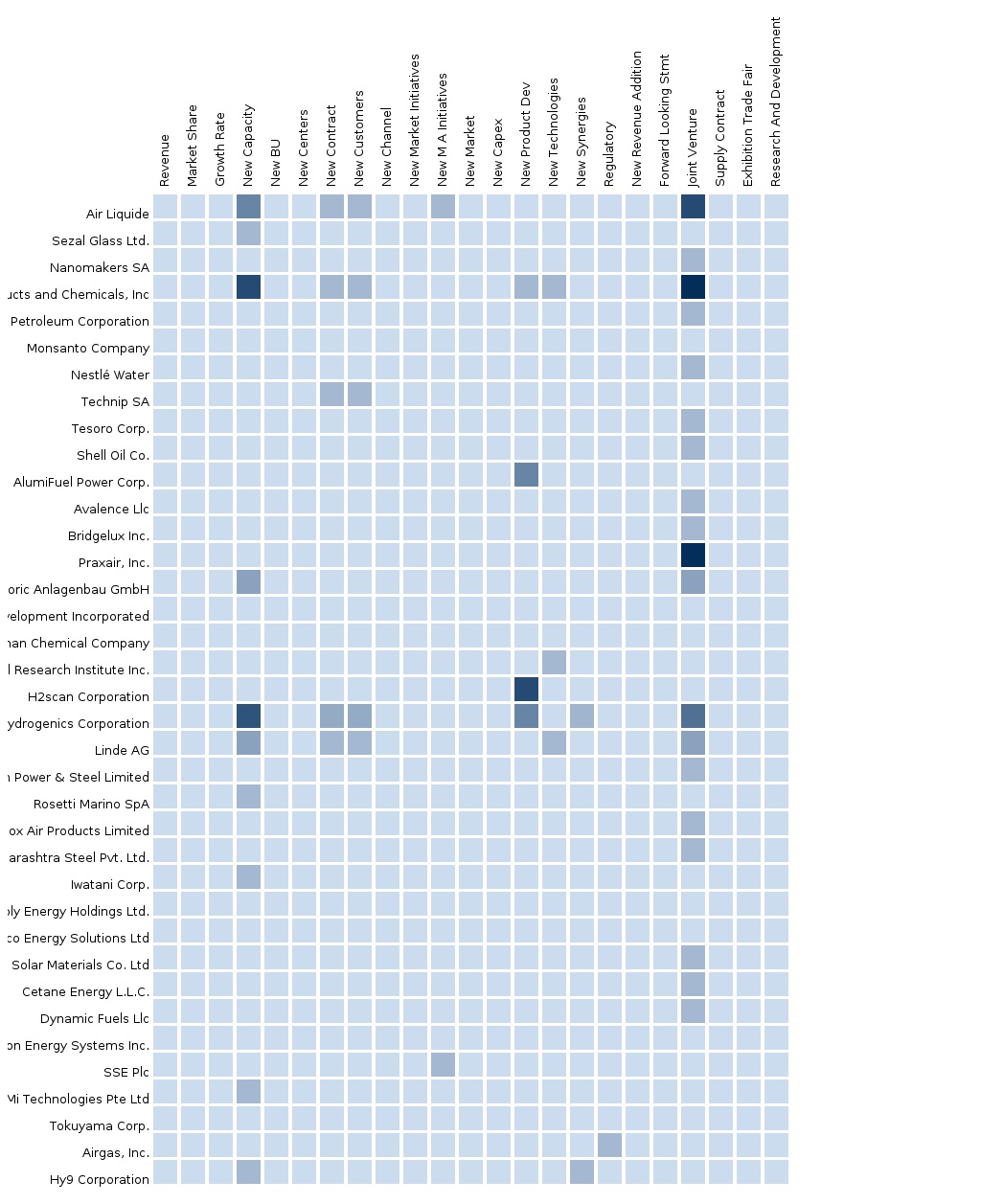 Please fill in the form below to receive a free copy of the Summary of this Report
Custom Market Research Services
We will customize the research for you, in case the report listed above does not meet with your exact requirements. Our custom research will comprehensively cover the business information you require to help you arrive at strategic and profitable business decisions.
Please visit
http://www.micromarketmonitor.com/custom-research-services.html
to specify your custom Research Requirement