Head mounted display market has gained momentum and is expected to grow exponentially with a significant compounded annual growth due to huge opportunities in the gaming and the military segment. Major demand for Head mounted display market system is expected from North America due to increasing U.S. military involvement across the globe and the usage of Head mounted display market for military purpose for deployable virtual reality trainers.
The North American Head mounted display market market, mainly driven by the increasing military application like head tracker, day and night vision mode, and others. The market value was $231 million in 2013 and is expected to reach $1,489 million by 2017, at a CAGR of 59.34%. In terms of revenue generation, as of 2011, America accounts the highest share of 37.5%, followed by Europe with 34.82%. The shipment volume of HMD in North America was projected to reach 0.06 million units in 2013, and is expected to grow at a CAGR of 95.70% to reach the market volume of 0.88 million units by 2017.
The key factors driving the Head mounted display market include improved user experience, better connectivity to the content, video gaming sector, regulated defense market, decline in cost of microdisplays, and acceptance of QVGA resolution by the consumers. On the other hand, lack of technical solutions and prices for consumer and non-consumer market restrain the market. The future applications under the head mounted displays are expected to be governed by mixed reality or replicating reality especially in gaming as well as architectural design applications.The Head mounted display market technology is often fueled by various government initiatives which has driven the market. The macro-economic indicators such as research & development expenditures, high technology exports, royalty and license fees, and patents and trademarks affect this market.
The key players of the head mounted display market are BAE Systems, Elbit Systems Ltd., EMagin Corporation, Epson, Innovega Inc., MircoOLED, NVIS Inc., Qualcomm Incorporated, Rockwell Collins, SELEX Galileo, Sensics Inc., and Sony Corporation.
Customization Options
Along with the market data, you can also customize MMM assessments that meet your company's specific needs. Customize to get comprehensive industry standard and deep-dive analysis of the following parameters:
Product Analysis
Usage pattern (in-depth trend analysis) of products (segment-wise)
Product matrix which gives a detailed comparison of product portfolio of each company mapped at country and sub-segment level
Segment and country wise analysis of usage of products at end-user level
Technological Data
Region wise end-user adoption rate analysis of the technology
Technology matrix which gives a detailed comparison of technologies mapped at country and sub-segment level
Upcoming development in the technology (company and country wise)
Key Data
Key revenue pockets for the manufacturing firms
Various firms opinion about different upcoming market and trends
Qualitative inputs on macro-economic indicators, mergers and acquisition
Country Level Data Analysis
Country level data of top countries in wireless sensor market
Country-specific data showing opportunities in different regions
Component Analysis
In-depth trend analysis of raw materials in competitive scenario
Raw material/Component matrix which gives a detailed comparison of Raw material/Component portfolio of each company mapped at country level
Comprehensive coverage of regulations followed in different countries
1 Introduction
1.1 Analyst Insights
1.2 Market Definitions
1.3 Market Segmentation & Aspects Covered
1.4 Research Methodology
2 Executive Summary

3 Head Mounted Display Market Overview
4 Head Mounted Display Market, By Applications
4.1 Gaming Consoles
4.2 Simulator
4.3 Wearable Electronics(Semicon)
5 Head Mounted Display Market, By Components
5.1 LCoS Display
5.2 DLP Display
5.3 Liquid-Crystal Display (LCD)
5.4 LED Display
5.5 Headphone
5.6 Microphone
5.7 OLED Display
5.8 Battery
5.9 Power supply unit
5.10 Photo-diode
5.11 Touchpad
6 Head Mounted Display Market, By CommunicationProtocols
6.1 USB
6.2 UART
6.3 SPI

7 Head Mounted Display Market, By Resolutions
7.1 720p Resolution Display
7.2 1080p Resolution Display
8 By Connectivities
8.1 Wi-Fi
8.2 Bluetooth
8.3 2G/3G
8.4 Near field Communication
9 Head Mounted Display Market, By IntegratedCircuits
9.1 General Purpose Processor
9.2 Field Programmable Gate Array (FPGA)
9.3 Static RAM
9.4 Accelerometer
9.5 Gyroscope
10 Head Mounted Display Market, By Endusers
10.1 Aviation
10.2 Medical
10.3 Military
10.4 Public Sector/Service
10.5 Digital Entertainment
10.6 Industrial Manufacturing
11 Head Mounted Display Market, By Types
11.1 Virtual Image Head mounted display market
11.2 Optical See-Through Head mounted display market
11.3 Video See-Through Head mounted display market
11.4 Optical Head mounted display market
12 Head Mounted Display Market, By Geographies
12.1 World Regions
13 Head Mounted Display Market, By Companies
13.1 Bae Systems PLC
13.2 Elbit Systems
13.3 EPSON
13.4 KOPIN-FORTH DIMENSION DISPLAYS LTD.
13.5 Qualcomm
13.6 Rockwell Collins
13.7 SONY
13.8 Thales Group
13.9 Vuzix Corporation
13.10 Google Inc.
13.11 eMagin Corp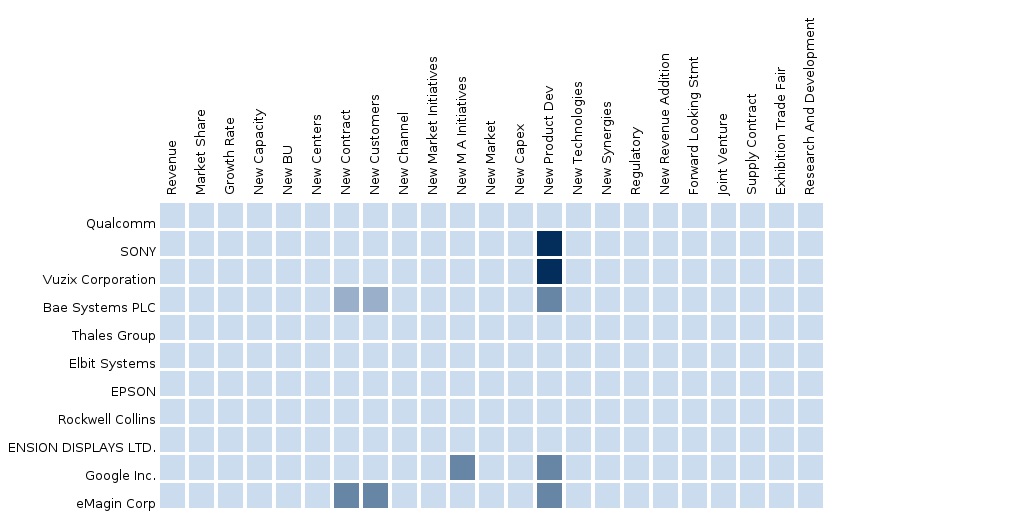 Please fill in the form below to receive a free copy of the Summary of this Report
Custom Market Research Services
We will customize the research for you, in case the report listed above does not meet with your exact requirements. Our custom research will comprehensively cover the business information you require to help you arrive at strategic and profitable business decisions.
Please visit
http://www.micromarketmonitor.com/custom-research-services.html
to specify your custom Research Requirement
PRODUCT TITLE
PUBLISHED
North America Head Mounted Display


Head Mounted Display-North America and Virtual Image HMD, Optical See-Through HMD, Video See-Through HMD and Optical HMD adds up to total Head Mounted Display...



Upcoming
1 of 1 items
1 reports | Show