North America Auxiliary Power Unit (APU) Market
Description
Table of Contents
Customer Intelligence
An Auxiliary Power Unit (APU) is an internal and highly automated power device that provides pressurized air to start the main engine and electrical power for the environmental, cockpit, and hydraulic systems of the aircraft. Auxiliary Power Units are widely used across the transportation industry, yet a majority of the user base is accounted for by the aviation industry.
This report provides a market analysis of the North American aerospace and military Auxiliary Power Unit market over the next five years, from 2014 to 2019. The North American aerospace and military Auxiliary Power Unit market value for 2014 is estimated to be $659.77 million and is expected to reach $806.38 million by 2019 at a CAGR of 4.09%.
The Auxiliary Power Unit market segmentation is done on the basis of applications and country. The applications segment is further segmented as commercial aircraft, military aircraft, military land vehicle, and rotarycopter. The market segmentation of commercial aviation aircraft is given and the business and regional jet segments are excluded. In the military land vehicle segment, armored personnel carriers and the amphibious armored vehicle segment have been taken into consideration.
The commercial aircraft APU segment is expected to increase due to the delivery of an additional number of commercial aircraft expected to occur in the region. Lowered fuel economy, need for electrical aircraft, and increase in air travel are the key drivers for the market growth. Dearth of skilled professionals and technological drawbacks are the main challenges that are restraining the growth of the market.
Major players in the market are Honeywell International, Inc., Hamilton Sundstrand, Microturbo, Kinetics LTD., and Jenoptik AG.
Analysis of recent developments, alliances, joint ventures, and mergers & acquisitions of the companies in the global aerospace and military APU market are provided in the report. Technology trends and auxiliary factors that are currently prevailing in the market are covered in the report.
CUSTOMIZATION OFFERINGS
HISTORICAL DATA FOR 5 YEARS
Financials
Orders/Deliveries/Backlog data
Macro Indicator Data
M&A Data
Budget and Defense Program Information
COMPANY PROFILES

In-depth analysis of the company's product portfolio
Competitive landscape (revenue, operating margin, marginal cost, P/E ratio, EPS, developments/deals/events)
Ratio analysis
This covers market sizing/mapping, global footprint, operational and financial information, and the competitive landscape. The MMM offering will cover detailed market study of the types of aircrafts mentioned below:
GLOBAL TRENDS/MARKET ENVIRONMENT

Product and technological advancements/Latest innovations and developments
Demand and supply analysis
Market consolidation (M&A, joint ventures, divestments and spin-offs)
Air traffic data
Export/Import data (aerospace product and parts)
Industrial production and capacity optimization data
Deliveries and orders
GLOBAL FORECAST NUMBERS/OUTLOOK (Historical and Forecast by Year)

Aircraft delivery (NB,WB, VLA, BGA)
Orders & backlogs (NB, WB, VLA, BGA)
Comparative analysis (for example Boeing Vs. Airbus)
Milicas (Military Aircraft) and Helicas (Military Rotary Wing, i.e., Helicopter)
PREDICTIVE FORECASTING

Time Series
Regression Analysis
PROGRAM DETAILS (By Aircraft Types, Aircraft Models, Manufacturer details)

Narrow body aircraft
Wide body aircraft
Very large aircraft
DEFENSE BUDGET/SEQUESTRATION IMPACT

Impact of sequestration on defense programs
Programs impacted due to budget cuts
Impact on company's overall revenue, operation and profitability
OPPORTUNITY ANALYSIS
A comprehensive analysis that helps tounderstand the potential growth markets based on parameters such as:
GDP percentage with respect to military expenditure of particular country
Contracts and modernization programs
Defense review of countries active in this market
PRODUCT ANALYSIS
Usage pattern (in-depth trend analysis) of products (segment wise)
Product matrix which gives a detailed comparison of product portfolio of each company mapped at country and sub-segment level
Comprehensive coverage of product approvals, pipeline products and product recalls
SUPPLY CHAIN/VENDOR ANALYSIS
Coverage - Vendor analysis, vendor financing, customer/self funding, and distribution network
ROUTE MAP ANALYSIS, LOAD FACTOR, RPK, ASK, and FLF
Airline/Operator route map analysis on a regional and global level
Passenger and freight load factor, revenue passenger kilometer, available seat kilometer analysis
1 Executive Summary
2 Introduction
2.1 Objective Of The Study
2.2 Market Definition
2.3 Market Coverage
2.4 Stakeholders
2.5 Research Methodology
2.5.1 Key Secondary Sources
2.5.2 Key Primary Sources
2.6 Assumptions
2.7 Acronyms
3 North America Auxiliary Power Unit Market Dynamics
3.1 Drivers, Restraints & Opportunities For The Aerospace & Military Apu Market
3.1.1 Drivers
3.1.1.1 Lowered Fuel Economy
3.1.1.2 Increase In Air Travel
3.1.2 Restraints
3.1.2.1 Defense Budget Cuts
3.1.2.2 Battery Technology
3.1.3 Opportunities
3.1.3.1 Fuel Cell Apu
3.1.3.2 Requirement For Additional Power Backup
3.2 Auxiliary Factors
3.2.1 Fuel Price
3.2.2 Power Cost
4 Auxiliary Power Unit Market, By Applications/Sub-Segments , 2014 – 2019
4.1 North America Spotlight Programs
4.1.1 Amphibious Combat Vehicle (Acv), The U.S.
4.2 Country Analysis
4.2.1 U.S.
5 Auxiliary Power Unit Market: Competitive Landscape
6 Developments: North American Region, By Companies
7 Auxiliary Power Unit, By Companies
7.1 Honeywell Inc.
7.1.1 Introduction
7.1.2 Product Portfolio
7.1.3 Financials
7.2 Hamilton Sundstrand
7.2.1 Introduction
7.2.2 Product Portfolio
7.2.3 Financials
7.3 Microturbo
7.3.1 Introduction
7.3.2 Product Portfolio
7.3.3 Financials
7.4 Kinetics Ltd.
7.4.1 Introduction
7.4.2 Product Portfolio
7.4.3 Financials
7.5 Jenoptik Ag.
7.5.1 Introduction
7.5.2 Product Portfolio
7.5.3 Jenoptik Ag: Financials
7.6 Meggit Plc.
7.6.1 Introduction
7.6.2 Product Portfolio
7.6.3 Meggit Plc.: Financials
7.7 Dewey Electronics Corporation
7.7.1 Introduction
7.7.2 Product Portfolio
7.7.3 Financials
7.8 Falck Schmidt Defence Systems
7.8.1 Introduction
7.8.2 Product Portfolio
7.8.3 Financials
7.9 The Marvin Group
7.9.1 Introduction
7.9.2 Product Portfolio
7.9.3 Financials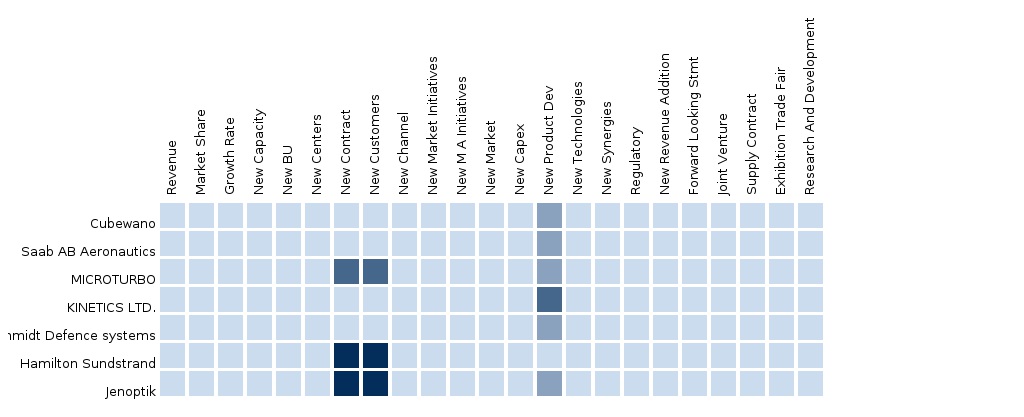 PRODUCT TITLE
PUBISHED
PRICE
APAC Commercial Aircraft Electrical & Environmental Systems


The report provides a complete market size of the APAC-Electrical and Environmental System market over the next five years and talks about the market share by different Aircraft Type. Commercial Aircraft Electrical & Environmental Systems-APAC can be segmented by Applications.



17 Aug 2014
$ 3500
Europe Commercial Aircraft Electrical & Environmental Systems


Commercial Aircraft Electrical & Environmental Systems-Europe can be segmented by Applications and Companies. The Europe aircraft Electrical and Environmental industry is estimated to grow at a CAGR of 7.20% from 2013-2018. Applications of Commercial Aircraft Electrical & Environmental Systems-Europe are Very Large Aircraft, Wide Body Aircraft and Narrow Body...



17 Aug 2014
$ 3500
North America Commercial Aircraft Electrical & Environmental Systems


The report provides a complete market size of the North American Electrical and Environmental System market over the next five years and talks about the market share by different Aircraft Type. This report presents a complete analysis of the North America Electrical and Environmental System market across the next five years.



17 Aug 2014
$ 3500
Commercial Aircraft Electrical & Environmental Systems