The global brain monitoring devices market is driven by rising incidences of autoimmune and cardiovascular diseases, and brain and sleep disorders. The global brain monitoring market was valued $1,164.05 million in 2013 and is estimated to reach $1,639.4 million by 2018, at a CAGR of 8.60%.
The report "Brain Monitoring Devices Market Forecast, 2012-2018", analyzes the market of brain monitoring devices in terms of products such as Electroencephalograph (EEG), Trans cranial Doppler, Magneto encephalograph (MEG), Intracranial Pressure Monitor, Cerebral Oximeter, and Acessories. In terms of application, the market is segmented into sleep disorders, epilepsy, traumatic brain Injury, and brain death. The segmentation of the market would experience a positive growth till 2018 with an increased awareness for procedures and sophisticated diagnostic techniques. With a market value of $539.45 and $23.94 billion, EEG and MEG have accounted for 46% and 22% share in terms of value of the total brain monitoring devices industry. Both the markets have been witnessing the maximum growth because of increase in patient pool and procedure numbers of neurological disorders. Rise in incidence of post-surgical cerebrovascular accidents have triggered the need for more enhanced and automated brain monitoring devices. Therefore, brain monitoring devices are being incorporated extensively in the hospitals and clinics for assessing the activity of sedatives and anesthesia. According to the estimates of the WHO in 2011, the global prevalence of epilepsy and multiple sclerosis cases was calculated to 50 million and 2.5 million respectively.
North America is the largest brain monitoring device market, followed by Europe and Asia. The Asian region offers a huge untapped market for brain monitoring devices due to rising awareness of neurological disorders, increase in purchasing power, and increasing number of people with multiple sclerosis, epilepsy, cerebrovascular diseases, and Parkinson's and Alzheimer's disease.
Asian countries are slated to register the highest CAGR of 9.30% to reach market value of $345.9 million by 2018 due to increased healthcare spending by the government, healthcare reforms, and gradually increasing population.
The North American region presents an increasing pool of patients who suffer from neurological disorders for which there is increase in demand for brain monitoring devices. The European brain monitoring device market is dominated by EEG devices, followed by MEG systems and intracranial pressure monitors. China is a growing medical devices market which offers opportunities in the neurological business
The report provides an extensive competitive landscaping of companies operating in this market. The key players of the market covered in this report are Nihon Kohden Corporation, Nonin Medical Inc, ELEKTA AB, and Advanced Brain Monitoring, Inc., Yokogawa, Grass Technologies, Compumedics Ltd, Cadwell Laboratories Inc. The details of country-specific company shares, news and deals, M&A, segment-specific pipeline products, product approvals, and product recalls of the major companies is covered in the report.
Customization Options
Along with the market data, you can also customize MMM assessments that meet your company's specific needs. Customize to get comprehensive industry standard and deep-dive analysis of the following parameters:
Product Analysis
Usage pattern (in-depth trend analysis) of products (segment-wise)
Product matrix which gives a detailed comparison of product portfolio of each company mapped at country and sub-segment level
End-user adoption rate analysis of the products (segment and country wise)
Comprehensive coverage of product approvals, pipeline products, and product recalls
Epidemiology Data
Country-specific prevalence, incidence, mortality rate, and patient pool of multiple sclerosis , epilepsy, cerebrovascular diseases, Parkinson's and Alzheimer's disease
Disease progression (pattern analysis)
Procedure Volume Data
Neurosurgical procedures in each country in terms of volume
Surgeon's/Physician's Perception analysis
Fast turn-around analysis of surgeon's response to market events and trends
Pattern analysis of usage of EEG, transcranial Doppler, MEG, Intracranial pressure monitor, cerebral oximeter, and devices by physicians
Surgeon's opinion about products from different companies
Surgeon's qualitative inputs on epidemiology data
Brand/Product Perception Matrix
Comprehensive study of customers perception and behavior through our inbuilt social connection tool checking the virality and tonality of blogs
Analysis of overall brand usage and familiarity and brand advocacy distribution (detractor/neutral/familiar)
Pricing Trends
Cost analysis of brain monitoring devices in major countries
Neurosurgical procedural investment in major countries
Competitive Intelligence
The company share analysis of brain monitoring devices top players of the market in the region
The crucial developments and strategies of companies inculcating in their portfolio of brain monitoring devices market
1 Introduction
1.1 Analyst Insights
1.2 Market Definitions
1.3 Market Segmentation & Aspects Covered
1.4 Research Methodology

2 Executive Summary

3 Market Overview

4 By Products
4.1 Electroencephalograph (EEG)
4.2 Transcranial Dopplers (TCD)
4.3 Magnetoencephalograph (MEG)
4.4 Intracranial Pressure Monitors
4.5 Cerebral Oximeters
4.6 Accessories

5 By Geographies
5.1 North America
5.2 Europe
5.3 Asia
5.4 Rest of World

6 By Companies
6.1 Nihon Kohden Corporation
6.2 Natus Medical Inc.
6.3 Grass technologies
6.4 Compumedics Limited
6.5 Cadwell Laboratories, Inc.
6.6 Rimed Ltd
6.7 Elekta
6.8 Compumedics Germany GmbH
6.9 Yokogawa Electric
6.10 Integra LifeSciences Corporation
6.11 Spiegelberg GmbH & Co.
6.12 InnerSpace Neuro, Inc.
6.13 Headsense Medical, Ltd
6.14 Covidien Medical devices
6.15 Nonin Medical Inc.
6.16 CAS Medical Systems, Inc.
6.17 Other Companies
6.18 DePuy Synthes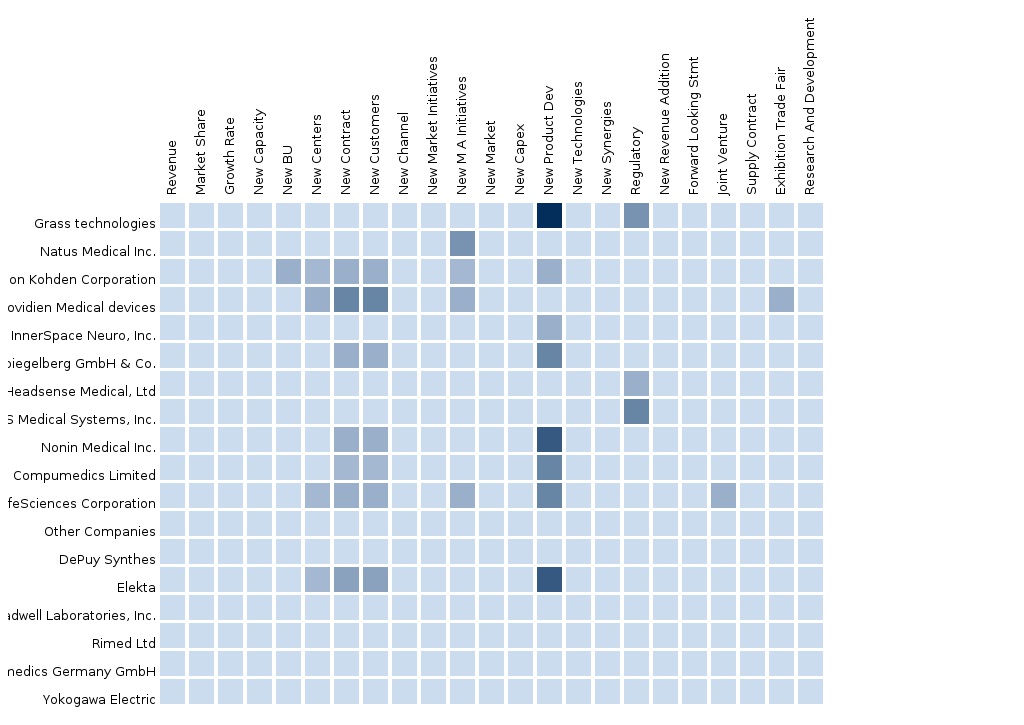 Please fill in the form below to receive a free copy of the Summary of this Report
Custom Market Research Services
We will customize the research for you, in case the report listed above does not meet with your exact requirements. Our custom research will comprehensively cover the business information you require to help you arrive at strategic and profitable business decisions.
Please visit
http://www.micromarketmonitor.com/custom-research-services.html
to specify your custom Research Requirement
PRODUCT TITLE
PUBLISHED
Electroencephalograph (EEG)


The rising incidence of brain/mental disorders, along with the phenomenal growth of brain monitoring devices in Asia is expected to drive the rapid progression of the global electroencephalograph market. The global market is projected to grow at a CAGR of 9.8%, from 2013 to 2018. The market report provides insights into the market value forecasts, segmentation, drivers & restraints, opportunities for new entrants, and the competitive scenario in the market. North America, Europe, Asia, and RoW are the major regions considered for the extensive market analysis.



Upcoming
Transcranial Dopplers (TCD)


The growing investments in the healthcare sector, which aims to enhance mental healthcare delivery, along with the rising incidence of mental/brain disorders among the aging population in North America, Europe, and Japan are major driving factors of the global transcranial doppler market. The market report provides details of market segmentation, drivers & restraints, competitive scenario, and opportunities for new entrants. North America, Europe, Asia, and Rest of the World are geographical regions considered for market analysis.



Upcoming
Magnetoencephalograph (MEG)


The growing incidences of brain/mental disorders in the major regions of the world, along with increasing investments into research & development for brain monitoring devices, are the main drivers of the global magnetoencephalograph market. The North American segment is the largest contributor to the global market, having accounted for 52.27% in 2013. The Asian segment is expected to be the fastest-growing market segment, at a CAGR of 7.8% from 2013 to 2018. The report offers a comprehensive overview of market share, value chain analysis, and market metrics, such as drivers, restraints, and upcoming opportunities. North America, Europe, Asia, and Rest of the World are the main regions considered for the market analysis.



Upcoming
Intracranial Pressure Monitors


The Intracranial Pressure Monitors market was valued at $192.49 million in 2013, and is poised to grow at a CAGR of 7.4%, to reach $275.04 million by 2018. Major players in intracranial pressure monitors market are Integra Life Sciences Corporation (U.S.) and DePuy Synthes (U.S.) are the leading players in this market. The other prominent players are Spiegelberg GmbH (Germany), InnerSpace Neuro, Inc. (U.S.), and HeadSense Medical, Ltd. (Israel).



Upcoming
Cerebral Oximeters


The Global Cerebral Oximeters Devices Market is mainly driven by cardiac/vascular surgery, shoulder surgery, single lung ventilation, and various other surgical procedures. The global cerebral oximeters market was valued $80.42 million in 2013, and is estimated to reach $112.0 million by 2018, at a CAGR of 6.80%. The prominent players in the cerebral oximeters market are Covidien, PLC (Ireland), Nonin Medical (U.S.), and CAS Medical systems (U.S.).



Upcoming
Emboli detection


Emboli detection and Intracranial Stenosis, Subarachnoid...



Upcoming
Brain research studies


Brain research studies and Autistic Disorders adds up to total



Upcoming
Epilepsy


Epilepsy and Sleep Disorders, Coma & Brain Death,



Upcoming
Sleep Disorders


Sleep Disorders and Epilepsy, Coma & Brain Death,



Upcoming
Coma & Brain Death


Coma & Brain Death and Epilepsy, Sleep Disorders,



Upcoming
Ablation Tumor


Brain Tumor and Epilepsy, Sleep Disorders,



Upcoming
Intracranial Stenosis


Intracranial Stenosis and Emboli detection, Subarachnoid...



Upcoming
Subarachnoid Hemorrhage


Subarachnoid Hemorrhage and Emboli detection, Intracranial...



Upcoming
Sickle Cell Disease


Sickle Cell Disease and Emboli detection, Intracranial...



Upcoming
Autistic Disorders


Autistic Disorders and Brain research studies adds up to total



Upcoming
Intracerebral Hemorrhage


Intracerebral Hemorrhage and Traumatic Brain Injury and



Upcoming
Meningitis


Meningitis and Traumatic Brain Injury and



Upcoming
Shoulder Surgery


Shoulder Surgery and Cardiac Surgery and Single Lung...



Upcoming
Single Lung Ventilation


Single Lung Ventilation and Cardiac Surgery and Shoulder Surgery...



Upcoming
Electrodes


Electrodes and Sensors, Paste and Gels,



Upcoming