North America Size Exclusion columns Market
Description
Table of Contents
Customer Intelligence
The size exclusion chromatography (SEC) reagents market is a sub-segment of the global chromatography reagents market. It is essentially a chromatographic technique, which is used for precise analysis and purification of synthetic and biological polymers, such as polysaccharides and nucleic acids. In simple terms, the size exclusion chromatography method undergoes a filtration of solution, wherein molecules are separated as per their size and not by their molecular weight. The main principle of this chromatography technique is differential exclusion that mainly takes place from the pores of the packing material. SEC commonly features a non-absorptive interaction with the sample, so as to effectively retain the bimolecular activity.
There are several factors that have affected the overall demand of the size exclusion chromatography reagents market in North America. These include increased investments by government and venture capitalists, conferences, and symposiums especially dedicated to the study of chromatography, along with recent technological advancements in the field of chromatography reagents. The advent of new technologies in the medical field has positively impacted the market. For instance, the time taken by researchers to conduct an error-free separation technique has considerably decreased, thereby increasing the accuracy of analytical results.
In terms of value, the North American size exclusion chromatography reagents market is estimated to grow at a CAGR of 7.07%, from 2012 to 2018. The macro indicator of this market is healthcare expenditure. Apart from this, alternative separation methods and the high-cost of chromatography reagents may hinder its market growth. Regardless of these factors that act as market restraints, medical advancements in North America are expected to overshadow these issues that could result in progressing the demand of size exclusion chromatography reagents.
The size exclusion chromatography reagents market in North America is segmented on the basis of product, application, technology, end-user, and geography. The product segment includes column chromatography reagents and planar chromatography reagents. The application segment consists of analytical chromatography reagents and preparative chromatography reagents. On the basis of technology, the market is segmented into gas chromatography reagents, liquid chromatography reagents, and super critical fluid chromatography reagents. The end-user segment includes academics, pharmaceutical, food and beverages, hospitals, cosmetics, environmental biotechnology, nutraceuticals, and other end-users. On the basis of geography, the market is segmented into the U.S., Canada, and Mexico.
Major players in the North American size exclusion chromatography reagents market are Agilent Technologies, GE Healthcare, Merck Millipore, Thermo Fisher Scientific, and Tosoh Corporation, among others.
1 Introduction
1.1 Introduce the Market
1.2 Objective of the study
1.3 Market Definition and Scope of the study
1.3.1 Market Definition
1.3.2 Areas covered
1.3.3 Markets Covered
1.4 Stakeholders
1.5 Research Methodology
1.5.1 Secondary sources
1.5.2 Primary Sources
1.5.3 Market estimation methodology (Top-down, bottom-up, data triangulation.)
1.5.4 Macro indicators for the study
1.6 Assumptions
1.7 List of Acronyms
2 Market Overview
3 North America Size Exclusion columns, By Applications
3.1 Split By Geography
3.2 North America Size Exclusion columns-Liquid Chromatography Systems
3.2.1 SEC - North America-Liquid Chromatography Systems, By Types
3.2.1.1 SEC - North America-Pre-packed columns-Liquid Chromatography Systems
3.2.1.2 SEC - North America-Empty columns-Liquid Chromatography Systems
3.2.2 SEC - North America-Liquid Chromatography Systems, By Endusers
3.2.2.1 SEC - North America-Liquid Chromatography Systems-Pharmaceuticals
3.2.2.2 SEC - North America-Liquid Chromatography Systems-Academics
3.2.2.3 SEC - North America-Liquid Chromatography Systems-Food & Beverage (Industry)
3.2.2.4 SEC - North America-Liquid Chromatography Systems-Hospitals
3.2.2.5 SEC - North America-Liquid Chromatography Systems-Cosmetics
3.2.2.6 SEC - North America-Liquid Chromatography Systems-Other Endusers
3.2.2.7 SEC - North America-Liquid Chromatography Systems-Environmental Biotechnology
3.2.2.8 SEC - North America-Liquid Chromatography Systems-Nutraceuticals
3.2.3 SEC - North America-Liquid Chromatography Systems, By Geographies
3.2.3.1 SEC - U.S.-Liquid Chromatography Systems
3.2.3.2 SEC - Canada-Liquid Chromatography Systems
3.2.3.3 SEC - Mexico-Liquid Chromatography Systems
3.3 SEC - North America-Gas Chromatography (GC) Systems
3.3.1 SEC - North America-Gas Chromatography (GC) Systems, By Types
3.3.1.1 SEC - North America-Pre-packed columns-Gas Chromatography (GC) Systems
3.3.1.2 SEC - North America-Empty columns-Gas Chromatography (GC) Systems
3.3.2 SEC - North America-Gas Chromatography (GC) Systems, By Endusers
3.3.2.1 SEC - North America-Gas Chromatography (GC) Systems-Pharmaceuticals
3.3.2.2 SEC - North America-Gas Chromatography (GC) Systems-Academics
3.3.2.3 SEC - North America-Gas Chromatography (GC) Systems-Food & Beverage (Industry)
3.3.2.4 SEC - North America-Gas Chromatography (GC) Systems-Hospitals
3.3.2.5 SEC - North America-Gas Chromatography (GC) Systems-Cosmetics
3.3.2.6 SEC - North America-Gas Chromatography (GC) Systems-Other Endusers
3.3.2.7 SEC - North America-Gas Chromatography (GC) Systems-Environmental Biotechnology
3.3.2.8 SEC - North America-Gas Chromatography (GC) Systems-Nutraceuticals
3.3.3 SEC - North America-Gas Chromatography (GC) Systems, By Geographies
3.3.3.1 SEC - U.S.-Gas Chromatography (GC) Systems
3.3.3.2 SEC - Canada-Gas Chromatography (GC) Systems
3.3.3.3 SEC - Mexico-Gas Chromatography (GC) Systems
3.4 North America Size Exclusion columns-Other Applications
3.4.1 SEC - North America-Other Applications, By Types
3.4.1.1 SEC - North America-Pre-packed columns-Other Applications
3.4.1.2 SEC - North America-Empty columns-Other Applications
3.4.2 SEC - North America-Other Applications, By Endusers
3.4.2.1 SEC - North America-Other Applications-Pharmaceuticals
3.4.2.2 SEC - North America-Other Applications-Academics
3.4.2.3 SEC - North America-Other Applications-Food & Beverage (Industry)
3.4.2.4 SEC - North America-Other Applications-Hospitals
3.4.2.5 SEC - North America-Other Applications-Cosmetics
3.4.2.6 SEC - North America-Other Applications-Other Endusers
3.4.2.7 SEC - North America-Other Applications-Environmental Biotechnology
3.4.2.8 SEC - North America-Other Applications-Nutraceuticals
3.4.3 Size Exclusion columns-North America-Other Applications, By Geographies
3.4.3.1 SEC - U.S.-Other Applications
3.4.3.2 SEC - Canada-Other Applications
3.5 North America Size Exclusion columns-Thin Layer Chromatography (TLC) Systems
3.5.1 SEC - North America-Thin Layer Chromatography (TLC) Systems, By Types
3.5.1.1 SEC - North America-Pre-packed columns-Thin Layer Chromatography (TLC) Systems
3.5.1.2 SEC - North America-Empty columns-Thin Layer Chromatography (TLC) Systems
3.5.2 SEC - North America-Thin Layer Chromatography (TLC) Systems, By Endusers
3.5.2.1 SEC - North America-Thin Layer Chromatography (TLC) Systems-Pharmaceuticals
3.5.2.2 SEC - North America-Thin Layer Chromatography (TLC) Systems-Academics
3.5.2.3 SEC - North America-Thin Layer Chromatography (TLC) Systems-Food & Beverage (Industry)
3.5.2.4 SEC - North America-Thin Layer Chromatography (TLC) Systems-Hospitals
3.5.2.5 SEC - North America-Thin Layer Chromatography (TLC) Systems-Cosmetics
3.5.2.6 SEC - North America-Thin Layer Chromatography (TLC) Systems-Other Endusers
3.5.2.7 SEC - North America-Thin Layer Chromatography (TLC) Systems-Environmental Biotechnology
3.5.2.8 SEC - North America-Thin Layer Chromatography (TLC) Systems-Nutraceuticals
3.5.3 SEC - North America-Thin Layer Chromatography (TLC) Systems, By Geographies
3.5.3.1 SEC - U.S.-Thin Layer Chromatography (TLC) Systems
3.5.3.2 SEC - Canada-Thin Layer Chromatography (TLC) Systems
3.5.3.3 SEC - Mexico-Thin Layer Chromatography (TLC) Systems
3.6 Size Exclusion columns-North America-Supercritical Fluid Chromatography (SFC) Systems
3.6.1 SEC - North America-Supercritical Fluid Chromatography (SFC) Systems, By Types
3.6.1.1 SEC - North America-Pre-packed columns-Supercritical Fluid Chromatography (SFC) Systems
3.6.1.2 SEC - North America-Empty columns-Supercritical Fluid Chromatography (SFC) Systems
3.6.2 SEC - North America-Supercritical Fluid Chromatography (SFC) Systems, By Endusers
3.6.2.1 SEC - North America-Supercritical Fluid Chromatography (SFC) Systems-Pharmaceuticals
3.6.2.2 SEC - North America-Supercritical Fluid Chromatography (SFC) Systems-Academics
3.6.2.3 SEC - North America-Supercritical Fluid Chromatography (SFC) Systems-Food & Beverage (Industry)
3.6.2.4 SEC - North America-Supercritical Fluid Chromatography (SFC) Systems-Hospitals
3.6.2.5 SEC - North America-Supercritical Fluid Chromatography (SFC) Systems-Cosmetics
3.6.2.6 SEC - North America-Supercritical Fluid Chromatography (SFC) Systems-Other Endusers
3.6.2.7 SEC - North America-Supercritical Fluid Chromatography (SFC) Systems-Environmental Biotechnology
3.6.2.8 SEC - North America-Supercritical Fluid Chromatography (SFC) Systems-Nutraceuticals
3.6.3 SEC - North America-Supercritical Fluid Chromatography (SFC) Systems, By Geographies
3.6.3.1 SEC - U.S.-Supercritical Fluid Chromatography (SFC) Systems
3.6.3.2 SEC - Canada-Supercritical Fluid Chromatography (SFC) Systems
3.6.3.3 SEC - Mexico-Supercritical Fluid Chromatography (SFC) Systems
4 North America Size Exclusion columns, By Types
4.1 Split By Geography
4.2 North America Size Exclusion columns-Pre-packed columns
4.2.1 SEC - North America-Pre-packed columns, By Applications
4.2.1.1 SEC - North America-Pre-packed columns-Liquid Chromatography Systems
4.2.1.2 SEC - North America-Pre-packed columns-Gas Chromatography (GC) Systems
4.2.1.3 SEC - North America-Pre-packed columns-Other Applications
4.2.1.4 SEC - North America-Pre-packed columns-Thin Layer Chromatography (TLC) Systems
4.2.1.5 SEC - North America-Pre-packed columns-Supercritical Fluid Chromatography (SFC) Systems
4.2.2 SEC - North America-Pre-packed columns, By Endusers
4.2.2.1 SEC - North America-Pre-packed columns-Pharmaceuticals
4.2.2.2 SEC - North America-Pre-packed columns-Academics
4.2.2.3 SEC - North America-Pre-packed columns-Food & Beverage (Industry)
4.2.2.4 SEC - North America-Pre-packed columns-Hospitals
4.2.2.5 SEC - North America-Pre-packed columns-Cosmetics
4.2.2.6 SEC - North America-Pre-packed columns-Other Endusers
4.2.2.7 SEC - North America-Pre-packed columns-Environmental Biotechnology
4.2.2.8 SEC - North America-Pre-packed columns-Nutraceuticals
4.2.3 SEC - North America-Pre-packed columns, By Geographies
4.2.3.1 SEC - U.S.-Pre-packed columns
4.2.3.2 SEC - Canada-Pre-packed columns
4.3 North America Size Exclusion columns-Empty columns
4.3.1 SEC - North America-Empty columns, By Applications
4.3.1.1 SEC - North America-Empty columns-Liquid Chromatography Systems
4.3.1.2 SEC - North America-Empty columns-Gas Chromatography (GC) Systems
4.3.1.3 SEC - North America-Empty columns-Other Applications
4.3.1.4 SEC - North America-Empty columns-Thin Layer Chromatography (TLC) Systems
4.3.1.5 SEC - North America-Empty columns-Supercritical Fluid Chromatography (SFC) Systems
4.3.2 SEC - North America-Empty columns, By Endusers
4.3.2.1 SEC - North America-Empty columns-Pharmaceuticals
4.3.2.2 SEC - North America-Empty columns-Academics
4.3.2.3 SEC - North America-Empty columns-Food & Beverage (Industry)
4.3.2.4 SEC - North America-Empty columns-Hospitals
4.3.2.5 SEC - North America-Empty columns-Cosmetics
4.3.2.6 SEC - North America-Empty columns-Other Endusers
4.3.2.7 SEC - North America-Empty columns-Environmental Biotechnology
4.3.2.8 SEC - North America-Empty columns-Nutraceuticals
4.3.3 SEC - North America-Empty columns, By Geographies
4.3.3.1 SEC - U.S.-Empty columns
4.3.3.2 SEC - Canada-Empty columns
5 North America Size Exclusion columns, By Materials
5.1 Split By Geography
5.2 Size Exclusion columns-North America-Metals
5.2.1 Size Exclusion columns-North America-Metals, By Geographies
5.2.1.1 SEC - U.S.-Metals
5.2.1.2 SEC - Canada-Metals
5.2.1.3 SEC - Mexico-Metals
5.3 SEC - North America-Glass
5.3.1 SEC - North America-Glass, By Geographies
5.3.1.1 SEC - U.S.-Glass
5.3.1.2 SEC - Canada-Glass
5.3.1.3 SEC - Mexico-Glass
5.4 Size Exclusion columns-North America-Plastic
5.4.1 Size Exclusion columns-North America-Plastic, By Geographies
5.4.1.1 SEC - U.S.-Plastic
5.4.1.2 SEC - Canada-Plastic
5.4.1.3 SEC - Mexico-Plastic
6 Size Exclusion columns-North America, By Endusers
6.1 Split By Geography
6.2 Size Exclusion columns-North America-Pharmaceuticals
6.2.1 SEC - North America-Pharmaceuticals, By Types
6.2.1.1 SEC - North America-Pre-packed columns-Pharmaceuticals
6.2.1.2 SEC - North America-Empty columns-Pharmaceuticals
6.2.2 SEC - North America-Pharmaceuticals, By Applications
6.2.2.1 SEC - North America-Liquid Chromatography Systems-Pharmaceuticals
6.2.2.2 SEC - North America-Gas Chromatography (GC) Systems-Pharmaceuticals
6.2.2.3 SEC - North America-Other Applications-Pharmaceuticals
6.2.2.4 SEC - North America-Thin Layer Chromatography (TLC) Systems-Pharmaceuticals
6.2.2.5 SEC - North America-Supercritical Fluid Chromatography (SFC) Systems-Pharmaceuticals
6.2.3 Size Exclusion columns-North America-Pharmaceuticals, By Geographies
6.2.3.1 SEC - U.S.-Pharmaceuticals
6.2.3.2 SEC - Canada-Pharmaceuticals
6.2.3.3 SEC - Mexico-Pharmaceuticals
6.3 SEC - North America-Academics
6.3.1 SEC - North America-Academics, By Types
6.3.1.1 SEC - North America-Pre-packed columns-Academics
6.3.1.2 SEC - North America-Empty columns-Academics
6.3.2 SEC - North America-Academics, By Applications
6.3.2.1 SEC - North America-Liquid Chromatography Systems-Academics
6.3.2.2 SEC - North America-Gas Chromatography (GC) Systems-Academics
6.3.2.3 SEC - North America-Other Applications-Academics
6.3.2.4 SEC - North America-Thin Layer Chromatography (TLC) Systems-Academics
6.3.2.5 SEC - North America-Supercritical Fluid Chromatography (SFC) Systems-Academics
6.3.3 SEC - North America-Academics, By Geographies
6.3.3.1 SEC - U.S.-Academics
6.3.3.2 SEC - Canada-Academics
6.3.3.3 SEC - Mexico-Academics
6.4 Size Exclusion columns-North America-Food & Beverage (Industry)
6.4.1 Size Exclusion columns-North America-Food & Beverage (Industry), By Types
6.4.1.1 SEC - North America-Pre-packed columns-Food & Beverage (Industry)
6.4.1.2 SEC - North America-Empty columns-Food & Beverage (Industry)
6.4.2 SEC - North America-Food & Beverage (Industry), By Applications
6.4.2.1 SEC - North America-Liquid Chromatography Systems-Food & Beverage (Industry)
6.4.2.2 SEC - North America-Gas Chromatography (GC) Systems-Food & Beverage (Industry)
6.4.2.3 SEC - North America-Other Applications-Food & Beverage (Industry)
6.4.2.4 SEC - North America-Thin Layer Chromatography (TLC) Systems-Food & Beverage (Industry)
6.4.2.5 SEC - North America-Supercritical Fluid Chromatography (SFC) Systems-Food & Beverage (Industry)
6.4.3 SEC - North America-Food & Beverage (Industry), By Geographies
6.4.3.1 SEC - U.S.-Food & Beverage (Industry)
6.4.3.2 SEC - Canada-Food & Beverage (Industry)
6.5 Size Exclusion columns-North America-Hospitals
6.5.1 Size Exclusion columns-North America-Hospitals, By Types
6.5.1.1 SEC - North America-Pre-packed columns-Hospitals
6.5.1.2 SEC - North America-Empty columns-Hospitals
6.5.2 SEC - North America-Hospitals, By Applications
6.5.2.1 SEC - North America-Liquid Chromatography Systems-Hospitals
6.5.2.2 SEC - North America-Gas Chromatography (GC) Systems-Hospitals
6.5.2.3 SEC - North America-Other Applications-Hospitals
6.5.2.4 SEC - North America-Thin Layer Chromatography (TLC) Systems-Hospitals
6.5.2.5 SEC - North America-Supercritical Fluid Chromatography (SFC) Systems-Hospitals
6.5.3 SEC - North America-Hospitals, By Geographies
6.5.3.1 SEC - U.S.-Hospitals
6.5.3.2 SEC - Canada-Hospitals
6.6 Size Exclusion columns-North America-Cosmetics
6.6.1 SEC - North America-Cosmetics, By Types
6.6.1.1 SEC - North America-Pre-packed columns-Cosmetics
6.6.1.2 SEC - North America-Empty columns-Cosmetics
6.6.2 SEC - North America-Cosmetics, By Applications
6.6.2.1 SEC - North America-Liquid Chromatography Systems-Cosmetics
6.6.2.2 SEC - North America-Gas Chromatography (GC) Systems-Cosmetics
6.6.2.3 SEC - North America-Other Applications-Cosmetics
6.6.2.4 SEC - North America-Thin Layer Chromatography (TLC) Systems-Cosmetics
6.6.2.5 SEC - North America-Supercritical Fluid Chromatography (SFC) Systems-Cosmetics
6.6.3 SEC - North America-Cosmetics, By Geographies
6.6.3.1 SEC - U.S.-Cosmetics
6.6.3.2 SEC - Canada-Cosmetics
6.7 Size Exclusion columns-North America-Other Endusers
6.7.1 SEC - North America-Other Endusers, By Types
6.7.1.1 SEC - North America-Pre-packed columns-Other Endusers
6.7.1.2 SEC - North America-Empty columns-Other Endusers
6.7.2 SEC - North America-Other Endusers, By Applications
6.7.2.1 SEC - North America-Liquid Chromatography Systems-Other Endusers
6.7.2.2 SEC - North America-Gas Chromatography (GC) Systems-Other Endusers
6.7.2.3 SEC - North America-Other Applications-Other Endusers
6.7.2.4 SEC - North America-Thin Layer Chromatography (TLC) Systems-Other Endusers
6.7.2.5 SEC - North America-Supercritical Fluid Chromatography (SFC) Systems-Other Endusers
6.7.3 SEC - North America-Other Endusers, By Geographies
6.7.3.1 SEC - U.S.-Other Endusers
6.7.3.2 SEC - Canada-Other Endusers
6.8 Size Exclusion columns-North America-Environmental Biotechnology
6.8.1 SEC - North America-Environmental Biotechnology, By Types
6.8.1.1 SEC - North America-Pre-packed columns-Environmental Biotechnology
6.8.1.2 SEC - North America-Empty columns-Environmental Biotechnology
6.8.2 SEC - North America-Environmental Biotechnology, By Applications
6.8.2.1 SEC - North America-Liquid Chromatography Systems-Environmental Biotechnology
6.8.2.2 SEC - North America-Gas Chromatography (GC) Systems-Environmental Biotechnology
6.8.2.3 SEC - North America-Other Applications-Environmental Biotechnology
6.8.2.4 SEC - North America-Thin Layer Chromatography (TLC) Systems-Environmental Biotechnology
6.8.2.5 SEC - North America-Supercritical Fluid Chromatography (SFC) Systems-Environmental Biotechnology
6.8.3 SEC - North America-Environmental Biotechnology, By Geographies
6.8.3.1 SEC - U.S.-Environmental Biotechnology
6.8.3.2 SEC - Canada-Environmental Biotechnology
6.8.3.3 SEC - Mexico-Environmental Biotechnology
6.9 SEC - North America-Nutraceuticals
6.9.1 SEC - North America-Nutraceuticals, By Types
6.9.1.1 SEC - North America-Pre-packed columns-Nutraceuticals
6.9.1.2 SEC - North America-Empty columns-Nutraceuticals
6.9.2 SEC - North America-Nutraceuticals, By Applications
6.9.2.1 SEC - North America-Liquid Chromatography Systems-Nutraceuticals
6.9.2.2 SEC - North America-Gas Chromatography (GC) Systems-Nutraceuticals
6.9.2.3 SEC - North America-Other Applications-Nutraceuticals
6.9.2.4 SEC - North America-Thin Layer Chromatography (TLC) Systems-Nutraceuticals
6.9.2.5 SEC - North America-Supercritical Fluid Chromatography (SFC) Systems-Nutraceuticals
6.9.3 SEC - North America-Nutraceuticals, By Geographies
6.9.3.1 SEC - U.S.-Nutraceuticals
6.9.3.2 SEC - Canada-Nutraceuticals
7 Size Exclusion columns-North America, By Geographies
7.1 Size Exclusion columns-U.S.
7.1.1 Size Exclusion columns-U.S., By Types
7.1.1.1 SEC - U.S.-Pre-packed columns
7.1.1.2 SEC - U.S.-Empty columns
7.1.2 SEC - U.S., By Materials
7.1.2.1 SEC - U.S.-Metals
7.1.2.2 SEC - U.S.-Glass
7.1.2.3 SEC - U.S.-Plastic
7.1.3 SEC - U.S., By Applications
7.1.3.1 SEC - U.S.-Liquid Chromatography Systems
7.1.3.2 SEC - U.S.-Gas Chromatography (GC) Systems
7.1.3.3 SEC - U.S.-Other Applications
7.1.3.4 SEC - U.S.-Thin Layer Chromatography (TLC) Systems
7.1.3.5 SEC - U.S.-Supercritical Fluid Chromatography (SFC) Systems
7.1.4 SEC - U.S., By Endusers
7.1.4.1 SEC - U.S.-Pharmaceuticals
7.1.4.2 SEC - U.S.-Academics
7.1.4.3 SEC - U.S.-Food & Beverage (Industry)
7.1.4.4 SEC - U.S.-Hospitals
7.1.4.5 SEC - U.S.-Cosmetics
7.1.4.6 SEC - U.S.-Other Endusers
7.1.4.7 SEC - U.S.-Environmental Biotechnology
7.1.4.8 SEC - U.S.-Nutraceuticals
7.2 Size Exclusion columns-Canada
7.2.1 Size Exclusion columns-Canada, By Types
7.2.1.1 SEC - Canada-Pre-packed columns
7.2.1.2 SEC - Canada-Empty columns
7.2.2 SEC - Canada, By Materials
7.2.2.1 SEC - Canada-Metals
7.2.2.2 SEC - Canada-Glass
7.2.2.3 SEC - Canada-Plastic
7.2.3 SEC - Canada, By Applications
7.2.3.1 SEC - Canada-Liquid Chromatography Systems
7.2.3.2 SEC - Canada-Gas Chromatography (GC) Systems
7.2.3.3 SEC - Canada-Other Applications
7.2.3.4 SEC - Canada-Thin Layer Chromatography (TLC) Systems
7.2.3.5 SEC - Canada-Supercritical Fluid Chromatography (SFC) Systems
7.2.4 SEC - Canada, By Endusers
7.2.4.1 SEC - Canada-Pharmaceuticals
7.2.4.2 SEC - Canada-Academics
7.2.4.3 SEC - Canada-Food & Beverage (Industry)
7.2.4.4 SEC - Canada-Hospitals
7.2.4.5 SEC - Canada-Cosmetics
7.2.4.6 SEC - Canada-Other Endusers
7.2.4.7 SEC - Canada-Environmental Biotechnology
7.2.4.8 SEC - Canada-Nutraceuticals
7.3 Size Exclusion columns-Mexico
7.3.1 SEC - Mexico, By Materials
7.3.1.1 SEC - Mexico-Glass
7.3.1.2 SEC - Mexico-Plastic
7.3.1.3 SEC - Mexico-Metals
7.3.2 SEC - Mexico, By Endusers
7.3.2.1 SEC - Mexico-Pharmaceuticals
7.3.2.2 SEC - Mexico-Environmental Biotechnology
7.3.2.3 SEC - Mexico-Academics
7.3.3 SEC - Mexico, By Applications
7.3.3.1 SEC - Mexico-Liquid Chromatography Systems
7.3.3.2 SEC - Mexico-Gas Chromatography (GC) Systems
7.3.3.3 SEC - Mexico-Supercritical Fluid Chromatography (SFC) Systems
7.3.3.4 SEC - Mexico-Thin Layer Chromatography (TLC) Systems
8 Size Exclusion columns-North America, By Companies
8.1 Split By Geography
8.2 Size Exclusion columns-North America-Agilent Technologies
8.3 SEC - North America-Thermo Fisher Scientific
8.4 SEC - North America-Tosoh Corporation
8.5 SEC - North America-Other Companies
8.6 SEC - North America-Phenomenex, Inc.
8.7 SEC - North America-GE Healthcare
8.8 Size Exclusion columns-North America-Waters Corporation
8.9 SEC - North America-Shimadzu Corporation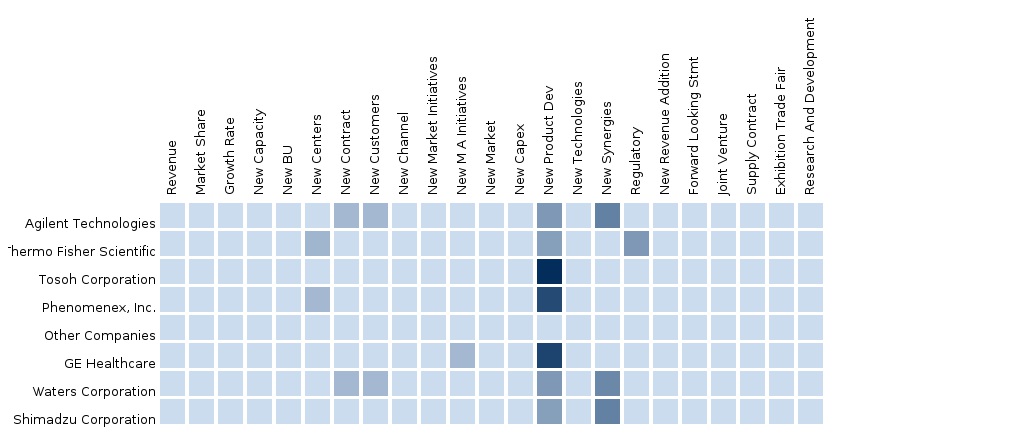 PRODUCT TITLE
PUBLISHED
PRICE
North America Columns


Columns-North America can be segmented by Materials, Endusers, MacroIndicators, Applications and Companies. Materials of Columns-North America are Glass, Plastic and Metals. Endusers of Columns-North America are Pharmaceuticals, Environmental Biotechnology, Academics,...



17 Feb 2015
$ 3500
European Chromatography Columns Market


The European Chromatography columns market is expected to reach a market value of $564million by 2018; achieving a CAGR of 5.0 % during the period 2013- 2018. Among the types of this market, prepacked columns domianates the market and is projected to reach $513.1 million by the end of 2018. Deep dive analysis of the key players of this domain, have been considered in this report.



17 Feb 2015
$ 3500
Asian Chromatography Columns Market


Asian Chromatography Columns Market was valued at $330 million in 2013 and is projected to reach value of $438 million, growing at 6% annually during 2013-2018. This market can be segmented by Materials, Endusers, MacroIndicators, Applications and Companies. In this prepacked market dominates and is projected to reach $398.6 million value by 2018. Deep dive analysis of the key players of this domain, have been considered in this report.



17 Feb 2015
$ 3500
Global Chromatography Columns Market