North America Green Data Center Market Research Report
Description
Table of Contents
Customer Intelligence
The construction of any type of data storage facility with the help of eco-friendly materials and technology is known as green data center (GDC). The data store house does not cause any adverse effects to the environment and utilizes less energy. The implementation of GDC can be initially costly; however, the benefits are long term. The GDC uses hi-tech company vehicles and minimizes the footprints with the help of low-emission building materials. The characteristics of GDC include the usage of renewable energy resources, use of standardized procedures that comply with the environmental regulations, use of minimum power consumption, and utilization of effective operational processes.
The North American green data center (GDC) market is expected to grow from $10.06 billion in 2014 to $35.10 billion by 2019, at a CAGR of 28.39% from 2014 to 2019. The major factors driving the North American market include the need to control the high operational costs and reduction in energy consumption.
North America has seen an increase in mobile traffic and data storage demand in the recent years. North America has a vast IT infrastructure that has boosted the smart devices market in terms of enhancing the factors such as mobility and making high-speed internet available to the users. However, this can affect the data storage and efficiency of the existing data centers. The green data center (GDC) provides effective solutions in terms of data storage and reduction in energy consumption, thereby alleviating negative impacts to the environment.
The report analyzes adoption trends, future growth potential, key drivers, restraints, opportunities, and best practices in the green data center market. The segmentation of the green data center market on the basis of end-user environment includes: Servers, networking, power, cooling, and management software. The market has been segmented on the basis of different verticals comprising BFSI, academia and education, healthcare, manufacturing, government and defense, oil & gas, transportation and logistics, media & advertising, and retail. Furthermore, it covers analysis of the top players in the market, including Cisco, Emerson, HP, IBM, and Dell. The report also examines growth potential, market sizes, and revenue forecasts across different platforms, solutions, and services.
Report Options:
By Solutions: Servers, networking, power, cooling, and management software
By Services: Professional services, monitoring services, and system integration, among other services
By Industry Verticals: Banking, financial services, and insurance (BFSI), telecom and information technology (IT), oil & gas, healthcare, government, and public sector
Customization Options:
Along with the MMM assessment, customize the report to meet your company's specific needs. The following customization options provide a comprehensive summary of the industry standards and deep dive analysis:
Solutions Matrix
A comprehensive analysis and benchmarking of service, solutions, user types, verticals, and regions
Competitive Benchmarking
Value chain evaluation using events, developments, market data for vendors in the market ecosystem, across various industrial verticals, market segmentation, and categorization.
To unearth hidden opportunities by connecting related markets using cascaded value chain analysis
Vendor Landscaping
Vendor market watch and predictions, vendor market shares and offerings, categorization of adoption trends and market dominance (leaders, challengers, and followers)
Methodology
Green data center assessment
Green data center planning and design
Green data center implementation and improvement
Market Data Tracker
Regional and country-specific market forecast and analysis
The identification of key end-user segments, by country
Market opportunity plotting and portfolio comparison
Market Impact Analysis
Data center cooling
Data center infrastructure management
Data center networking
Data center power solutions
Servers
1 Executive Summary
2 Introduction
2.1 Objectives
2.2 Market Definition
2.3 Markets Covered
2.4 Stakeholders
2.5 Research Methodology
2.5.1 Market Size
2.5.2 Key Data Points
2.5.2.1 Primary and Secondary Research
2.5.2.2 Data Triangulation and Forecasting
2.5.3 Assumptions.
3 Market Snapshot
3.1 Market Size
3.2 Market Size & Forecast
3.2.1 Market Segmentation
4 Market Overview
4.1 Green Data Center: NA
4.1.1 Drivers
4.1.1.1 Climatic Advantage
4.1.1.2 Government Regulation
4.1.2 Restraints
4.1.2.1 Unawareness Of Benefits Of GDC's
5 Green Data Center: NA Market, By Country
5.1 Green Data Center Market: By Country
5.1.1 Overview
5.1.2 Market Size and Forecast
6 Green Data Center: NA Market, By Segment
6.1 Green Data Center: NA Market, By Segment
6.1.1 By Segment
6.1.1.1 Introduction
6.1.1.2 Market Size and Forecast
6.1.2 By Solution
6.1.2.1 Introduction
6.1.2.2 Market Size and Forecast
6.1.3 By Service
6.1.3.1 Introduction
6.1.3.2 Market Size and Forecast.
6.1.4 By User
6.1.4.1 Introduction
6.1.4.2 Market Size and Forecast
6.1.5 By Vertical
6.1.5.1 Introduction
6.1.5.2 Market Size and Forecast
7 Green Data Center: NA Market, By Vertical
7.1 Telecom & IT
7.1.1 Overview
7.1.2 Market Size & Forecast, By Segment
7.1.3 Market Size & Forecast, By Solution
7.1.4 Market Size & Forecast, By Service
7.1.5 Market Size & Forecast, By User
7.1.2 BFSI
7.2.1 Overview
7.2.2 Market Size & Forecast, By Segment
7.2.3 Market Size & Forecast, By Solution
7.2.4 Market Size & Forecast, By Service
7.2.5 Market Size & Forecast, By User
7.3 Healthcare.
7.3.1 Overview
7.3.2 Market Size & Forecast, By Segment
7.3.3 Market Size & Forecast, By Solution
7.3.4 Market Size & Forecast, By Service
7.3.5 Market Size & Forecast, By User
7.4 Government & Public
7.4.1 Overview
7.4.2 Market Size & Forecast, By Segment.
7.4.3 Market Size & Forecast, By Solution.
7.4.4 Market Size & Forecast, By Service
7.4.5 Market Size & Forecast, By User
7.5 Others.
7.5.1 Overview
7.5.2 Market Size & Forecast, By Segment
7.5.3 Market Size & Forecast, By Solution
7.5.4 Market Size & Forecast, By Service
7.5.5 Market Size & Forecast, By User
8 Green Data Center: Na Market, By User
8.1 Green Data Center: Na Market, By User.
8.1.1 Cloud Service Providers.
8.1.1.1 Overview.
8.1.1.2 Market Size & Forecast, By Segment
8.1.1.3 Market Size & Forecast, By Solution
8.1.1.4 Market Size & Forecast, By Service
8.1.1.5 Market Size & Forecast, By Vertical
8.1.2 Colocation Providers
8.1.2.1 Overview
8.1.2.2 Market Size & Forecast, By Segment
8.1.2.3 Market Size & Forecast, By Solution
8.1.2.4 Market Size & Forecast, By Service
8.1.2.5 Market Size & Forecast, By Vertical
8.1.3 Enterprise
8.1.3.1 Overview
8.1.3.2 Market Size & Forecast, By Segment
8.1.3.3 Market Size & Forecast, By Solution
8.1.3.4 Market Size & Forecast, By Service
8.1.3.5 Market Size & Forecast, By Vertical
9 Competitive Landscapes
9.1 Market Share
9.1.1 Green Data Center: Top 5 Companies: 2013
9.1.2 Green Data Center: Top 5 Companies: 2018
10. Company Profiles
10.1 IBM
10.1.1 Overview
10.1.2 Business Segments
10.1.3 Financials
10.2 HP
10.2.1 Overview
10.2.2 Business Segments.
10.2.3 Financials
10.3 Dell
10.3.1 Overview
10.3.2 Business Segments
10.3.3 Financials
10.4 Cisco
10.4.1 Overview
10.4.2 Business Segments
10.4.3 Financials
10.5 Emerson
10.5.1 Overview
10.5.2 Business Segments
10.5.3 Financials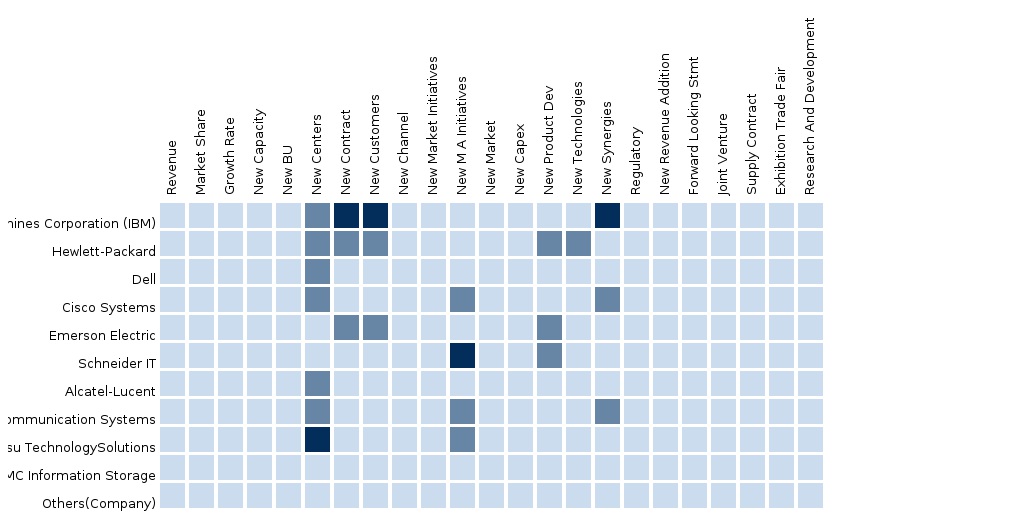 North America Green Data Center Market