North America Enterprise Video Market
Description
Table of Contents
Customer Intelligence
The North America enterprise video market is estimated to grow from $4.6 billion in 2014 to $17.1 billion by 2019, CAGR of 30.1%, from 2014 to 2019. This market is driven by the increased demand for video conferencing in various organizations across the globe.
Enterprises today are witnessing a growing need for video interfaces in communication, due to its ability to improve productivity and geographical outreach. A large number of organizations are using enterprise video, as it helps organizations in information conversion and also facilitate business virtualization.
In the current scenario, constant expansion of companies in North America has led to the increased demand of video conferencing. Video conferencing has eased communication across other business segments and companies, as teams located at remote locations can now communicate effectively and efficiently with the help of this technology.
The report provides a competitive analysis of the leading players in this market, such as Cisco, Polycom, Kaltura, Huwai Enterprises, Avaya, Honeywell, Level 3 Communication, and Sonic Foundry.
Report Options
The North America enterprise video market segmentation covered in this report are:
· By Delivery Modes: Video streaming, web conferencing, web casting, and video conferencing
· By Verticals: Government, banking financial service and insurance (BFSI), healthcare and life science, manufacturing, media and entertainment, telecommunication, and transportation and logistics
Customization Options
Along with the market data, you can also customize MMM assessments that are in accordance to your company's specific needs. Customize to get comprehensive industry standard and deep-dive analysis of the following parameters:
Solutions Matrix
· Comprehensive analysis and benchmarking by delivery modes, and verticals in the North America enterprise video market
· Evaluation parameters: Technology, service offerings, pricing, and others
Competitive Benchmarking
· Value-chain evaluation using events, developments, market data for vendors in the market ecosystem, across various industrial verticals, market segmentation, and categorization
· Unearth hidden opportunities by connecting related markets using cascaded value chain analysis. For instance, we can qualify the growth in the North America enterprise video market due to corresponding growth in video streaming, web conferencing, web casting and video conferencing
Vendor Landscaping
· Vendor market watch and predictions, vendor market shares and offerings, categorization of adoption trends and market dominance (leaders, challengers, followers, and nicher)
Data Tracker
· Country-specific market forecast and analysis
· Identification of key end-user segments by country
Vertical Analysis
· Analysis of different industrial verticals by delivery modes and by verticals
Emerging Vendor Landscape
· Evaluate Tier-2/3 vendors' market offerings using a 2X2 framework (identifying leaders, challengers, followers, nichers)
Channel Analysis
· Channel/distribution partners/alliances for tier-1 vendors. Application-specific products being build towards the customer end of value chain
Client Tracker
· Listing and analysis of deals, case studies, R&D investments, events, discussion forums, campaigns, alliances, and partners of tier-1 and tier-2/3 vendors for the last 3 years
Technology Watch
· Update on the current technology trends across different industry verticals in the North America enterprise video market
1. Introduction
1.1. Objective of the study
1.2. Market Definition & Scope of the Study
1.3. Markets Covered
1.4. Stakeholders
2. Research Methodology
2.1. Integrated Ecosystem of Enterprise Video
2.2. Arriving at the Enterprise Video Market Size
2.2.1. Top-Down Approach
2.2.2. Bottom-up Approach
2.2.3. Demand Side Analysis
2.2.4. Macro Indicators
2.3. Assumptions
3. Executive Summary
4. Market Overview
4.1. Introduction
4.2. Comparison with Communication Solutions (parent) Market
4.3. Market Drivers and Inhibitors
4.4. Demand Side Analysis
4.5. Vendor Side Analysis
5. North America : Enterprise Video, by Hardware
5.1. Research Methodology
5.2. Introduction
5.3. Demand Side Analysis
5.4. Vendor Side Analysis
5.5. North America Enterprise Video : Video Casting Devices Snapshot
5.5.1. North America Enterprise Video : Video Casting Devices, by Geography
5.6. North America Enterprise Video : Video Recording and Storage Devices Snapshot
5.6.1. North America Enterprise Video : Video Recording and Storage Devices, by Geography
5.7. North America Enterprise Video : Video Management and Control Snapshot
5.7.1. North America Enterprise Video : Video Management and Control, by Geography
5.8. North America Enterprise Video : Video Distribution Snapshot
5.8.1. North America Enterprise Video : Video Distribution, by Geography
5.9. North America Communication Solutions: Sneak View, by Hardware
6. North America : Enterprise Video, by Software
6.1. Research Methodology
6.2. Introduction
6.3. Demand Side Analysis
6.4. Vendor Side Analysis
6.5. North America Enterprise Video : Video Content Management Snapshot
6.5.1. North America Enterprise Video : Video Content Management, by Geography
6.6. North America Enterprise Video : Video Security Snapshot
6.6.1. North America Enterprise Video : Video Security, by Geography
6.7. North America Enterprise Video : Video Analytics Software Snapshot
6.7.1. North America Enterprise Video : Video Analytics Software, by Geography
6.8. North America Enterprise Video : Video Encoding and Decoding Snapshot
6.8.1. North America Enterprise Video : Video Encoding and Decoding, by Geography
6.9. North America Enterprise Video : Video Collaboration Snapshot
6.9.1. North America Enterprise Video : Video Collaboration, by Geography
6.10. North America Enterprise Video : Video Asset Management Snapshot
6.10.1. North America Enterprise Video : Video Asset Management, by Geography
6.11. North America Communication Solutions: Sneak View, by Software
7. North America : Enterprise Video, by Service
7.1. Research Methodology
7.2. Introduction
7.3. Demand Side Analysis
7.4. Vendor Side Analysis
7.5. North America Enterprise Video : Consulting Services Snapshot
7.5.1. North America Enterprise Video : Consulting Services, by Geography
7.6. North America Enterprise Video : Managed Services Snapshot
7.6.1. North America Enterprise Video : Managed Services, by Geography
7.7. North America Enterprise Video : System Integration Services Snapshot
7.7.1. North America Enterprise Video : System Integration Services, by Geography
7.8. North America Communication Solutions: Sneak View, by Service
8. North America : Enterprise Video, by Delivery Mode
8.1. Research Methodology
8.2. Introduction
8.3. Demand Side Analysis
8.4. Vendor Side Analysis
8.5. North America Enterprise Video : Video Streaming Snapshot
8.5.1. North America Enterprise Video : Video Streaming, by Geography
8.6. North America Enterprise Video : Web Conferencing Snapshot
8.6.1. North America Enterprise Video : Web Conferencing, by Geography
8.7. North America Enterprise Video : Webcasting Snapshot
8.7.1. North America Enterprise Video : Webcasting, by Geography
8.8. North America Enterprise Video : Video Conferencing Snapshot
8.8.1. North America Enterprise Video : Video Conferencing, by Geography
8.9. North America Information Security: Sneak View, by Delivery Mode
9. North America : Enterprise Video, by Application
9.1. Research Methodology
9.2. Introduction
9.3. Demand Side Analysis
9.4. Vendor Side Analysis
9.5. North America Enterprise Video : Corporate Communication Snapshot
9.5.1. North America Enterprise Video : Corporate Communication, by Geography
9.6. North America Enterprise Video : Learning and Development Snapshot
9.6.1. North America Enterprise Video : Learning and Development, by Geography
9.7. North America Enterprise Video : Knowledge Sharing and Management Snapshot
9.7.1. North America Enterprise Video : Knowledge Sharing and Management, by Geography
9.8. North America Information Security: Sneak View, by Application
10. North America : Predictive Analytics, by Vertical
10.1. Research Methodology
10.2. Introduction
10.3. Demand Side Analysis
10.4. Vendor Side Analysis
10.5. North America Predictive Analytics : Academia and Government Snapshot
10.5.1. North America Predictive Analytics : Academia and Government, by Geography
10.6. North America Predictive Analytics : BFSI Snapshot
10.6.1. North America Predictive Analytics : BFSI, by Geography
10.7. North America Predictive Analytics : Consumer Goods and Retail Snapshot
10.7.1. North America Predictive Analytics : Consumer Goods and Retail, by Geography
10.8. North America Predictive Analytics : Manufacturing Snapshot
10.8.1. North America Predictive Analytics : Manufacturing, by Geography
10.9. North America Predictive Analytics : Media and Entertainment Snapshot
10.9.1. North America Predictive Analytics : Media and Entertainment, by Geography
10.10. North America Predictive Analytics : Telecom and IT Snapshot
10.10.1. North America Predictive Analytics : Telecom and IT, by Geography
10.11. North America Predictive Analytics : HealthCare Snapshot
10.11.1. North America Predictive Analytics : HealthCare, by geography
10.12. North America Predictive Analytics : Transportation and Logistics Snapshot
10.12.1. North America Predictive Analytics : Transportation and Logistics, by geography
10.13. North America Communication Solutions: Sneak View, by Vertical
11. North America Enterprise Video: Market Size And Forecast, by Country
11.1. Research Methodology
11.2. Introduction
11.3. Vendor Side Analysis
11.4. U.S. Enterprise Video
11.4.1. U.S. Enterprise Video : Market Snapshot, by Hardware
11.4.2. U.S. Enterprise Video : Market, by Hardware
11.4.3. U.S. Enterprise Video : Market Snapshot, by Software
11.4.4. U.S. Enterprise Video : Market, by Software
11.4.5. U.S. Enterprise Video : Market Snapshot, by Service
11.4.6. U.S. Enterprise Video : Market, by Service
11.4.7. U.S. Enterprise Video : Market Snapshot, by Delivery Mode
11.4.8. U.S. Enterprise Video : Market, by Delivery Mode
11.4.9. U.S. Enterprise Video : Market Snapshot, by Application
11.4.10. U.S. Enterprise Video : Market, by Application
11.4.11. U.S. Enterprise Video : Market Snapshot, by Vertical
11.4.12. U.S. Enterprise Video : Market, by Vertical
11.5. Canada Enterprise Video
11.5.1. Canada Enterprise Video : Market Snapshot, by Hardware
11.5.2. Canada Enterprise Video : Market, by Hardware
11.5.3. Canada Enterprise Video : Market Snapshot, by Software
11.5.4. Canada Enterprise Video : Market, by Software
11.5.5. Canada Enterprise Video : Market Snapshot, by Service
11.5.6. Canada Enterprise Video : Market, by Service
11.5.7. Canada Enterprise Video : Market Snapshot, by Delivery Mode
11.5.8. Canada Enterprise Video : Market, by Delivery Mode
11.5.9. Canada Enterprise Video : Market Snapshot, by Application
11.5.10. Canada Enterprise Video : Market, by Application
11.5.11. Canada Enterprise Video : Market Snapshot, by Vertical
11.5.12. Canada Enterprise Video : Market, by Vertical
11.6. Rest of North America Enterprise Video
11.6.1. Rest of North America Enterprise Video : Market Snapshot, by Hardware
11.6.2. Rest of North America Enterprise Video : Market, by Hardware
11.6.3. Rest of North America Enterprise Video : Market Snapshot, by Software
11.6.4. Rest of North America Enterprise Video : Market, by Software
11.6.5. Rest of North America Enterprise Video : Market Snapshot, by Service
11.6.6. Rest of North America Enterprise Video : Market, by Service
11.6.7. Rest of North America Enterprise Video : Market Snapshot, by Delivery Mode
11.6.8. Rest of North America Enterprise Video : Market, by Delivery Mode
11.6.9. Rest of North America Enterprise Video : Market Snapshot, by Application
11.6.10. Rest of North America Enterprise Video : Market, by Application
11.6.11. Rest of North America Enterprise Video : Market Snapshot, by Vertical
11.6.12. Rest of North America Enterprise Video : Market, by Vertical
11.7. North America Communication Solutions : Sneak view, by Country
12. Enterprise Video : North America, by Company
12.1. Competitive Landscape
12.1.1. Mergers & Acquisitions
12.1.2. Expansions
12.1.3. Investments
12.1.4. Joint Ventures
12.2. Alcatel-Lucent
10.2.1. Overview
10.2.2. Historical Revenue Data
10.2.3. Product and Service offerings
10.2.4. Key Development
12.3. Avaya
12.3.1. Overview
12.3.2. Historical Revenue Data
12.3.3. Product and Service offerings
12.3.4. Key Development
12.3.5. MMM Analysis
12.4. Cisco
12.4.1. Overview
12.4.2. Historical Revenue Data
12.4.3. Product and Service offerings
12.4.4. Key Development
12.4.5. MMM Analysis
12.5. Computer Sciences Corporation (CSC)
12.5.1. Overview
12.5.2. Historical Revenue Data
12.5.3. Product and Service offerings
12.5.4. Key Development
12.5.5. MMM Analysis
12.6. HP
12.6.1. Overview
12.6.2. Historical Revenue Data
12.6.3. Product and Service offerings
12.6.4. Key Development
12.6.5. MMM Analysis
12.7. Huawai
12.7.1. Overview
12.7.2. Historical Revenue Data
12.7.3. Product and Services offerings
12.7.4. Key Development
12.7.5. MMM Analysis
12.8. IBM
12.8.1. Overview
12.8.2. Historical Revenue Data
12.8.3. Product and Service offerings
12.8.4. Key Development
12.8.5. MMM Analysis
12.9. Microsoft
12.9.1. Overview
12.9.2. Historical Revenue Data
12.9.3. Product and Service offerings
12.9.4. Key Development
12.9.5. MMM Analysis
12.10. Polycom
12.10.1. Overview
12.10.2. Historical Revenue Data
12.10.3. Product and Service offerings
12.10.4. Key Development
12.10.5. MMM Analysis
12.11. Verizon Communications
12.11.1. Overview
12.11.2. Historical Revenue Data
12.11.3. Product and Service offerings
12.11.4. Key Development
12.11.5. MMM Analysis
13. Appendix
13.1 Customization Options
13.1.1 Product Portfolio Analysis
13.1.2 Country Level Data Analysis
13.1.3 Product Comparison of various competitors
13.1.4 Trade Analysis
13.2 Related Reports
13.3 Introducing RT : Real Time Market Intelligence
13.3.1 Features and Benefits of RT
13.3.2 RT Snapshots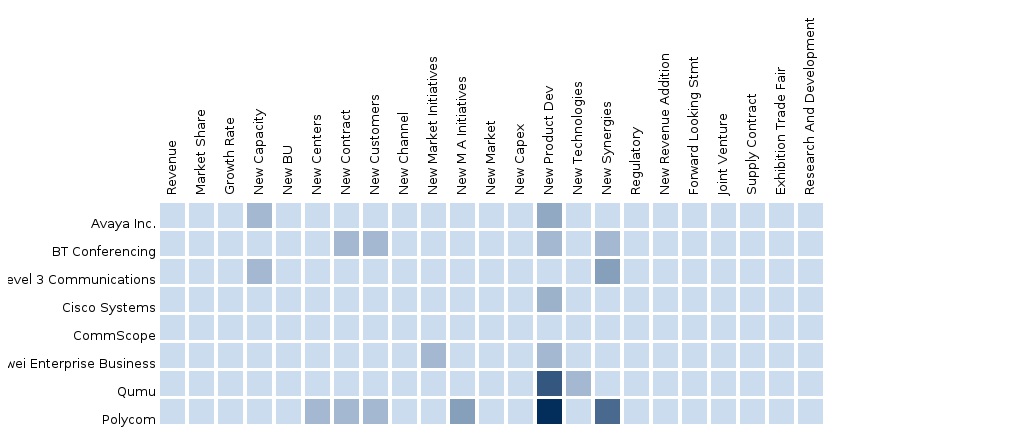 North America Enterprise Video