You are here :
Home
Healthcare
infertility Treatment
Payment Link - Endoscopy Equipment Market by Product (Endoscope (Flexible, Rigid, Capsule) Visualization Systems, Endoscopic Ultrasound, Insufflator)), Application (GI Endoscopy, Laparoscopy, Cystoscopy, Bronchoscopy, Colonoscopy, Arthroscopy) - Global Forecast to 2022
The North American endoscopy devices market is mainly driven by favorable reimbursements in selected regions in terms of geography, growing aging population, and increasing prevalence/incidence of diseases requiring endoscopy procedures.
The market value was $11.9 billion in 2013 and is expected to be $16.2 billion by 2018, at a CAGR of 6.40%.
The report "Endoscopy Devices Market Forecast, 2008-2018", analyzes the market into four segments such as endoscopes, endoscopic visualization system, endoscopic accessories, electronic and mechanical endoscopic instruments. With a market value of $4.9 billion and $4.5 billion, endoscopes and visualization system have been contributing 41.2% and 38.2% share in terms of total North American endoscopy devices market. All the segments experienced a positive growth with an increased awareness of patients and physicians towards the usage and reception of new endoscopy technologies due to the numerous advantages offered by these devices.
The demand for endoscopy has increased because of patients' preference for minimally invasive surgeries. Endoscopic procedures are low-risk procedures and are easily covered by health insurance. A pivotal factor that propels the growth of the endoscopy market is the rapid rise in the number of elderly people who are prone to orthopedic, gastrointestinal, and ophthalmic, cancer, and other diseases. According to the World Health Organization (WHO), between 2000 and 2050, the proportion of the world's population that is aged 60 years will double from 11% to 22%. This aging population is the main end-user of knee-hip implants, bariatric surgeries, gastrointestinal endoscopy, and colonoscopy procedures. With the growing number of elderly people, age-related ailments are also expected to rise sharply, thus propelling the demand and consumption of endoscopy devices concomitantly.
The number of people in the world who are obese or overweight has risen to 2.1 billion from 875 million in 1980. Further, approximately 7 million people in the United States have some symptoms of gastro esophageal reflux disorder (GERD). Primary or secondary GERD diagnosis increased by an unprecedented 216 or from a total of 995,402 individuals diagnosed in 1998 to 3,141,965 in 2005. 4.2% of all people hospitalized with GERD in 2005 and had an esophageal disorder. In the United States, 1,150 deaths in 2004 were directly related to a primary diagnosis of GERD.
North America and Europe both are likely to witness a demand for using endoscopy as a result of technological advancements as well as improved reimbursement status in both the regions. Aging population, increased obesity rates, and growing incidence of associated disease are some of the major factors driving the European endoscopy market.
The reimbursements available for the screening of colorectal cancer (CRC) and capsule endoscopy are likely to drive endoscopy market in U.S. In the coming years, the North American endoscopy market is likely to be propelled by a significant increase in the incidence of cancer. Physician's bonus is likely to drive laparoscopic surgeries in Canada.
The report provides an extensive competitive landscaping of companies operating in this market. The key players of the market covered in the report are Stryker Corporation, Ethicon Endo-Surgery, Inc., Olympus Corporation, Covidien Plc, Boston Scientific, Arthrex, Inc., Smiths Group, Aesculap, Inc., Karl Storz, ConMed, Richard Wolf GmbH, HOYA CORPORATION, and Fujifilm Holdings Corporation. The details of the segment and country-specific company shares, news and deals, M&A, segment-specific pipeline products, product approvals, and product recalls of the major companies is also covered in the report
Speak to our expert analyst for a discussion on the above findings, Click Speak to Analyst !
Customization Options
Along with the market data, you can also customize MMM assessments that meet your company's specific needs. Customize to get comprehensive industry standard and deep-dive analysis of the following parameters:
Product Analysis
Usage pattern (in-depth trend analysis) of products (segment-wise)
Product matrix which gives a detailed comparison of product portfolio of each company mapped at country and sub-segment level
End-user adoption rate analysis of the products (segment and country wise)
Comprehensive coverage of product approvals, pipeline products, and product recalls
Epidemiology Data
Country-specific prevalence and patient pool of cancer, gastrointestinal tract disorders, gastro esophageal reflux disorder (GERD), gynecological disorders.
Disease progression (pattern analysis)
Procedure Volume Data
Different types of endoscopy procedures performed annually in North America tracked till sub-segment level.
Number of abdominal, gastro intestinal, interior of joints, gynecology, bronchology, large and small intestinal procedures performed by endoscopy in North America.
Surgeons/Physicians Perception Analysis
Fast turn-around analysis of Surgeons response to market events and trends
Surgeons opinion about products from different companies
Surgeons qualitative inputs on epidemiology date
Brand/Product Perception Matrix
Comprehensive study of customers perception and behavior through our inbuilt social connect tool checking the virality and tonality of blogs
Analysis of overall brand usage and familiarity and brand advocacy distribution (detractor/neutral/familiar)
Pricing Trends
Cost Analysis of endoscopy devices in North America.
Procedural investments in North America for abdominal, gastro intestinal, interior of joints, gynecological, bronchological, large and small intestinal endoscopy.
Competitive Intelligence
The company share analysis of the top players of the market in the region.
The crucial developments and strategies of companies inculcating in their portfolio.
Alternative Products: Impact analysis
MMM's Healthcare Decision Making Quadrant It is an innovative and useful quadrant for vendors who wish to analyze the potential growth markets based on parameters like Patient dynamics (Patient pool, epidemiology of disease, preference towards surgeries/alternative therapies) and Macroeconomic indicators (Number of Hospitals and Cancer centers, reimbursement scenario, diagnosis rate, treatment rate and healthcare expenditure)
Request for a customized report which matches your company's specific needs,
Click Request Customization.
1 Introduction
1.1 Objective of the study
1.2 Market Definitions
1.3 Market Segmentation & Aspects Covered
1.4 Research Methodology
1.4.1 Assumptions (Market Size, Forecast, etc)
2 Executive Summary
3 Market Overview
4 Endoscopy-North America, By Applications
4.1 Laparoscopy-North America
4.2 GI Endoscopy-North America
4.3 Arthroscopy-North America
4.4 Gynecological Endoscopy-North America
4.5 Urology Endoscopy-North America
4.6 Bronchoscopy-North America
4.7 Mediastinoscopy-North America
4.8 Otoscopy-North America
4.9 Laryngoscope-North America
5 Endoscopy-North America, By Products
5.1 Endoscopes-North America
5.1.1 Endoscopes-North America, By Types
5.1.1.1 Rigid Endoscopes-North America
5.1.1.2 Flexible Endoscopes-North America
5.1.1.3 Surgical Endoscopes-North America
5.1.1.4 Capsule Endoscopes-North America
5.2 Electronic Endoscopic Instruments-North America
5.2.1 Electronic Endoscopic Instruments-North America, By Products
5.2.1.1 Insufflators-North America
5.2.1.2 Endoscopy Fluid Management Systems-North America
5.2.1.3 Endoscopic Ultrasounds (EUS)-North America
5.3 Mechanical Endoscopic Instruments-North America
5.3.1 Mechanical Endoscopic Instruments-North America, By Segments
5.3.1.1 Biopsy Forceps-North America
5.3.1.2 Graspers-North America
5.3.1.3 Snares-North America
5.3.1.4 Trocars and Cannulae-North America
5.3.1.5 Endoscopic Implants-North America
5.4 Endoscopic Accessories-North America
5.4.1 Endoscopic Accessories-North America, By Products
5.4.1.1 Cleaning brushes-North America
5.4.1.2 Overtubes-North America
5.4.1.3 Biopsy valves-North America
5.4.1.4 Endoscopy Carts/Trolleys-North America
5.4.1.5 Surgical dissectors-North America
5.4.1.6 Needle holders/forceps-North America
5.4.1.7 Light cables-North America
5.4.1.8 Mouth pieces-North America
5.4.1.9 Fluid flushing device-North America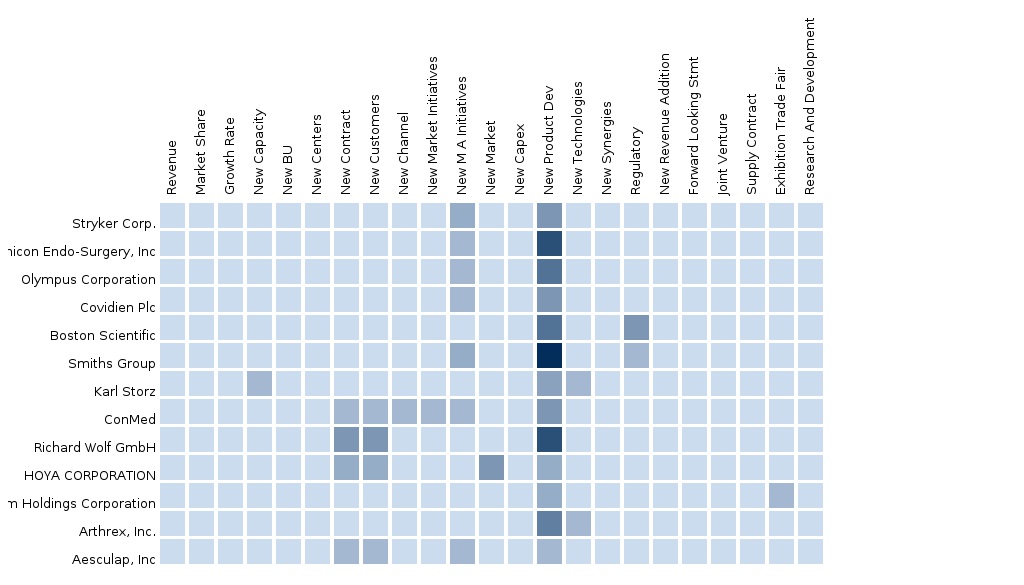 Please fill in the form below to receive a free copy of the Summary of this Report
Custom Market Research Services
We will customize the research for you, in case the report listed above does not meet with your exact requirements. Our custom research will comprehensively cover the business information you require to help you arrive at strategic and profitable business decisions.
Please visit
http://www.micromarketmonitor.com/custom-research-services.html
to specify your custom Research Requirement
PRODUCT TITLE
PUBLISHED
Brazil Medical Devices


Peers of Brazil medical devices are Orthopedic Devices, Ophthalmology devices, Endoscopy and Neurology Devices comprising 12.8%, 9.2%, 7.2% and 1.9% respectively of the Global Medical Devices market. It is segmented on basis of endusers and...



Nov 2015
North American Endoscopy Devices Market