The Middle East floating production system market was valued at $333.0 million in the year 2013 and is expected to reach $1,117.0 million by the end of 2018, growing at a CAGR of 27.4% from 2013 to 2018.
The report, 'Middle East Floating Production System Market forecast, 2012-2018', analyses the floating production system market by country. This includes the Caspian Sea region and others with others holding major of the market share while Caspian Sea is an emerging market in this region.
The demand for crude oil in this region is increasing year on year. There has been an increase of 4.5% in the demand for crude oil in 2013 as compared to 2011. The increase in exploration activities in these regions have added to the increased demand for floating production storage and offloading (FPSO) vessels and systems, hence increasing the scope of the market.
Exploration activities in Middle-Eastern countries have been driving the development of this region for a decade. Saudi Arabia and the UAE are important countries for the production and supply of hydrocarbons. The total number of offshore wells drilled in the region has increased by 10% in 2013 over previous years.
This report provides an extensive competitive landscape of key companies operating in the floating production system market. Some of the key players operating in this market are Samsung Heavy Industries Co., Ltd. and others. The report includes their region-wise market share, new product and service launches, mergers and acquisitions, and the product portfolio of key market players.
Additional Customization Options
With market data, you can also customize MMM assessments that meet your company's specific needs. Customize your report to get an insight into comprehensive industry standards and a deep-dive analysis of the following parameters.
Product Benchmarking Outlook
Comparison of vessels of key players on the basis of the type of floating production systems they build (FPSO, TLP, Semi-Submersible, Mobile, Spar, and Buoy-Shaped) and type of water depths
Customer Segment Outlook
Information about vessels
FPSO vessel name
Location of oil field it is operated in
Field operator
Year of inception
Vessel operator
Type of platform
Condition: newly built or converted
Future Prospects
Quick turnaround on key upcoming subsea projects driving the demand for floating production systems
Analysis and impact of local and regional environmental regulations (by country)
Market Capital Outlook
Capex information
Historical and forecasted capex information of leading FPSO operators
Capex by component (hull, topside modules, and mooring systems)
Capex by order
Current Industry Challenges
Challenges faced in the FPSO industry
Technological challenges
Project execution difficulties
Supply chain complexity
Financing restrictions
Is leasing or buying FPSO beneficial to the customer:
FPS leasing, major leasing contractors, redeployment of leased units
In-depth value chain analysis of FPS:
Interrelation between segments
Impact of segments on the market
1 Introduction
1.1 Objective of the study
1.2 Market Definitions
1.3 Market Segmentation & Aspects Covered
1.4 Research Methodology
1.4.1 Assumptions (Market Size, Forecast, etc)
2 Executive Summary
3 Market Overview
4 Floating Production System Middle East, By Geographies
4.1 Middle East - Other Geographies
4.2 Kuwait
5 Floating Production System Middle East, By Companies
5.1 Split By Geography
5.1 Middle East - Other Geographies by Companies
5.1 Kuwait by Companies
5.2 Middle East-Samsung Heavy Industries ltd.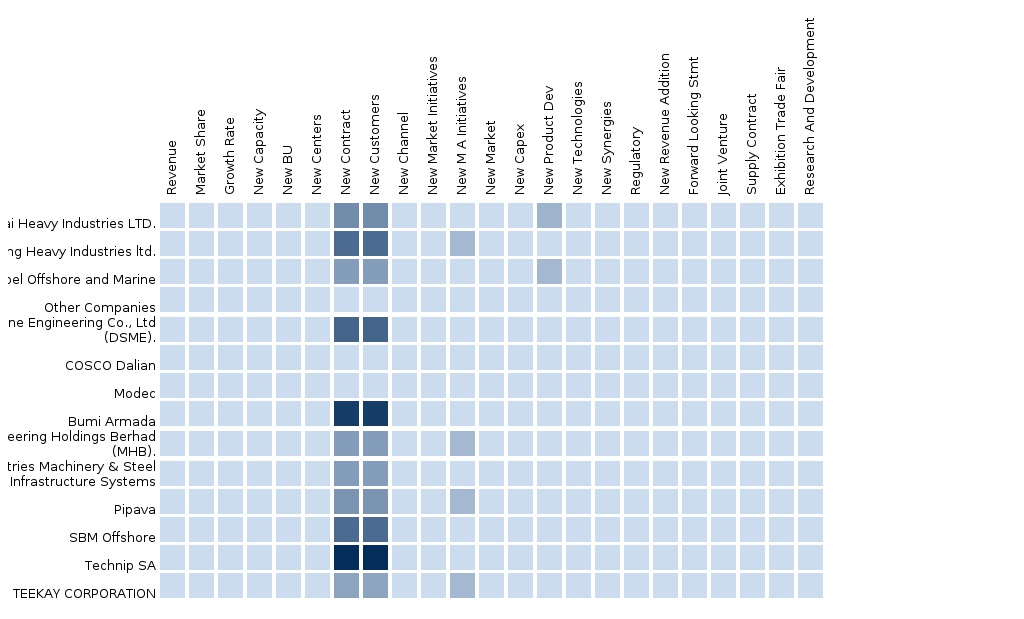 Please fill in the form below to receive a free copy of the Summary of this Report
Custom Market Research Services
We will customize the research for you, in case the report listed above does not meet with your exact requirements. Our custom research will comprehensively cover the business information you require to help you arrive at strategic and profitable business decisions.
Please visit
http://www.micromarketmonitor.com/custom-research-services.html
to specify your custom Research Requirement