Middle East and Africa Enterprise Video Market
Description
Table of Contents
Customer Intelligence
Middle East and Africa enterprise video market is primarily driven by the surveillance requirements, increasing video conferencing across organizations, and adoption of cloud technologies by small and medium businesses for effective communication.
Middle East and Africa enterprise video market is estimated to grow from $735.98 million in 2014 to $1842.05 million by 2019, at a CAGR of 20.1% from 2014 to 2019.
With the proliferation of cloud adoption technology, the enterprise video market is tremendously gaining popularity. Cloud adoption helps in creating a virtualized environment for video conferencing, by hosting business-critical applications and reducing operational costs. Cloud adoption in enterprise video market enables mass usage of video communication and video platforms among enterprises.
The usage of mobile devices in enterprises is becoming a universal concept; employees are increasing using these devices for the purpose of communication across varied locations. Due to the rapid upsurge in usage of mobile devices, the adoption of cloud has significantly favored the 'bring your own device (BYOD) culture.
The report offers a comprehensive overview of essential market dynamics pertaining to the Middle East and Africa enterprise video market, in addition to competitive analysis of key industry players and growth strategies adopted by them. Prominent companies operating in this market segment are Cisco, Polycom, Kaltura, Huawei Enterprise, Avaya, Honeywell, Level 3 Communications, and Sonic Foundry.
Report Options
The market segmentation covered in this report are-
· By Delivery Modes: Video streaming, web conferencing, and webcasting
· By Application: Corporate communication, learning and development, and knowledge sharing and management among others
· By Verticals: Government and academic, banking financial service and insurance (BFSI), consumer goods and retail, healthcare, manufacturing, media and entertainment, telecom and IT, and transportation and logistics among other industry verticals
Customization Options
Along with the market data, you can also customize MMM assessments that are in accordance to your company's specific needs. Customize the report to get an insight into comprehensive industry standard and deep-dive analysis of the following parameters:
Solutions Matrix
· Comprehensive analysis and benchmarking in terms of delivery modes, applications, and verticals
· Evaluation parameters such as technology, service offerings, and pricing among others
Competitive Benchmarking
· Value-chain evaluation using events, developments, market data for vendors in the market ecosystem, across various industrial verticals, market segmentation, and categorization
· Identification of key opportunities by connecting related markets using cascaded value-chain analysis, for instance; validation of market growth due to the corresponding growth observed in video streaming, web conferencing, webcasting, and video conferencing market segments
Vendor Landscaping
· Vendor market watch and predictions, shares and offerings, categorization of adoption trends, and market dominance (leaders, challengers, followers, and nichers)
Data Tracker
· Country-specific market forecast and analysis
· Identification of key end-user segments, by country
Vertical Analysis
· Analysis of different industrial verticals based on delivery modes, applications, and verticals
Vendor Landscape
· Evaluate tier-2/3 vendors' market offerings using a 2X2 framework (leaders, challengers, followers, and nichers)
Channel Analysis
· Channel/distribution and partners/alliances for tier-1 vendors and application specific products being built towards the customer end of value-chain
Client Tracker
· Detailed analysis of deals, case studies, R&D investments, events, discussion forums, campaigns, alliances and partners of tier-1 and tier-2/3 vendors for the last 3 years
Service and Application Adoption
· Detailed analysis of adoption of Middle East and Africa enterprise video in different verticals
Technology Watch
· Current technology trends across different industry verticals
1.Introduction
Objective of the study
Market Definition & Scope of the Study
Markets Covered
Stakeholders
2.Research Methodology
Integrated Ecosystem of Enterprise Video
Arriving at the Enterprise Video Market Size

Top-Down Approach
Bottom-up Approach
Demand Side Analysis
Macro Indicators
Assumptions
3.Executive Summary
4.Market Overview
Introduction
Comparison with Communication Solutions (Parent) Market
Market Drivers and Inhibitors
Demand Side Analysis
Vendor Side Analysis
5.Middle East and Africa : Enterprise Video, By Hardware
5.1.Research Methodology
5.2.Introduction
5.3.Demand Side Analysis
5.4.Vendor Side Analysis
5.5. Middle East and Africa Enterprise Video : Video Casting Devices Snapshot
5.5.1.Middle East and Africa Enterprise Video : Video Casting Devices, By Geography
5.6. Middle East and Africa Enterprise Video : Video Recording and Storage Devices Snapshot
5.6.1.Middle East and Africa Enterprise Video : Video Recording and Storage Devices, By Geography
5.7.Middle East and Africa Enterprise Video : Video Management and Control Snapshot
5.7.1. Middle East and Africa Enterprise Video : Video Management and Control, By Geography
5.8.Middle East and Africa Enterprise Video : Video Distribution Snapshot
5.8.1. Middle East and Africa Enterprise Video : Video Distribution, By Geography
5.9.Middle East and Africa Communication Solutions: Sneak View, By Hardware
6.Middle East and Africa : Enterprise Video, By Software
6.1.Research Methodology
6.2.Introduction
6.3.Demand Side Analysis
6.4.Vendor Side Analysis
6.5. Middle East and Africa Enterprise Video : Video Content Management Snapshot
6.5.1.Middle East and Africa Enterprise Video : Video Content Management, By Geography
6.6. Middle East and Africa Enterprise Video : Video Security Snapshot
6.6.1.Middle East and Africa Enterprise Video : Video Security, By Geography
6.7.Middle East and Africa Enterprise Video : Video Analytics Software Snapshot
6.7.1. Middle East and Africa Enterprise Video : Video Analytics Software, By Geography
6.8.Middle East and Africa Enterprise Video : Video Encoding and Decoding Snapshot
6.8.1. Middle East and Africa Enterprise Video : Video Encoding and Decoding, By Geography
6.9.Middle East and Africa Enterprise Video : Video Collaboration Snapshot
6.9.1. Middle East and Africa Enterprise Video : Video Collaboration, By Geography
6.10.Middle East and Africa Enterprise Video : Video Asset Management Snapshot
6.10.1. Middle East and Africa Enterprise Video : Video Asset Management, By Geography
6.11.Middle East and Africa Communication Solutions: Sneak View, By Software
7.Middle East and Africa : Enterprise Video, By Service
7.1.Research Methodology
7.2.Introduction
7.3.Demand Side Analysis
7.4.Vendor Side Analysis
7.5. Middle East and Africa Enterprise Video : Consulting Services Snapshot
7.5.1.Middle East and Africa Enterprise Video : Consulting Services, By Geography
7.6. Middle East and Africa Enterprise Video : Managed Services Snapshot
7.6.1.Middle East and Africa Enterprise Video : Managed Services, By Geography
7.7.Middle East and Africa Enterprise Video : System Integration Services Snapshot
7.7.1. Middle East and Africa Enterprise Video : System Integration Services, By Geography
7.8.Middle East and Africa Communication Solutions: Sneak View, By Service
8.Middle East and Africa : Enterprise Video, By Delivery Mode
8.1.Research Methodology
8.2.Introduction
8.3.Demand Side Analysis
8.4.Vendor Side Analysis
8.5. Middle East and Africa Enterprise Video : Video Streaming Snapshot
8.5.1.Middle East and Africa Enterprise Video : Video Streaming, By Geography
8.6. Middle East and Africa Enterprise Video : Web Conferencing Snapshot
8.6.1.Middle East and Africa Enterprise Video : Web Conferencing, By Geography
8.7.Middle East and Africa Enterprise Video : Webcasting Snapshot
8.7.1.Middle East and Africa Enterprise Video : Webcasting, By Geography
8.8.Middle East and Africa Enterprise Video : Video Conferencing Snapshot
8.8.1.Middle East and Africa Enterprise Video : Video Conferencing, By Geography
8.9.Middle East and Africa Information Security: Sneak View, By Delivery Mode
9.Middle East and Africa : Enterprise Video, By Application
9.1.Research Methodology
9.2.Introduction
9.3.Demand Side Analysis
9.4.Vendor Side Analysis
9.5. Middle East and Africa Enterprise Video : Corporate Communication Snapshot
9.5.1.Middle East and Africa Enterprise Video : Corporate Communication, By Geography
9.6. Middle East and Africa Enterprise Video : Learning and Development Snapshot
9.6.1.Middle East and Africa Enterprise Video : Learning and Development, By Geography
9.7.Middle East and Africa Enterprise Video : Knowledge Sharing and Management Snapshot
9.7.1.Middle East and Africa Enterprise Video : Knowledge Sharing and Management, By Geography
9.8.Middle East and Africa Information Security: Sneak View, By Application
10.Middle East and Africa : Enterprise Video, By Vertical
10.1.Research Methodology
10.2.Introduction
10.3.Demand Side Analysis
10.4.Vendor Side Analysis
10.5. Middle East and Africa Enterprise Video : Academia and Government Snapshot
10.5.1.Middle East and Africa Enterprise Video: Academia and Government, By Geography
10.6.Middle East and Africa Enterprise Video: BFSI Snapshot
10.6.1.Middle East and Africa Enterprise Video: BFSI, By Geography
10.7.Middle East and Africa Enterprise Video: Consumer Goods and Retail Snapshot
10.7.1.Middle East and Africa Enterprise Video: Consumer Goods and Retail, By Geography
10.8.Middle East and Africa Enterprise Video: Manufacturing Snapshot
10.8.1.Middle East and Africa Enterprise Video: Manufacturing, By Geography
10.9. Middle East and Africa Enterprise Video: Media and Entertainment Snapshot
10.9.1.Middle East and Africa Enterprise Video: Media and Entertainment, By Geography
10.10.Middle East and Africa Enterprise Video: Telecom and IT Snapshot
10.10.1. Middle East and Africa Enterprise Video: Telecom and IT, by Geography
10.11.Middle East and Africa Enterprise Video: HealthCare Snapshot
10.11.1.Middle East and Africa Enterprise Video: HealthCare, By geography
10.12.Middle East and Africa Predictive Analytics : Transportation and Logistics Snapshot
10.12.1.Middle East and Africa Predictive Analytics: Transportation and Logistics, By geography
10.13.Middle East and Africa Communication Solutions: Sneak View, By Verticals
11.Middle East and Africa Enterprise Video: Market Size And Forecast, By Country
11.1.Research Methodology
11.2.Introduction
11.3.Vendor Side Analysis
11.4.UAE Enterprise Video
UAE Enterprise Video : Market Snapshot, By Hardware
UAE Enterprise Video : Market, By Hardware
UAE Enterprise Video : Market Snapshot, By Software
UAE Enterprise Video : Market, By Software
UAE Enterprise Video : Market Snapshot, By Service
UAE Enterprise Video : Market, By Service
UAE Enterprise Video : Market Snapshot, By Delivery Mode
UAE Enterprise Video : Market, By Delivery Mode
UAE Enterprise Video : Market Snapshot, By Application
UAE Enterprise Video : Market, By Application
UAE Enterprise Video : Market Snapshot, By Vertical
UAE Enterprise Video : Market, By Vertical
11.5.KSA Enterprise Video
KSA Enterprise Video : Market Snapshot, By Hardware
KSA Enterprise Video : Market, By Hardware
KSA Enterprise Video : Market Snapshot, By Software
KSA Enterprise Video : Market, By Software
KSA Enterprise Video : Market Snapshot, By Service
KSA Enterprise Video : Market, By Service
KSA Enterprise Video : Market Snapshot, By Delivery Mode
KSA Enterprise Video : Market, By Delivery Mode
KSA Enterprise Video : Market Snapshot, By Application
KSA Enterprise Video : Market, By Application
KSA Enterprise Video : Market Snapshot, By Vertical
KSA Enterprise Video : Market, By Vertical
11.6.Rest of Middle East and Africa Enterprise Video
Rest of Middle East And Africa Enterprise Video : Market Snapshot, By Hardware
Rest of Middle East And Africa Enterprise Video : Market, By Hardware
Rest of Middle East And Africa Enterprise Video : Market Snapshot, By Software
Rest of Middle East And Africa Enterprise Video : Market, By Software
Rest of Middle East And Africa Enterprise Video : Market Snapshot, By Service
Rest of Middle East And Africa Enterprise Video : Market, By Service
Rest of Middle East And Africa Enterprise Video : Market Snapshot, By Delivery Mode
Rest of Middle East And Africa Enterprise Video : Market, By Delivery Mode
Rest of Middle East And Africa Enterprise Video : Market Snapshot, By Application
Rest of Middle East And Africa Enterprise Video : Market, By Application
Rest of Middle East And Africa Enterprise Video : Market Snapshot, By Vertical
Rest of Middle East And Africa Enterprise Video : Market, By Vertical
11.7. Middle East and Africa Communication Solutions : Sneak view, By Country
12.Enterprise Video : Middle East and Africa, By Company
Competitive Landscape
Mergers & Acquisitions
Expansions
Investments
Joint Ventures
Alcatel-Lucent
Overview
Historical Revenue Data
Product and Service offerings
Key Development
Avaya
Overview
Historical Revenue Data
Product and Service offerings
Key Development
MMM Analysis
Cisco
Overview
Historical Revenue Data
Product and Service offerings
Key Development
MMM Analysis
Computer Sciences Corporation (CSC)
Overview
Historical Revenue Data
Product and Service offerings
Key Development
MMM Analysis
HP
Overview
Historical Revenue Data
Product and Service offerings
Key Development
MMM Analysis
Huawai
Overview
Historical Revenue Data
Product and Services offerings
Key Development
MMM Analysis
IBM
Overview
Historical Revenue Data
Product and Service offerings
Key Development
MMM Analysis
Microsoft
Overview
Historical Revenue Data
Product and Service offerings
Key Development
MMM Analysis
Polycom
Overview
Historical Revenue Data
Product and Service offerings
Key Development
MMM Analysis
Verizon Communications
Overview
Historical Revenue Data
Product and Service offerings
Key Development
MMM Analysis
13. Appendix
13.1 Customization Options
13.13.1 Product Portfolio Analysis
13.13.2 Country Level Data Analysis
13.13.3 Product Comparison of various competitors
13.13.4 Trade Analysis
13.2 Related Reports
13.3 Introducing RT : Real Time Market Intelligence
13.13.1 Features and Benefits of RT
13.13.2 RT Snapshots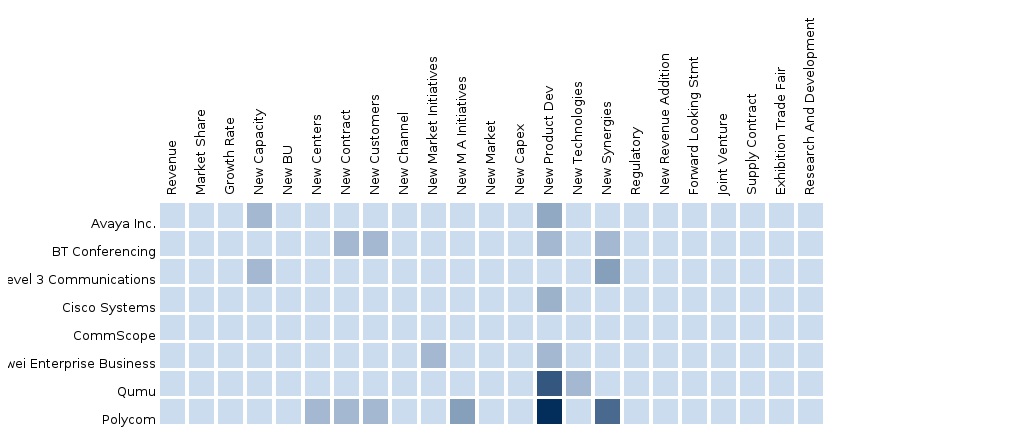 Middle East and Africa Enterprise Video