Europe Well Completion - Tools Market
Description
Table of Contents
Customer Intelligence
The well completion equipment are used for packing and sand controlling. The well completion services include performing casing, cementing, perforating, gravel packing, and installing a production tree for the well to start production. The growing demand for offshore and onshore activities leads to increase in new oil and gas field, which ultimately expands the well completion market. The well completion market in Europe is expected to reach $1377 million by 2019, at a CAGR of 11.3%, from 2014 to 2019.
The well completion equipment market by types covers packers, sand control tools, multi-stage fracturing tools, liner hangers, smart wells, and safety valves. The Europe market is also split by geography including countries such as Russia, Netherlands, Norway, Poland, and the U.K.
Market share analysis of top companies is validated based on key facts, annual financial information, and interview with key expert such as CEOS, directors, and marketing executives.
In order to present an in-depth understanding of competitive landscape, the well completion report consist of profile of some major player such as Halliburton (U.S.), Baker Hughes (U.S.), Weatherford (Switzerland), and Schlumberger (U.S.)
Customization Options
Along with the market data, you can also customize MMM assessments that meet your company's specific needs. Customize to get comprehensive industry standard and deep dive analysis of the following parameters:
Key competitors/consumers product benchmarking
Limited addition of market segment assessment by geography/application
Additional company profiles and landscape
Product Analysis
Comparison of product portfolio of each company mapped at regional level
Number of onshore and offshore projects forecasted
Additional Information
The data for oil reserves and capital expenditure at regional level
The rig count at regional and country level
The number of wells drilled in a particular region
Expert forum
Qualitative inputs on offshore drilling activities
1 Introduction
1.1 Objective of the study
1.2 Market Definitions
1.3 Market Segmentation & Aspects Covered
1.4 Research Methodology
1.4.1 Assumptions (Market Size, Forecast, etc)
2 Executive Summary

3 Market Overview

4 Well Completion - Tools-Europe, By Segments
4.1 Split By Geography
4.1 Well Completion - Tools-Europe - Other Geographies by Markets
4.1 Well Completion - Tools-United Kingdom by Markets
4.1 Well Completion - Tools-Europe - Netherlands by Markets
4.1 Well Completion - Tools-Europe - Russia by Markets
4.1 Well Completion - Tools-Europe - Poland by Markets
4.1 Well Completion - Tools-Europe - Norway by Markets
4.1 Well Completion - Tools-France by Markets
4.1 Well Completion - Tools-Denmark by Markets
4.2 others- well completion tools-Europe
4.2.1 others- well completion tools-Europe, By Geographies
4.2.1.1 others- well completion tools-Europe - Russia
4.2.1.2 others- well completion tools-Europe - Netherlands
4.2.1.3 others- well completion tools-Europe - Norway
4.2.1.4 others- well completion tools-United Kingdom
4.2.1.5 others- well completion tools-Europe - Other Geographies
4.3 Safety Valves-Europe
4.3.1 Safety Valves-Europe, By Geographies
4.3.1.1 Safety Valves-Europe - Russia
4.3.1.2 Safety Valves-Europe - Netherlands
4.3.1.3 Safety Valves-Europe - Norway
4.3.1.4 Safety Valves-United Kingdom
4.3.1.5 Safety Valves-Europe - Other Geographies
4.4 Multi Stage Frac Tools-Europe
4.4.1 Multi Stage Frac Tools-Europe, By Geographies
4.4.1.1 Multi Stage Frac Tools-Europe - Russia
4.4.1.2 Multi Stage Frac Tools-Europe - Netherlands
4.4.1.3 Multi Stage Frac Tools-Europe - Norway
4.4.1.4 Multi Stage Frac Tools-United Kingdom
4.4.1.5 Multi Stage Frac Tools-Europe - Other Geographies
4.5 Smart Wells-Europe
4.5.1 Smart Wells-Europe, By Geographies
4.5.1.1 Smart Wells-Europe - Russia
4.5.1.2 Smart Wells-Europe - Netherlands
4.5.1.3 Smart Wells-Europe - Norway
4.5.1.4 Smart Wells-United Kingdom
4.5.1.5 Smart Wells-Europe - Other Geographies
4.6 Sand Control Equipment-Europe
4.6.1 Sand Control Equipment-Europe, By Geographies
4.6.1.1 Sand Control Equipment-Europe - Russia
4.6.1.2 Sand Control Equipment-Europe - Netherlands
4.6.1.3 Sand Control Equipment-Europe - Norway
4.6.1.4 Sand Control Equipment-United Kingdom
4.6.1.5 Sand Control Equipment-Europe - Other Geographies
4.7 Liner Hanger-Europe
4.7.1 Liner Hanger-Europe, By Geographies
4.7.1.1 Liner Hanger-Europe - Russia
4.7.1.2 Liner Hanger-Europe - Netherlands
4.7.1.3 Liner Hanger-Europe - Norway
4.7.1.4 Liner Hanger-United Kingdom
4.7.1.5 Liner Hanger-Europe - Other Geographies
4.8 Packers and flow control-Europe
4.8.1 Packers and flow control-Europe, By Geographies
4.8.1.1 Packers and flow control-Europe - Russia
4.8.1.2 Packers and flow control-Europe - Netherlands
4.8.1.3 Packers and flow control-Europe - Norway
4.8.1.4 Packers and flow control-United Kingdom
4.8.1.5 Packers and flow control-Europe - Other Geographies
5 Well Completion - Tools-Europe, By Geographies
5.1 Well Completion - Tools-Europe - Other Geographies
5.1.1 Well Completion - Tools-Europe - Other Geographies, By Segments
5.1.1.1 others- well completion tools-Europe - Other Geographies
5.1.1.2 Safety Valves-Europe - Other Geographies
5.1.1.3 Multi Stage Frac Tools-Europe - Other Geographies
5.1.1.4 Smart Wells-Europe - Other Geographies
5.1.1.5 Sand Control Equipment-Europe - Other Geographies
5.1.1.6 Liner Hanger-Europe - Other Geographies
5.1.1.7 Packers and flow control-Europe - Other Geographies
5.2 Well Completion - Tools-United Kingdom
5.2.1 Well Completion - Tools-United Kingdom, By Segments
5.2.1.1 others- well completion tools-United Kingdom
5.2.1.2 Safety Valves-United Kingdom
5.2.1.3 Multi Stage Frac Tools-United Kingdom
5.2.1.4 Smart Wells-United Kingdom
5.2.1.5 Sand Control Equipment-United Kingdom
5.2.1.6 Liner Hanger-United Kingdom
5.2.1.7 Packers and flow control-United Kingdom
5.3 Well Completion - Tools-Europe - Netherlands
5.3.1 Well Completion - Tools-Europe - Netherlands, By Segments
5.3.1.1 others- well completion tools-Europe - Netherlands
5.3.1.2 Safety Valves-Europe - Netherlands
5.3.1.3 Multi Stage Frac Tools-Europe - Netherlands
5.3.1.4 Smart Wells-Europe - Netherlands
5.3.1.5 Sand Control Equipment-Europe - Netherlands
5.3.1.6 Liner Hanger-Europe - Netherlands
5.3.1.7 Packers and flow control-Europe - Netherlands
5.4 Well Completion - Tools-Europe - Russia
5.4.1 Well Completion - Tools-Europe - Russia, By Companies
5.4.1.1 Well Completion - Tools-Baker Hughes Completion and Production-Europe - Russia
5.4.2 Well Completion - Tools-Europe - Russia, By Segments
5.4.2.1 others- well completion tools-Europe - Russia
5.4.2.2 Safety Valves-Europe - Russia
5.4.2.3 Multi Stage Frac Tools-Europe - Russia
5.4.2.4 Smart Wells-Europe - Russia
5.4.2.5 Sand Control Equipment-Europe - Russia
5.4.2.6 Liner Hanger-Europe - Russia
5.4.2.7 Packers and flow control-Europe - Russia
5.5 Well Completion - Tools-Europe - Poland
5.6 Well Completion - Tools-Europe - Norway
5.6.1 Well Completion - Tools-Europe - Norway, By Companies
5.6.1.1 Well Completion - Tools-Halliburton Completion and Production-Europe - Norway
5.6.1.2 Well Completion - Tools-Trican Well Services-Europe - Norway
5.6.2 Well Completion - Tools-Europe - Norway, By Segments
5.6.2.1 others- well completion tools-Europe - Norway
5.6.2.2 Safety Valves-Europe - Norway
5.6.2.3 Multi Stage Frac Tools-Europe - Norway
5.6.2.4 Smart Wells-Europe - Norway
5.6.2.5 Sand Control Equipment-Europe - Norway
5.6.2.6 Liner Hanger-Europe - Norway
5.6.2.7 Packers and flow control-Europe - Norway
5.7 Well Completion - Tools-France
5.7.1 Well Completion - Tools-France, By Companies
5.7.1.1 Well Completion - Tools-Baker Hughes Completion and Production-France
5.7.1.2 Well Completion - Tools-Welltec International Aps-France
5.8 Well Completion - Tools-Denmark
5.8.1 Well Completion - Tools-Denmark, By Companies
5.8.1.1 Well Completion - Tools-Welltec International Aps-Denmark
6 Well Completion - Tools-Europe, By Companies
6.1 Split By Geography
6.2 Well Completion - Tools-Europe - Other Geographies by Companies
6.1 Well Completion - Tools-United Kingdom by Companies
6.1 Well Completion - Tools-Europe - Netherlands by Companies
6.1 Well Completion - Tools-Europe - Russia by Companies
6.1 Well Completion - Tools-Europe - Poland by Companies
6.1 Well Completion - Tools-Europe - Norway by Companies
6.1 Well Completion - Tools-France by Companies
6.1 Well Completion - Tools-Denmark by Companies
6.2 Well Completion - Tools-Europe-Halliburton Completion and Production
6.3 Well Completion - Tools-Baker Hughes Completion and Production-Europe
6.3.1 Well Completion - Tools-Baker Hughes Completion and Production-Europe, By Geographies
6.3.1.1 Well Completion - Tools-Baker Hughes Completion and Production-Europe - Russia
6.3.1.2 Well Completion - Tools-Baker Hughes Completion and Production-France
6.4 Well Completion - Tools-Europe-Weatherford Completion and Production
6.5 Well Completion - Tools-Europe-Other Companies
6.6 Well Completion - Tools-Europe-Schlumberger Oilfield Services Reservoir Production
6.7 Well Completion - Tools-Europe-Superior Energy Services Onshore Completion and Workover Services
6.8 Well Completion - Tools-Trican Well Services-Europe
6.8.1 Well Completion - Tools-Trican Well Services-Europe, By Geographies
6.8.1.1 Well Completion - Tools-Trican Well Services-Europe - Norway
6.9 Well Completion - Tools-Welltec International Aps-Europe
6.9.1 Well Completion - Tools-Welltec International Aps-Europe, By Geographies
6.9.1.1 Well Completion - Tools-Welltec International Aps-France
6.9.1.2 Well Completion - Tools-Welltec International Aps-Denmark
6.10 Well Completion - Tools-Europe-Nabors Completion & Production Services
6.11 Well Completion - Tools-Europe-National Oilwell Petroleum Services & Supplies
6.12 Well Completion - Tools-Europe-RPC INC.
6.13 Well Completion - Tools-Europe-Sanjel Corporation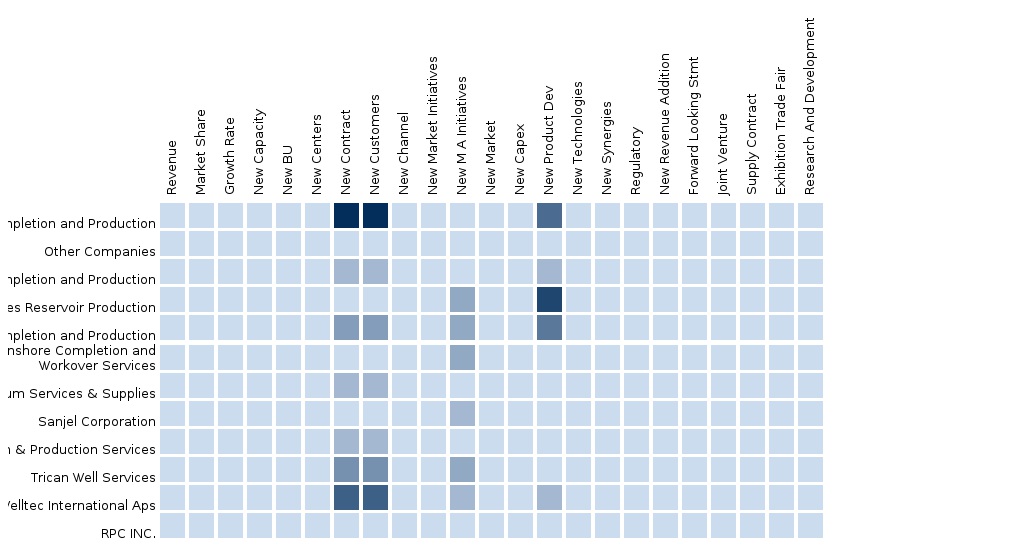 PRODUCT TITLE
PUBLISHED
PRICE
South America Oilfield Tools


The increasing demand of oil and gas, and increase in investment made by foreign players in the onshore and offshore activities is driving the South American oilfield tools market. This market is expected to grow approximately at a CAGR of 13% from 2014 to 2019.



28 Feb 2015
$ 3500
North America Oilfield Tools


The continuous increase in oil production, presence of large shell reserves and major multinational companies is driving the North American oilfield tools market. This market is expected to grow approximately at a CAGR of 8% from 2014 to 2019.



28 Feb 2015
$ 3500
Middle East Oilfield Tools


The rising energy demand along with increasing drilling activities and increased investment in onshore and offshore exploration is driving the oilfield tools market in Middle East. This market is expected to grow approximately at a CAGR of 9% from 2014 to 2019.



28 Feb 2015
$ 3500
Europe Oilfield Tools


The rising oil extraction along with the technological advancement and investment in onshore and offshore exploration and production activities are driving the European oilfield tools market. The oilfield tools market in Europe is expected to grow approximately at a CAGR of 8% from 2014 to 2019.



28 Feb 2015
$ 3500
Asia-Pacific Oilfield Tools


The energy demand in Asia-Pacific has increased due to growth in population, improvement in economic condition and increase in industrial development. The oilfield tools market in Asia-Pacific is expected to grow approximately at a CAGR of 10% from 2014 to 2019.



28 Feb 2015
$ 3500
Africa Oilfield Tools


The rising oil extraction along with the increased government support and investment in onshore and offshore exploration & production activities is driving the global oilfield tools market. The oilfield tools market in Africa is expected to grow approximately at a CAGR of 10% from 2014 to 2019.



28 Feb 2015
$ 3500