Europe Size Exclusion columns Market
Description
Table of Contents
Customer Intelligence
The size exclusion chromatography reagents market (SEC) in Europe is projected to grow at a CAGR of 6.72% from 2012 to 2018. In general, size exclusion chromatography is a method that concentrates on solvent separation, wherein molecules are separated as per their molecular size. When compared with traditional chromatography techniques, the size exclusion technique lays emphasis on accurate analysis and purification of synthetic and biological polymers, such as polysaccharides and nucleic acids. Due to the unique advantages of this chromatography technique in terms of offering good molar mass distribution, it is considered as a widely used polymer characterization method.
Europe is the second largest market in the size exclusion chromatography segment with a market share of 28.6%. The main factor that affects the growth of this market in Europe is the high demand of chromatography reagents in pharmaceutical companies. The demand for size exclusion chromatography has been fueled by worthy investments being made in chromatography regents by government agencies, which in turn helps firms that deal with these techniques to discover and develop more advanced products. Apart from these, there are additional factors that lay a positive impact on the market growth, such as technological innovations, rampant use of chromatography techniques in the medical field, and a significant rise observed in major acquisitions and partnerships between companies that deal with chromatography reagents.
The size exclusion chromatography reagents market is segmented into geography, product, technology, application, and end-user. On the basis of application, the market is segregated into analytical chromatography reagents and preparative chromatography reagents. In terms of product, the market is classified into column chromatography reagents and planar chromatography reagents. On the basis of technology, the market is segmented into super critical fluid chromatography reagents, gas chromatography reagents, and liquid chromatography reagents. The end-user segment comprises pharmaceutical, food and beverages, hospitals, academics, cosmetics, environmental biotechnology, nutraceuticals, and other end-users. The macro indicator of this market is healthcare expenditure. There are certain factors such as alternative chromatography techniques and elevated costs of organic compounds used in chromatography techniques that might result in curbing the market growth. Considering the factors that affect and restrain the market growth, the size exclusion chromatography reagents market in Europe can anticipate a positive growth in future.
Major companies that lead in the size exclusion chromatography reagents in European market are Agilent Technologies, Phenomenex, Inc., GE Healthcare (W.R. Grace & Co., Helena Laboratories, Thermo Fisher Scientific, and Waters Corporation, among others.
1 Introduction
1.1 Introduce the Market
1.2 Objective of the study
1.3 Market Definition and Scope of the study
1.3.1 Market Definition
1.3.2 Areas covered
1.3.3 Markets Covered
1.4 Stakeholders
1.5 Research Methodology
1.5.1 Secondary sources
1.5.2 Primary Sources
1.5.3 Market estimation methodology (Top-down, bottom-up, data triangulation.)
1.5.4 Macro indicators for the study
1.6 Assumptions
1.7 List of Acronyms
2 Market Overview
3 Europe Size Exclusion columns, By Applications
3.1 Split By Geography
3.2 SEC -Europe-Liquid Chromatography Systems
3.2.1 SEC - Europe-Liquid Chromatography Systems, By Types
3.2.1.1 SEC - Europe-Pre-packed columns-Liquid Chromatography Systems
3.2.1.2 SEC - Europe-Empty columns-Liquid Chromatography Systems
3.2.2 SEC - Europe-Liquid Chromatography Systems, By Endusers
3.2.2.1 SEC - Europe-Liquid Chromatography Systems-Pharmaceuticals
3.2.2.2 SEC - Europe-Liquid Chromatography Systems-Academics
3.2.2.3 SEC - Europe-Liquid Chromatography Systems-Food & Beverage (Industry)
3.2.2.4 SEC - Europe-Liquid Chromatography Systems-Hospitals
3.2.2.5 SEC - Europe-Liquid Chromatography Systems-Cosmetics
3.2.2.6 SEC - Europe-Liquid Chromatography Systems-Other Endusers
3.2.2.7 SEC - Europe-Liquid Chromatography Systems-Environmental Biotechnology
3.2.2.8 SEC - Europe-Liquid Chromatography Systems-Nutraceuticals
3.2.3 Size Exclusion columns-Europe-Liquid Chromatography Systems, By Geographies
3.2.3.1 SEC - United Kingdom-Liquid Chromatography Systems
3.2.3.2 SEC - France-Liquid Chromatography Systems
3.2.3.3 SEC - Germany-Liquid Chromatography Systems
3.2.3.4 SEC - Italy-Liquid Chromatography Systems
3.2.3.5 SEC - Spain-Liquid Chromatography Systems
3.2.3.6 SEC - Europe - Europe - Other Geographies-Liquid Chromatography Systems
3.3 Size Exclusion columns-Europe-Gas Chromatography (GC) Systems
3.3.1 Size Exclusion columns-Europe-Gas Chromatography (GC) Systems, By Types
3.3.1.1 SEC - Europe-Pre-packed columns-Gas Chromatography (GC) Systems
3.3.1.2 SEC - Europe-Empty columns-Gas Chromatography (GC) Systems
3.3.2 SEC - Europe-Gas Chromatography (GC) Systems, By Endusers
3.3.2.1 SEC - Europe-Gas Chromatography (GC) Systems-Pharmaceuticals
3.3.2.2 SEC - Europe-Gas Chromatography (GC) Systems-Academics
3.3.2.3 SEC - Europe-Gas Chromatography (GC) Systems-Food & Beverage (Industry)
3.3.2.4 SEC - Europe-Gas Chromatography (GC) Systems-Hospitals
3.3.2.5 SEC - Europe-Gas Chromatography (GC) Systems-Cosmetics
3.3.2.6 SEC - Europe-Gas Chromatography (GC) Systems-Other Endusers
3.3.2.7 SEC - Europe-Gas Chromatography (GC) Systems-Environmental Biotechnology
3.3.2.8 SEC - Europe-Gas Chromatography (GC) Systems-Nutraceuticals
3.3.3 SEC - Europe-Gas Chromatography (GC) Systems, By Geographies
3.3.3.1 SEC - United Kingdom-Gas Chromatography (GC) Systems
3.3.3.2 SEC - France-Gas Chromatography (GC) Systems
3.3.3.3 SEC - Germany-Gas Chromatography (GC) Systems
3.3.3.4 SEC - Italy-Gas Chromatography (GC) Systems
3.3.3.5 SEC - Spain-Gas Chromatography (GC) Systems
3.3.3.6 SEC - Europe - Europe - Other Geographies-Gas Chromatography (GC) Systems
3.4 Size Exclusion columns-Europe-Other Applications
3.4.1 Size Exclusion columns-Europe-Other Applications, By Types
3.4.1.1 SEC - Europe-Pre-packed columns-Other Applications
3.4.1.2 SEC - Europe-Empty columns-Other Applications
3.4.2 SEC - Europe-Other Applications, By Endusers
3.4.2.1 SEC - Europe-Other Applications-Pharmaceuticals
3.4.2.2 SEC - Europe-Other Applications-Academics
3.4.2.3 SEC - Europe-Other Applications-Food & Beverage (Industry)
3.4.2.4 SEC - Europe-Other Applications-Hospitals
3.4.2.5 SEC - Europe-Other Applications-Cosmetics
3.4.2.6 SEC - Europe-Other Applications-Other Endusers
3.4.2.7 SEC - Europe-Other Applications-Environmental Biotechnology
3.4.2.8 SEC - Europe-Other Applications-Nutraceuticals
3.4.3 SEC - Europe-Other Applications, By Geographies
3.4.3.1 SEC - United Kingdom-Other Applications
3.4.3.2 SEC - France-Other Applications
3.4.3.3 SEC - Germany-Other Applications
3.4.3.4 SEC - Italy-Other Applications
3.4.3.5 SEC - Spain-Other Applications
3.4.3.6 SEC - Europe - Europe - Other Geographies-Other Applications
3.5 Size Exclusion columns-Europe-Thin Layer Chromatography (TLC) Systems
3.5.1 SEC - Europe-Thin Layer Chromatography (TLC) Systems, By Types
3.5.1.1 SEC - Europe-Pre-packed columns-Thin Layer Chromatography (TLC) Systems
3.5.1.2 SEC - Europe-Empty columns-Thin Layer Chromatography (TLC) Systems
3.5.2 Europe Size Exclusion columns-Thin Layer Chromatography (TLC) Systems, By Endusers
3.5.2.1 SEC - Europe-Thin Layer Chromatography (TLC) Systems-Pharmaceuticals
3.5.2.2 SEC - Europe-Thin Layer Chromatography (TLC) Systems-Academics
3.5.2.3 SEC - Europe-Thin Layer Chromatography (TLC) Systems-Food & Beverage (Industry)
3.5.2.4 SEC - Europe-Thin Layer Chromatography (TLC) Systems-Hospitals
3.5.2.5 SEC - Europe-Thin Layer Chromatography (TLC) Systems-Cosmetics
3.5.2.6 SEC - Europe-Thin Layer Chromatography (TLC) Systems-Other Endusers
3.5.2.7 SEC - Europe-Thin Layer Chromatography (TLC) Systems-Environmental Biotechnology
3.5.2.8 SEC - Europe-Thin Layer Chromatography (TLC) Systems-Nutraceuticals
3.5.3 Europe Size Exclusion columns-Thin Layer Chromatography (TLC) Systems, By Geographies
3.5.3.1 SEC - United Kingdom-Thin Layer Chromatography (TLC) Systems
3.5.3.2 SEC - France-Thin Layer Chromatography (TLC) Systems
3.5.3.3 SEC - Germany-Thin Layer Chromatography (TLC) Systems
3.5.3.4 SEC - Italy-Thin Layer Chromatography (TLC) Systems
3.5.3.5 SEC - Spain-Thin Layer Chromatography (TLC) Systems
3.5.3.6 SEC - Europe - Europe - Other Geographies-Thin Layer Chromatography (TLC) Systems
3.6 SEC - Europe-Supercritical Fluid Chromatography (SFC) Systems
3.6.1 SEC - Europe-Supercritical Fluid Chromatography (SFC) Systems, By Types
3.6.1.1 SEC - Europe-Pre-packed columns-Supercritical Fluid Chromatography (SFC) Systems
3.6.1.2 SEC - Europe-Empty columns-Supercritical Fluid Chromatography (SFC) Systems
3.6.2 Size Exclusion columns- Europe-Supercritical Fluid Chromatography (SFC) Systems, By Endusers
3.6.2.1 SEC - Europe-Supercritical Fluid Chromatography (SFC) Systems-Pharmaceuticals
3.6.2.2 SEC - Europe-Supercritical Fluid Chromatography (SFC) Systems-Academics
3.6.2.3 SEC - Europe-Supercritical Fluid Chromatography (SFC) Systems-Food & Beverage (Industry)
3.6.2.4 SEC - Europe-Supercritical Fluid Chromatography (SFC) Systems-Hospitals
3.6.2.5 SEC - Europe-Supercritical Fluid Chromatography (SFC) Systems-Cosmetics
3.6.2.6 SEC - Europe-Supercritical Fluid Chromatography (SFC) Systems-Other Endusers
3.6.2.7 SEC - Europe-Supercritical Fluid Chromatography (SFC) Systems-Environmental Biotechnology
3.6.2.8 SEC - Europe-Supercritical Fluid Chromatography (SFC) Systems-Nutraceuticals
3.6.3 SEC - Europe-Supercritical Fluid Chromatography (SFC) Systems, By Geographies
3.6.3.1 SEC - United Kingdom-Supercritical Fluid Chromatography (SFC) Systems
3.6.3.2 SEC - France-Supercritical Fluid Chromatography (SFC) Systems
3.6.3.3 SEC - Germany-Supercritical Fluid Chromatography (SFC) Systems
3.6.3.4 SEC - Italy-Supercritical Fluid Chromatography (SFC) Systems
3.6.3.5 SEC - Spain-Supercritical Fluid Chromatography (SFC) Systems
3.6.3.6 SEC - Europe - Europe - Other Geographies-Supercritical Fluid Chromatography (SFC) Systems
4 Europe Size Exclusion columns, By Types
4.1 Split By Geography
4.2 Europe Size Exclusion columns- Pre-packed columns
4.2.1 SEC - Europe-Pre-packed columns, By Applications
4.2.1.1 SEC - Europe-Pre-packed columns-Liquid Chromatography Systems
4.2.1.2 SEC - Europe-Pre-packed columns-Gas Chromatography (GC) Systems
4.2.1.3 SEC - Europe-Pre-packed columns-Other Applications
4.2.1.4 SEC - Europe-Pre-packed columns-Thin Layer Chromatography (TLC) Systems
4.2.1.5 SEC - Europe-Pre-packed columns-Supercritical Fluid Chromatography (SFC) Systems
4.2.2 Europe Size Exclusion columns-Pre-packed columns, By Endusers
4.2.2.1 SEC - Europe-Pre-packed columns-Pharmaceuticals
4.2.2.2 SEC - Europe-Pre-packed columns-Academics
4.2.2.3 SEC - Europe-Pre-packed columns-Food & Beverage (Industry)
4.2.2.4 SEC - Europe-Pre-packed columns-Hospitals
4.2.2.5 SEC - Europe-Pre-packed columns-Cosmetics
4.2.2.6 SEC - Europe-Pre-packed columns-Other Endusers
4.2.2.7 SEC - Europe-Pre-packed columns-Environmental Biotechnology
4.2.2.8 SEC - Europe-Pre-packed columns-Nutraceuticals
4.2.3 SEC - Europe-Pre-packed columns, By Geographies
4.2.3.1 SEC - United Kingdom-Pre-packed columns
4.2.3.2 SEC - France-Pre-packed columns
4.2.3.3 SEC - Germany-Pre-packed columns
4.2.3.4 SEC - Italy-Pre-packed columns
4.2.3.5 SEC - Spain-Pre-packed columns
4.2.3.6 SEC - Europe - Europe - Other Geographies-Pre-packed columns
4.3 Size Exclusion columns-Europe-Empty columns
4.3.1 Size Exclusion columns-Europe-Empty columns, By Applications
4.3.1.1 SEC - Europe-Empty columns-Liquid Chromatography Systems
4.3.1.2 SEC - Europe-Empty columns-Gas Chromatography (GC) Systems
4.3.1.3 SEC - Europe-Empty columns-Other Applications
4.3.1.4 SEC - Europe-Empty columns-Thin Layer Chromatography (TLC) Systems
4.3.1.5 SEC - Europe-Empty columns-Supercritical Fluid Chromatography (SFC) Systems
4.3.2 Size Exclusion columns- Europe-Empty columns, By Endusers
4.3.2.1 SEC - Europe-Empty columns-Pharmaceuticals
4.3.2.2 SEC - Europe-Empty columns-Academics
4.3.2.3 SEC - Europe-Empty columns-Food & Beverage (Industry)
4.3.2.4 SEC - Europe-Empty columns-Hospitals
4.3.2.5 SEC - Europe-Empty columns-Cosmetics
4.3.2.6 SEC - Europe-Empty columns-Other Endusers
4.3.2.7 SEC - Europe-Empty columns-Environmental Biotechnology
4.3.2.8 SEC - Europe-Empty columns-Nutraceuticals
4.3.3 SEC - Europe-Empty columns, By Geographies
4.3.3.1 SEC - United Kingdom-Empty columns
4.3.3.2 SEC - France-Empty columns
4.3.3.3 SEC - Germany-Empty columns
4.3.3.4 SEC - Italy-Empty columns
4.3.3.5 SEC - Spain-Empty columns
4.3.3.6 SEC - Europe - Europe - Other Geographies-Empty columns
5 Europe Size Exclusion columns, By Materials
5.1 Split By Geography
5.2 Size Exclusion columns-Europe-Metals
5.2.1 SEC - Europe-Metals, By Geographies
5.2.1.1 SEC - United Kingdom-Metals
5.2.1.2 SEC - France-Metals
5.2.1.3 SEC - Germany-Metals
5.2.1.4 SEC - Italy-Metals
5.2.1.5 SEC - Spain-Metals
5.2.1.6 SEC - Europe - Europe - Other Geographies-Metals
5.3 Europe Size Exclusion columns-Glass
5.3.1 SEC - Europe-Glass, By Geographies
5.3.1.1 SEC - United Kingdom-Glass
5.3.1.2 SEC - France-Glass
5.3.1.3 SEC - Germany-Glass
5.3.1.4 SEC - Italy-Glass
5.3.1.5 SEC - Spain-Glass
5.3.1.6 SEC - Europe - Europe - Other Geographies-Glass
5.4 SEC - Europe-Plastic
5.4.1 SEC - Europe-Plastic, By Geographies
5.4.1.1 SEC - United Kingdom-Plastic
5.4.1.2 SEC - France-Plastic
5.4.1.3 SEC - Germany-Plastic
5.4.1.4 SEC - Italy-Plastic
5.4.1.5 SEC - Spain-Plastic
5.4.1.6 SEC - Europe - Europe - Other Geographies-Plastic
6 Europe Size Exclusion columns, By Endusers
6.1 Split By Geography
6.2 Europe Size Exclusion columns-Pharmaceuticals
6.2.1 Size Exclusion columns-Europe-Pharmaceuticals, By Types
6.2.1.1 SEC - Europe-Pre-packed columns-Pharmaceuticals
6.2.1.2 SEC - Europe-Empty columns-Pharmaceuticals
6.2.2 SEC - Europe-Pharmaceuticals, By Applications
6.2.2.1 SEC - Europe-Liquid Chromatography Systems-Pharmaceuticals
6.2.2.2 SEC - Europe-Gas Chromatography (GC) Systems-Pharmaceuticals
6.2.2.3 SEC - Europe-Other Applications-Pharmaceuticals
6.2.2.4 SEC - Europe-Thin Layer Chromatography (TLC) Systems-Pharmaceuticals
6.2.2.5 SEC - Europe-Supercritical Fluid Chromatography (SFC) Systems-Pharmaceuticals
6.2.3 SEC - Europe-Pharmaceuticals, By Geographies
6.2.3.1 SEC - United Kingdom-Pharmaceuticals
6.2.3.2 SEC - France-Pharmaceuticals
6.2.3.3 SEC - Germany-Pharmaceuticals
6.2.3.4 SEC - Italy-Pharmaceuticals
6.2.3.5 SEC - Spain-Pharmaceuticals
6.2.3.6 SEC - Europe - Europe - Other Geographies-Pharmaceuticals
6.3 Size Exclusion columns-Europe-Academics
6.3.1 SEC - Europe-Academics, By Types
6.3.1.1 SEC - Europe-Pre-packed columns-Academics
6.3.1.2 SEC - Europe-Empty columns-Academics
6.3.2 SEC - Europe-Academics, By Applications
6.3.2.1 SEC - Europe-Liquid Chromatography Systems-Academics
6.3.2.2 SEC - Europe-Gas Chromatography (GC) Systems-Academics
6.3.2.3 SEC - Europe-Other Applications-Academics
6.3.2.4 SEC - Europe-Thin Layer Chromatography (TLC) Systems-Academics
6.3.2.5 SEC - Europe-Supercritical Fluid Chromatography (SFC) Systems-Academics
6.3.3 SEC - Europe-Academics, By Geographies
6.3.3.1 SEC - United Kingdom-Academics
6.3.3.2 SEC - France-Academics
6.3.3.3 SEC - Germany-Academics
6.3.3.4 SEC - Italy-Academics
6.3.3.5 SEC - Spain-Academics
6.3.3.6 SEC - Europe - Europe - Other Geographies-Academics
6.4 SEC - Europe-Food & Beverage (Industry)
6.4.1 SEC - Europe-Food & Beverage (Industry), By Types
6.4.1.1 SEC - Europe-Pre-packed columns-Food & Beverage (Industry)
6.4.1.2 SEC - Europe-Empty columns-Food & Beverage (Industry)
6.4.2 SEC - Europe-Food & Beverage (Industry), By Applications
6.4.2.1 SEC - Europe-Liquid Chromatography Systems-Food & Beverage (Industry)
6.4.2.2 SEC - Europe-Gas Chromatography (GC) Systems-Food & Beverage (Industry)
6.4.2.3 SEC - Europe-Other Applications-Food & Beverage (Industry)
6.4.2.4 SEC - Europe-Thin Layer Chromatography (TLC) Systems-Food & Beverage (Industry)
6.4.2.5 SEC - Europe-Supercritical Fluid Chromatography (SFC) Systems-Food & Beverage (Industry)
6.4.3 SEC - Europe-Food & Beverage (Industry), By Geographies
6.4.3.1 SEC - United Kingdom-Food & Beverage (Industry)
6.4.3.2 SEC - France-Food & Beverage (Industry)
6.4.3.3 SEC - Germany-Food & Beverage (Industry)
6.4.3.4 SEC - Italy-Food & Beverage (Industry)
6.4.3.5 SEC - Spain-Food & Beverage (Industry)
6.4.3.6 SEC - Europe - Europe - Other Geographies-Food & Beverage (Industry)
6.5 Size Exclusion columns-Europe-Hospitals
6.5.1 SEC - Europe-Hospitals, By Types
6.5.1.1 SEC - Europe-Pre-packed columns-Hospitals
6.5.1.2 SEC - Europe-Empty columns-Hospitals
6.5.2 SEC - Europe-Hospitals, By Applications
6.5.2.1 SEC - Europe-Liquid Chromatography Systems-Hospitals
6.5.2.2 SEC - Europe-Gas Chromatography (GC) Systems-Hospitals
6.5.2.3 SEC - Europe-Other Applications-Hospitals
6.5.2.4 SEC - Europe-Thin Layer Chromatography (TLC) Systems-Hospitals
6.5.2.5 SEC - Europe-Supercritical Fluid Chromatography (SFC) Systems-Hospitals
6.5.3 SEC - Europe-Hospitals, By Geographies
6.5.3.1 SEC - United Kingdom-Hospitals
6.5.3.2 SEC - France-Hospitals
6.5.3.3 SEC - Germany-Hospitals
6.5.3.4 SEC - Italy-Hospitals
6.5.3.5 SEC - Spain-Hospitals
6.5.3.6 SEC - Europe - Europe - Other Geographies-Hospitals
6.6 SEC - Europe-Cosmetics
6.6.1 SEC - Europe-Cosmetics, By Types
6.6.1.1 SEC - Europe-Pre-packed columns-Cosmetics
6.6.1.2 SEC - Europe-Empty columns-Cosmetics
6.6.2 SEC - Europe-Cosmetics, By Applications
6.6.2.1 SEC - Europe-Liquid Chromatography Systems-Cosmetics
6.6.2.2 SEC - Europe-Gas Chromatography (GC) Systems-Cosmetics
6.6.2.3 SEC - Europe-Other Applications-Cosmetics
6.6.2.4 SEC - Europe-Thin Layer Chromatography (TLC) Systems-Cosmetics
6.6.2.5 SEC - Europe-Supercritical Fluid Chromatography (SFC) Systems-Cosmetics
6.6.3 SEC - Europe-Cosmetics, By Geographies
6.6.3.1 SEC - United Kingdom-Cosmetics
6.6.3.2 SEC - France-Cosmetics
6.6.3.3 SEC - Germany-Cosmetics
6.6.3.4 SEC - Italy-Cosmetics
6.6.3.5 SEC - Spain-Cosmetics
6.6.3.6 SEC - Europe - Europe - Other Geographies-Cosmetics
6.7 Size Exclusion columns-Europe-Other Endusers
6.7.1 SEC - Europe-Other Endusers, By Types
6.7.1.1 SEC - Europe-Pre-packed columns-Other Endusers
6.7.1.2 SEC - Europe-Empty columns-Other Endusers
6.7.2 Size Exclusion columns-Europe-Other Endusers, By Applications
6.7.2.1 SEC - Europe-Liquid Chromatography Systems-Other Endusers
6.7.2.2 SEC - Europe-Gas Chromatography (GC) Systems-Other Endusers
6.7.2.3 SEC - Europe-Other Applications-Other Endusers
6.7.2.4 SEC - Europe-Thin Layer Chromatography (TLC) Systems-Other Endusers
6.7.2.5 SEC - Europe-Supercritical Fluid Chromatography (SFC) Systems-Other Endusers
6.7.3 SEC - Europe-Other Endusers, By Geographies
6.7.3.1 SEC - United Kingdom-Other Endusers
6.7.3.2 SEC - France-Other Endusers
6.7.3.3 SEC - Germany-Other Endusers
6.7.3.4 SEC - Italy-Other Endusers
6.7.3.5 SEC - Spain-Other Endusers
6.7.3.6 SEC - Europe - Europe - Other Geographies-Other Endusers
6.8 Size Exclusion columns-Europe-Environmental Biotechnology
6.8.1 SEC - Europe-Environmental Biotechnology, By Types
6.8.1.1 SEC - Europe-Pre-packed columns-Environmental Biotechnology
6.8.1.2 SEC - Europe-Empty columns-Environmental Biotechnology
6.8.2 SEC - Europe-Environmental Biotechnology, By Applications
6.8.2.1 SEC - Europe-Liquid Chromatography Systems-Environmental Biotechnology
6.8.2.2 SEC - Europe-Gas Chromatography (GC) Systems-Environmental Biotechnology
6.8.2.3 SEC - Europe-Other Applications-Environmental Biotechnology
6.8.2.4 SEC - Europe-Thin Layer Chromatography (TLC) Systems-Environmental Biotechnology
6.8.2.5 SEC - Europe-Supercritical Fluid Chromatography (SFC) Systems-Environmental Biotechnology
6.8.3 SEC - Europe-Environmental Biotechnology, By Geographies
6.8.3.1 SEC - United Kingdom-Environmental Biotechnology
6.8.3.2 SEC - France-Environmental Biotechnology
6.8.3.3 SEC - Germany-Environmental Biotechnology
6.8.3.4 SEC - Italy-Environmental Biotechnology
6.8.3.5 SEC - Spain-Environmental Biotechnology
6.8.3.6 SEC - Europe - Europe - Other Geographies-Environmental Biotechnology
6.9 Size Exclusion columns-Europe-Nutraceuticals
6.9.1 SEC - Europe-Nutraceuticals, By Types
6.9.1.1 SEC - Europe-Pre-packed columns-Nutraceuticals
6.9.1.2 SEC - Europe-Empty columns-Nutraceuticals
6.9.2 SEC - Europe-Nutraceuticals, By Applications
6.9.2.1 SEC - Europe-Liquid Chromatography Systems-Nutraceuticals
6.9.2.2 SEC - Europe-Gas Chromatography (GC) Systems-Nutraceuticals
6.9.2.3 SEC - Europe-Other Applications-Nutraceuticals
6.9.2.4 SEC - Europe-Thin Layer Chromatography (TLC) Systems-Nutraceuticals
6.9.2.5 SEC - Europe-Supercritical Fluid Chromatography (SFC) Systems-Nutraceuticals
6.9.3 SEC - Europe-Nutraceuticals, By Geographies
6.9.3.1 SEC - United Kingdom-Nutraceuticals
6.9.3.2 SEC - France-Nutraceuticals
6.9.3.3 SEC - Germany-Nutraceuticals
6.9.3.4 SEC - Italy-Nutraceuticals
6.9.3.5 SEC - Spain-Nutraceuticals
6.9.3.6 SEC - Europe - Europe - Other Geographies-Nutraceuticals
7 Europe Size Exclusion columns, By Geographies
7.1 Size Exclusion columns-United Kingdom
7.1.1 SEC - United Kingdom, By Types
7.1.1.1 SEC - United Kingdom-Pre-packed columns
7.1.1.2 SEC - United Kingdom-Empty columns
7.1.2 SEC - United Kingdom, By Materials
7.1.2.1 SEC - United Kingdom-Metals
7.1.2.2 SEC - United Kingdom-Glass
7.1.2.3 SEC - United Kingdom-Plastic
7.1.3 SEC - United Kingdom, By Applications
7.1.3.1 SEC - United Kingdom-Liquid Chromatography Systems
7.1.3.2 SEC - United Kingdom-Gas Chromatography (GC) Systems
7.1.3.3 SEC - United Kingdom-Other Applications
7.1.3.4 SEC - United Kingdom-Thin Layer Chromatography (TLC) Systems
7.1.3.5 SEC - United Kingdom-Supercritical Fluid Chromatography (SFC) Systems
7.1.4 SEC - United Kingdom, By Endusers
7.1.4.1 SEC - United Kingdom-Pharmaceuticals
7.1.4.2 SEC - United Kingdom-Academics
7.1.4.3 SEC - United Kingdom-Food & Beverage (Industry)
7.1.4.4 SEC - United Kingdom-Hospitals
7.1.4.5 SEC - United Kingdom-Cosmetics
7.1.4.6 SEC - United Kingdom-Other Endusers
7.1.4.7 SEC - United Kingdom-Environmental Biotechnology
7.1.4.8 SEC - United Kingdom-Nutraceuticals
7.2 SEC - France
7.2.1 SEC - France, By Types
7.2.1.1 SEC - France-Pre-packed columns
7.2.1.2 SEC - France-Empty columns
7.2.2 SEC - France, By Materials
7.2.2.1 SEC - France-Metals
7.2.2.2 SEC - France-Glass
7.2.2.3 SEC - France-Plastic
7.2.3 SEC - France, By Applications
7.2.3.1 SEC - France-Liquid Chromatography Systems
7.2.3.2 SEC - France-Gas Chromatography (GC) Systems
7.2.3.3 SEC - France-Other Applications
7.2.3.4 SEC - France-Thin Layer Chromatography (TLC) Systems
7.2.3.5 SEC - France-Supercritical Fluid Chromatography (SFC) Systems
7.2.4 SEC - France, By Endusers
7.2.4.1 SEC - France-Pharmaceuticals
7.2.4.2 SEC - France-Academics
7.2.4.3 SEC - France-Food & Beverage (Industry)
7.2.4.4 SEC - France-Hospitals
7.2.4.5 SEC - France-Cosmetics
7.2.4.6 SEC - France-Other Endusers
7.2.4.7 SEC - France-Environmental Biotechnology
7.2.4.8 SEC - France-Nutraceuticals
7.3 Size Exclusion columns-Germany
7.3.1 SEC - Germany, By Types
7.3.1.1 SEC - Germany-Pre-packed columns
7.3.1.2 SEC - Germany-Empty columns
7.3.2 SEC - Germany, By Materials
7.3.2.1 SEC - Germany-Metals
7.3.2.2 SEC - Germany-Glass
7.3.2.3 SEC - Germany-Plastic
7.3.3 SEC - Germany, By Applications
7.3.3.1 SEC - Germany-Liquid Chromatography Systems
7.3.3.2 SEC - Germany-Gas Chromatography (GC) Systems
7.3.3.3 SEC - Germany-Other Applications
7.3.3.4 SEC - Germany-Thin Layer Chromatography (TLC) Systems
7.3.3.5 SEC - Germany-Supercritical Fluid Chromatography (SFC) Systems
7.3.4 SEC - Germany, By Endusers
7.3.4.1 SEC - Germany-Pharmaceuticals
7.3.4.2 SEC - Germany-Academics
7.3.4.3 SEC - Germany-Food & Beverage (Industry)
7.3.4.4 SEC - Germany-Hospitals
7.3.4.5 SEC - Germany-Cosmetics
7.3.4.6 SEC - Germany-Other Endusers
7.3.4.7 SEC - Germany-Environmental Biotechnology
7.3.4.8 SEC - Germany-Nutraceuticals
7.4 Size Exclusion columns-Italy
7.4.1 SEC - Italy, By Types
7.4.1.1 SEC - Italy-Pre-packed columns
7.4.1.2 SEC - Italy-Empty columns
7.4.2 SEC - Italy, By Materials
7.4.2.1 SEC - Italy-Metals
7.4.2.2 SEC - Italy-Glass
7.4.2.3 SEC - Italy-Plastic
7.4.3 SEC - Italy, By Applications
7.4.3.1 SEC - Italy-Liquid Chromatography Systems
7.4.3.2 SEC - Italy-Gas Chromatography (GC) Systems
7.4.3.3 SEC - Italy-Other Applications
7.4.3.4 SEC - Italy-Thin Layer Chromatography (TLC) Systems
7.4.3.5 SEC - Italy-Supercritical Fluid Chromatography (SFC) Systems
7.4.4 SEC - Italy, By Endusers
7.4.4.1 SEC - Italy-Pharmaceuticals
7.4.4.2 SEC - Italy-Academics
7.4.4.3 SEC - Italy-Food & Beverage (Industry)
7.4.4.4 SEC - Italy-Hospitals
7.4.4.5 SEC - Italy-Cosmetics
7.4.4.6 SEC - Italy-Other Endusers
7.4.4.7 SEC - Italy-Environmental Biotechnology
7.4.4.8 SEC - Italy-Nutraceuticals
7.5 Size Exclusion columns-Spain
7.5.1 SEC - Spain, By Types
7.5.1.1 SEC - Spain-Pre-packed columns
7.5.1.2 SEC - Spain-Empty columns
7.5.2 SEC - Spain, By Materials
7.5.2.1 SEC - Spain-Metals
7.5.2.2 SEC - Spain-Glass
7.5.2.3 SEC - Spain-Plastic
7.5.3 SEC - Spain, By Applications
7.5.3.1 SEC - Spain-Liquid Chromatography Systems
7.5.3.2 SEC - Spain-Gas Chromatography (GC) Systems
7.5.3.3 SEC - Spain-Other Applications
7.5.3.4 SEC - Spain-Thin Layer Chromatography (TLC) Systems
7.5.3.5 SEC - Spain-Supercritical Fluid Chromatography (SFC) Systems
7.5.4 Size Exclusion columns-Spain, By Endusers
7.5.4.1 SEC - Spain-Pharmaceuticals
7.5.4.2 SEC - Spain-Academics
7.5.4.3 SEC - Spain-Food & Beverage (Industry)
7.5.4.4 SEC - Spain-Hospitals
7.5.4.5 SEC - Spain-Cosmetics
7.5.4.6 SEC - Spain-Other Endusers
7.5.4.7 SEC - Spain-Environmental Biotechnology
7.5.4.8 SEC - Spain-Nutraceuticals
7.6 Size Exclusion columns-Europe - Europe - Other Geographies
7.6.1 SEC - Europe - Europe - Other Geographies, By Types
7.6.1.1 SEC - Europe - Europe - Other Geographies-Pre-packed columns
7.6.1.2 SEC - Europe - Europe - Other Geographies-Empty columns
7.6.2 SEC - Europe - Europe - Other Geographies, By Materials
7.6.2.1 SEC - Europe - Europe - Other Geographies-Metals
7.6.2.2 SEC - Europe - Europe - Other Geographies-Glass
7.6.2.3 SEC - Europe - Europe - Other Geographies-Plastic
7.6.3 SEC - Europe - Europe - Other Geographies, By Applications
7.6.3.1 SEC - Europe - Europe - Other Geographies-Liquid Chromatography Systems
7.6.3.2 SEC - Europe - Europe - Other Geographies-Gas Chromatography (GC) Systems
7.6.3.3 SEC - Europe - Europe - Other Geographies-Other Applications
7.6.3.4 SEC - Europe - Europe - Other Geographies-Thin Layer Chromatography (TLC) Systems
7.6.3.5 SEC - Europe - Europe - Other Geographies-Supercritical Fluid Chromatography (SFC) Systems
7.6.4 Size Exclusion columns-Europe - Europe - Other Geographies, By Endusers
7.6.4.1 SEC - Europe - Europe - Other Geographies-Pharmaceuticals
7.6.4.2 SEC - Europe - Europe - Other Geographies-Academics
7.6.4.3 SEC - Europe - Europe - Other Geographies-Food & Beverage (Industry)
7.6.4.4 SEC - Europe - Europe - Other Geographies-Hospitals
7.6.4.5 SEC - Europe - Europe - Other Geographies-Cosmetics
7.6.4.6 SEC - Europe - Europe - Other Geographies-Other Endusers
7.6.4.7 SEC - Europe - Europe - Other Geographies-Environmental Biotechnology
7.6.4.8 SEC - Europe - Europe - Other Geographies-Nutraceuticals
8 Europe Size Exclusion columns, By Companies
8.1 Split By Geography
8.2 SEC - Europe-Agilent Technologies
8.3 Size Exclusion columns-Europe-Thermo Fisher Scientific
8.4 SEC - Europe-Tosoh Corporation
8.5 SEC - Europe-Phenomenex, Inc.
8.6 SEC - Europe-Other Companies
8.7 SEC - Europe-GE Healthcare
8.8 Size Exclusion columns-Europe-Waters Corporation
8.9 SEC - Europe-Shimadzu Corporation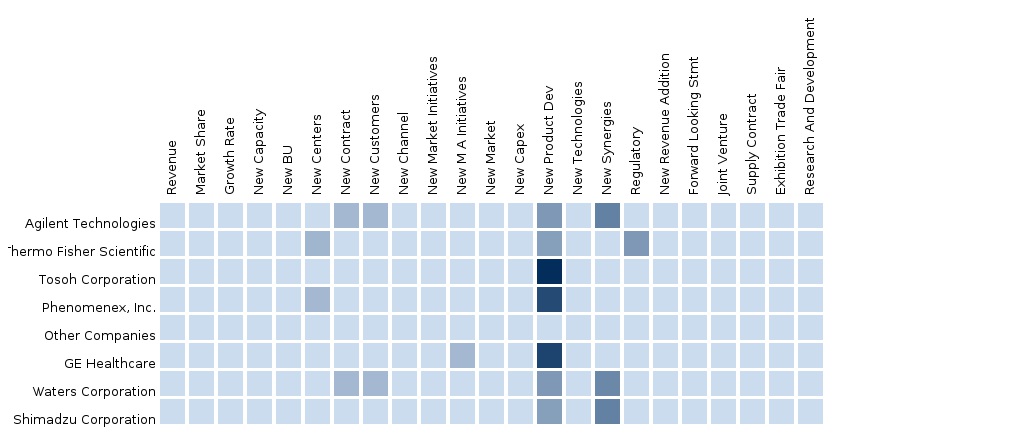 PRODUCT TITLE
PUBLISHED
PRICE
North America Columns


Columns-North America can be segmented by Materials, Endusers, MacroIndicators, Applications and Companies. Materials of Columns-North America are Glass, Plastic and Metals. Endusers of Columns-North America are Pharmaceuticals, Environmental Biotechnology, Academics,...



17 Feb 2015
$ 3500
European Chromatography Columns Market


The European Chromatography columns market is expected to reach a market value of $564million by 2018; achieving a CAGR of 5.0 % during the period 2013- 2018. Among the types of this market, prepacked columns domianates the market and is projected to reach $513.1 million by the end of 2018. Deep dive analysis of the key players of this domain, have been considered in this report.



17 Feb 2015
$ 3500
Asian Chromatography Columns Market


Asian Chromatography Columns Market was valued at $330 million in 2013 and is projected to reach value of $438 million, growing at 6% annually during 2013-2018. This market can be segmented by Materials, Endusers, MacroIndicators, Applications and Companies. In this prepacked market dominates and is projected to reach $398.6 million value by 2018. Deep dive analysis of the key players of this domain, have been considered in this report.



17 Feb 2015
$ 3500
Global Chromatography Columns Market