European Liquid Chromatography Systems Market
Description
Table of Contents
Customer Intelligence
The European liquid chromatography systems report defines and segments the concerned market with an analysis and forecast of the revenue. The liquid chromatography systems market in Europe is valued at $1034.9 million in 2013 that is estimated to grow to about $1360.2 million by 2018, at a CAGR of 5.6% from 2013 to 2018.
Europe is the second largest market for liquid chromatography systems, which is expected to grow at a CAGR of 5.6% from 2013 to 2018. The demand for liquid chromatography systems in the European region is anticipated to rise due to the increasing government considerable large venture capitalists investments and a great number of symposiums on liquid chromatography technologies. However, the Eurozone debt crisis and a decline in the number of R&D activities are the major factors that hinder the growth of this market.
Germany has the largest share in the European liquid chromatography systems and is expected to grow at a CAGR of 5.7% from 2013 to 2018, followed by France that aims to match the share, by growing at the same CAGR as Germany.
This market is segmented and forecasted on the basis of types and products of liquid chromatography systems in the European region. The types of products comprise HPLC , Flash Chromatography, Flash Chromatography , UFLC Systems, UHPLC Systems, and Other LC Systems while the product segment is further divided into Affinity columns, Reverse Phase (RP) columns , Ion exchange phase, Size Exclusion columns, Chiral separation columns, Normal phase/hydrophilic interaction columns. Liquid chromatography systems are also divided into various components, namely UV Visible PDA Detectors, Refractive Index Detectors, Fluorescence Detectors, and Other Components, which have been briefly discussed in the report.
The market is further segmented and forecasted on the basis of major countries such as Germany, France, Italy, Spain, the U.K., and Rest of the major European geographies, and further analyzed on the basis of applications and end-users.
This report also includes the market share, supply chain, value chain analyses, and market metrics such as drivers, restraints, and upcoming opportunities in the market. In addition, it presents a competitive landscape and company profiles of key players in the market that includes major companies, which provide liquid chromatography systems as a product.
Details of the segment and country-specific shares (Germany, France, the U.K., Italy, and Spain), news and deals, M&A, segment-specific pipeline products, product approvals, and product recalls of major companies have also covered in the report.
1 Introduction
1.1 Introduce the Market
1.2 Objective of the study
1.3 Market Definition and Scope of the study
1.3.1 Market Definition
1.3.2 Areas covered
1.3.3 Markets Covered
1.4 Stakeholders
1.5 Research Methodology
1.5.1 Secondary sources
1.5.2 Primary Sources
1.5.3 Market estimation methodology (Top-down, bottom-up, data triangulation.)
1.5.4 Macro indicators for the study
1.6 Assumptions
1.7 List of Acronyms

2 Market Overview

3 European Liquid Chromatography Systems, By Products
3.1 European Liquid Chromatography Systems, Split By Geography
3.2 Europe-Reverse Phase (RP) columns
3.2.1 Europe-Reverse Phase (RP) columns, By Geographies
3.2.1.1 United Kingdom-Reverse Phase (RP) columns
3.2.1.2 France-Reverse Phase (RP) columns
3.2.1.3 Germany-Reverse Phase (RP) columns
3.2.1.4 Italy-Reverse Phase (RP) columns
3.2.1.5 Spain-Reverse Phase (RP) columns
3.2.1.6 Europe - Europe - Other Geographies-Reverse Phase (RP) columns
3.2.2 Europe-Reverse Phase (RP) columns, By Products
3.2.2.1 Europe-Reverse Phase (RP) columns - Empty columns
3.2.2.2 Europe-Reverse Phase (RP) columns - Pre-packed columns
3.2.2.3 Europe-Reverse Phase (RP) columns - Glass
3.2.2.4 Europe-Reverse Phase (RP) columns - Plastic
3.2.2.5 Europe-Reverse Phase (RP) columns - Metals
3.2.3 Europe-Reverse Phase (RP) columns, By Types
3.2.3.1 HPLC Systems-Europe-Reverse Phase (RP) columns
3.2.3.2 UHPLC Systems-Europe-Reverse Phase (RP) columns
3.2.3.3 UFLC Systems-Europe-Reverse Phase (RP) columns
3.2.3.4 Flash Chromatography Systems-Europe-Reverse Phase (RP) columns
3.3 European Liquid Chromatography Systems, exchange phase columns
3.3.1 Europe-Ion exchange phase columns, By Geographies
3.3.1.1 United Kingdom-Ion exchange phase columns
3.3.1.2 France-Ion exchange phase columns
3.3.1.3 Germany-Ion exchange phase columns
3.3.1.4 Italy-Ion exchange phase columns
3.3.1.5 Spain-Ion exchange phase columns
3.3.1.6 Europe - Europe - Other Geographies-Ion exchange phase columns
3.3.2 European Liquid Chromatography Systems, exchange phase columns, By Products
3.3.2.1 Europe-Ion exchange phase columns - Empty columns
3.3.2.2 Europe-Ion exchange phase columns - Pre-packed columns
3.3.2.3 Europe-Ion exchange phase columns - Glass
3.3.2.4 Europe-Ion exchange phase columns - Plastic
3.3.2.5 Europe-Ion exchange phase columns - Metals
3.3.3 European Liquid Chromatography Systems, exchange phase columns, By Types
3.3.3.1 HPLC Systems-Europe-Ion exchange phase columns
3.3.3.2 UHPLC Systems-Europe-Ion exchange phase columns
3.3.3.3 UFLC Systems-Europe-Ion exchange phase columns
3.3.3.4 Flash Chromatography Systems-Europe-Ion exchange phase columns
3.3.3.5 Other LC Systems-Europe-Ion exchange phase columns
3.4 Liquid Chromatography Systems, Size Exclusion columns
3.4.1 Europe-Size Exclusion columns, By Geographies
3.4.1.1 United Kingdom-Size Exclusion columns
3.4.1.2 France-Size Exclusion columns
3.4.1.3 Germany-Size Exclusion columns
3.4.1.4 Italy-Size Exclusion columns
3.4.1.5 Spain-Size Exclusion columns
3.4.1.6 Europe - Europe - Other Geographies-Size Exclusion columns
3.4.2 Europe-Size Exclusion columns, By Products
3.4.2.1 Size Exclusion columns - Empty columns
3.4.2.2 Size Exclusion columns - Pre-packed columns
3.4.2.3 Size Exclusion columns - Glass
3.4.2.4 Size Exclusion columns - Plastic
3.4.2.5 Size Exclusion columns - Metals
3.4.3 Size Exclusion columns, By Types
3.4.3.1 HPLC Systems-Europe-Size Exclusion columns
3.4.3.2 UHPLC Systems-Europe-Size Exclusion columns
3.4.3.3 UFLC Systems-Europe-Size Exclusion columns
3.4.3.4 Flash Chromatography Systems-Europe-Size Exclusion columns
3.4.3.5 Other LC Systems-Europe-Size Exclusion columns
3.5 Liquid Chromatography Systems, Chiral separation columns
3.5.1 Chiral separation columns, By Geographies
3.5.1.1 United Kingdom-Chiral separation columns
3.5.1.2 France-Chiral separation columns
3.5.1.3 Germany-Chiral separation columns
3.5.1.4 Italy-Chiral separation columns
3.5.1.5 Spain-Chiral separation columns
3.5.1.6 Europe - Europe - Other Geographies-Chiral separation columns
3.5.2 Chiral separation columns, By Products
3.5.2.1 Chiral separation columns - Empty columns
3.5.2.2 Chiral separation columns - Pre-packed columns
3.5.2.3 Chiral separation columns - Glass
3.5.2.4 Chiral separation columns - Plastic
3.5.2.5 Chiral separation columns - Metals
3.5.3 Chiral separation columns, By Types
3.5.3.1 HPLC Systems-Europe-Chiral separation columns
3.5.3.2 UHPLC Systems-Europe-Chiral separation columns
3.5.3.3 UFLC Systems-Europe-Chiral separation columns
3.5.3.4 Flash Chromatography Systems-Europe-Chiral separation columns
3.5.3.5 Other LC Systems-Europe-Chiral separation columns
3.6 Liquid Chromatography Systems, Affinity columns
3.6.1 Affinity columns, By Geographies
3.6.1.1 United Kingdom-Affinity columns
3.6.1.2 France-Affinity columns
3.6.1.3 Germany-Affinity columns
3.6.1.4 Italy-Affinity columns
3.6.1.5 Spain-Affinity columns
3.6.1.6 Europe - Europe - Other Geographies-Affinity columns
3.6.2 Affinity columns, By Products
3.6.2.1 Affinity columns - Empty columns
3.6.2.2 Affinity columns - Pre-packed columns
3.6.2.3 Affinity columns - Glass
3.6.2.4 Affinity columns - Plastic
3.6.2.5 Affinity columns - Metals
3.6.3 Affinity columns, By Types
3.6.3.1 HPLC Systems-Europe-Affinity columns
3.6.3.2 UHPLC Systems-Europe-Affinity columns
3.6.3.3 UFLC Systems-Europe-Affinity columns
3.6.3.4 Flash Chromatography Systems-Europe-Affinity columns
3.6.3.5 Other LC Systems-Europe-Affinity columns
3.7 Normal phase/hydrophilic interaction columns
3.7.1 Normal phase/hydrophilic interaction columns, By Geographies
3.7.1.1 United Kingdom-Normal phase/hydrophilic interaction columns
3.7.1.2 France-Normal phase/hydrophilic interaction columns
3.7.1.3 Germany-Normal phase/hydrophilic interaction columns
3.7.1.4 Italy-Normal phase/hydrophilic interaction columns
3.7.1.5 Spain-Normal phase/hydrophilic interaction columns
3.7.1.6 Europe - Europe - Other Geographies-Normal phase/hydrophilic interaction columns
3.7.2 Normal phase/hydrophilic interaction columns, By Products
3.7.2.1 Normal phase/hydrophilic interaction columns - Empty columns
3.7.2.2 Normal phase/hydrophilic interaction columns - Pre-packed columns
3.7.2.3 Normal phase/hydrophilic interaction columns - Glass
3.7.2.4 Normal phase/hydrophilic interaction columns - Plastic
3.7.2.5 Normal phase/hydrophilic interaction columns - Metals
3.7.3 Normal phase/hydrophilic interaction columns, By Types
3.7.3.1 HPLC Systems-Europe-Normal phase/hydrophilic interaction columns
3.7.3.2 UHPLC Systems-Europe-Normal phase/hydrophilic interaction columns
3.7.3.3 UFLC Systems-Europe-Normal phase/hydrophilic interaction columns
3.7.3.4 Flash Chromatography Systems-Europe-Normal phase/hydrophilic interaction columns
3.7.3.5 Other LC Systems-Europe-Normal phase/hydrophilic interaction columns
3.8 Liquid Chromatography Systems, Other Products
3.8.1 Other Products, By Geographies
3.8.1.1 United Kingdom-Other Products
3.8.1.2 France-Other Products
3.8.1.3 Germany-Other Products
3.8.1.4 Italy-Other Products
3.8.1.5 Spain-Other Products
3.8.1.6 Europe - Europe - Other Geographies-Other Products
3.8.2 Other Products, By Types
3.8.2.1 HPLC Systems-Europe-Other Products
3.8.2.2 Flash Chromatography Systems-Europe-Other Products
3.8.2.3 UFLC Systems-Europe-Other Products
3.8.2.4 UHPLC Systems-Europe-Other Products

4 European Liquid Chromatography Systems, By Endusers
4.1 Liquid Chromatography Systems, Split By Geography
4.2 Liquid Chromatography Systems, Pharmaceuticals
4.2.1 Pharmaceuticals, By Geographies
4.2.1.1 United Kingdom-Pharmaceuticals
4.2.1.2 France-Pharmaceuticals
4.2.1.3 Germany-Pharmaceuticals
4.2.1.4 Italy-Pharmaceuticals
4.2.1.5 Spain-Pharmaceuticals
4.2.1.6 Europe - Europe - Other Geographies-Pharmaceuticals
4.2.2 Pharmaceuticals, By Types
4.2.2.1 Other LC Systems-Europe-Pharmaceuticals
4.2.2.2 HPLC Systems-Europe-Pharmaceuticals
4.2.2.3 UHPLC Systems-Europe-Pharmaceuticals
4.2.2.4 UFLC Systems-Europe-Pharmaceuticals
4.2.2.5 Flash Chromatography Systems-Europe-Pharmaceuticals
4.3 Liquid Chromatography Systems, Biotechnology
4.3.1 Biotechnology, By Geographies
4.3.1.1 United Kingdom-Biotechnology
4.3.1.2 France-Biotechnology
4.3.1.3 Germany-Biotechnology
4.3.1.4 Italy-Biotechnology
4.3.1.5 Spain-Biotechnology
4.3.1.6 Europe - Europe - Other Geographies-Biotechnology
4.3.2 Biotechnology, By Types
4.3.2.1 Other LC Systems-Europe-Biotechnology
4.3.2.2 HPLC Systems-Europe-Biotechnology
4.3.2.3 UHPLC Systems-Europe-Biotechnology
4.3.2.4 UFLC Systems-Europe-Biotechnology
4.3.2.5 Flash Chromatography Systems-Europe-Biotechnology
4.4 Liquid Chromatography Systems, Academics
4.4.1 Academics, By Geographies
4.4.1.1 United Kingdom-Academics
4.4.1.2 France-Academics
4.4.1.3 Germany-Academics
4.4.1.4 Italy-Academics
4.4.1.5 Spain-Academics
4.4.1.6 Europe - Europe - Other Geographies-Academics
4.4.2 Academics, By Types
4.4.2.1 Other LC Systems-Europe-Academics
4.4.2.2 HPLC Systems-Europe-Academics
4.4.2.3 UHPLC Systems-Europe-Academics
4.4.2.4 UFLC Systems-Europe-Academics
4.4.2.5 Flash Chromatography Systems-Europe-Academics
4.5 Liquid Chromatography Systems, Other Endusers-Europe
4.5.1 Other Endusers-Europe, By Types
4.5.1.1 Other LC Systems-Other Endusers-Europe
4.5.1.2 HPLC Systems-Other Endusers-Europe
4.5.1.3 Flash Chromatography Systems-Other Endusers-Europe
4.5.1.4 UFLC Systems-Other Endusers-Europe
4.5.1.5 UHPLC Systems-Other Endusers-Europe
4.6 Liquid Chromatography Systems, Agriculture Industry
4.6.1 Agriculture Industry, By Geographies
4.6.1.1 United Kingdom-Agriculture Industry
4.6.1.2 France-Agriculture Industry
4.6.1.3 Germany-Agriculture Industry
4.6.1.4 Italy-Agriculture Industry
4.6.1.5 Spain-Agriculture Industry
4.6.1.6 Europe - Europe - Other Geographies-Agriculture Industry
4.6.2 Agriculture Industry, By Types
4.6.2.1 Other LC Systems-Europe-Agriculture Industry
4.6.2.2 HPLC Systems-Europe-Agriculture Industry
4.6.2.3 UHPLC Systems-Europe-Agriculture Industry
4.6.2.4 UFLC Systems-Europe-Agriculture Industry
4.6.2.5 Flash Chromatography Systems-Europe-Agriculture Industry
4.7 Liquid Chromatography Systems, Environmental Biotechnology
4.7.1 Environmental Biotechnology, By Geographies
4.7.1.1 United Kingdom-Environmental Biotechnology
4.7.1.2 France-Environmental Biotechnology
4.7.1.3 Germany-Environmental Biotechnology
4.7.1.4 Italy-Environmental Biotechnology
4.7.1.5 Spain-Environmental Biotechnology
4.7.1.6 Europe - Europe - Other Geographies-Environmental Biotechnology
4.7.2 Environmental Biotechnology, By Types
4.7.2.1 Other LC Systems-Europe-Environmental Biotechnology
4.7.2.2 HPLC Systems-Europe-Environmental Biotechnology
4.7.2.3 UHPLC Systems-Europe-Environmental Biotechnology
4.7.2.4 UFLC Systems-Europe-Environmental Biotechnology
4.7.2.5 Flash Chromatography Systems-Europe-Environmental Biotechnology

5 European Liquid Chromatography Systems, By Components
5.1 Liquid Chromatography Systems, Split By Geography
5.2 UV Visible PDA detectors
5.2.1 UV Visible PDA detectors, By Geographies
5.2.1.1 United Kingdom-UV Visible PDA detectors
5.2.1.2 France-UV Visible PDA detectors
5.2.1.3 Germany-UV Visible PDA detectors
5.2.1.4 Italy-UV Visible PDA detectors
5.2.1.5 Spain-UV Visible PDA detectors
5.2.1.6 Europe - Europe - Other Geographies-UV Visible PDA detectors
5.2.2 UV Visible PDA detectors, By Types
5.2.2.1 HPLC Systems-Europe-UV Visible PDA detectors
5.2.2.2 UHPLC Systems-Europe-UV Visible PDA detectors
5.2.2.3 UFLC Systems-Europe-UV Visible PDA detectors
5.2.2.4 Flash Chromatography Systems-Europe-UV Visible PDA detectors
5.3 Liquid Chromatography Systems, Fluorescence detectors
5.3.1 Fluorescence detectors, By Geographies
5.3.1.1 United Kingdom-Fluorescence detectors
5.3.1.2 France-Fluorescence detectors
5.3.1.3 Germany-Fluorescence detectors
5.3.1.4 Italy-Fluorescence detectors
5.3.1.5 Spain-Fluorescence detectors
5.3.1.6 Europe - Europe - Other Geographies-Fluorescence detectors
5.3.2 Fluorescence detectors, By Types
5.3.2.1 HPLC Systems-Europe-Fluorescence detectors
5.3.2.2 UHPLC Systems-Europe-Fluorescence detectors
5.3.2.3 UFLC Systems-Europe-Fluorescence detectors
5.3.2.4 Flash Chromatography Systems-Europe-Fluorescence detectors
5.4 Liquid Chromatography Systems, Refractive index detectors
5.4.1 Refractive index detectors, By Geographies
5.4.1.1 United Kingdom-Refractive index detectors
5.4.1.2 France-Refractive index detectors
5.4.1.3 Germany-Refractive index detectors
5.4.1.4 Italy-Refractive index detectors
5.4.1.5 Spain-Refractive index detectors
5.4.1.6 Europe - Europe - Other Geographies-Refractive index detectors
5.4.2 Refractive index detectors, By Types
5.4.2.1 HPLC Systems-Europe-Refractive index detectors
5.4.2.2 UHPLC Systems-Europe-Refractive index detectors
5.4.2.3 UFLC Systems-Europe-Refractive index detectors
5.4.2.4 Flash Chromatography Systems-Europe-Refractive index detectors
5.5 Liquid Chromatography Systems, Other Components
5.5.1 Other Components, By Geographies
5.5.1.1 United Kingdom-Other Components
5.5.1.2 France-Other Components
5.5.1.3 Germany-Other Components
5.5.1.4 Italy-Other Components
5.5.1.5 Spain-Other Components
5.5.1.6 Europe - Europe - Other Geographies-Other Components

6 European Liquid Chromatography Systems, By Types
6.1 Split By Geography
6.2 Other LC Systems-Europe
6.2.1 Other LC Systems-Europe, By Endusers
6.2.1.1 Other LC Systems-Europe-Pharmaceuticals
6.2.1.2 Other LC Systems-Europe-Biotechnology
6.2.1.3 Other LC Systems-Europe-Academics
6.2.1.4 Other LC Systems-Other Endusers-Europe
6.2.1.5 Other LC Systems-Europe-Agriculture Industry
6.2.1.6 Other LC Systems-Europe-Environmental Biotechnology
6.2.2 Other LC Systems-Europe, By Products
6.2.2.1 Other LC Systems-Europe-Affinity columns
6.2.2.2 Other LC Systems-Europe-Ion exchange phase columns
6.2.2.3 Other LC Systems-Europe-Size Exclusion columns
6.2.2.4 Other LC Systems-Europe-Chiral separation columns
6.2.2.5 Other LC Systems-Europe-Normal phase/hydrophilic interaction columns
6.2.3 Other LC Systems-Europe, By Geographies
6.2.3.1 Other LC Systems-United Kingdom
6.2.3.2 Other LC Systems-France
6.2.3.3 Other LC Systems-Germany
6.2.3.4 Other LC Systems-Italy
6.2.3.5 Other LC Systems-Spain
6.2.3.6 Other LC Systems-Europe - Europe - Other Geographies
6.3 Liquid Chromatography Systems, HPLC Systems-Europe
6.3.1 Liquid Chromatography Systems, HPLC Systems-Europe, By Products
6.3.1.1 HPLC Systems-Europe-Reverse Phase (RP) columns
6.3.1.2 HPLC Systems-Europe-Ion exchange phase columns
6.3.1.3 HPLC Systems-Europe-Size Exclusion columns
6.3.1.4 HPLC Systems-Europe-Chiral separation columns
6.3.1.5 HPLC Systems-Europe-Affinity columns
6.3.1.6 HPLC Systems-Europe-Normal phase/hydrophilic interaction columns
6.3.1.7 HPLC Systems-Europe-Other Products
6.3.2 Liquid Chromatography Systems, HPLC Systems-Europe, By Endusers
6.3.2.1 HPLC Systems-Europe-Pharmaceuticals
6.3.2.2 HPLC Systems-Europe-Biotechnology
6.3.2.3 HPLC Systems-Europe-Academics
6.3.2.4 HPLC Systems-Other Endusers-Europe
6.3.2.5 HPLC Systems-Europe-Agriculture Industry
6.3.2.6 HPLC Systems-Europe-Environmental Biotechnology
6.3.3 Liquid Chromatography Systems, HPLC Systems-Europe, By Components
6.3.3.1 HPLC Systems-Europe-UV Visible PDA detectors
6.3.3.2 HPLC Systems-Europe-Fluorescence detectors
6.3.3.3 HPLC Systems-Europe-Refractive index detectors
6.3.4 Liquid Chromatography Systems, HPLC Systems-Europe, By Geographies
6.3.4.1 HPLC Systems-United Kingdom
6.3.4.2 HPLC Systems-France
6.3.4.3 HPLC Systems-Germany
6.3.4.4 HPLC Systems-Italy
6.3.4.5 HPLC Systems-Spain
6.3.4.6 HPLC Systems-Europe - Europe - Other Geographies
6.4 Liquid Chromatography Systems, UHPLC Systems-Europe
6.4.1 UHPLC Systems-Europe, By Products
6.4.1.1 UHPLC Systems-Europe-Reverse Phase (RP) columns
6.4.1.2 UHPLC Systems-Europe-Ion exchange phase columns
6.4.1.3 UHPLC Systems-Europe-Size Exclusion columns
6.4.1.4 UHPLC Systems-Europe-Chiral separation columns
6.4.1.5 UHPLC Systems-Europe-Affinity columns
6.4.1.6 UHPLC Systems-Europe-Normal phase/hydrophilic interaction columns
6.4.1.7 UHPLC Systems-Europe-Other Products
6.4.2 UHPLC Systems-Europe, By Endusers
6.4.2.1 UHPLC Systems-Europe-Pharmaceuticals
6.4.2.2 UHPLC Systems-Europe-Biotechnology
6.4.2.3 UHPLC Systems-Europe-Academics
6.4.2.4 UHPLC Systems-Other Endusers-Europe
6.4.2.5 UHPLC Systems-Europe-Agriculture Industry
6.4.2.6 UHPLC Systems-Europe-Environmental Biotechnology
6.4.3 UHPLC Systems-Europe, By Components
6.4.3.1 UHPLC Systems-Europe-UV Visible PDA detectors
6.4.3.2 UHPLC Systems-Europe-Fluorescence detectors
6.4.3.3 UHPLC Systems-Europe-Refractive index detectors
6.4.4 UHPLC Systems-Europe, By Geographies
6.4.4.1 UHPLC Systems-United Kingdom
6.4.4.2 UHPLC Systems-France
6.4.4.3 UHPLC Systems-Germany
6.4.4.4 UHPLC Systems-Italy
6.4.4.5 UHPLC Systems-Spain
6.4.4.6 UHPLC Systems-Europe - Europe - Other Geographies
6.5 UFLC Systems-Europe
6.5.1 UFLC Systems-Europe, By Products
6.5.1.1 UFLC Systems-Europe-Reverse Phase (RP) columns
6.5.1.2 UFLC Systems-Europe-Ion exchange phase columns
6.5.1.3 UFLC Systems-Europe-Size Exclusion columns
6.5.1.4 UFLC Systems-Europe-Chiral separation columns
6.5.1.5 UFLC Systems-Europe-Affinity columns
6.5.1.6 UFLC Systems-Europe-Normal phase/hydrophilic interaction columns
6.5.1.7 UFLC Systems-Europe-Other Products
6.5.2 UFLC Systems-Europe, By Endusers
6.5.2.1 UFLC Systems-Europe-Pharmaceuticals
6.5.2.2 UFLC Systems-Europe-Biotechnology
6.5.2.3 UFLC Systems-Europe-Academics
6.5.2.4 UFLC Systems-Other Endusers-Europe
6.5.2.5 UFLC Systems-Europe-Agriculture Industry
6.5.2.6 UFLC Systems-Europe-Environmental Biotechnology
6.5.3 UFLC Systems-Europe, By Components
6.5.3.1 UFLC Systems-Europe-UV Visible PDA detectors
6.5.3.2 UFLC Systems-Europe-Fluorescence detectors
6.5.3.3 UFLC Systems-Europe-Refractive index detectors
6.5.4 UFLC Systems-Europe, By Geographies
6.5.4.1 UFLC Systems-United Kingdom
6.5.4.2 UFLC Systems-France
6.5.4.3 UFLC Systems-Germany
6.5.4.4 UFLC Systems-Italy
6.5.4.5 UFLC Systems-Spain
6.5.4.6 UFLC Systems-Europe - Europe - Other Geographies
6.6 Flash Chromatography Systems-Europe
6.6.1 Flash Chromatography Systems-Europe, By Products
6.6.1.1 Flash Chromatography Systems-Europe-Reverse Phase (RP) columns
6.6.1.2 Flash Chromatography Systems-Europe-Ion exchange phase columns
6.6.1.3 Flash Chromatography Systems-Europe-Size Exclusion columns
6.6.1.4 Flash Chromatography Systems-Europe-Chiral separation columns
6.6.1.5 Flash Chromatography Systems-Europe-Affinity columns
6.6.1.6 Flash Chromatography Systems-Europe-Normal phase/hydrophilic interaction columns
6.6.1.7 Flash Chromatography Systems-Europe-Other Products
6.6.2 Flash Chromatography Systems-Europe, By Endusers
6.6.2.1 Flash Chromatography Systems-Europe-Pharmaceuticals
6.6.2.2 Flash Chromatography Systems-Europe-Biotechnology
6.6.2.3 Flash Chromatography Systems-Europe-Academics
6.6.2.4 Flash Chromatography Systems-Other Endusers-Europe
6.6.2.5 Flash Chromatography Systems-Europe-Agriculture Industry
6.6.2.6 Flash Chromatography Systems-Europe-Environmental Biotechnology
6.6.3 Flash Chromatography Systems-Europe, By Components
6.6.3.1 Flash Chromatography Systems-Europe-UV Visible PDA detectors
6.6.3.2 Flash Chromatography Systems-Europe-Fluorescence detectors
6.6.3.3 Flash Chromatography Systems-Europe-Refractive index detectors
6.6.4 Flash Chromatography Systems-Europe, By Geographies
6.6.4.1 Flash Chromatography Systems-United Kingdom
6.6.4.2 Flash Chromatography Systems-France
6.6.4.3 Flash Chromatography Systems-Germany
6.6.4.4 Flash Chromatography Systems-Italy
6.6.4.5 Flash Chromatography Systems-Spain
6.6.4.6 Flash Chromatography Systems-Europe - Europe - Other Geographies

7 European Liquid Chromatography Systems, By Geographies
7.1 Liquid Chromatography Systems, United Kingdom
7.1.1 Liquid Chromatography Systems, United Kingdom, By Products
7.1.1.1 United Kingdom-Reverse Phase (RP) columns
7.1.1.2 United Kingdom-Ion exchange phase columns
7.1.1.3 United Kingdom-Size Exclusion columns
7.1.1.4 United Kingdom-Chiral separation columns
7.1.1.5 United Kingdom-Affinity columns
7.1.1.6 United Kingdom-Normal phase/hydrophilic interaction columns
7.1.1.7 United Kingdom-Other Products
7.1.2 Liquid Chromatography Systems, United Kingdom, By Endusers
7.1.2.1 United Kingdom-Pharmaceuticals
7.1.2.2 United Kingdom-Biotechnology
7.1.2.3 United Kingdom-Academics
7.1.2.4 United Kingdom-Other Endusers
7.1.2.5 United Kingdom-Agriculture Industry
7.1.2.6 United Kingdom-Environmental Biotechnology
7.1.3 Liquid Chromatography Systems, United Kingdom, By Components
7.1.3.1 United Kingdom-UV Visible PDA detectors
7.1.3.2 United Kingdom-Fluorescence detectors
7.1.3.3 United Kingdom-Refractive index detectors
7.1.3.4 United Kingdom-Other Components
7.1.4 Liquid Chromatography Systems, United Kingdom, By Types
7.1.4.1 Other LC Systems-United Kingdom
7.1.4.2 HPLC Systems-United Kingdom
7.1.4.3 UHPLC Systems-United Kingdom
7.1.4.4 UFLC Systems-United Kingdom
7.1.4.5 Flash Chromatography Systems-United Kingdom
7.2 France
7.2.1 Liquid Chromatography Systems, France, By Products
7.2.1.1 France-Reverse Phase (RP) columns
7.2.1.2 France-Ion exchange phase columns
7.2.1.3 France-Size Exclusion columns
7.2.1.4 France-Chiral separation columns
7.2.1.5 France-Affinity columns
7.2.1.6 France-Normal phase/hydrophilic interaction columns
7.2.1.7 France-Other Products
7.2.2 Liquid Chromatography Systems, France, By Endusers
7.2.2.1 France-Pharmaceuticals
7.2.2.2 France-Biotechnology
7.2.2.3 France-Academics
7.2.2.4 France-Other Endusers
7.2.2.5 France-Agriculture Industry
7.2.2.6 France-Environmental Biotechnology
7.2.3 Liquid Chromatography Systems, France, By Components
7.2.3.1 France-UV Visible PDA detectors
7.2.3.2 France-Fluorescence detectors
7.2.3.3 France-Refractive index detectors
7.2.3.4 France-Other Components
7.2.4 Liquid Chromatography Systems, France, By Types
7.2.4.1 Other LC Systems-France
7.2.4.2 HPLC Systems-France
7.2.4.3 UHPLC Systems-France
7.2.4.4 UFLC Systems-France
7.2.4.5 Flash Chromatography Systems-France
7.3 Germany
7.3.1 Liquid Chromatography Systems, Germany, By Products
7.3.1.1 Germany-Reverse Phase (RP) columns
7.3.1.2 Germany-Ion exchange phase columns
7.3.1.3 Germany-Size Exclusion columns
7.3.1.4 Germany-Chiral separation columns
7.3.1.5 Germany-Affinity columns
7.3.1.6 Germany-Normal phase/hydrophilic interaction columns
7.3.1.7 Germany-Other Products
7.3.2 Liquid Chromatography Systems, Germany, By Endusers
7.3.2.1 Germany-Pharmaceuticals
7.3.2.2 Germany-Biotechnology
7.3.2.3 Germany-Academics
7.3.2.4 Germany-Other Endusers
7.3.2.5 Germany-Agriculture Industry
7.3.2.6 Germany-Environmental Biotechnology
7.3.3 Liquid Chromatography Systems, Germany, By Components
7.3.3.1 Germany-UV Visible PDA detectors
7.3.3.2 Germany-Fluorescence detectors
7.3.3.3 Germany-Refractive index detectors
7.3.3.4 Germany-Other Components
7.3.4 Liquid Chromatography Systems, Germany, By Types
7.3.4.1 Other LC Systems-Germany
7.3.4.2 HPLC Systems-Germany
7.3.4.3 UHPLC Systems-Germany
7.3.4.4 UFLC Systems-Germany
7.3.4.5 Flash Chromatography Systems-Germany
7.4 Italy
7.4.1 Liquid Chromatography Systems, Italy, By Products
7.4.1.1 Italy-Reverse Phase (RP) columns
7.4.1.2 Italy-Ion exchange phase columns
7.4.1.3 Italy-Size Exclusion columns
7.4.1.4 Italy-Chiral separation columns
7.4.1.5 Italy-Affinity columns
7.4.1.6 Italy-Normal phase/hydrophilic interaction columns
7.4.1.7 Italy-Other Products
7.4.2 Liquid Chromatography Systems, Italy, By Endusers
7.4.2.1 Italy-Pharmaceuticals
7.4.2.2 Italy-Biotechnology
7.4.2.3 Italy-Academics
7.4.2.4 Italy-Other Endusers
7.4.2.5 Italy-Agriculture Industry
7.4.2.6 Italy-Environmental Biotechnology
7.4.3 Liquid Chromatography Systems, Italy, By Components
7.4.3.1 Italy-UV Visible PDA detectors
7.4.3.2 Italy-Fluorescence detectors
7.4.3.3 Italy-Refractive index detectors
7.4.3.4 Italy-Other Components
7.4.4 Liquid Chromatography Systems, Italy, By Types
7.4.4.1 Other LC Systems-Italy
7.4.4.2 HPLC Systems-Italy
7.4.4.3 UHPLC Systems-Italy
7.4.4.4 UFLC Systems-Italy
7.4.4.5 Flash Chromatography Systems-Italy
7.5 Spain
7.5.1 Spain, By Products
7.5.1.1 Spain-Reverse Phase (RP) columns
7.5.1.2 Spain-Ion exchange phase columns
7.5.1.3 Spain-Size Exclusion columns
7.5.1.4 Spain-Chiral separation columns
7.5.1.5 Spain-Affinity columns
7.5.1.6 Spain-Normal phase/hydrophilic interaction columns
7.5.1.7 Spain-Other Products
7.5.2 Spain, By Endusers
7.5.2.1 Spain-Pharmaceuticals
7.5.2.2 Spain-Biotechnology
7.5.2.3 Spain-Academics
7.5.2.4 Spain-Other Endusers
7.5.2.5 Spain-Agriculture Industry
7.5.2.6 Spain-Environmental Biotechnology
7.5.3 Spain, By Components
7.5.3.1 Spain-UV Visible PDA detectors
7.5.3.2 Spain-Fluorescence detectors
7.5.3.3 Spain-Refractive index detectors
7.5.3.4 Spain-Other Components
7.5.4 Spain, By Types
7.5.4.1 Other LC Systems-Spain
7.5.4.2 HPLC Systems-Spain
7.5.4.3 UHPLC Systems-Spain
7.5.4.4 UFLC Systems-Spain

7.5.4.5 Flash Chromatography Systems-Spain
7.6 Liquid Chromatography Systems - Other Geographies
7.6.1 Other Geographies, By Products
7.6.1.1 Other Geographies-Reverse Phase (RP) columns
7.6.1.2 Other Geographies-Ion exchange phase columns
7.6.1.3 Other Geographies-Size Exclusion columns
7.6.1.4 Other Geographies-Chiral separation columns
7.6.1.5 Other Geographies-Affinity columns
7.6.1.6 Other Geographies-Normal phase/hydrophilic interaction columns
7.6.1.7 Other Geographies-Other Products
7.6.2 Liquid Chromatography Systems - Other Geographies, By Endusers
7.6.2.1 Other Geographies-Pharmaceuticals
7.6.2.2 Other Geographies-Biotechnology
7.6.2.3 Other Geographies-Academics
7.6.2.4 Other Geographies-Other Endusers
7.6.2.5 Other Geographies-Agriculture Industry
7.6.2.6 Other Geographies-Environmental Biotechnology
7.6.3 Liquid Chromatography Systems - Other Geographies, By Components
7.6.3.1 Other Geographies-UV Visible PDA detectors
7.6.3.2 Other Geographies-Fluorescence detectors
7.6.3.3 Other Geographies-Refractive index detectors
7.6.3.4 Other Geographies-Other Components
7.6.4 European Liquid Chromatography Systems - Other Geographies, By Types
7.6.4.1 Other LC Systems-Other Geographies
7.6.4.2 HPLC Systems-Other Geographies
7.6.4.3 UHPLC Systems-Other Geographies
7.6.4.4 UFLC Systems-Other Geographies
7.6.4.5 Flash Chromatography Systems-Other Geographies

8 European Liquid Chromatography Systems, By Companies
8.1 Split By Geography
8.2 Other Companies
8.3 Agilent Technologies
8.4 Thermo Fisher Scientific
8.5 Waters Corporation
8.6 Shimadzu Corporation
8.7 Apex Scientific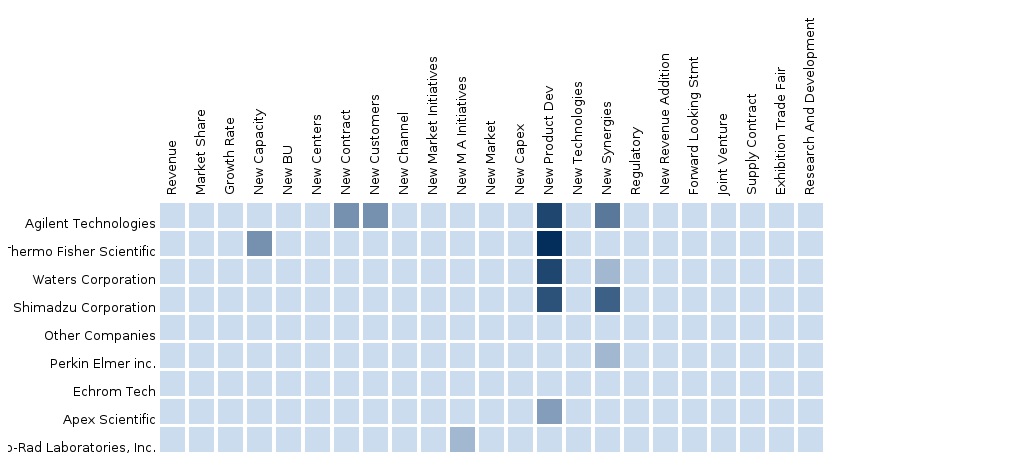 PRODUCT TITLE
PUBLISHED
PRICE
Asian Chromatography Systems Market Report


Asia is the fastest growing chromatography systems market globally and is expected to reach a value of $1497 Billion by 2018; growing at a CAGR of approximately 6.0% from 2013 to 2018. The Asian chromatography market is segmented into products, end users, sub markets and geographies. The key players in this market are Agilent Technologies, Inc., Thermo Fisher Scientific, Waters Corporation, Shimadzu Corporation and other companies.



28 Feb 2015
$ 3500
North American Chromatography Systems Market


North America is the largest chromatography systems market globally and is expected to reach a value of $2.7 billion by 2018; achieving a CAGR of approximately 5.8% during the period 2013 - 2018. The North American chromatography market is segmented into products, end users, sub markets and geographies.Deep dive analysis of the key players of this domain, have been considered in this report.



28 Feb 2015
$ 3500
European Chromatography Systems Market


Globally, Europe is the second largest chromatography systems market and is expected to reach a value of $1179.8 million by 2018; growing at 8.7% annually during 2013 -2018. The European chromatography market is segmented into products, end users, sub markets and geographies. Deep dive analysis of the key players of this domain, have been considered in this report.



28 Feb 2015
$ 3500
European Liquid Chromatography Systems Market