As Millimeter Wave is the highest band of radio waves, and operates at a frequency range of 20-300 GHz. The radio waves in this band have wavelengths that are in order of millimeters (mm), therefore, the waves in this band are called millimeter waves. In wireless communications, frequency is one of the major factors that ascertains feasibility of the technology.
The Global Millimeter sensor market, mainly driven by the increasing use of MM technology in security and automotive applications, and increasing MW spectrum shortages and conflicts, was valued at $116 million in 2013, and is expected to reach $1186 million by 2018, at a CAGR of 59% from 2013 to 2018.
The China MM Wave technology market was estimated at $11 million in 2013, and is expected to grow at a CAGR of 64% from 2013 to 2018, and is expected to reach $129 million by 2018.
China is the major player for millimeter wave technology in the APAC market. The major application sectors include telecom, security, satellite communications, and military.
Increasing mobile data usage has made it difficult for the service providers to provide services, which is hampering the customers' QOS perception and affecting the service providers' revenue. Thus, the government bodies are encouraging the use of E-band frequencies, for small cell and macrocell backhaul applications in the telecommunications sector. By introducing unlicensed and lightly-licensed bands such as the 60 GHz unlicensed band and the 70 GHz & 80 GHz bands in the U.S., the use of millimeter wave technology has been promoted without having to apply for expensive and time-consuming licenses.
The report also provides an extensive competitive landscape of companies operating in this market. The main companies operating in joint reconstruction device market and extensively covered in this report are Agilent technologies, INC., Aviat networks, Bridgewave communications, INC., E-Band communications, LLC.
Segment and country specific company shares, news & deals, M&A, segment specific pipeline products, product approvals and product recalls of the major companies have been detailed.
Customization Options:
With Market data, you can also customize the MMM assessments that meet your company's specific needs. Customize to get comprehensive industry standards and deep-dive analysis of the following parameters:
Product Analysis
Usage pattern (in-depth trend analysis) of products (Segment wise)
Product Matrix which gives a detailed comparison of product portfolio of each company mapped at country and sub segment level
Segment wise and Country wise analysis of usage of products at end user level
Technological Data
Region wise end-user adoption rate analysis of the technology
Technology Matrix which gives a detailed comparison of technologies mapped at country and sub segment level
Upcoming development in the technology (company and country wise)
Data from key players
Key revenue pockets for the manufacturing, supplying firms
Various firms opinion about different upcoming market and trends
Qualitative inputs on macro-economic indicators, mergers and acquisition
Shipment data
Market volume of semiconductors and products used in MM wave technology
Spectrum analysis
Market volume of MM wave technology market by frequency range
Component Analysis
In depth trend analysis of raw materials in competitive scenario
Raw material/ Component Matrix which gives a detailed comparison of Raw material/ Component portfolio of each company mapped at country level
Comprehensive coverage of regulations followed in different countries
Country level data analysis
Country level data of top countries in MM wave technology market
Country specific data showing opportunities in different regions
Trend analysis of Applications
Application Matrix which gives a detailed comparison of application portfolio of each company in China
Application Matrix which gives a detailed comparison of application portfolio using different technology
1 Introduction
1.1 Objective of the study
1.2 Market Definitions
1.3 Market Segmentation & Aspects Covered
1.4 Research Methodology
1.4.1 Assumptions (Market Size, Forecast, etc)
2 Executive Summary
3 Market Overview
4 Millimeter Wave Technology-China, By Products
4.1 Telecommunication systems-China
4.1.1 Telecommunication systems-China, By Companies
4.1.1.1 Telecommunication systems-China-Bridge wave communications
4.1.1.2 Telecommunication systems-China-E-Band communications
4.1.1.3 Telecommunication systems-China-Gigabeam corp
4.1.1.4 Telecommunication systems-China-Lightpointe corp
4.2 Scanning and Imaging Systems-China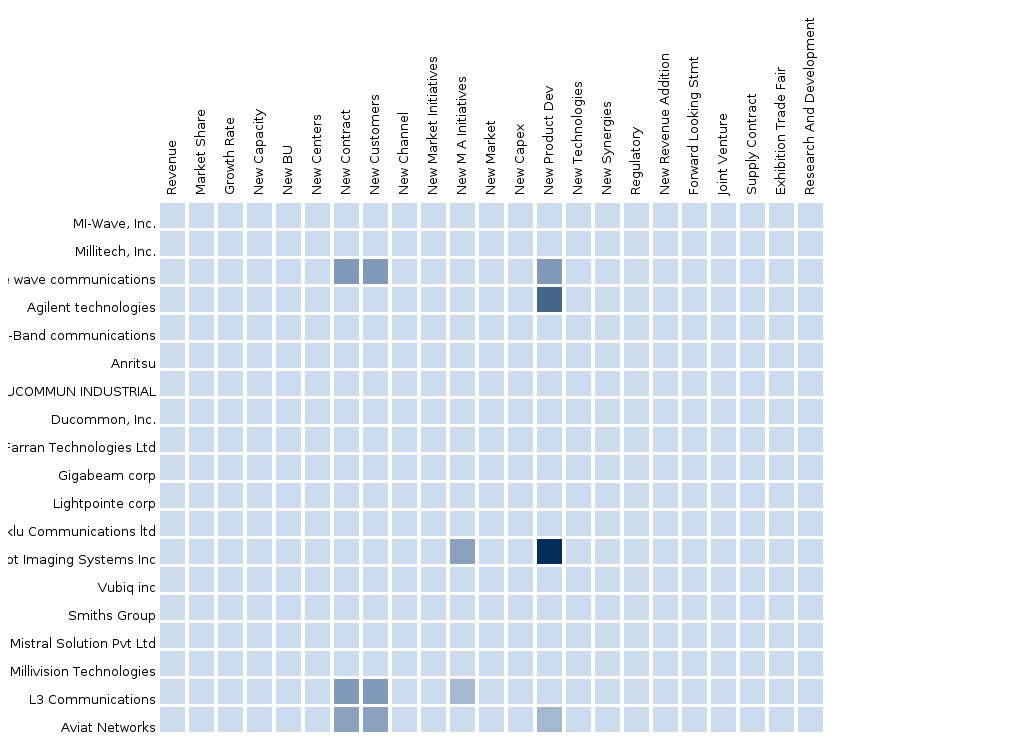 Please fill in the form below to receive a free copy of the Summary of this Report
Custom Market Research Services
We will customize the research for you, in case the report listed above does not meet with your exact requirements. Our custom research will comprehensively cover the business information you require to help you arrive at strategic and profitable business decisions.
Please visit
http://www.micromarketmonitor.com/custom-research-services.html
to specify your custom Research Requirement
China Millimeter Wave Technology