Asian Size Exclusion columns Market
Description
Table of Contents
Customer Intelligence
Size exclusion chromatography reagents are used to separate the molecules based on their size or molecular weight. It is a gel filtration process, where a gaseous or liquid phase is passed over a porous gel form in which the separation, commonly known as the fractionation of proteins takes place. It is a preferred separation and purification process especially utilized in the drug development final stage.
The Asian size exclusion chromatography columns market is mainly driven by the flourishing pharmaceutical and biotechnology industry in this region, along with growth observed in the number of conferences and discussion related to innovative chromatography techniques. This market is expected to reach around $281.3 million by 2018, at a CAGR of 13.4% from 2013 to 2018. Japan has the largest share in the Asia-Pacific size exclusion chromatography market, which is projected to grow at a CAGR of 13.7% from 2013 to 2018. This is significantly followed by China that is currently progressing at a rapid pace.
The report "Asian Size exclusion chromatography columns forecast, 2012-2018" analyzes the market on the basis of two major application segments, such as analytical and preparative chromatography reagents. The analytical chromatography process is extensively used to analyze the components of the mixture, while the bioprocess / preparative one is mainly used for separation and purification of biomolecules. The market is also divided on the basis of the technology into gas chromatography, liquid chromatography, and supercritical fluid chromatography reagents, while on the basis of products the market is sub-divided into column, and planar chromatography reagents.
Increase in the percentage of government investments influence the overall progress of scientific research and development in chromatographic processes. A rise in demand of chromatography techniques in the pharmaceutical industry is one of the most significant market drivers of the chromatography columns market. Key companies operating in this market segment are known to outsource their chromatography services to varied regions across the world, thereby leading to a rapid increase in demand of chromatography columns.
The Asian size exclusion chromatography market is segmented on the basis of geography, type, application, and end-user. As per geography, the market is sub-divided into the Japan, China, and India among other countries. Companies dominating this market are Agilent Technologies (U.S.), Thermo Fisher Scientific Inc., (U.S.), Waters Corporation (U.S.), Sigma-Aldrich (U.S.), Merck Millipore (Germany), GE Healthcare (U.S.), Bio-Rad Laboratories, Inc. (U.S.), and Pall Corporation, (U.S.) among others.
This market research report offers a comprehensive overview of market share, value chain analysis, and market metrics such as drivers, restraints and upcoming opportunities. Segment and country-specific shares, news and deals, mergers & acquisitions, segment-specific pipeline products, product approvals, and product recalls of major companies are also covered in this report.
Customization Options
With the market data, you can also customize MMM assessments that meet are in accordance to your company's specific needs. Customize to get comprehensive industry standard and deep dive analysis of the following parameters:
Product Analysis
Usage pattern (in-depth trend analysis) of products (Segment wise)
Product Matrix, which gives a detailed comparison of product portfolio of each company mapped at country and sub-segment level
End-user adoption rate analysis of products (Segment wise and Country wise)
Competitive Intelligence
Market share analysis of top players of the Asian size exclusion chromatography columns market
Crucial developments and competent growth strategies adopted by leading market players
1 Introduction
1.1 Introduce the Market
1.2 Objective of the study
1.3 Market Definition and Scope of the study
1.3.1 Market Definition
1.3.2 Areas covered
1.3.3 Markets Covered
1.4 Stakeholders
1.5 Research Methodology
1.5.1 Secondary sources
1.5.2 Primary Sources
1.5.3 Market estimation methodology (Top-down, bottom-up, data triangulation.)
1.5.4 Macro indicators for the study
1.6 Assumptions
1.7 List of Acronyms
2 Market Overview
3 Asia Size Exclusion columns, By Applications
3.1 Split By Geography
3.2 Asia Size Exclusion columns-Liquid Chromatography Systems
3.2.1 SEC-Asia-Liquid Chromatography Systems, By Types
3.2.1.1 SEC-Asia-Pre-packed columns-Liquid Chromatography Systems
3.2.1.2 SEC-Asia-Empty columns-Liquid Chromatography Systems
3.2.2 SEC-Asia-Liquid Chromatography Systems, By Endusers
3.2.2.1 SEC-Asia-Liquid Chromatography Systems-Pharmaceuticals
3.2.2.2 SEC-Asia-Liquid Chromatography Systems-Academics
3.2.2.3 SEC-Asia-Liquid Chromatography Systems-Food & Beverage (Industry)
3.2.2.4 SEC-Asia-Liquid Chromatography Systems-Hospitals
3.2.2.5 SEC-Asia-Liquid Chromatography Systems-Cosmetics
3.2.2.6 SEC-Asia-Liquid Chromatography Systems-Other Endusers
3.2.2.7 SEC-Asia-Liquid Chromatography Systems-Environmental Biotechnology
3.2.2.8 SEC-Asia-Liquid Chromatography Systems-Nutraceuticals
3.2.3 Size Exclusion columns-Asia-Liquid Chromatography Systems, By Geographies
3.2.3.1 SEC-Asia - Japan-Liquid Chromatography Systems
3.2.3.2 SEC-China-Liquid Chromatography Systems
3.2.3.3 SEC-India-Liquid Chromatography Systems
3.2.3.4 SEC-Asia - Other Geographies-Liquid Chromatography Systems
3.3 SEC-Asia-Gas Chromatography (GC) Systems
3.3.1 SEC-Asia-Gas Chromatography (GC) Systems, By Types
3.3.1.1 SEC-Asia-Pre-packed columns-Gas Chromatography (GC) Systems
3.3.1.2 SEC-Asia-Empty columns-Gas Chromatography (GC) Systems
3.3.2 SEC-Asia-Gas Chromatography (GC) Systems, By Endusers
3.3.2.1 SEC-Asia-Gas Chromatography (GC) Systems-Pharmaceuticals
3.3.2.2 SEC-Asia-Gas Chromatography (GC) Systems-Academics
3.3.2.3 SEC-Asia-Gas Chromatography (GC) Systems-Food & Beverage (Industry)
3.3.2.4 SEC-Asia-Gas Chromatography (GC) Systems-Hospitals
3.3.2.5 SEC-Asia-Gas Chromatography (GC) Systems-Cosmetics
3.3.2.6 SEC-Asia-Gas Chromatography (GC) Systems-Other Endusers
3.3.2.7 SEC-Asia-Gas Chromatography (GC) Systems-Environmental Biotechnology
3.3.2.8 SEC-Asia-Gas Chromatography (GC) Systems-Nutraceuticals
3.3.3 SEC-Asia-Gas Chromatography (GC) Systems, By Geographies
3.3.3.1 SEC-Asia - Japan-Gas Chromatography (GC) Systems
3.3.3.2 SEC-China-Gas Chromatography (GC) Systems
3.3.3.3 SEC-India-Gas Chromatography (GC) Systems
3.3.3.4 SEC-Asia - Other Geographies-Gas Chromatography (GC) Systems
3.4 SEC-Asia-Other Applications
3.4.1 SEC-Asia-Other Applications, By Types
3.4.1.1 SEC-Asia-Pre-packed columns-Other Applications
3.4.1.2 SEC-Asia-Empty columns-Other Applications
3.4.2 SEC-Asia-Other Applications, By Endusers
3.4.2.1 SEC-Asia-Other Applications-Pharmaceuticals
3.4.2.2 SEC-Asia-Other Applications-Academics
3.4.2.3 SEC-Asia-Other Applications-Food & Beverage (Industry)
3.4.2.4 SEC-Asia-Other Applications-Hospitals
3.4.2.5 SEC-Asia-Other Applications-Cosmetics
3.4.2.6 SEC-Asia-Other Applications-Other Endusers
3.4.2.7 SEC-Asia-Other Applications-Environmental Biotechnology
3.4.2.8 SEC-Asia-Other Applications-Nutraceuticals
3.4.3 SEC-Asia-Other Applications, By Geographies
3.4.3.1 SEC-Asia - Japan-Other Applications
3.4.3.2 SEC-China-Other Applications
3.4.3.3 SEC-India-Other Applications
3.4.3.4 SEC-Asia - Other Geographies-Other Applications
3.5 Asia Size Exclusion columns-Thin Layer Chromatography (TLC) Systems
3.5.1 SEC-Asia-Thin Layer Chromatography (TLC) Systems, By Types
3.5.1.1 SEC-Asia-Pre-packed columns-Thin Layer Chromatography (TLC) Systems
3.5.1.2 SEC-Asia-Empty columns-Thin Layer Chromatography (TLC) Systems
3.5.2 SEC-Asia-Thin Layer Chromatography (TLC) Systems, By Endusers
3.5.2.1 SEC-Asia-Thin Layer Chromatography (TLC) Systems-Pharmaceuticals
3.5.2.2 SEC-Asia-Thin Layer Chromatography (TLC) Systems-Academics
3.5.2.3 SEC-Asia-Thin Layer Chromatography (TLC) Systems-Food & Beverage (Industry)
3.5.2.4 SEC-Asia-Thin Layer Chromatography (TLC) Systems-Hospitals
3.5.2.5 SEC-Asia-Thin Layer Chromatography (TLC) Systems-Cosmetics
3.5.2.6 SEC-Asia-Thin Layer Chromatography (TLC) Systems-Other Endusers
3.5.2.7 SEC-Asia-Thin Layer Chromatography (TLC) Systems-Environmental Biotechnology
3.5.2.8 SEC-Asia-Thin Layer Chromatography (TLC) Systems-Nutraceuticals
3.5.3 SEC-Asia-Thin Layer Chromatography (TLC) Systems, By Geographies
3.5.3.1 SEC-Asia - Japan-Thin Layer Chromatography (TLC) Systems
3.5.3.2 SEC-China-Thin Layer Chromatography (TLC) Systems
3.5.3.3 SEC-India-Thin Layer Chromatography (TLC) Systems
3.5.3.4 SEC-Asia - Other Geographies-Thin Layer Chromatography (TLC) Systems
3.6 Asia Size Exclusion columns-Supercritical Fluid Chromatography (SFC) Systems
3.6.1 SEC-Asia-Supercritical Fluid Chromatography (SFC) Systems, By Types
3.6.1.1 SEC-Asia-Pre-packed columns-Supercritical Fluid Chromatography (SFC) Systems
3.6.1.2 SEC-Asia-Empty columns-Supercritical Fluid Chromatography (SFC) Systems
3.6.2 SEC-Asia-Supercritical Fluid Chromatography (SFC) Systems, By Endusers
3.6.2.1 SEC-Asia-Supercritical Fluid Chromatography (SFC) Systems-Pharmaceuticals
3.6.2.2 SEC-Asia-Supercritical Fluid Chromatography (SFC) Systems-Academics
3.6.2.3 SEC-Asia-Supercritical Fluid Chromatography (SFC) Systems-Food & Beverage (Industry)
3.6.2.4 SEC-Asia-Supercritical Fluid Chromatography (SFC) Systems-Hospitals
3.6.2.5 SEC-Asia-Supercritical Fluid Chromatography (SFC) Systems-Cosmetics
3.6.2.6 SEC-Asia-Supercritical Fluid Chromatography (SFC) Systems-Other Endusers
3.6.2.7 SEC-Asia-Supercritical Fluid Chromatography (SFC) Systems-Environmental Biotechnology
3.6.2.8 SEC-Asia-Supercritical Fluid Chromatography (SFC) Systems-Nutraceuticals
3.6.3 SEC-Asia-Supercritical Fluid Chromatography (SFC) Systems, By Geographies
3.6.3.1 SEC-Asia - Japan-Supercritical Fluid Chromatography (SFC) Systems
3.6.3.2 SEC-China-Supercritical Fluid Chromatography (SFC) Systems
3.6.3.3 SEC-India-Supercritical Fluid Chromatography (SFC) Systems
3.6.3.4 SEC-Asia - Other Geographies-Supercritical Fluid Chromatography (SFC) Systems
4 Asia Size Exclusion columns, By Types
4.1 Split By Geography
4.2 Asia Size Exclusion columns-Pre-packed columns
4.2.1 SEC-Asia-Pre-packed columns, By Applications
4.2.1.1 SEC-Asia-Pre-packed columns-Liquid Chromatography Systems
4.2.1.2 SEC-Asia-Pre-packed columns-Gas Chromatography (GC) Systems
4.2.1.3 SEC-Asia-Pre-packed columns-Other Applications
4.2.1.4 SEC-Asia-Pre-packed columns-Thin Layer Chromatography (TLC) Systems
4.2.1.5 SEC-Asia-Pre-packed columns-Supercritical Fluid Chromatography (SFC) Systems
4.2.2 SEC-Asia-Pre-packed columns, By Endusers
4.2.2.1 SEC-Asia-Pre-packed columns-Pharmaceuticals
4.2.2.2 SEC-Asia-Pre-packed columns-Academics
4.2.2.3 SEC-Asia-Pre-packed columns-Food & Beverage (Industry)
4.2.2.4 SEC-Asia-Pre-packed columns-Hospitals
4.2.2.5 SEC-Asia-Pre-packed columns-Cosmetics
4.2.2.6 SEC-Asia-Pre-packed columns-Other Endusers
4.2.2.7 SEC-Asia-Pre-packed columns-Environmental Biotechnology
4.2.2.8 SEC-Asia-Pre-packed columns-Nutraceuticals
4.2.3 SEC-Asia-Pre-packed columns, By Geographies
4.2.3.1 SEC-Asia - Japan-Pre-packed columns
4.2.3.2 SEC-China-Pre-packed columns
4.2.3.3 SEC-India-Pre-packed columns
4.2.3.4 SEC-Asia - Other Geographies-Pre-packed columns
4.3 Asia Size Exclusion columns-Empty columns
4.3.1 SEC-Asia-Empty columns, By Applications
4.3.1.1 SEC-Asia-Empty columns-Liquid Chromatography Systems
4.3.1.2 SEC-Asia-Empty columns-Gas Chromatography (GC) Systems
4.3.1.3 SEC-Asia-Empty columns-Other Applications
4.3.1.4 SEC-Asia-Empty columns-Thin Layer Chromatography (TLC) Systems
4.3.1.5 SEC-Asia-Empty columns-Supercritical Fluid Chromatography (SFC) Systems
4.3.2 SEC-Asia-Empty columns, By Endusers
4.3.2.1 SEC-Asia-Empty columns-Pharmaceuticals
4.3.2.2 SEC-Asia-Empty columns-Academics
4.3.2.3 SEC-Asia-Empty columns-Food & Beverage (Industry)
4.3.2.4 SEC-Asia-Empty columns-Hospitals
4.3.2.5 SEC-Asia-Empty columns-Cosmetics
4.3.2.6 SEC-Asia-Empty columns-Other Endusers
4.3.2.7 SEC-Asia-Empty columns-Environmental Biotechnology
4.3.2.8 SEC-Asia-Empty columns-Nutraceuticals
4.3.3 SEC-Asia-Empty columns, By Geographies
4.3.3.1 SEC-Asia - Japan-Empty columns
4.3.3.2 SEC-China-Empty columns
4.3.3.3 SEC-India-Empty columns
4.3.3.4 SEC-Asia - Other Geographies-Empty columns
5 Asia Size Exclusion columns, By Materials
5.1 Split By Geography
5.2 Asia Size Exclusion columns-Metals
5.2.1 Size Exclusion columns-Asia-Metals, By Geographies
5.2.1.1 SEC-Asia - Japan-Metals
5.2.1.2 SEC-China-Metals
5.2.1.3 SEC-India-Metals
5.2.1.4 SEC-Asia - Other Geographies-Metals
5.3 SEC-Asia-Glass
5.3.1 SEC-Asia-Glass, By Geographies
5.3.1.1 SEC-Asia - Japan-Glass
5.3.1.2 SEC-China-Glass
5.3.1.3 SEC-India-Glass
5.3.1.4 SEC-Asia - Other Geographies-Glass
5.4 Size Exclusion columns-Asia-Plastic
5.4.1 SEC-Asia-Plastic, By Geographies
5.4.1.1 SEC-Asia - Japan-Plastic
5.4.1.2 SEC-China-Plastic
5.4.1.3 SEC-India-Plastic
5.4.1.4 SEC-Asia - Other Geographies-Plastic
6 Asia Size Exclusion columns, By Endusers
6.1 Split By Geography
6.2 Asia Size Exclusion columns-Pharmaceuticals
6.2.1 SEC-Asia-Pharmaceuticals, By Types
6.2.1.1 SEC-Asia-Pre-packed columns-Pharmaceuticals
6.2.1.2 SEC-Asia-Empty columns-Pharmaceuticals
6.2.2 SEC-Asia-Pharmaceuticals, By Applications
6.2.2.1 SEC-Asia-Liquid Chromatography Systems-Pharmaceuticals
6.2.2.2 SEC-Asia-Gas Chromatography (GC) Systems-Pharmaceuticals
6.2.2.3 SEC-Asia-Other Applications-Pharmaceuticals
6.2.2.4 SEC-Asia-Thin Layer Chromatography (TLC) Systems-Pharmaceuticals
6.2.2.5 SEC-Asia-Supercritical Fluid Chromatography (SFC) Systems-Pharmaceuticals
6.2.3 SEC-Asia-Pharmaceuticals, By Geographies
6.2.3.1 SEC-Asia - Japan-Pharmaceuticals
6.2.3.2 SEC-China-Pharmaceuticals
6.2.3.3 SEC-India-Pharmaceuticals
6.2.3.4 SEC-Asia - Other Geographies-Pharmaceuticals
6.3 Asia Size Exclusion columns-Academics
6.3.1 Size Exclusion columns-Asia-Academics, By Types
6.3.1.1 SEC-Asia-Pre-packed columns-Academics
6.3.1.2 SEC-Asia-Empty columns-Academics
6.3.2 SEC-Asia-Academics, By Applications
6.3.2.1 SEC-Asia-Liquid Chromatography Systems-Academics
6.3.2.2 SEC-Asia-Gas Chromatography (GC) Systems-Academics
6.3.2.3 SEC-Asia-Other Applications-Academics
6.3.2.4 SEC-Asia-Thin Layer Chromatography (TLC) Systems-Academics
6.3.2.5 SEC-Asia-Supercritical Fluid Chromatography (SFC) Systems-Academics
6.3.3 SEC-Asia-Academics, By Geographies
6.3.3.1 SEC-Asia - Japan-Academics
6.3.3.2 SEC-China-Academics
6.3.3.3 SEC-India-Academics
6.3.3.4 SEC-Asia - Other Geographies-Academics
6.4 SEC-Asia-Food & Beverage (Industry)
6.4.1 SEC-Asia-Food & Beverage (Industry), By Types
6.4.1.1 SEC-Asia-Pre-packed columns-Food & Beverage (Industry)
6.4.1.2 SEC-Asia-Empty columns-Food & Beverage (Industry)
6.4.2 SEC-Asia-Food & Beverage (Industry), By Applications
6.4.2.1 SEC-Asia-Liquid Chromatography Systems-Food & Beverage (Industry)
6.4.2.2 SEC-Asia-Gas Chromatography (GC) Systems-Food & Beverage (Industry)
6.4.2.3 SEC-Asia-Other Applications-Food & Beverage (Industry)
6.4.2.4 SEC-Asia-Thin Layer Chromatography (TLC) Systems-Food & Beverage (Industry)
6.4.2.5 SEC-Asia-Supercritical Fluid Chromatography (SFC) Systems-Food & Beverage (Industry)
6.4.3 SEC-Asia-Food & Beverage (Industry), By Geographies
6.4.3.1 SEC-Asia - Japan-Food & Beverage (Industry)
6.4.3.2 SEC-China-Food & Beverage (Industry)
6.4.3.3 SEC-India-Food & Beverage (Industry)
6.4.3.4 SEC-Asia - Other Geographies-Food & Beverage (Industry)
6.5 Asia Size Exclusion columns-Hospitals
6.5.1 SEC-Asia-Hospitals, By Types
6.5.1.1 SEC-Asia-Pre-packed columns-Hospitals
6.5.1.2 SEC-Asia-Empty columns-Hospitals
6.5.2 SEC-Asia-Hospitals, By Applications
6.5.2.1 SEC-Asia-Liquid Chromatography Systems-Hospitals
6.5.2.2 SEC-Asia-Gas Chromatography (GC) Systems-Hospitals
6.5.2.3 SEC-Asia-Other Applications-Hospitals
6.5.2.4 SEC-Asia-Thin Layer Chromatography (TLC) Systems-Hospitals
6.5.2.5 SEC-Asia-Supercritical Fluid Chromatography (SFC) Systems-Hospitals
6.5.3 SEC-Asia-Hospitals, By Geographies
6.5.3.1 SEC-Asia - Japan-Hospitals
6.5.3.2 SEC-China-Hospitals
6.5.3.3 SEC-India-Hospitals
6.5.3.4 SEC-Asia - Other Geographies-Hospitals
6.6 Asia Size Exclusion columns-Cosmetics
6.6.1 SEC-Asia-Cosmetics, By Types
6.6.1.1 SEC-Asia-Pre-packed columns-Cosmetics
6.6.1.2 SEC-Asia-Empty columns-Cosmetics
6.6.2 SEC-Asia-Cosmetics, By Applications
6.6.2.1 SEC-Asia-Liquid Chromatography Systems-Cosmetics
6.6.2.2 SEC-Asia-Gas Chromatography (GC) Systems-Cosmetics
6.6.2.3 SEC-Asia-Other Applications-Cosmetics
6.6.2.4 SEC-Asia-Thin Layer Chromatography (TLC) Systems-Cosmetics
6.6.2.5 SEC-Asia-Supercritical Fluid Chromatography (SFC) Systems-Cosmetics
6.6.3 SEC-Asia-Cosmetics, By Geographies
6.6.3.1 SEC-Asia - Japan-Cosmetics
6.6.3.2 SEC-China-Cosmetics
6.6.3.3 SEC-India-Cosmetics
6.6.3.4 SEC-Asia - Other Geographies-Cosmetics
6.7 SEC-Asia-Other Endusers
6.7.1 SEC-Asia-Other Endusers, By Types
6.7.1.1 SEC-Asia-Pre-packed columns-Other Endusers
6.7.1.2 SEC-Asia-Empty columns-Other Endusers
6.7.2 SEC-Asia-Other Endusers, By Applications
6.7.2.1 SEC-Asia-Liquid Chromatography Systems-Other Endusers
6.7.2.2 SEC-Asia-Gas Chromatography (GC) Systems-Other Endusers
6.7.2.3 SEC-Asia-Other Applications-Other Endusers
6.7.2.4 SEC-Asia-Thin Layer Chromatography (TLC) Systems-Other Endusers
6.7.2.5 SEC-Asia-Supercritical Fluid Chromatography (SFC) Systems-Other Endusers
6.7.3 SEC-Asia-Other Endusers, By Geographies
6.7.3.1 SEC-Asia - Japan-Other Endusers
6.7.3.2 SEC-China-Other Endusers
6.7.3.3 Size Exclusion columns-India-Other Endusers
6.7.3.4 SEC-Asia - Other Geographies-Other Endusers
6.8 Asia Size Exclusion columns-Environmental Biotechnology
6.8.1 SEC-Asia-Environmental Biotechnology, By Types
6.8.1.1 SEC-Asia-Pre-packed columns-Environmental Biotechnology
6.8.1.2 SEC-Asia-Empty columns-Environmental Biotechnology
6.8.2 SEC-Asia-Environmental Biotechnology, By Applications
6.8.2.1 SEC-Asia-Liquid Chromatography Systems-Environmental Biotechnology
6.8.2.2 SEC-Asia-Gas Chromatography (GC) Systems-Environmental Biotechnology
6.8.2.3 SEC-Asia-Other Applications-Environmental Biotechnology
6.8.2.4 SEC-Asia-Thin Layer Chromatography (TLC) Systems-Environmental Biotechnology
6.8.2.5 SEC-Asia-Supercritical Fluid Chromatography (SFC) Systems-Environmental Biotechnology
6.8.3 SEC-Asia-Environmental Biotechnology, By Geographies
6.8.3.1 SEC-Asia - Japan-Environmental Biotechnology
6.8.3.2 SEC-China-Environmental Biotechnology
6.8.3.3 SEC-India-Environmental Biotechnology
6.8.3.4 SEC-Asia - Other Geographies-Environmental Biotechnology
6.9 Size Exclusion columns-Asia-Nutraceuticals
6.9.1 SEC-Asia-Nutraceuticals, By Types
6.9.1.1 SEC-Asia-Pre-packed columns-Nutraceuticals
6.9.1.2 SEC-Asia-Empty columns-Nutraceuticals
6.9.2 SEC-Asia-Nutraceuticals, By Applications
6.9.2.1 SEC-Asia-Liquid Chromatography Systems-Nutraceuticals
6.9.2.2 SEC-Asia-Gas Chromatography (GC) Systems-Nutraceuticals
6.9.2.3 SEC-Asia-Other Applications-Nutraceuticals
6.9.2.4 SEC-Asia-Thin Layer Chromatography (TLC) Systems-Nutraceuticals
6.9.2.5 SEC-Asia-Supercritical Fluid Chromatography (SFC) Systems-Nutraceuticals
6.9.3 SEC-Asia-Nutraceuticals, By Geographies
6.9.3.1 SEC-Asia - Japan-Nutraceuticals
6.9.3.2 SEC-China-Nutraceuticals
6.9.3.3 SEC-India-Nutraceuticals
6.9.3.4 SEC-Asia - Other Geographies-Nutraceuticals
7 Size Exclusion columns-Asia, By Geographies
7.1 Size Exclusion columns-Asia - Japan
7.1.1 Size Exclusion columns-Asia - Japan, By Types
7.1.1.1 SEC-Asia - Japan-Pre-packed columns
7.1.1.2 SEC-Asia - Japan-Empty columns
7.1.2 SEC-Asia - Japan, By Materials
7.1.2.1 SEC-Asia - Japan-Metals
7.1.2.2 SEC-Asia - Japan-Glass
7.1.2.3 SEC-Asia - Japan-Plastic
7.1.3 SEC-Asia - Japan, By Applications
7.1.3.1 SEC-Asia - Japan-Liquid Chromatography Systems
7.1.3.2 SEC-Asia - Japan-Gas Chromatography (GC) Systems
7.1.3.3 SEC-Asia - Japan-Other Applications
7.1.3.4 SEC-Asia - Japan-Thin Layer Chromatography (TLC) Systems
7.1.3.5 SEC-Asia - Japan-Supercritical Fluid Chromatography (SFC) Systems
7.1.4 SEC-Asia - Japan, By Endusers
7.1.4.1 SEC-Asia - Japan-Pharmaceuticals
7.1.4.2 SEC-Asia - Japan-Academics
7.1.4.3 SEC-Asia - Japan-Food & Beverage (Industry)
7.1.4.4 SEC-Asia - Japan-Hospitals
7.1.4.5 SEC-Asia - Japan-Cosmetics
7.1.4.6 SEC-Asia - Japan-Other Endusers
7.1.4.7 SEC-Asia - Japan-Environmental Biotechnology
7.1.4.8 SEC-Asia - Japan-Nutraceuticals
7.2 Size Exclusion columns-China
7.2.1 Size Exclusion columns-China, By Types
7.2.1.1 SEC-China-Pre-packed columns
7.2.1.2 SEC-China-Empty columns
7.2.2 SEC-China, By Materials
7.2.2.1 SEC-China-Metals
7.2.2.2 SEC-China-Glass
7.2.2.3 SEC-China-Plastic
7.2.3 SEC-China, By Applications
7.2.3.1 SEC-China-Liquid Chromatography Systems
7.2.3.2 SEC-China-Gas Chromatography (GC) Systems
7.2.3.3 SEC-China-Other Applications
7.2.3.4 SEC-China-Thin Layer Chromatography (TLC) Systems
7.2.3.5 SEC-China-Supercritical Fluid Chromatography (SFC) Systems
7.2.4 Size Exclusion columns-China, By Endusers
7.2.4.1 SEC-China-Pharmaceuticals
7.2.4.2 SEC-China-Academics
7.2.4.3 SEC-China-Food & Beverage (Industry)
7.2.4.4 SEC-China-Hospitals
7.2.4.5 SEC-China-Cosmetics
7.2.4.6 SEC-China-Other Endusers
7.2.4.7 SEC-China-Environmental Biotechnology
7.2.4.8 SEC-China-Nutraceuticals
7.3 Size Exclusion columns-India
7.3.1 SEC-India, By Types
7.3.1.1 SEC-India-Pre-packed columns
7.3.1.2 SEC-India-Empty columns
7.3.2 SEC-India, By Materials
7.3.2.1 SEC-India-Metals
7.3.2.2 SEC-India-Glass
7.3.2.3 SEC-India-Plastic
7.3.3 Size Exclusion columns-India, By Applications
7.3.3.1 SEC-India-Liquid Chromatography Systems
7.3.3.2 SEC-India-Gas Chromatography (GC) Systems
7.3.3.3 SEC-India-Other Applications
7.3.3.4 SEC-India-Thin Layer Chromatography (TLC) Systems
7.3.3.5 SEC-India-Supercritical Fluid Chromatography (SFC) Systems
7.3.4 Size Exclusion columns-India, By Endusers
7.3.4.1 SEC-India-Pharmaceuticals
7.3.4.2 SEC-India-Academics
7.3.4.3 SEC-India-Food & Beverage (Industry)
7.3.4.4 SEC-India-Hospitals
7.3.4.5 SEC-India-Cosmetics
7.3.4.6 SEC-India-Other Endusers
7.3.4.7 SEC-India-Environmental Biotechnology
7.3.4.8 SEC-India-Nutraceuticals
7.4 Size Exclusion columns-Asia - Other Geographies
7.4.1 SEC-Asia - Other Geographies, By Types
7.4.1.1 SEC-Asia - Other Geographies-Pre-packed columns
7.4.1.2 SEC-Asia - Other Geographies-Empty columns
7.4.2 SEC-Asia - Other Geographies, By Materials
7.4.2.1 SEC-Asia - Other Geographies-Metals
7.4.2.2 SEC-Asia - Other Geographies-Glass
7.4.2.3 SEC-Asia - Other Geographies-Plastic
7.4.3 Size Exclusion columns-Asia - Other Geographies, By Applications
7.4.3.1 SEC-Asia - Other Geographies-Liquid Chromatography Systems
7.4.3.2 SEC-Asia - Other Geographies-Gas Chromatography (GC) Systems
7.4.3.3 SEC-Asia - Other Geographies-Other Applications
7.4.3.4 SEC-Asia - Other Geographies-Thin Layer Chromatography (TLC) Systems
7.4.3.5 SEC-Asia - Other Geographies-Supercritical Fluid Chromatography (SFC) Systems
7.4.4 Size Exclusion columns-Asia - Other Geographies, By Endusers
7.4.4.1 SEC-Asia - Other Geographies-Pharmaceuticals
7.4.4.2 SEC-Asia - Other Geographies-Academics
7.4.4.3 SEC-Asia - Other Geographies-Food & Beverage (Industry)
7.4.4.4 SEC-Asia - Other Geographies-Hospitals
7.4.4.5 SEC-Asia - Other Geographies-Cosmetics
7.4.4.6 SEC-Asia - Other Geographies-Other Endusers
7.4.4.7 SEC-Asia - Other Geographies-Environmental Biotechnology
7.4.4.8 SEC-Asia - Other Geographies-Nutraceuticals
8 Size Exclusion columns-Asia, By Companies
8.1 Split By Geography
8.2 Size Exclusion columns-Asia-Agilent Technologies
8.3 SEC-Asia-Thermo Fisher Scientific
8.4 SEC-Asia-Tosoh Corporation
8.5 SEC-Asia-Phenomenex, Inc.
8.6 SEC-Asia-Other Companies
8.7 SEC-Asia-GE Healthcare
8.8 SEC-Asia-Waters Corporation
8.9 SEC-Asia-Shimadzu Corporation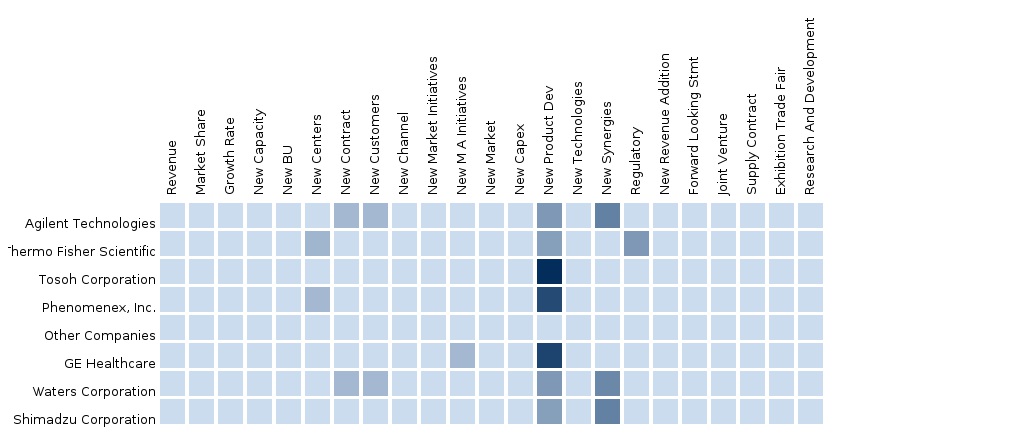 PRODUCT TITLE
PUBLISHED
PRICE
North America Columns


Columns-North America can be segmented by Materials, Endusers, MacroIndicators, Applications and Companies. Materials of Columns-North America are Glass, Plastic and Metals. Endusers of Columns-North America are Pharmaceuticals, Environmental Biotechnology, Academics,...



17 Feb 2015
$ 3500
European Chromatography Columns Market


The European Chromatography columns market is expected to reach a market value of $564million by 2018; achieving a CAGR of 5.0 % during the period 2013- 2018. Among the types of this market, prepacked columns domianates the market and is projected to reach $513.1 million by the end of 2018. Deep dive analysis of the key players of this domain, have been considered in this report.



17 Feb 2015
$ 3500
Asian Chromatography Columns Market


Asian Chromatography Columns Market was valued at $330 million in 2013 and is projected to reach value of $438 million, growing at 6% annually during 2013-2018. This market can be segmented by Materials, Endusers, MacroIndicators, Applications and Companies. In this prepacked market dominates and is projected to reach $398.6 million value by 2018. Deep dive analysis of the key players of this domain, have been considered in this report.



17 Feb 2015
$ 3500
Global Chromatography Columns Market