Millimeter Waves are the highest band of radio waves, and operate at a frequency range of 20-300 GHz. The radio waves in this band have wavelengths that are in order of millimeters (mm), therefore, the waves in this band are called millimeter waves. There are endless possibilities for future applications of MM Wave technology, as a 'millimeter wave' is a special electromagnetic wave whose frequency lies in between 20 GHz to 300 GHz, falling far beyond the frequency range (<5 GHz) of commonly used wireless technologies.
APAC Millimeter Wave Technology market was estimated at $23.6 million in 2013 and is expected to reach $255.9 million by 2018, at a CAGR of 61%. Healthcare sector is expected to grow, as the millimeter wave technology boosts the market growth for this sector.
Customization Options
Along with the market data, you can also customize the MMM assessments that meet your company's specific needs. Customize to get comprehensive industry standard and deep-dive analysis of the following parameters:
Application and Product Analysis
Analysis for the Millimeter Wave Technology market in Asia-Pacific is based on Mobile & Telecom Sector, Consumer & Commercial Sector, Healthcare Sector, Industrial Sector, Automotive & Transportation Sector, Military, Defense & Aerospace (MDA) Sector, and Emerging & Next Gen applications.
Analysis is based on products such as fully licensed, light licensed and unlicensed in the Millimeter Wave market.
· Country specific adoption rate of existing and upcoming products of the above mentioned applications in Millimeter Wave Technology.
Country level data analysis
· Country level data for top countries in APAC Millimeter Wave Technology market
· Country specific data showing opportunities in different countries in the APAC region
Competitive Analysis
· Product specific data of top players
· Key developments of each top player that affect the market dynamics
Shipment/Volume Data
· Tracking the values of raw materials/components shipped annually in leading countries in the APAC region
1 Introduction
1.1 Analyst Insights
1.2 Market Definitions
1.3 Market Segmentation & Aspects Covered
1.4 Research Methodology
2 Executive Summary
3 Market Overview
4 Millimeter Wave Technology-Asia-Pacific by Components
4.1 Antenna
4.2 Networking And Communications
4.3 Interface/Connectivity
4.4 Signal generators (Semiconductor Industry)
4.5 Imaging devices
4.6 RF Communication
4.7 Battery (Semiconductor Industry)
5 Millimeter Wave Technology-Asia-Pacific by Products
5.1 Scanner
5.2 Satellite and Radio Based Communication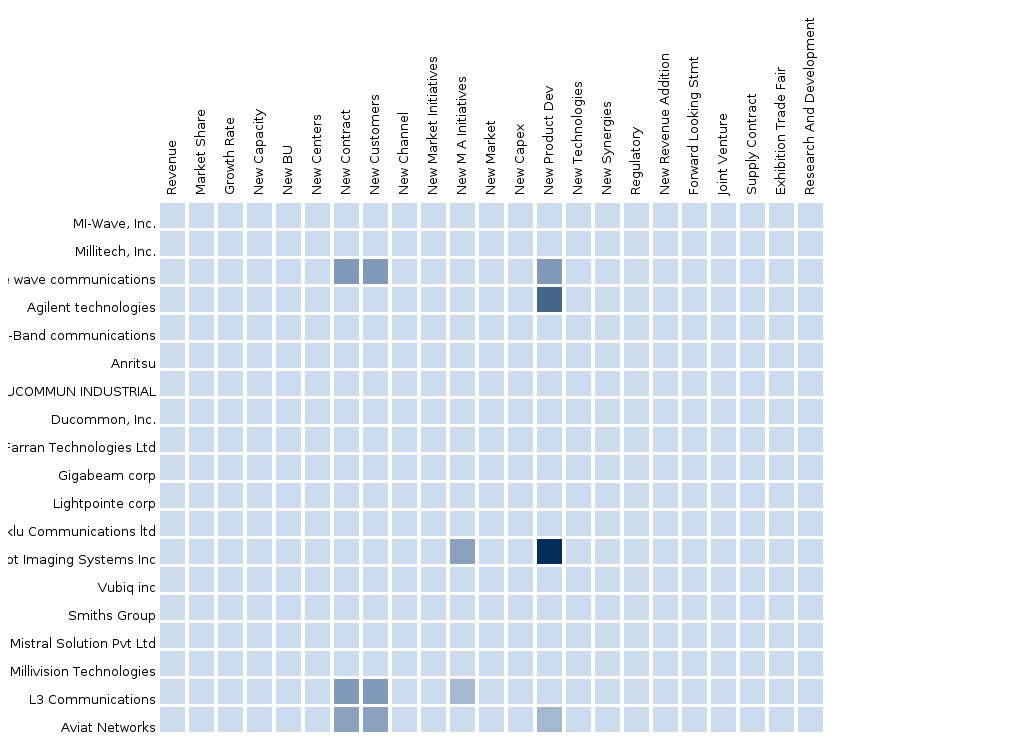 Please fill in the form below to receive a free copy of the Summary of this Report
Custom Market Research Services
We will customize the research for you, in case the report listed above does not meet with your exact requirements. Our custom research will comprehensively cover the business information you require to help you arrive at strategic and profitable business decisions.
Please visit
http://www.micromarketmonitor.com/custom-research-services.html
to specify your custom Research Requirement
Asia-Pacific Millimeter Wave Technology