Asia-Pacific Floating Production System Market
Description
Table of Contents
Customer Intelligence
The Asia-Pacific floating production system market was valued at $2,158.29 million in the year 2013 and is expected to reach $4,715.35 million by the end of 2018, growing at a CAGR of 16.90% from 2013 to 2018.
Crude oil consumption in Asia-Pacific has been increasing due to continuous demand in countries like China, Japan, India, and South Korea. The demand for petroleum products especially in China and India has been very high due to their high population and related consumption. The increase in exploration activities in the region, especially in subsea areas, to meet its ever-increasing demand has been driving the demand for FPSO vessels and systems. There has been a significant growth in the number of offshore wells drilled in Asia pacific in 2013 compared to previous years. The region constituted nearly 40% of the global offshore wells drilled in 2013.
The report, 'Asia-Pacific Floating Production System Market Forecast, 2012-2018', analyses the floating production system market by geography. The geographies include Australia, Indonesia, Thailand, Malaysia, and others with Australia having the major share.
In addition, the report provides an extensive competitive landscape of key companies operating in the floating production system market which include Daewoo Shipbuilding & Marine Engineering Co., Ltd., and others. The report includes their region-wise market share, new product and service launches, mergers and acquisitions, and the product portfolio of key market players.
Additional Customization Options
With market data, you can also customize MMM assessments that meet your company's specific needs. Customize your report to get an insight into comprehensive industry standards and a deep-dive analysis of the following parameters.
Product Benchmarking Outlook
Comparison of vessels of key players on the basis of the type of floating production systems they build (FPSO, TLP, Semi-Submersible, Mobile, Spar, and Buoy-Shaped) and type of water depths
Customer Segment Outlook
Information about vessels
FPSO vessel name
Location of oil field it is operated in
Field operator
Year of inception
Vessel operator
Type of platform
Condition: newly built or converted
Future Prospects
Quick turnaround on key upcoming subsea projects driving the demand for floating production systems
Analysis and impact of local and regional environmental regulations (by country)
Market Capital Outlook
Capex information
Historical and forecasted capex information of leading FPSO operators
Capex by component (hull, topside modules, and mooring systems)
Capex by order
Current Industry Challenges
Challenges faced in the FPSO industry
Technological challenges
Project execution difficulties
Supply chain complexity
Financing restrictions
Is leasing or buying FPSO beneficial to the customer
FPS leasing, major leasing contractors, redeployment of leased units
In-depth value chain analysis of FPS:
Interrelation between segments
Impact of segments on the market
1 Introduction
1.1 Objective of the study
1.2 Market Definitions
1.3 Market Segmentation & Aspects Covered
1.4 Research Methodology
1.4.1 Assumptions (Market Size, Forecast, etc)
2 Executive Summary
3 Market Overview
4 Floating Production System Asia Pacific, By Geographies
4.1 Other Geographies
4.2 Australia
4.2.1 Australia, By Companies
4.2.1.1 Australia-Samsung Heavy Industries ltd.
4.3 Malaysia
4.3.1 Malaysia, By Companies
4.3.1.1 Malaysia-SBM Offshore
4.4 Japan
4.4.1 Japan, By Companies
4.4.1.1 Japan-SBM Offshore
4.5 Singapore
4.5.1 Singapore, By Companies
4.5.1.1 Singapore-SBM Offshore
5 Floating Production System Asia-Pacific, By Companies
5.1 Split By Geography
5.1 Other Geographies by Companies
5.1 Australia by Companies
5.1 Malaysia by Companies
5.1 Japan by Companies
5.1 Singapore by Companies
5.2 Daewoo Shipbuilding & Marine Engineering Co., Ltd (DSME).
5.3 Other Companies
5.4 Asia-Pacific-Bumi Armada
5.5 Asia-Pacific-Hyundai Heavy Industries LTD.
5.6 Asia-Pacific-Keppel Offshore and Marine
5.7 Asia-Pacific-Malaysian Marine and Heavy Engineering Holdings Berhad (MHB).
5.8 Asia-Pacific-Mitsubishi Heavy Industries Machinery & Steel Infrastructure Systems
5.9 Asia-Pacific-Pipava
5.10 Asia-Pacific-Samsung Heavy Industries ltd.
5.10.1 Asia-Pacific-Samsung Heavy Industries ltd., By Geographies
5.10.1.1 Australia-Samsung Heavy Industries ltd.
5.11 SBM Offshore-Asia-Pacific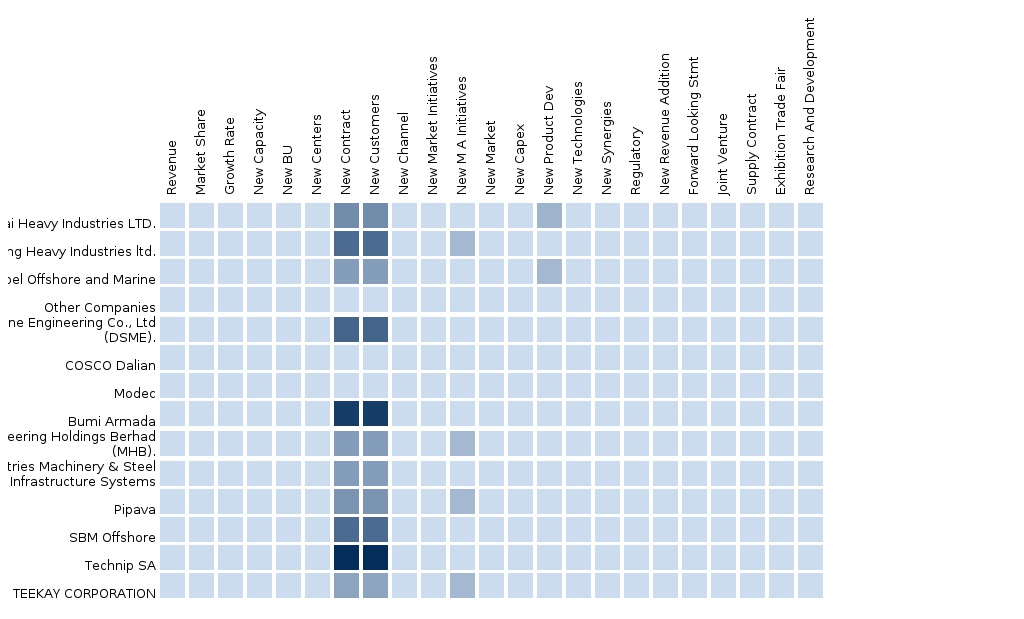 Asia-Pacific Floating Production System