Asian Gas Chromatography Reagents Market
Description
Table of Contents
Customer Intelligence
Gas chromatography is employed for the separation and analysis of compounds that can be vaporized without decomposition. In some cases, gas chromatography may help to identify a compound. In preparative chromatography, gas chromatography can be used to prepare pure compounds from a mixture. The increased use of gas chromatography in new drug testing or separating the various components of a mixture has led to the growth in the gas chromatography market, which has led to a consequent growth in the gas chromatography reagents market in Asia.
Gas chromatography is widely used in forensic science. Various branches as diverse as solid drug dose identification and quantification, arson investigation, and toxicology cases, use this technique to identify and quantify various biological specimen and evidence found at a crime-scene. Gas chromatography reagents are used in advanced research activities in the fields of proteomics, genomics, and metabolomics as well. The expanding biotechnology and pharmaceutical industries in the Asian region, along with rising government investments have resulted in the increased usage of advanced chromatographic techniques in these industries. Factors, such as increasing technological advancements, growing new product development, and increasing number of conferences on chromatography techniques are expected to boost the growth of the gas chromatography reagents market in Asia.
Professionals working with gas chromatography research the components of a particular chemical product, to test the quality of products in the chemical industry. The growth in preclinical and clinical research in drug discovery and disease identification, growth in investments made by venture capitalist firms, and the rise in incidences of genetic diseases are further fuelling the growth of the Asian gas chromatography reagents market.
The Asian gas chromatography reagents market is categorized and forecast on the basis of processes and end users. The processes segment consist of adsorption chromatography reagents, ion exchange chromatography reagents, size exclusion chromatography reagents, affinity chromatography reagents, and partition chromatography reagents, which have been discussed in the report. The end users of this market are academics, agriculture industry, biotechnology, environmental biotechnology, pharmaceuticals, and other end users.
The market is further segmented and forecast on the basis of major countries, such as China, Japan, and India. Key Players in the Asian column chromatography reagents are Agilent Technologies, Phenomenex, Inc., GE Healthcare, W.R. Grace & Co., Helena Laboratories, Thermo Fisher Scientific, Waters Corporation, and so on.
In this report on gas chromatography reagents in Asian gas, the drivers, restraints, and opportunities in this market have been discussed. Moreover, the region-specific data included in the report will enable the identification of saturated markets, as well as the ones that can be entered to build up a strong foothold.
1 Introduction
1.1 Introduce the Market
1.2 Objective of the study
1.3 Market Definition and Scope of the study
1.3.1 Market Definition
1.3.2 Areas covered
1.3.3 Markets Covered
1.4 Stakeholders
1.5 Research Methodology
1.5.1 Secondary sources
1.5.2 Primary Sources
1.5.3 Market estimation methodology (Top-down, bottom-up, data triangulation.)
1.5.4 Macro indicators for the study
1.6 Assumptions
1.7 List of Acronyms
2 Market Overview
3 Gas Chromatography Reagents-Asia, By Applications
3.1 Split By Geography
3.2 Gas Chromatography Reagents-Asia-Analytical Chromatography Reagents
3.2.1 Gas Chromatography Reagents-Asia-Analytical Chromatography Reagents, By Geographies
3.2.1.1 Gas Chromatography Reagents-Asia - Japan-Analytical Chromatography Reagents
3.2.1.2 Gas Chromatography Reagents-China-Analytical Chromatography Reagents
3.2.1.3 Gas Chromatography Reagents-India-Analytical Chromatography Reagents
3.2.1.4 Gas Chromatography Reagents-Asia - Other Geographies-Analytical Chromatography Reagents
3.3 Gas Chromatography Reagents-Asia-Preparative Chromatography Reagents
3.3.1 Gas Chromatography Reagents-Asia-Preparative Chromatography Reagents, By Geographies
3.3.1.1 Gas Chromatography Reagents-Asia - Japan-Preparative Chromatography Reagents
3.3.1.2 Gas Chromatography Reagents-China-Preparative Chromatography Reagents
3.3.1.3 Gas Chromatography Reagents-India-Preparative Chromatography Reagents
3.3.1.4 Gas Chromatography Reagents-Asia - Other Geographies-Preparative Chromatography Reagents
4 Gas Chromatography Reagents-Asia, By Products
4.1 Split By Geography
4.2 Gas Chromatography Reagents-Asia-Column Chromatography Reagents
4.2.1 Gas Chromatography Reagents-Asia-Column Chromatography Reagents, By Endusers
4.2.1.1 Gas Chromatography (Reagents)-Asia-Column Chromatography Reagents-Pharmaceuticals
4.2.1.2 Gas Chromatography (Reagents)-Asia-Column Chromatography Reagents-Academics
4.2.1.3 Gas Chromatography (Reagents)-Asia-Column Chromatography Reagents-Food & Beverage (Industry)
4.2.1.4 Gas Chromatography (Reagents)-Asia-Column Chromatography Reagents-Hospitals
4.2.1.5 Gas Chromatography (Reagents)-Asia-Column Chromatography Reagents-Cosmetics
4.2.1.6 Gas Chromatography (Reagents)-Asia-Column Chromatography Reagents-Other Endusers
4.2.1.7 Gas Chromatography (Reagents)-Asia-Column Chromatography Reagents-Environmental Biotechnology
4.2.1.8 Gas Chromatography (Reagents)-Asia-Column Chromatography Reagents-Nutraceuticals
4.2.2 Gas Chromatography Reagents-Asia-Column Chromatography Reagents, By Geographies
4.2.2.1 Gas Chromatography Reagents-Asia - Japan-Column Chromatography Reagents
4.2.2.2 Gas Chromatography Reagents-China-Column Chromatography Reagents
4.2.2.3 Gas Chromatography Reagents-India-Column Chromatography Reagents
4.2.2.4 Gas Chromatography Reagents-Asia - Other Geographies-Column Chromatography Reagents
4.3 Gas Chromatography Reagents-Asia-Planar Chromatography Reagents
4.3.1 Gas Chromatography Reagents-Asia-Planar Chromatography Reagents, By Endusers
4.3.1.1 Gas Chromatography (Reagents)-Asia-Planar Chromatography Reagents-Pharmaceuticals
4.3.1.2 Gas Chromatography (Reagents)-Asia-Planar Chromatography Reagents-Academics
4.3.1.3 Gas Chromatography (Reagents)-Asia-Planar Chromatography Reagents-Food & Beverage (Industry)
4.3.1.4 Gas Chromatography (Reagents)-Asia-Planar Chromatography Reagents-Hospitals
4.3.1.5 Gas Chromatography (Reagents)-Asia-Planar Chromatography Reagents-Cosmetics
4.3.1.6 Gas Chromatography (Reagents)-Asia-Planar Chromatography Reagents-Other Endusers
4.3.1.7 Gas Chromatography (Reagents)-Asia-Planar Chromatography Reagents-Environmental Biotechnology
4.3.1.8 Gas Chromatography (Reagents)-Asia-Planar Chromatography Reagents-Nutraceuticals
4.3.2 Gas Chromatography Reagents-Asia-Planar Chromatography Reagents, By Geographies
4.3.2.1 Gas Chromatography Reagents-Asia - Japan-Planar Chromatography Reagents
4.3.2.2 Gas Chromatography Reagents-China-Planar Chromatography Reagents
4.3.2.3 Gas Chromatography Reagents-India-Planar Chromatography Reagents
4.3.2.4 Gas Chromatography Reagents-Asia - Other Geographies-Planar Chromatography Reagents
5 Gas Chromatography Reagents-Asia, By Endusers
5.1 Split By Geography
5.2 Gas Chromatography Reagents-Asia-Pharmaceuticals
5.2.1 Gas Chromatography Reagents-Asia-Pharmaceuticals, By Products
5.2.1.1 Gas Chromatography (Reagents)-Asia-Column Chromatography Reagents-Pharmaceuticals
5.2.1.2 Gas Chromatography (Reagents)-Asia-Planar Chromatography Reagents-Pharmaceuticals
5.2.2 Gas Chromatography Reagents-Asia-Pharmaceuticals, By Processes
5.2.2.1 Gas Chromatography (Reagents)-Asia-Ion Exchange Chromatography Reagents-Pharmaceuticals
5.2.2.2 Gas Chromatography (Reagents)-Asia-Adsorption Chromatography Reagents-Pharmaceuticals
5.2.2.3 Gas Chromatography (Reagents)-Asia-Affinity Chromatography Reagents-Pharmaceuticals
5.2.2.4 Gas Chromatography (Reagents)-Asia-Size Exclusion Chromatography Reagents-Pharmaceuticals
5.2.2.5 Gas Chromatography (Reagents)-Asia-Partition Chromatography Reagents-Pharmaceuticals
5.2.3 Gas Chromatography Reagents-Asia-Pharmaceuticals, By Geographies
5.2.3.1 Gas Chromatography Reagents-Asia - Japan-Pharmaceuticals
5.2.3.2 Gas Chromatography Reagents-China-Pharmaceuticals
5.2.3.3 Gas Chromatography Reagents-India-Pharmaceuticals
5.2.3.4 Gas Chromatography Reagents-Asia - Other Geographies-Pharmaceuticals
5.3 Gas Chromatography Reagents-Asia-Academics
5.3.1 Gas Chromatography Reagents-Asia-Academics, By Products
5.3.1.1 Gas Chromatography (Reagents)-Asia-Column Chromatography Reagents-Academics
5.3.1.2 Gas Chromatography (Reagents)-Asia-Planar Chromatography Reagents-Academics
5.3.2 Gas Chromatography Reagents-Asia-Academics, By Processes
5.3.2.1 Gas Chromatography (Reagents)-Asia-Ion Exchange Chromatography Reagents-Academics
5.3.2.2 Gas Chromatography (Reagents)-Asia-Adsorption Chromatography Reagents-Academics
5.3.2.3 Gas Chromatography (Reagents)-Asia-Affinity Chromatography Reagents-Academics
5.3.2.4 Gas Chromatography (Reagents)-Asia-Size Exclusion Chromatography Reagents-Academics
5.3.2.5 Gas Chromatography (Reagents)-Asia-Partition Chromatography Reagents-Academics
5.3.3 Gas Chromatography Reagents-Asia-Academics, By Geographies
5.3.3.1 Gas Chromatography Reagents-Asia - Japan-Academics
5.3.3.2 Gas Chromatography Reagents-China-Academics
5.3.3.3 Gas Chromatography Reagents-India-Academics
5.3.3.4 Gas Chromatography Reagents-Asia - Other Geographies-Academics
5.4 Gas Chromatography Reagents-Asia-Food & Beverage (Industry)
5.4.1 Gas Chromatography Reagents-Asia-Food & Beverage (Industry), By Products
5.4.1.1 Gas Chromatography (Reagents)-Asia-Column Chromatography Reagents-Food & Beverage (Industry)
5.4.1.2 Gas Chromatography (Reagents)-Asia-Planar Chromatography Reagents-Food & Beverage (Industry)
5.4.2 Gas Chromatography Reagents-Asia-Food & Beverage (Industry), By Processes
5.4.2.1 Gas Chromatography (Reagents)-Asia-Ion Exchange Chromatography Reagents-Food & Beverage (Industry)
5.4.2.2 Gas Chromatography (Reagents)-Asia-Adsorption Chromatography Reagents-Food & Beverage (Industry)
5.4.2.3 Gas Chromatography (Reagents)-Asia-Affinity Chromatography Reagents-Food & Beverage (Industry)
5.4.2.4 Gas Chromatography (Reagents)-Asia-Size Exclusion Chromatography Reagents-Food & Beverage (Industry)
5.4.2.5 Gas Chromatography (Reagents)-Asia-Partition Chromatography Reagents-Food & Beverage (Industry)
5.4.3 Gas Chromatography Reagents-Asia-Food & Beverage (Industry), By Geographies
5.4.3.1 Gas Chromatography Reagents-Asia - Japan-Food & Beverage (Industry)
5.4.3.2 Gas Chromatography Reagents-China-Food & Beverage (Industry)
5.4.3.3 Gas Chromatography Reagents-India-Food & Beverage (Industry)
5.4.3.4 Gas Chromatography Reagents-Asia - Other Geographies-Food & Beverage (Industry)
5.5 Gas Chromatography Reagents-Asia-Hospitals
5.5.1 Gas Chromatography Reagents-Asia-Hospitals, By Products
5.5.1.1 Gas Chromatography (Reagents)-Asia-Column Chromatography Reagents-Hospitals
5.5.1.2 Gas Chromatography (Reagents)-Asia-Planar Chromatography Reagents-Hospitals
5.5.2 Gas Chromatography Reagents-Asia-Hospitals, By Processes
5.5.2.1 Gas Chromatography (Reagents)-Asia-Ion Exchange Chromatography Reagents-Hospitals
5.5.2.2 Gas Chromatography (Reagents)-Asia-Adsorption Chromatography Reagents-Hospitals
5.5.2.3 Gas Chromatography (Reagents)-Asia-Affinity Chromatography Reagents-Hospitals
5.5.2.4 Gas Chromatography (Reagents)-Asia-Size Exclusion Chromatography Reagents-Hospitals
5.5.2.5 Gas Chromatography (Reagents)-Asia-Partition Chromatography Reagents-Hospitals
5.5.3 Gas Chromatography Reagents-Asia-Hospitals, By Geographies
5.5.3.1 Gas Chromatography Reagents-Asia - Japan-Hospitals
5.5.3.2 Gas Chromatography Reagents-China-Hospitals
5.5.3.3 Gas Chromatography Reagents-India-Hospitals
5.5.3.4 Gas Chromatography Reagents-Asia - Other Geographies-Hospitals
5.6 Gas Chromatography Reagents-Asia-Cosmetics
5.6.1 Gas Chromatography Reagents-Asia-Cosmetics, By Products
5.6.1.1 Gas Chromatography (Reagents)-Asia-Column Chromatography Reagents-Cosmetics
5.6.1.2 Gas Chromatography (Reagents)-Asia-Planar Chromatography Reagents-Cosmetics
5.6.2 Gas Chromatography Reagents-Asia-Cosmetics, By Processes
5.6.2.1 Gas Chromatography (Reagents)-Asia-Ion Exchange Chromatography Reagents-Cosmetics
5.6.2.2 Gas Chromatography (Reagents)-Asia-Adsorption Chromatography Reagents-Cosmetics
5.6.2.3 Gas Chromatography (Reagents)-Asia-Affinity Chromatography Reagents-Cosmetics
5.6.2.4 Gas Chromatography (Reagents)-Asia-Size Exclusion Chromatography Reagents-Cosmetics
5.6.2.5 Gas Chromatography (Reagents)-Asia-Partition Chromatography Reagents-Cosmetics
5.6.3 Gas Chromatography Reagents-Asia-Cosmetics, By Geographies
5.6.3.1 Gas Chromatography Reagents-Asia - Japan-Cosmetics
5.6.3.2 Gas Chromatography Reagents-China-Cosmetics
5.6.3.3 Gas Chromatography Reagents-India-Cosmetics
5.6.3.4 Gas Chromatography Reagents-Asia - Other Geographies-Cosmetics
5.7 Gas Chromatography (Reagents)-Asia-Other Endusers
5.7.1 Gas Chromatography (Reagents)-Asia-Other Endusers, By Products
5.7.1.1 Gas Chromatography (Reagents)-Asia-Column Chromatography Reagents-Other Endusers
5.7.1.2 Gas Chromatography (Reagents)-Asia-Planar Chromatography Reagents-Other Endusers
5.7.2 Gas Chromatography (Reagents)-Asia-Other Endusers, By Processes
5.7.2.1 Gas Chromatography (Reagents)-Asia-Ion Exchange Chromatography Reagents-Other Endusers
5.7.2.2 Gas Chromatography (Reagents)-Asia-Adsorption Chromatography Reagents-Other Endusers
5.7.2.3 Gas Chromatography (Reagents)-Asia-Affinity Chromatography Reagents-Other Endusers
5.7.2.4 Gas Chromatography (Reagents)-Asia-Size Exclusion Chromatography Reagents-Other Endusers
5.7.2.5 Gas Chromatography (Reagents)-Asia-Partition Chromatography Reagents-Other Endusers
5.7.3 Gas Chromatography (Reagents)-Asia-Other Endusers, By Geographies
5.7.3.1 Gas Chromatography (Reagents)-Asia - Japan-Other Endusers
5.7.3.2 Gas Chromatography (Reagents)-China-Other Endusers
5.7.3.3 Gas Chromatography (Reagents)-India-Other Endusers
5.7.3.4 Gas Chromatography (Reagents)-Asia - Other Geographies-Other Endusers
5.8 Gas Chromatography Reagents-Asia-Environmental Biotechnology
5.8.1 Gas Chromatography Reagents-Asia-Environmental Biotechnology, By Products
5.8.1.1 Gas Chromatography (Reagents)-Asia-Column Chromatography Reagents-Environmental Biotechnology
5.8.1.2 Gas Chromatography (Reagents)-Asia-Planar Chromatography Reagents-Environmental Biotechnology
5.8.2 Gas Chromatography Reagents-Asia-Environmental Biotechnology, By Processes
5.8.2.1 Gas Chromatography (Reagents)-Asia-Ion Exchange Chromatography Reagents-Environmental Biotechnology
5.8.2.2 Gas Chromatography (Reagents)-Asia-Adsorption Chromatography Reagents-Environmental Biotechnology
5.8.2.3 Gas Chromatography (Reagents)-Asia-Affinity Chromatography Reagents-Environmental Biotechnology
5.8.2.4 Gas Chromatography (Reagents)-Asia-Size Exclusion Chromatography Reagents-Environmental Biotechnology
5.8.2.5 Gas Chromatography (Reagents)-Asia-Partition Chromatography Reagents-Environmental Biotechnology
5.8.3 Gas Chromatography Reagents-Asia-Environmental Biotechnology, By Geographies
5.8.3.1 Gas Chromatography Reagents-Asia - Japan-Environmental Biotechnology
5.8.3.2 Gas Chromatography Reagents-China-Environmental Biotechnology
5.8.3.3 Gas Chromatography Reagents-India-Environmental Biotechnology
5.8.3.4 Gas Chromatography Reagents-Asia - Other Geographies-Environmental Biotechnology
5.9 Gas Chromatography (Reagents)-Asia-Nutraceuticals
5.9.1 Gas Chromatography (Reagents)-Asia-Nutraceuticals, By Products
5.9.1.1 Gas Chromatography (Reagents)-Asia-Column Chromatography Reagents-Nutraceuticals
5.9.1.2 Gas Chromatography (Reagents)-Asia-Planar Chromatography Reagents-Nutraceuticals
5.9.2 Gas Chromatography (Reagents)-Asia-Nutraceuticals, By Processes
5.9.2.1 Gas Chromatography (Reagents)-Asia-Ion Exchange Chromatography Reagents-Nutraceuticals
5.9.2.2 Gas Chromatography (Reagents)-Asia-Adsorption Chromatography Reagents-Nutraceuticals
5.9.2.3 Gas Chromatography (Reagents)-Asia-Affinity Chromatography Reagents-Nutraceuticals
5.9.2.4 Gas Chromatography (Reagents)-Asia-Size Exclusion Chromatography Reagents-Nutraceuticals
5.9.2.5 Gas Chromatography (Reagents)-Asia-Partition Chromatography Reagents-Nutraceuticals
5.9.3 Gas Chromatography (Reagents)-Asia-Nutraceuticals, By Geographies
5.9.3.1 Gas Chromatography (Reagents)-Asia - Japan-Nutraceuticals
5.9.3.2 Gas Chromatography (Reagents)-China-Nutraceuticals
5.9.3.3 Gas Chromatography (Reagents)-India-Nutraceuticals
5.9.3.4 Gas Chromatography (Reagents)-Asia - Other Geographies-Nutraceuticals
6 Gas Chromatography Reagents-Asia, By Processes
6.1 Split By Geography
6.2 Gas Chromatography Reagents-Asia-Ion Exchange Chromatography Reagents
6.2.1 Gas Chromatography Reagents-Asia-Ion Exchange Chromatography Reagents, By Endusers
6.2.1.1 Gas Chromatography (Reagents)-Asia-Ion Exchange Chromatography Reagents-Pharmaceuticals
6.2.1.2 Gas Chromatography (Reagents)-Asia-Ion Exchange Chromatography Reagents-Academics
6.2.1.3 Gas Chromatography (Reagents)-Asia-Ion Exchange Chromatography Reagents-Food & Beverage (Industry)
6.2.1.4 Gas Chromatography (Reagents)-Asia-Ion Exchange Chromatography Reagents-Hospitals
6.2.1.5 Gas Chromatography (Reagents)-Asia-Ion Exchange Chromatography Reagents-Cosmetics
6.2.1.6 Gas Chromatography (Reagents)-Asia-Ion Exchange Chromatography Reagents-Other Endusers
6.2.1.7 Gas Chromatography (Reagents)-Asia-Ion Exchange Chromatography Reagents-Environmental Biotechnology
6.2.1.8 Gas Chromatography (Reagents)-Asia-Ion Exchange Chromatography Reagents-Nutraceuticals
6.2.2 Gas Chromatography Reagents-Asia-Ion Exchange Chromatography Reagents, By Geographies
6.2.2.1 Gas Chromatography Reagents-Asia - Japan-Ion Exchange Chromatography Reagents
6.2.2.2 Gas Chromatography Reagents-China-Ion Exchange Chromatography Reagents
6.2.2.3 Gas Chromatography Reagents-India-Ion Exchange Chromatography Reagents
6.2.2.4 Gas Chromatography Reagents-Asia - Other Geographies-Ion Exchange Chromatography Reagents
6.3 Gas Chromatography Reagents-Asia-Adsorption Chromatography Reagents
6.3.1 Gas Chromatography Reagents-Asia-Adsorption Chromatography Reagents, By Endusers
6.3.1.1 Gas Chromatography (Reagents)-Asia-Adsorption Chromatography Reagents-Pharmaceuticals
6.3.1.2 Gas Chromatography (Reagents)-Asia-Adsorption Chromatography Reagents-Academics
6.3.1.3 Gas Chromatography (Reagents)-Asia-Adsorption Chromatography Reagents-Food & Beverage (Industry)
6.3.1.4 Gas Chromatography (Reagents)-Asia-Adsorption Chromatography Reagents-Hospitals
6.3.1.5 Gas Chromatography (Reagents)-Asia-Adsorption Chromatography Reagents-Cosmetics
6.3.1.6 Gas Chromatography (Reagents)-Asia-Adsorption Chromatography Reagents-Other Endusers
6.3.1.7 Gas Chromatography (Reagents)-Asia-Adsorption Chromatography Reagents-Environmental Biotechnology
6.3.1.8 Gas Chromatography (Reagents)-Asia-Adsorption Chromatography Reagents-Nutraceuticals
6.3.2 Gas Chromatography Reagents-Asia-Adsorption Chromatography Reagents, By Geographies
6.3.2.1 Gas Chromatography Reagents-Asia - Japan-Adsorption Chromatography Reagents
6.3.2.2 Gas Chromatography Reagents-China-Adsorption Chromatography Reagents
6.3.2.3 Gas Chromatography Reagents-India-Adsorption Chromatography Reagents
6.3.2.4 Gas Chromatography Reagents-Asia - Other Geographies-Adsorption Chromatography Reagents
6.4 Gas Chromatography Reagents-Asia-Affinity Chromatography Reagents
6.4.1 Gas Chromatography Reagents-Asia-Affinity Chromatography Reagents, By Endusers
6.4.1.1 Gas Chromatography (Reagents)-Asia-Affinity Chromatography Reagents-Pharmaceuticals
6.4.1.2 Gas Chromatography (Reagents)-Asia-Affinity Chromatography Reagents-Academics
6.4.1.3 Gas Chromatography (Reagents)-Asia-Affinity Chromatography Reagents-Food & Beverage (Industry)
6.4.1.4 Gas Chromatography (Reagents)-Asia-Affinity Chromatography Reagents-Hospitals
6.4.1.5 Gas Chromatography (Reagents)-Asia-Affinity Chromatography Reagents-Cosmetics
6.4.1.6 Gas Chromatography (Reagents)-Asia-Affinity Chromatography Reagents-Other Endusers
6.4.1.7 Gas Chromatography (Reagents)-Asia-Affinity Chromatography Reagents-Environmental Biotechnology
6.4.1.8 Gas Chromatography (Reagents)-Asia-Affinity Chromatography Reagents-Nutraceuticals
6.4.2 Gas Chromatography Reagents-Asia-Affinity Chromatography Reagents, By Geographies
6.4.2.1 Gas Chromatography Reagents-Asia - Japan-Affinity Chromatography Reagents
6.4.2.2 Gas Chromatography Reagents-China-Affinity Chromatography Reagents
6.4.2.3 Gas Chromatography Reagents-India-Affinity Chromatography Reagents
6.4.2.4 Gas Chromatography Reagents-Asia - Other Geographies-Affinity Chromatography Reagents
6.5 Gas Chromatography Reagents-Asia-Size Exclusion Chromatography Reagents
6.5.1 Gas Chromatography Reagents-Asia-Size Exclusion Chromatography Reagents, By Endusers
6.5.1.1 Gas Chromatography (Reagents)-Asia-Size Exclusion Chromatography Reagents-Pharmaceuticals
6.5.1.2 Gas Chromatography (Reagents)-Asia-Size Exclusion Chromatography Reagents-Academics
6.5.1.3 Gas Chromatography (Reagents)-Asia-Size Exclusion Chromatography Reagents-Food & Beverage (Industry)
6.5.1.4 Gas Chromatography (Reagents)-Asia-Size Exclusion Chromatography Reagents-Hospitals
6.5.1.5 Gas Chromatography (Reagents)-Asia-Size Exclusion Chromatography Reagents-Cosmetics
6.5.1.6 Gas Chromatography (Reagents)-Asia-Size Exclusion Chromatography Reagents-Other Endusers
6.5.1.7 Gas Chromatography (Reagents)-Asia-Size Exclusion Chromatography Reagents-Environmental Biotechnology
6.5.1.8 Gas Chromatography (Reagents)-Asia-Size Exclusion Chromatography Reagents-Nutraceuticals
6.5.2 Gas Chromatography Reagents-Asia-Size Exclusion Chromatography Reagents, By Geographies
6.5.2.1 Gas Chromatography Reagents-Asia - Japan-Size Exclusion Chromatography Reagents
6.5.2.2 Gas Chromatography Reagents-China-Size Exclusion Chromatography Reagents
6.5.2.3 Gas Chromatography Reagents-India-Size Exclusion Chromatography Reagents
6.5.2.4 Gas Chromatography Reagents-Asia - Other Geographies-Size Exclusion Chromatography Reagents
6.6 Gas Chromatography Reagents-Asia-Partition Chromatography Reagents
6.6.1 Gas Chromatography Reagents-Asia-Partition Chromatography Reagents, By Endusers
6.6.1.1 Gas Chromatography (Reagents)-Asia-Partition Chromatography Reagents-Pharmaceuticals
6.6.1.2 Gas Chromatography (Reagents)-Asia-Partition Chromatography Reagents-Academics
6.6.1.3 Gas Chromatography (Reagents)-Asia-Partition Chromatography Reagents-Food & Beverage (Industry)
6.6.1.4 Gas Chromatography (Reagents)-Asia-Partition Chromatography Reagents-Hospitals
6.6.1.5 Gas Chromatography (Reagents)-Asia-Partition Chromatography Reagents-Cosmetics
6.6.1.6 Gas Chromatography (Reagents)-Asia-Partition Chromatography Reagents-Other Endusers
6.6.1.7 Gas Chromatography (Reagents)-Asia-Partition Chromatography Reagents-Environmental Biotechnology
6.6.1.8 Gas Chromatography (Reagents)-Asia-Partition Chromatography Reagents-Nutraceuticals
6.6.2 Gas Chromatography Reagents-Asia-Partition Chromatography Reagents, By Geographies
6.6.2.1 Gas Chromatography Reagents-Asia - Japan-Partition Chromatography Reagents
6.6.2.2 Gas Chromatography Reagents-China-Partition Chromatography Reagents
6.6.2.3 Gas Chromatography Reagents-India-Partition Chromatography Reagents
6.6.2.4 Gas Chromatography Reagents-Asia - Other Geographies-Partition Chromatography Reagents
7 Gas Chromatography Reagents-Asia, By Geographies
7.1 Gas Chromatography Reagents-Asia - Japan
7.1.1 Gas Chromatography Reagents-Asia - Japan, By Products
7.1.1.1 Gas Chromatography Reagents-Asia - Japan-Column Chromatography Reagents
7.1.1.2 Gas Chromatography Reagents-Asia - Japan-Planar Chromatography Reagents
7.1.2 Gas Chromatography Reagents-Asia - Japan, By Applications
7.1.2.1 Gas Chromatography Reagents-Asia - Japan-Analytical Chromatography Reagents
7.1.2.2 Gas Chromatography Reagents-Asia - Japan-Preparative Chromatography Reagents
7.1.3 Gas Chromatography Reagents-Asia - Japan, By Endusers
7.1.3.1 Gas Chromatography Reagents-Asia - Japan-Pharmaceuticals
7.1.3.2 Gas Chromatography Reagents-Asia - Japan-Academics
7.1.3.3 Gas Chromatography Reagents-Asia - Japan-Food & Beverage (Industry)
7.1.3.4 Gas Chromatography Reagents-Asia - Japan-Hospitals
7.1.3.5 Gas Chromatography Reagents-Asia - Japan-Cosmetics
7.1.3.6 Gas Chromatography (Reagents)-Asia - Japan-Other Endusers
7.1.3.7 Gas Chromatography Reagents-Asia - Japan-Environmental Biotechnology
7.1.3.8 Gas Chromatography (Reagents)-Asia - Japan-Nutraceuticals
7.1.4 Gas Chromatography Reagents-Asia - Japan, By Processes
7.1.4.1 Gas Chromatography Reagents-Asia - Japan-Ion Exchange Chromatography Reagents
7.1.4.2 Gas Chromatography Reagents-Asia - Japan-Adsorption Chromatography Reagents
7.1.4.3 Gas Chromatography Reagents-Asia - Japan-Affinity Chromatography Reagents
7.1.4.4 Gas Chromatography Reagents-Asia - Japan-Size Exclusion Chromatography Reagents
7.1.4.5 Gas Chromatography Reagents-Asia - Japan-Partition Chromatography Reagents
7.2 Gas Chromatography Reagents-China
7.2.1 Gas Chromatography Reagents-China, By Products
7.2.1.1 Gas Chromatography Reagents-China-Column Chromatography Reagents
7.2.1.2 Gas Chromatography Reagents-China-Planar Chromatography Reagents
7.2.2 Gas Chromatography Reagents-China, By Applications
7.2.2.1 Gas Chromatography Reagents-China-Analytical Chromatography Reagents
7.2.2.2 Gas Chromatography Reagents-China-Preparative Chromatography Reagents
7.2.3 Gas Chromatography Reagents-China, By Endusers
7.2.3.1 Gas Chromatography Reagents-China-Pharmaceuticals
7.2.3.2 Gas Chromatography Reagents-China-Academics
7.2.3.3 Gas Chromatography Reagents-China-Food & Beverage (Industry)
7.2.3.4 Gas Chromatography Reagents-China-Hospitals
7.2.3.5 Gas Chromatography Reagents-China-Cosmetics
7.2.3.6 Gas Chromatography (Reagents)-China-Other Endusers
7.2.3.7 Gas Chromatography Reagents-China-Environmental Biotechnology
7.2.3.8 Gas Chromatography (Reagents)-China-Nutraceuticals
7.2.4 Gas Chromatography Reagents-China, By Processes
7.2.4.1 Gas Chromatography Reagents-China-Ion Exchange Chromatography Reagents
7.2.4.2 Gas Chromatography Reagents-China-Adsorption Chromatography Reagents
7.2.4.3 Gas Chromatography Reagents-China-Affinity Chromatography Reagents
7.2.4.4 Gas Chromatography Reagents-China-Size Exclusion Chromatography Reagents
7.2.4.5 Gas Chromatography Reagents-China-Partition Chromatography Reagents
7.3 Gas Chromatography Reagents-India
7.3.1 Gas Chromatography Reagents-India, By Products
7.3.1.1 Gas Chromatography Reagents-India-Column Chromatography Reagents
7.3.1.2 Gas Chromatography Reagents-India-Planar Chromatography Reagents
7.3.2 Gas Chromatography Reagents-India, By Applications
7.3.2.1 Gas Chromatography Reagents-India-Analytical Chromatography Reagents
7.3.2.2 Gas Chromatography Reagents-India-Preparative Chromatography Reagents
7.3.3 Gas Chromatography Reagents-India, By Endusers
7.3.3.1 Gas Chromatography Reagents-India-Pharmaceuticals
7.3.3.2 Gas Chromatography Reagents-India-Academics
7.3.3.3 Gas Chromatography Reagents-India-Food & Beverage (Industry)
7.3.3.4 Gas Chromatography Reagents-India-Hospitals
7.3.3.5 Gas Chromatography Reagents-India-Cosmetics
7.3.3.6 Gas Chromatography (Reagents)-India-Other Endusers
7.3.3.7 Gas Chromatography Reagents-India-Environmental Biotechnology
7.3.3.8 Gas Chromatography (Reagents)-India-Nutraceuticals
7.3.4 Gas Chromatography Reagents-India, By Processes
7.3.4.1 Gas Chromatography Reagents-India-Ion Exchange Chromatography Reagents
7.3.4.2 Gas Chromatography Reagents-India-Adsorption Chromatography Reagents
7.3.4.3 Gas Chromatography Reagents-India-Affinity Chromatography Reagents
7.3.4.4 Gas Chromatography Reagents-India-Size Exclusion Chromatography Reagents
7.3.4.5 Gas Chromatography Reagents-India-Partition Chromatography Reagents
7.4 Gas Chromatography Reagents-Asia - Other Geographies
7.4.1 Gas Chromatography Reagents-Asia - Other Geographies, By Products
7.4.1.1 Gas Chromatography Reagents-Asia - Other Geographies-Column Chromatography Reagents
7.4.1.2 Gas Chromatography Reagents-Asia - Other Geographies-Planar Chromatography Reagents
7.4.2 Gas Chromatography Reagents-Asia - Other Geographies, By Applications
7.4.2.1 Gas Chromatography Reagents-Asia - Other Geographies-Analytical Chromatography Reagents
7.4.2.2 Gas Chromatography Reagents-Asia - Other Geographies-Preparative Chromatography Reagents
7.4.3 Gas Chromatography Reagents-Asia - Other Geographies, By Endusers
7.4.3.1 Gas Chromatography Reagents-Asia - Other Geographies-Pharmaceuticals
7.4.3.2 Gas Chromatography Reagents-Asia - Other Geographies-Academics
7.4.3.3 Gas Chromatography Reagents-Asia - Other Geographies-Food & Beverage (Industry)
7.4.3.4 Gas Chromatography Reagents-Asia - Other Geographies-Hospitals
7.4.3.5 Gas Chromatography Reagents-Asia - Other Geographies-Cosmetics
7.4.3.6 Gas Chromatography (Reagents)-Asia - Other Geographies-Other Endusers
7.4.3.7 Gas Chromatography Reagents-Asia - Other Geographies-Environmental Biotechnology
7.4.3.8 Gas Chromatography (Reagents)-Asia - Other Geographies-Nutraceuticals
7.4.4 Gas Chromatography Reagents-Asia - Other Geographies, By Processes
7.4.4.1 Gas Chromatography Reagents-Asia - Other Geographies-Ion Exchange Chromatography Reagents
7.4.4.2 Gas Chromatography Reagents-Asia - Other Geographies-Adsorption Chromatography Reagents
7.4.4.3 Gas Chromatography Reagents-Asia - Other Geographies-Affinity Chromatography Reagents
7.4.4.4 Gas Chromatography Reagents-Asia - Other Geographies-Size Exclusion Chromatography Reagents
7.4.4.5 Gas Chromatography Reagents-Asia - Other Geographies-Partition Chromatography Reagents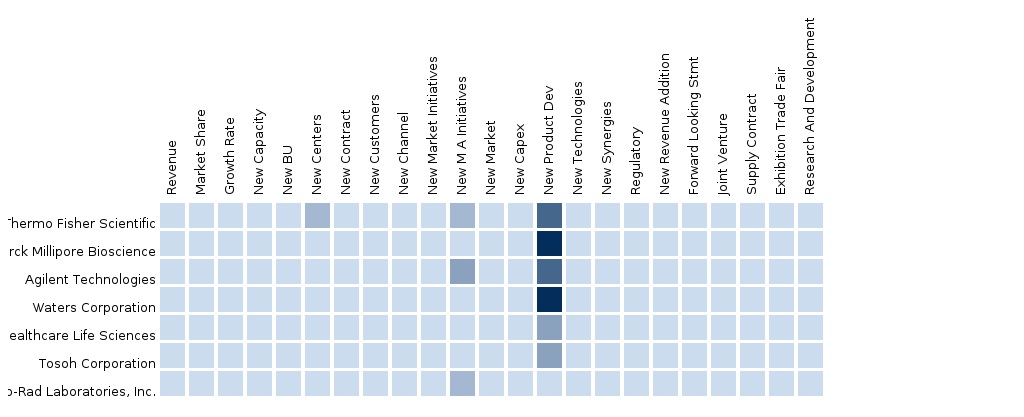 PRODUCT TITLE
PUBLISHED
PRICE
North American Chromatography Reagents Market


North American chromatography reagents market is the largest in chromatography reagents market, which is expected to reach a value of $3003.1 million by 2018; growing at 9.3% annually during 2013 to 2018. The market is segmented into types, technologies, products, processes, applications, end-users and geography. Deep dive analysis of the key players of this domain, have been considered in this report.



17 Feb 2015
$ 3500
European Chromatography Reagents Market


European Chromatography Reagents Market is the second largest in chromatography reagents market, which is expected to reach a value of $2,101.8 million by 2018; growing at 9.0% annually during 2013- 2018. The market is segmented into types, technologies, products, processes, applications, end-users and geography. Deep dive analysis of the top players of this domain, have been considered in the report.



17 Feb 2015
$ 3500
Asian Chromatography Reagents Market


Chromatography Reagents Market in Asia is estimated at $860.8 million in 2013 and is expected to reach a value of $1663.3 million in 2018 at a CAGR of 14.1% from 2013-2018. Chromatography Reagents-Asia can be segmented by Products, Technologies, Applicatons, Endusers, Companies and MacroIndicators. Deep dive analysis of the key players of this domain, have been considered in this report.



17 Feb 2015
$ 3500
Global Chromatography Reagents