The global adsorption chromatography reagents market is expected to grow at a CAGR of 10.2% from 2014 to 2019. Adsorption chromatography is a process that separates the components of a mixture based on the relative difference in adsorption of the components on the stationary phase. Chromatographic techniques such as thin layer chromatography, open column chromatography, and gas chromatography are based on the adsorption separation mechanism. It is used for analytical techniques as well as preparative techniques such as polishing monoclonal antibodies, high yield capture, and separation of active from inactive forms.
The investments by leading pharmaceutical companies for the research on chromatography tools and techniques, the resultant expansion of these companies' capacity and geographic presence, and the growing demand from other end-use verticals such as biotechnology and cosmetics are among the major drivers for the growth of the global adsorption chromatograph reagents market. The market in Asia has been projected to be the fastest-growing geographic segment in the global gas chromatography market due to the outsourcing of the drug discovery research studies by the global pharmaceutical companies to the major Asian economies such as India and China, among others.
The global adsorption chromatography reagents market report provides an in-depth analysis of the various segments of the market and their valuations, along with market metrics such as drivers and restraints, and the competitive scenario of the market. The market figures have been arrived at based on key facts, annual financial information from SEC filings, company annual reports, and interviews with industry experts and key opinion leaders, such as CEOs, directors, and marketing executives.
It is interesting to note that, unlike in most other verticals, the growth of the chromatography reagents segment has been majorly attributed to the contribution by some of the major companies in the world. The investments by these companies for research & development, technology, conferences, and so on, have played a huge role in the growth and expansion of the concerned market, globally. Some of these companies are Merck Millipore Bioscience (U.S.), Waters Corporation (U.S.), Tosoh Corporation (Japan), and Thermo Fisher Scientific (U.S.), among others.
1 Introduction
1.1 Analyst Insights
1.2 Market Definitions
1.3 Market Segmentation & Aspects Covered
1.4 Research Methodology
2 Executive Summary
3 Market Overview
4 Adsorption Chromatography Reagents by Applications
4.1 Analytical Chromatography Reagents
4.2 Preparative Chromatography Reagents
5 Adsorption Chromatography Reagents by Technologies
5.1 Gas Chromatography (Reagents)
5.2 Liquid Chromatography (Reagents)
5.3 Super Critical Fluid Chromatography (Reagents)
6 Adsorption Chromatography Reagents by Products
6.1 Column Chromatography Reagents
6.2 Planar Chromatography Reagents
7 Adsorption Chromatography Reagents by Endusers
7.1 Academics
7.2 Pharmaceuticals
7.3 Food & Beverage (Industry)
7.4 Hospitals
7.5 Cosmetics
7.6 Environmental Biotechnology
7.7 Nutraceuticals
7.8 Other Endusers
8 Adsorption Chromatography Reagents by Geographies
8.1 North America
8.2 Europe
8.3 Asia
8.4 Rest of World
9 Adsorption Chromatography Reagents by Companies
9.1 Agilent Technologies
9.2 Thermo Fisher Scientific
9.3 Waters Corporation
9.4 Merck Millipore Bioscience
9.5 Tosoh Corporation
9.6 GE Healthcare Life Sciences
9.7 Other Companies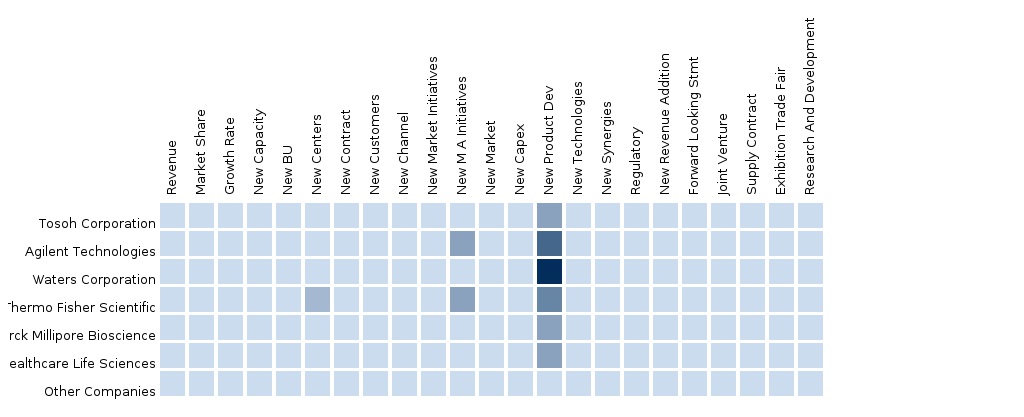 Please fill in the form below to receive a free copy of the Summary of this Report
Custom Market Research Services
We will customize the research for you, in case the report listed above does not meet with your exact requirements. Our custom research will comprehensively cover the business information you require to help you arrive at strategic and profitable business decisions.
Please visit
http://www.micromarketmonitor.com/custom-research-services.html
to specify your custom Research Requirement
PRODUCT TITLE
PUBLISHED
North American Adsorption Chromatography Reagents Market


The North America adsorption chromatography reagents market was worth $395.7 million in 2013, which is poised to grow at a CAGR of 9.0%, from 2013 to 2018, to reach $608.0 million by 2018. In this report, the market is segmented by product, technology, application, end-user, and geography.



Upcoming
European Adsorption Chromatography Reagents Market


The European adsorption chromatography reagents market was worth $281.6 million in 2013 that is poised to grow at a CAGR of 8.6% from 2014 to 2019. In this report, the European adsorption chromatography reagents market is segmented by product, technology, application, end-user, and geography. The key players in this market include Agilent Technologies (U.S.), Thermo Fisher Scientific (U.S.), Waters Corporation (U.S.), GE Healthcare (U.K.) and Phenomenex, Inc. (U.S.).



Upcoming
Asian Adsorption Chromatography Reagents Market


The Asian adsorption chromatography reagents market is the fastest-growing market, globally. The market was worth $177.2 million in 2013, which is poised to grow at a CAGR of 13.7%, from 2013 to 2018, to reach $336.7 million by 2018. In this report, the market is segmented by product, technology, application, end-user, and geography.



Upcoming
3 of 3 items
3 reports | Show
Global Chromatography Reagents