Asia Chiral separation columns Market
Description
Table of Contents
Customer Intelligence
A chiral separation column is a medical procedure carried out to separate enantiomers. The enantiomers are fundamentally stereoisomers that are identical molecules, which differ from each other. The chiral separation column chromatography technique is widely utilized in the pharmaceuticals industry. A pharmaceutical chiral compound has enantiomers with different therapeutic efficacies that are important to separate the intended active enantiomer out of the drug compound. The separation of intended enantiomers takes place according to the difference of elution time over a stationery phase of the instrument. The chiral separation column has a stationery phase that is usually made up of a chiral compound such as a prime quality silica gel that is based on oligosaccharides.
The Asian chiral separation market is one of the emerging markets in the pharmaceutical industry. Growth in the market has been attributed to the increasing government funding for chromatography-based researches. Increased investments by leading companies in the Asian region also drive the market.
The Asian chiral separation market is segmented on the basis of type, application, end-user, and geography. The market segmented on the basis of type includes empty column and pre-packed column. On the basis of application, the market covers gas chromatography systems, light chromatography systems, supercritical fluid chromatography systems, thin layer chromatography systems, and others. In terms of end-users, the market covers cosmetics, academics, hospitals, environmental biotechnology, food & beverage industry, nutraceuticals, pharmaceuticals, and others.
The market segmented on the basis of geography includes countries such as China, India, Japan, and others. In the Asian chiral separation column market, Japan contributed to the maximum share of about 50.4% in 2013. This increasing growth is due to the growing use of chromatography instruments.
In addition, this market report also covers companies that operate in this region. Some of the leading companies are Agilent Technologies, Daicel Corp, Phenomenex Inc., Sigma-Aldrich, Shimadzu Corporation, Thermo Fisher Scientific, Waters Corporation, and others.
The emerging opportunities in this market have been identified in the report on the basis of secondary research that involves press releases, industry white papers, and several others. The report estimates and analyzes the market revenues for the forecast period, for each segment, and provides a compound annual growth rate (CAGR) for the time period covered.
Finally, along with a general overview of the company, the report also presents its product portfolio, recent developments, growth strategies & trends, financials, and market share; it helps the user of this report determine the competition and devise a business strategy. Also, the drivers, restraints, and opportunities of the market have also been covered in the report.
1 Introduction
1.1 Overview
1.2 Objective Of The Study
1.3 Market Definition And Scope Of The Study
1.3.1 Market Covered
1.4 Stakeholders
1.5 Research Methodology
1.5.1 Market Size
1.5.2 Market Share
1.5.3 Key Data Points From Secondary Sources
1.5.4 Key Data Points From Primary Sources
1.6 Macro Indicators For The Study
1.7 Assumptions
1.8 List Of Acronyms
2 Excutive Summary
3 Market Overview
3.1 Drivers
3.1.1 Increasing Tie-Ups With Research Laboratories And Academic Institutes
3.1.2 Advancements In Chromatography Instruments Technology
3.1.3 Increasing Importance Of Chromatography Tests For Drug Approvals
3.2 Restraints
3.2.1 High Cost Of Instruments
3.2.2 Need For Skilled Professionals
3.3 Opportunities
3.3.1 Growing Proteomics Market
3.3.2 New Product Launches
3.4 Supporting Data
3.4.1 Asia Healthcare Expenditure
4 Asia Chiral Separation Columns, By Materials
4.1 Asia - By Materials
4.2 Japan - Market By Materials
4.3 China - Market By Materials
4.4 India- Market By Materials
5 Asia Chiral Separation Columns, By Types
5.1 Asia - By Types
5.2 Japan - Market By Types
5.3 China - Market By Types
5.4 India - Market By Types
6 Asia Chiral Separation Columns, By Application
6.1 Asia - By Application
6.2 Japan - Market By Application
6.3 China - Market By Application
6.4 India - Market By Application
7 Asia Chiral Separation Columns, By Endusers
7.1 Asia - By Endusers
7.2 Japan - Market By Endusers
7.3 China - Market By Endusers
8 Asia Chiral Separation Columns, Company Profiles
8.1 Agilent Technologies
8.1.1 Overview
8.1.2 Product Portfolio
8.1.3 Financials
8.1.4 Strategic Approaches Through Business Expansion & Development
8.2 Thermo Fisher Scientific
8.2.1 Overview
8.2.2 Product Portfolio
8.2.3 Financials
8.2.4 Strategic Approaches Through Agreement And Partnerships
8.3 Waters Corporation
8.3.1 Overview
8.3.2 Product Portfolio
8.3.3 Financials
8.3.4 Strategic Approach Through Technology Enhancement
8.4 Shimadzu Corporation
8.4.1 Overview
8.4.2 Product Portfolio
8.4.3 Financials
8.4.4 Strategic Approach Through Technology Enhancement
8.5 Daicel Corp.
8.5.1 Overview
8.5.2 Product Portfolio
8.5.2 Financials
8.5.3 Strategy
8.6 Sigma-Aldrich
8.6.1 Overview
8.6.2 Product Portfolio
8.6.2 Financials
8.6.3 Strategy
8.7 Phenomenex, Inc.
8.7.1 Overview
8.7.2 Product Portfolio
8.7.2 Financials
8.7.3 Strategy
8.8 Other Companies
List Of Figures
1 Market Size Estimation Methodology

List Of Tables
1 Asia Health Care Expenditure , 2011 – 2018 ($Million)
2 Asia Chiral Separation Columns, By Materials , 2011 – 2018 ($Million)
3 Asia Chiral Separation Columns, By Types , 2011 – 2018 ($Million)
4 Asia Chiral Separation Columns, By Application , 2011 – 2018 ($Million)
5 Asia Chiral Separation Columns, By Endusers , 2011 – 2018 ($Million
6 Asia Empty Columns, By Application, 2011 – 2018 ($Million)
7 Asia Empty Columns, By Endusers , 2011 – 2018 ($Million)
8 Asia Pre Packed Columns, By Application, 2011 – 2018 ($Million)
9 Asia Pre Packed Columns, By Endusers , 2011 – 2018 ($Million)
10 Asia Liquid Chromatography System Market , By Endusers, 2011 – 2018 ($Million)
11 Asia Super Critical Fluid Chromatography Market , By Endusers, 2011 – 2018 ($Million)
12 Asia Thin Layer Chromatography Market , By Endusers, 2011 – 2018 ($Million)
13 Asia Gas Chromatography Market , By Endusers, 2011 – 2018 ($Million)
14 Asia Other Applications Market , By Endusers, 2011 – 2018 ($Million)
15 Japan : Market , By Materials , 2011 – 2018 ($Million)
16 Japan : Market , By Types , 2011 – 2018 ($Million)
17 Japan : Market , By Application , 2011 – 2018 ($Million)
18 Japan : Market Market, By Endusers , 2011 – 2018 ($Million
19 Japan : Empty Columns, By Application, 2011 – 2018 ($Million)
20 Japan : Empty Columns, By Endusers , 2011 – 2018 ($Million)
21 Japan : Pre Packed Columns, By Application, 2011 – 2018 ($Million)
22 Japan : Pre Packed Columns, By Endusers , 2011 – 2018 ($Million)
23 Japan : Liquid Chromatography System Market , By Endusers, 2011 – 2018 ($Million)
24 Japan : Super Critical Fluid Chromatography Market , By Endusers, 2011 – 2018 ($Million)
25 Japan : Thin Layer Chromatography Market , By Endusers, 2011 – 2018 ($Million)
26 Japan : Gas Chromatography Market , By Endusers, 2011 – 2018 ($Million)
27 Japan : Other Applications Market , By Endusers, 2011 – 2018 ($Million)
28 China : Market, By Materials , 2011 – 2018 ($Million)
29 China : Market, By Types , 2011 – 2018 ($Million)
30 China : Market, By Application , 2011 – 2018 ($Million)
31 China : Market Market, By Endusers , 2011 – 2018 ($Million
32 China : Empty Columns, By Application, 2011 – 2018 ($Million)
33 China : Empty Columns, By Endusers , 2011 – 2018 ($Million)
34 China : Pre Packed Columns, By Application, 2011 – 2018 ($Million)
35 China : Pre Packed Columns, By Endusers , 2011 – 2018 ($Million)
36 China : Liquid Chromatography System Market , By Endusers, 2011 – 2018 ($Million)
37 China : Super Critical Fluid Chromatography Market , By Endusers, 2011 – 2018 ($Million)
38 China : Thin Layer Chromatography Market , By Endusers, 2011 – 2018 ($Million)
39 China : Gas Chromatography Market , By Endusers, 2011 – 2018 ($Million)
40 China : Other Applications Market , By Endusers, 2011 – 2018 ($Million)
41 India : Market, By Materials , 2011 – 2018 ($Million)
42 India : Market, By Types , 2011 – 2018 ($Million) 22
43 India : Market, By Application , 2011 – 2018 ($Million)
44 China : Market Market, By Endusers , 2011 – 2018 ($Million)
45 India : Empty Columns, By Application, 2011 – 2018 ($Million)
46 India Inida : Empty Columns, By Endusers , 2011 – 2018 ($Million)
47 India : Pre Packed Columns, By Application, 2011 – 2018 ($Million)
48 India India : Pre Packed Columns, By Endusers , 2011 – 2018 ($Million)
49 India : Liquid Chromatography System Market , By Endusers, 2011 – 2018 ($Million)
50 India : Super Critical Fluid Chromatography Market , By Endusers, 2011 – 2018 ($Million)
51 India : Thin Layer Chromatography Market , By Endusers, 2011 – 2018 ($Million)
52 India : Gas Chromatography Market , By Endusers, 2011 – 2018 ($Million)
53 India : Other Applications Market , By Endusers, 2011 – 2018 ($Million)
54 Market-Asia, By Countries
55 Market-Asia Market, By Companies, 2013-2018 ($Million)
56 Market Market-Japan, By Companies, 2013-2018 ($Million)
57 Market Market-China, By Companies, 2013-2018 ($Million)
58 Market Market-India, By Companies, 2013-2018 ($Million)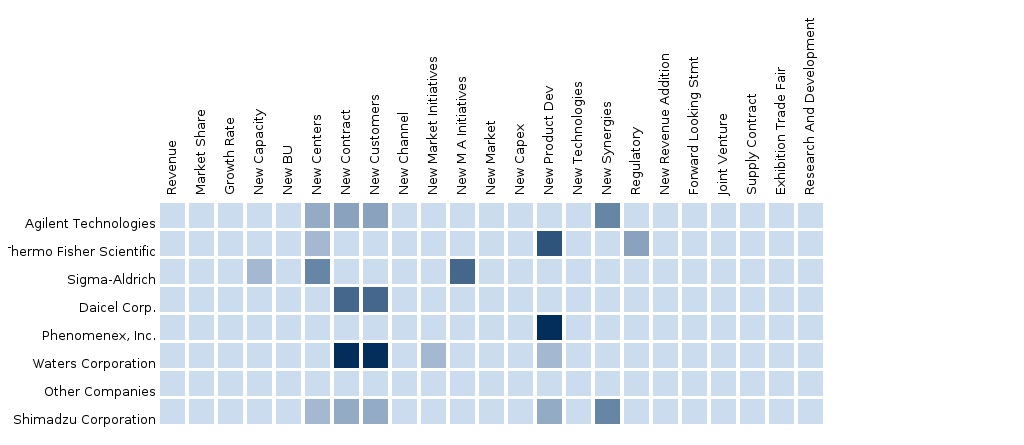 PRODUCT TITLE
PUBLISHED
PRICE
North America Columns


Columns-North America can be segmented by Materials, Endusers, MacroIndicators, Applications and Companies. Materials of Columns-North America are Glass, Plastic and Metals. Endusers of Columns-North America are Pharmaceuticals, Environmental Biotechnology, Academics,...



17 Feb 2015
$ 3500
European Chromatography Columns Market


The European Chromatography columns market is expected to reach a market value of $564million by 2018; achieving a CAGR of 5.0 % during the period 2013- 2018. Among the types of this market, prepacked columns domianates the market and is projected to reach $513.1 million by the end of 2018. Deep dive analysis of the key players of this domain, have been considered in this report.



17 Feb 2015
$ 3500
Asian Chromatography Columns Market


Asian Chromatography Columns Market was valued at $330 million in 2013 and is projected to reach value of $438 million, growing at 6% annually during 2013-2018. This market can be segmented by Materials, Endusers, MacroIndicators, Applications and Companies. In this prepacked market dominates and is projected to reach $398.6 million value by 2018. Deep dive analysis of the key players of this domain, have been considered in this report.



17 Feb 2015
$ 3500
Global Chromatography Columns Market