A subsea power grid consists of some grids which are constructed on the sea bed to supply power to the subsea tools and equipments. This is one of the vital sources of power supply for the components used in the subsea industry. This plays a major role in offshore oil and gas industry.
The report, "Subsea power grid market Forecast 2014-2019" analyzed by geography, equipments and application. In terms of geography, this market is segmented in to Africa, Latin America, Europe, Asia Pacific and North America and Rest of the world. By equipments, this is further segmented in to cables, transformer, switchgears, variable frequency drives and others. In terms of application, it includes captive generation, wind power, tidal power and solar power.
The global subsea power grid market is mainly driven by the increasing oil and gas exploration in seabed. The increasing global oil and gas demand and rising deep and ultra deep water discoveries helping the power grid market to grow. The subsea market is growing mostly in Africa and Latin America due to the discoveries of new wells hence; it is increasing the importance of subsea infrastructure and subsea power grid market for extracting oil and gas.
In terms of geography, Africa dominates the subsea power grid market due to large scale of subsea project are going on this region. Cables have the largest market share among the equipments followed by variable frequency drives.
The report in addition provides an extensive competitive landscaping of key companies operating in Subsea power grid market which includes ABB ltd ( Switzerland) Siemens (Germany), General electric (U.S.), Aker solutions (Norway) and others. The report also provides an extensive competitive landscaping of companies operating in this market, country wise market share, new product and services launches, M&A, product portfolio of key players.
Additional offers/ customization options
With market data, you can also customize MMM assessments that meets your company's specific needs. Customize to get comprehensive industry standard and deep dive analysis of the following parameters.
Product benchmarking outlook
 Impact of high voltage subsea switch gears on subsea power grid market
 New technology development in subsea power grid market.
 Upcoming project on subsea power grid.

Customer segment outlook
 Impact of subsea power grid market on power industry
 Importance of transformer, switchgear, cables and VFDs.
 Key players with company profiling. ( region wise)

Challenges
 Challenges in subsea power grid market
1 Introduction
1.1 Analyst Insights
1.2 Market Definitions
1.3 Market Segmentation & Aspects Covered
1.4 Research Methodology
2 Executive Summary
3 Market Overview
4 By Applications
4.1 Subsea Power Grid - Oil & Gas
4.2 Captive Generation
4.3 Wind Energy
4.4 Tidal Energy
4.5 Solar Energy
5 By Equipment
5.1 Subsea Transformers
5.2 Subsea Switchgear
5.3 Submarine Cables
5.4 Variable frequency drive(VFD)
6 By Geographies
6.1 Africa
6.2 Latin America
6.3 Asia-Pacific
6.4 North America
6.5 Rest of World
6.6 Europe
7 By Companies
7.1 ABB Power Products
7.2 Aker Subsea
7.3 Bandak Group AS
7.4 Dril-Quip Offshore drilling and production equipment
7.5 FMC Subsea Technologies
7.6 Cameron International Drilling & Production Systems (DPS)
7.7 Expro Equipment Sales
7.8 JDR Cable Systems (Holdings) Ltd
7.9 Nexans SA
7.10 Norddeutsche Seekabelwerke Gmbh (NSW)
7.11 Oceaneering International Subsea Products
7.12 Parker-Hanninfin Corporation
7.13 Prysmian Group Energy
7.14 Siem Offshore
7.15 Siemens AG Power Transmission
7.16 Technip SA
7.17 Other Companies
7.18 GE Power and Water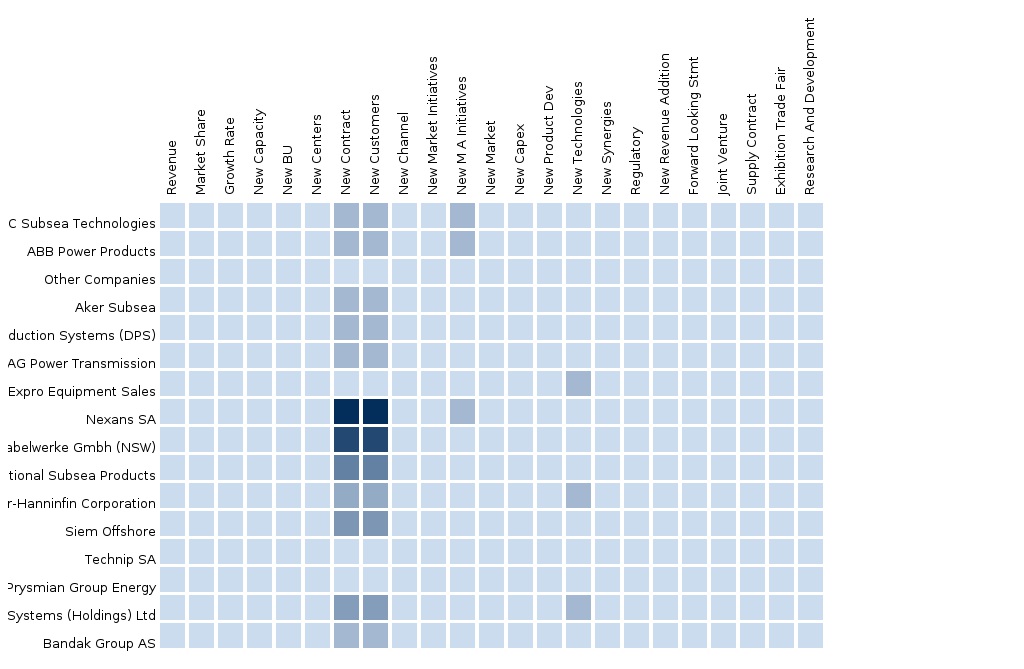 Please fill in the form below to receive a free copy of the Summary of this Report
Custom Market Research Services
We will customize the research for you, in case the report listed above does not meet with your exact requirements. Our custom research will comprehensively cover the business information you require to help you arrive at strategic and profitable business decisions.
Please visit
http://www.micromarketmonitor.com/custom-research-services.html
to specify your custom Research Requirement