Picture Archiving and Communication System (PACS) is a medical imaging technology which provides efficient storage of and appropriate access to images from multiple imaging devices. Electronic images and reports are transmitted digitally via PACS, which help to eliminate the need of manual filing, data retrieval, or manual transport of film sheaths. Thus, creates a convenient and unique platform to the physicians to access imaging data.
The report analyzes global radiology PACS market by applications, deployment, component, products, end-users, and geography. The global radiology PACS market is estimated to grow at a CAGR of 4.0% from 2014 to 2019.
The report provides an in-depth analysis of market landscape and market trends information on the global radiology PACS market.
The report also provides comprehensive information on the key trends affecting and market landscape of this market.
Based on the geography, the global radiology PACS market includes regions such as; North America, Europe, Asia-Pacific, and Rest of the World (RoW).
The report also provides in-depth market share analysis of the top companies based on revenue. The market figures have been calculated based on key facts, annual financial information from SEC filings, annual reports & interviews with industry experts, key opinion leaders such as CEOs, directors, and marketing executives. Detailed market share analysis of the major players in the Global Radiology PACS Market is covered in this report.
The major companies in this market include; Agfa-Gevaert Group. (Belgium), Koninklijke Philips N.V. (Netherlands), Carestream Health (U.S.), FUJIFILM Holdings Corporation (Japan), Novarad Corporation (U.S.), McKesson Corporation (U.S.), General Electric Company (U.S.), and Siemens AG (Germany).
Factors such as, superior image quality, greater workflow efficiency, enhanced system integration capabilities, and growing need of automation in healthcare industry are responsible to encourage the growth of this market.
However, factor such as hardware specificity, high cost of the technology, and compulsory need of professional assistance are restraining the growth of this market. Furthermore, the technological advancements, and interconnected PACS systems are creating new growth opportunities for this market.
North America accounted the largest share 48.3% of the Global Radiology PACS followed by Europe. This large share is attributed to factors such as; technological innovations, rising demand for radiology PACS from U.S. diagnostic industry in order to provide immediate and effective diagnosis to the patients.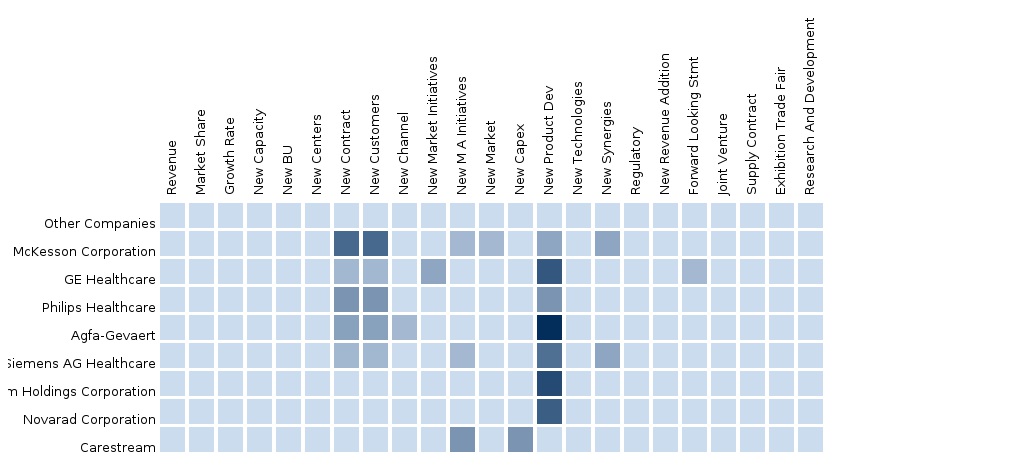 Please fill in the form below to receive a free copy of the Summary of this Report
Custom Market Research Services
We will customize the research for you, in case the report listed above does not meet with your exact requirements. Our custom research will comprehensively cover the business information you require to help you arrive at strategic and profitable business decisions.
Please visit
http://www.micromarketmonitor.com/custom-research-services.html
to specify your custom Research Requirement
PRODUCT TITLE
PUBLISHED
Integrated Radiology PACS


Integrated Radiology PACS has been considered as a major contributor of the Radiology PACS market. Segmentation of this market, based on Geographies, Components, Deployments, Applications, Companies, MacroIndicators and Endusers, is the prime concern of this report. In addition to that, deep dive analysis of the key players of this domain, have also been considered.



Upcoming
Standalone Radiology PACS


Standalone Radiology PACS is often considered to be an important part of the total Radiology PACS market. It can be segmented by Geographies, Components, Deployments, Applications, Companies, MacroIndicators and Endusers. Deep dive analysis of the top players of this domain, have ben enclosed in this report.



Upcoming
North American Radiology PACS Market


The North American radiology PACS market was valued at $898.8 million in 2013, and is expected to grow at a CAGR of 3.1% from 2014 to 2019. This market is segmented on the basis of geography, application, deployment, and end-user. Deep dive analysis of the top market players have also been considered in this report.



Upcoming
European Radiology PACS


The European radiology picture archiving and communication system (PACS) market was valued at $513.6million in 2013, and is expected to grow at a CAGR of 4.3% from 2014 to 2019. This market is segmented on the basis of geography, application, deployment, and end-user. Deep dive analysis of the top market players have also been considered in this report.



Upcoming
Asian Radiology PACS Market


The Asian radiology picture archiving and communication system (PACS) market was valued at $275.4 million in 2013, which is expected to grow at a CAGR of 5.5% from 2014 to 2019. This market has been segmented on the basis of geography, application, deployment, and end-user. A DeepDive analysis of the top market players has also been considered in this report.



Upcoming
5 of 5 items
5 reports | Show
Global Radiology PACS Market