Membrane Bioreactor and Metering Pumps, Flow Meters, Gas Analyzers, Sensors and Detectors, Heat Exchangers, District Heating and District Cooling adds up to total Chemical Equipments market.

Companies of this market are GE Water Technologies Inc., GLV Incorporated (Ovivo), Mitsubishi Rayon Co., Limited, SIEMENS WATER TECHNOLOGIES CORP., Veolia Water Solutions & Technologies, Adi Systems Inc., Anua, BioprocessH2O LLC, Hans Huber AG, Koch Membrane Systems Inc., KUBOTA Corporation, Layne Christensen Company, Microdyn Nadir GmbH, Ondeo Industrial Solutions, Pall Corporation, WEHRLE Umwelt GmbH, WesTech Engineering Inc., WOG technologies, X-FLOW B.V., Aqua-Aerobic Systems Inc. and Bio-Microbics Inc..

Key Questions Answered
What are market estimates and forecasts; which of Membrane Bioreactor markets are doing well and which are not?
What is the competitive landscape; How companies like GE Water Technologies Inc., GLV Incorporated (Ovivo) and Mitsubishi Rayon Co., Limited doing in Membrane Bioreactor?

What makes our report unique?

This report provides market sizing and forecast for the Membrane Bioreactor market. It also provides market sizing and forecast along with the drivers/inhibitors/opportunity analysis for each of the micro markets.
The report provides deep dive competitive landscape covering the top players such as GE Water Technologies Inc., GLV Incorporated (Ovivo), Mitsubishi Rayon Co., Limited and SIEMENS WATER TECHNOLOGIES CORP..
The reports provides benchmarking insight on the top players GE Water Technologies Inc., GLV Incorporated (Ovivo), Mitsubishi Rayon Co., Limited and SIEMENS WATER TECHNOLOGIES CORP..
The report provide competitive intelligence on GE Water Technologies Inc., GLV Incorporated (Ovivo), Mitsubishi Rayon Co., Limited and SIEMENS WATER TECHNOLOGIES CORP..

Audience for this report

Global Membrane Bioreactor companies
Manufacturing Companies
Traders, distributors, and suppliers
Governmental and research organizations
Associations and industry bodies
Technology providers

Top developments

Layne Christensen's water division business received a contract of $6.9 million
Veolia Water Solutions & Technologies has been awarded a contratc wit Shell Carmon Creek Project
veolia Water Solutions & Technologies launched a new product
Veolia Biothane and Pentair X-Flow were awarded with 2013 Aquatech Innovation Awards in the Wastewater Treatment category for their joint innovation
WEHRLE Umwelt GmbH established a wastewater treatment plant `
Sasol and General Electric (GE)'s GE Power & Water have together developed new water technology
Veolia Water Solutions & Technologies developed a new product kniwn as biopROtector
GE's ZeeWeed membrane bioreactor (MBR) was selected for treatment of refinery water
GLV Inc through its water treatment business unit Ovivo upgraded a waste water treatment plant
KMS launched a new MegaPure hollow fiber ultrafiltration product line for waste water applications




1 Introduction
1.1 Analyst Insights
1.2 Market Definitions
1.3 Market Segmentation & Aspects Covered
1.4 Research Methodology
2 Executive Summary
3 Market Overview
4 By Companies
4.1 GE Water Technologies Inc.
4.2 GLV Incorporated (Ovivo)
4.3 Mitsubishi Rayon Co., Limited
4.4 SIEMENS WATER TECHNOLOGIES CORP.
4.5 Veolia Water Solutions & Technologies
4.6 Adi Systems Inc.
4.7 Anua
4.8 BioprocessH2O LLC
4.9 Hans Huber AG
4.10 Koch Membrane Systems Inc.
4.11 KUBOTA Corporation
4.12 Layne Christensen Company
4.13 Microdyn Nadir GmbH
4.14 Ondeo Industrial Solutions
4.15 Pall Corporation
4.16 WEHRLE Umwelt GmbH
4.17 WesTech Engineering Inc.
4.18 WOG technologies
4.19 X-FLOW B.V.
4.20 Aqua-Aerobic Systems Inc.
4.21 Bio-Microbics Inc.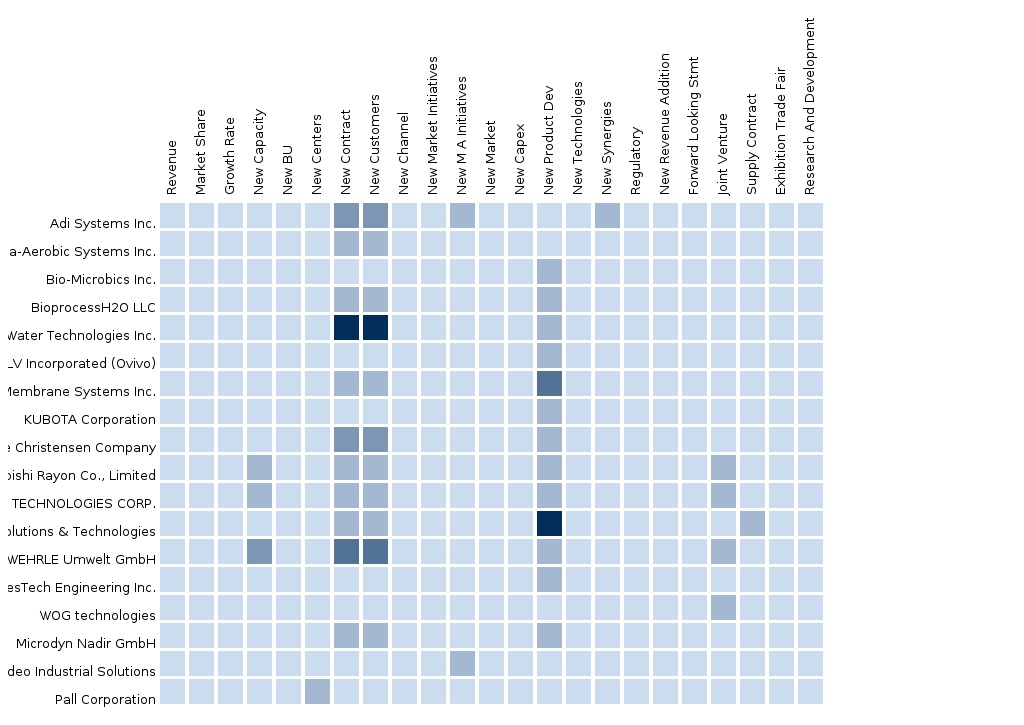 Please fill in the form below to receive a free copy of the Summary of this Report
Custom Market Research Services
We will customize the research for you, in case the report listed above does not meet with your exact requirements. Our custom research will comprehensively cover the business information you require to help you arrive at strategic and profitable business decisions.
Please visit
http://www.micromarketmonitor.com/custom-research-services.html
to specify your custom Research Requirement