Global Actuators and Aviation Actuation System adds up to total Actuation Systems market.

Global Actuators can be segmented by MacroIndicators, Geographies, Companies, Products and Applications. MacroIndicators of this market are Gross Domestic Product. Geographies of this market are Europe, North America, South America, Middle East, Asia-Pacific, Rest of World and Latin America. Companies of this market are GKN Aerospace, Triumph Group Inc, Goodrich Corp., Esterline, Hamilton Sundstrand, Circor Aerospace, Liebherr, ATI Systems, Woodward, Curtiss-Wright Corporation, United Technologies Corporation, GE Aviation, Honeywell International,Inc, Eaton Corporation plc, Moog, Inc., Saab , Parker-Hanninfin Aerospace, Emerson Electric, PENTAIR, SMC Corporation, CESA, Arkwin Industries Inc., Merrill Technologies Group, Rotork and Rockwell Collins. Products of this market are Hydraulic, Pneumatic, Electrical Products and Mechanical. Applications of this market are Aerospace & Defense, Mining, Marine, Automotive Sensors and Others.
Key Questions Answered
What makes our report unique?
What are market estimates and forecasts; which of Global Actuators markets are doing well and which are not?
What is the competitive landscape; How companies like GKN Aerospace, Triumph Group Inc and Goodrich Corp. doing in Global Actuators?

Audience for this report

It will provide you market insights into Aerospace & Defense, Mining, Marine and Automotive Sensors.
This report provides market sizing and forecast for the Global Actuators market. It also provides market sizing and forecast along with the drivers/inhibitors/opportunity analysis for each of the micro markets.
The report provides deep dive competitive landscape covering the top players such as GKN Aerospace, Triumph Group Inc, Goodrich Corp. and Esterline.
The reports provides benchmarking insight on the top players GKN Aerospace, Triumph Group Inc, Goodrich Corp. and Esterline.
The report provide competitive intelligence on GKN Aerospace, Triumph Group Inc, Goodrich Corp. and Esterline.
Many times, customers do not get specific intelligence they are looking for in multi-client syndicated studies. So we offer 10% customization which will ensure you get the desired market intelligence, may it be specific to Aerospace & Defense, Mining, Marine and Automotive Sensors applications or Global Actuators market in Europe, North America, South America and Middle East.

Top developments

Global Global Actuators companies
Manufacturing Companies
Traders, distributors, and suppliers
Governmental and research organizations
Associations and industry bodies
Technology providers

Honeywell is developing the avionics for Inmarsat's new generation of Global Xpress mobile broadband communications satellites.
Eaton Corporation , announced that it has acquired the assets of the European portion of a vehicle mirror actuator business of Donnelly Corporation located in Manorhamilton, Ireland, for an undisclosed amount.
Rotork anounced the introduction of the 3rd generation of its flagship IQ range of intelligent non-intrusive heavy duty electric valve acuators.
Pentair has entered a joint venture with Abu Dhabi's International Development Company (IDC) to service industrial valves in the UAE.
Pentair Actuation & Controls announced the opening of a new Configuration Center at its existing Morin plant in Pelham, Ala.
ATI Opens Second Facility in Houston.
ATI launches new cushioned designed actuator product.
Department of The Navy Cherry Point Satellite awarded V22rudder actuators technical data package contract to Moog. The contract amount is $4224,200
Saab AB have signed a Joint Development Agreement (JDA) to jointly develop and build a new advanced, cost-efficient T-X Family of Systems training solution for the upcoming competition to replace the U.S. Air Force's aging T-38 aircrew training system.
Emerson Process Management has introduced the Fisher 685 double acting piston actuator that provides high thrust output for short to long travel applications.
1 Introduction
1.1 Analyst Insights
1.2 Market Definitions
1.3 Market Segmentation & Aspects Covered
1.4 Research Methodology
2 Executive Summary
3 Market Overview
4 By Applications
4.1 Aerospace & Defense
4.2 Mining
4.3 Marine
4.4 Automotive Sensors
4.5 Others
5 By Products
5.1 Hydraulic
5.2 Pneumatic
5.3 Electrical Products
5.4 Mechanical
6 By Geographies
6.1 Europe
6.2 North America
6.3 South America
6.4 Middle East
6.5 Asia-Pacific
6.6 Rest of World
6.7 Latin America
7 By Companies
7.1 GKN Aerospace
7.2 Triumph Group Inc
7.3 Goodrich Corp.
7.4 Esterline
7.5 Hamilton Sundstrand
7.6 Circor Aerospace
7.7 Liebherr
7.8 ATI Systems
7.9 Woodward
7.10 Curtiss-Wright Corporation
7.11 United Technologies Corporation
7.12 GE Aviation
7.13 Honeywell International,Inc
7.14 Eaton Corporation plc
7.15 Moog, Inc.
7.16 Saab
7.17 Parker-Hanninfin Aerospace
7.18 Emerson Electric
7.19 PENTAIR
7.20 SMC Corporation
7.21 CESA
7.22 Arkwin Industries Inc.
7.23 Merrill Technologies Group
7.24 Rotork
7.25 Rockwell Collins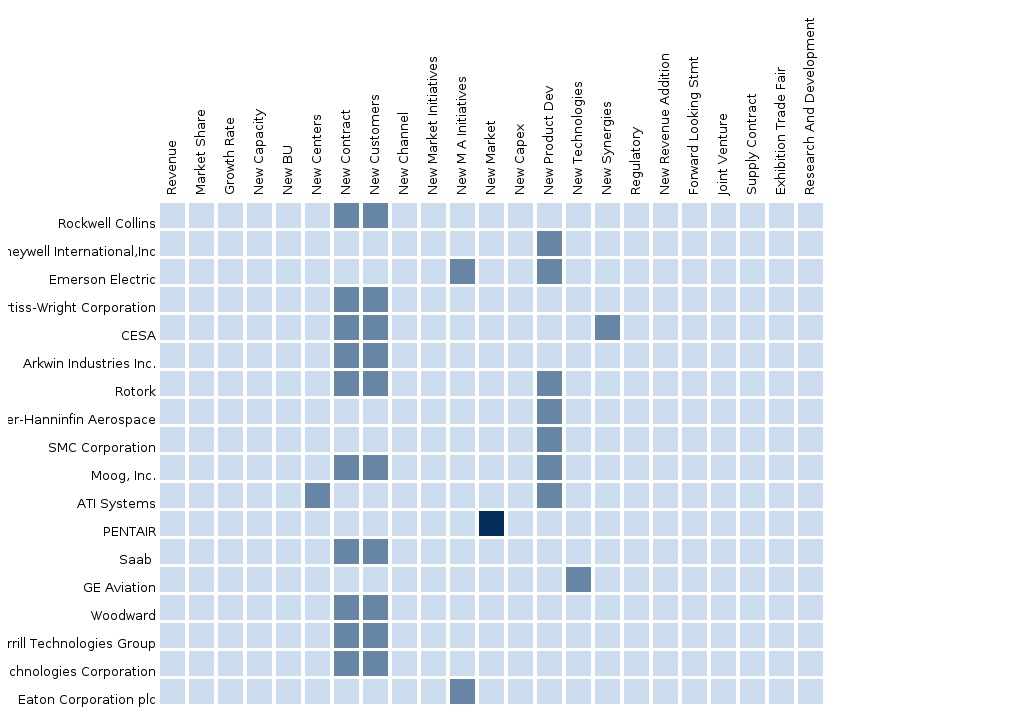 Please fill in the form below to receive a free copy of the Summary of this Report
Custom Market Research Services
We will customize the research for you, in case the report listed above does not meet with your exact requirements. Our custom research will comprehensively cover the business information you require to help you arrive at strategic and profitable business decisions.
Please visit
http://www.micromarketmonitor.com/custom-research-services.html
to specify your custom Research Requirement