Geosynthetics and its peer markets - Cosmetics Ingredients & Additives, Bio-chemicals, Anti-Microbial Coatings, Cleaners, Mining Chemicals, Aerogel, Photosensitive Chemicals, Industrial and Specialty Gases, Oilfield Chemicals and 21 other markets - adds up to total Specialty Chemicals market.

Geosynthetics can be segmented by Ingredients, Applications, Geographies, Companies, Types and Submarkets. Ingredients of this market are Polyester. Applications of this market are Waste Management, Mining Industry, Road & Highway, RailRoad Stabilization, Water Management, Erosion Control, Pavement & Sidewalks, Transportation (I) and Soil Treatment. Geographies of this market are North America, Asia-Pacific, Europe and Rest of World. Companies of this market are Belton Industries Inc., Gundle/SLT Environmental Inc., Huesker Synthetic GMBH, Low & Bonar PLC, NAUE GMBH & Co. KG, ACE Geosynthetics Enterprise Co., Ltd., ACH Foam Technologies, LLC    , Agru America, Inc., Asahi Geotechnologies Co. Ltd., Carthage Mills, Inc., Cetco Lining Technologies, Contech Engineered Solutions LLC, Fiberweb PLC, Hanes Geo Components, Kaymac (Pty) Limited, Officine Maccaferri S.p.A., Propex Operating Company, LLC., Royal Tencate NV, Strata Systems Inc., Tenax Group and Tensar Corporation. Types of this market are Geosynthetics. Submarkets of this market are Geotextiles, Geofoams, Geomembrane, Geonets and Geogrids.

Key Questions Answered
What are market estimates and forecasts; which of Geosynthetics markets are doing well and which are not?
What is the competitive landscape; How companies like Belton Industries Inc., Gundle/SLT Environmental Inc. and Huesker Synthetic GMBH doing in Geosynthetics?

What makes our report unique?

This reports provides most granular segmentation on Geotextiles, Geofoams, Geomembrane and Geonets.
It will provide you market insights into Waste Management, Mining Industry, Road & Highway and RailRoad Stabilization.
This report provides market sizing and forecast for the Geosynthetics market. It also provides market sizing and forecast along with the drivers/inhibitors/opportunity analysis for each of the micro markets.
The report provides deep dive competitive landscape covering the top players such as Belton Industries Inc., Gundle/SLT Environmental Inc., Huesker Synthetic GMBH and Low & Bonar PLC.
The reports provides benchmarking insight on the top players Belton Industries Inc., Gundle/SLT Environmental Inc., Huesker Synthetic GMBH and Low & Bonar PLC.
The report provide competitive intelligence on Belton Industries Inc., Gundle/SLT Environmental Inc., Huesker Synthetic GMBH and Low & Bonar PLC.
Many times, customers do not get specific intelligence they are looking for in multi-client syndicated studies. So we offer 10% customization which will ensure you get the desired market intelligence, may it be specific to Waste Management, Mining Industry, Road & Highway and RailRoad Stabilization applications or Geosynthetics market in North America, Asia-Pacific, Europe and Rest of World.

Audience for this report

Global Geosynthetics companies
Manufacturing Companies
Traders, distributors, and suppliers
Governmental and research organizations
Associations and industry bodies
Technology providers

Top developments

Low & Bonar acquired Texiplast
Fireweb acquired 65% stake from its joint venture Terram India for $2.97 million
Propex announced plans to consolidate its woven geotextile facilities in southern Georgia
Maccaferri inc. announced the inauguration of its new 49,000 square foot manufacturing facility near Sacramento, California
Officine Maccaferri joint ventured with Tekno to launch a new manufacturing plant in Duzce, Turkey
Fiberweb announced the launch of Terram Hydrotex geosynthetic into the rail market
TenCate Geosynthetics announced the launch of its TenCate Geotube carbon footprint calculator
TenCate Geosynthetics announced the launch of its TenCate Geotube carbon footprint calculator
GSE acquired Syntec LLC
Strata Systems Inc. introduced StrataBase




1 Introduction
1.1 Analyst Insights
1.2 Market Definitions
1.3 Market Segmentation & Aspects Covered
1.4 Research Methodology
2 Executive Summary
3 Market Overview
4 By Submarkets
4.1 Geotextiles
4.2 Geofoams
4.3 Geomembrane
4.4 Geonets
4.5 Geogrids
5 By Applications
5.1 Waste Management
5.2 Mining Industry
5.3 Road & Highway
5.4 RailRoad Stabilization
5.5 Water Management
5.6 Erosion Control
5.7 Pavement & Sidewalks
5.8 Transportation (I)
5.9 Soil Treatment
6 By Ingredients
6.1 Polyester
7 By Types
7.1 Geosynthetics
8 By Geographies
8.1 North America
8.2 Asia-Pacific
8.3 Europe
8.4 Rest of World
9 By Companies
9.1 Belton Industries Inc.
9.2 Gundle/SLT Environmental Inc.
9.3 Huesker Synthetic GMBH
9.4 Low & Bonar PLC
9.5 NAUE GMBH & Co. KG
9.6 ACE Geosynthetics Enterprise Co., Ltd.
9.7 ACH Foam Technologies, LLC    
9.8 Agru America, Inc.
9.9 Asahi Geotechnologies Co. Ltd.
9.10 Carthage Mills, Inc.
9.11 Cetco Lining Technologies
9.12 Contech Engineered Solutions LLC
9.13 Fiberweb PLC
9.14 Hanes Geo Components
9.15 Kaymac (Pty) Limited
9.16 Officine Maccaferri S.p.A.
9.17 Propex Operating Company, LLC.
9.18 Royal Tencate NV
9.19 Strata Systems Inc.
9.20 Tenax Group
9.21 Tensar Corporation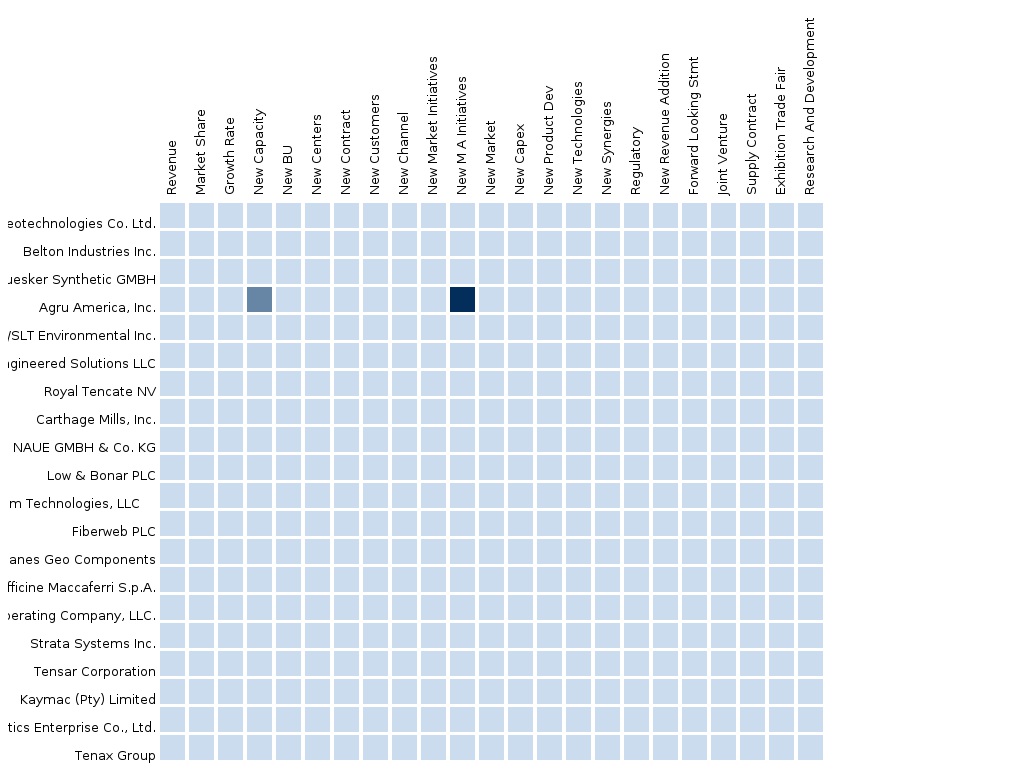 Please fill in the form below to receive a free copy of the Summary of this Report
Custom Market Research Services
We will customize the research for you, in case the report listed above does not meet with your exact requirements. Our custom research will comprehensively cover the business information you require to help you arrive at strategic and profitable business decisions.
Please visit
http://www.micromarketmonitor.com/custom-research-services.html
to specify your custom Research Requirement
PRODUCT TITLE
PUBLISHED
Geotextiles


Geotextiles and Geofoams, Geomembrane,



Upcoming
Geogrids


Geogrids and Geotextiles, Geofoams,



Upcoming
Nonwoven Geotextiles


Nonwoven Geotextiles and Woven Geotextiles adds up to total



Upcoming
Woven Geotextiles


Woven Geotextiles and Nonwoven Geotextiles adds up to total



Upcoming
Geofoams




Upcoming
Geomembrane




Upcoming
Geonets




Upcoming
Extruded Geomembrane


Extruded Geomembrane and Calendered Geomembrane adds up to total



Upcoming
Calendered Geomembrane


Calendered Geomembrane and Extruded Geomembrane adds up to total



Upcoming
North America Geosynthetics


Geosynthetics-North America and Geotextiles , Geofoams ,



Upcoming
Asia-Pacific Geosynthetics


Geosynthetics-Asia-Pacific and Geotextiles , Geofoams ,



Upcoming
Europe Geosynthetics


Geosynthetics-Europe and Geotextiles , Geofoams ,



Upcoming
Asia-Pacific Geomembrane


Geomembrane-Asia-Pacific can be segmented by Ingredients, Applications, Companies and Technologies. Ingredients of Geomembrane-Asia-Pacific are



Upcoming
Europe Geomembrane


Geomembrane-Europe can be segmented by Ingredients, Applications, Companies and Technologies. Ingredients of Geomembrane-Europe are



Upcoming
North America Geomembrane


Geomembrane-North America can be segmented by Ingredients, Applications, Companies and Technologies. Ingredients of Geomembrane-North America are



Upcoming
North America Geomembrane


Geomembrane-North America can be segmented by Ingredients, Applications, Companies and Technologies. Ingredients of this market are High Density Polyethylene...



Upcoming
Europe Geomembrane


Geomembrane-Europe can be segmented by Ingredients, Applications, Companies and Technologies. Ingredients of this market are High Density Polyethylene...



Upcoming
Asia-Pacific Geomembrane


Geomembrane-Asia-Pacific can be segmented by Ingredients, Applications, Companies and Technologies. Ingredients of this market are High Density Polyethylene...



Upcoming
18 of 18 items
18 reports | Show