The study shows that the demand for automobile is increasing globally, in some regions like Europe and North America the growth is steady and in regions like Asia-Pacific the growth is at high rate. Driving factors of the automotive market varies insignificantly in all the regions around the globe. Stringent emission norms and environment regulations in Europe and North has been driving the demand of vehicles while in Asia-Pacific the economic growth resulting into increased middle class population and the increased purchasing power are deriving the automotive market.
The fuel filter are responsible of cleaning the particles if any in the fuel before it hits the injectors thus keeping the injectors cleans enabling them to function properly. As automobile engine technologies across the world have become sophisticated providing clean fuel to the complex engines has become more critical thus fuel filter have evolved as the integral part of the automobile. The government throughout the world has imposed stringent emission norms and environmental regulations on the original equipment manufacturers over emission control and fuel economy. OEMs have made their priority to adopt technologies leading to lower emissions. Thus the demand of fuel filter is high throughout the world. Gasoline has always been preferred by the consumers and has enjoyed the advantage of larger market share owing to the performance benefit of gasoline engine over diesel engine. However with the continuous advancement in the diesel technology have gained considerable market share and consumer preference over past few years. The higher prices of gasoline has turned out to be a very lucrative proposition for the automotive manufacturers who have cashed in on the increasing demand for diesel engines by launching diesel variants of their popular models as well as developing new vehicles with diesel power trains. This has led to diesel acquiring larger shares of the market year by year. Thus, this would give rise to increase in the installation of more oil and fuel filters in diesel vehicles.
The report global fuel filter market covers all the major regions – Asia-pacific, Europe and North America for the analysis. The study shows that the global Fuel filter market will grow at a CAGR of 12.3% during the period 2013 to 2018 and will generate revenue of $958.55 million by 2018. The report is segmented based on vehicle type (Passenger cars, LCVs & HCVs), fuel type (Gasoline & Diesel). Further the report gives a technological overview introducing new technologies being used to develop the fuel filters for automobiles. The report includes the company profile of key market players in the field of fuel filters. It covers qualitative data providing a comprehensive review of major market drivers, restraints and opportunities, winning imperatives and key burning issues in automotive global fuel filter market.
Key question answered
What are the market estimates and forecasts for the global fuel filter market?
What are the trends based on the key countries of the region?
Identification of market dynamics and impact of the same on global fuel filter market
Analysis of recent developments, alliances, joint ventures, and mergers & acquisitions in the fuel filter market
Audience for this report
Manufacturer of global fuel filter companies
Suppliers for fuel filter manufacturers
Traders, distributors, and suppliers in the global fuel filter market
Automobile associations
Automotive industry as end user industry
1 Introduction
1.1 Analyst Insights
1.2 Market Definitions
1.3 Market Segmentation & Aspects Covered
1.4 Research Methodology
2 Executive Summary
3 Market Overview
4 Fuel Filter by Applications
4.1 Passenger Cars
4.2 LCV
4.3 HCV
5 Fuel Filter by FuelTypes
5.1 Gasoline Fuel
5.2 Diesel Fuel
6 Fuel Filter by RelatedMarkets
6.1 Fuel Injection Systems
7 Fuel Filter by Geographies
7.1 Asia-Pacific
7.2 Europe
7.3 North America
7.4 Rest of World
8 Fuel Filter by Companies
8.1 Ac Delco Inc.
8.2 Hengst Gmbh & Co. Kg
8.3 Hollingsworth & Vose Co. Inc
8.4 K&N Engineering Inc.
8.5 Roki Co. Ltd.
8.6 Tokyo Roki Co. Ltd.
8.7 Affinia Filtration Products
8.8 Ahlstrom Filtration
8.9 Clarcor Engine/Mobile Filtration
8.10 Cummins Filtration
8.11 Donaldson Engine Products segment
8.12 Gud Holdings Automotive Products
8.13 ITW AUTOMOTIVE OEM
8.14 Lydall Industrial Filtration
8.15 Mahle Filtration and Engine Peripherals
8.16 Mann+Hummel Fuel Filter
8.17 Neenah Technical Products
8.18 Parker-Hanninfin Industrial
8.19 Sogefi Engine systems/ Filter
8.20 Robert Bosch Gmbh Automotive Technology
8.21 Federal-Mogul Vehicle Components Solutions
8.22 Toyota Boshoku Filtration & Powertrain Components
8.23 Other Companies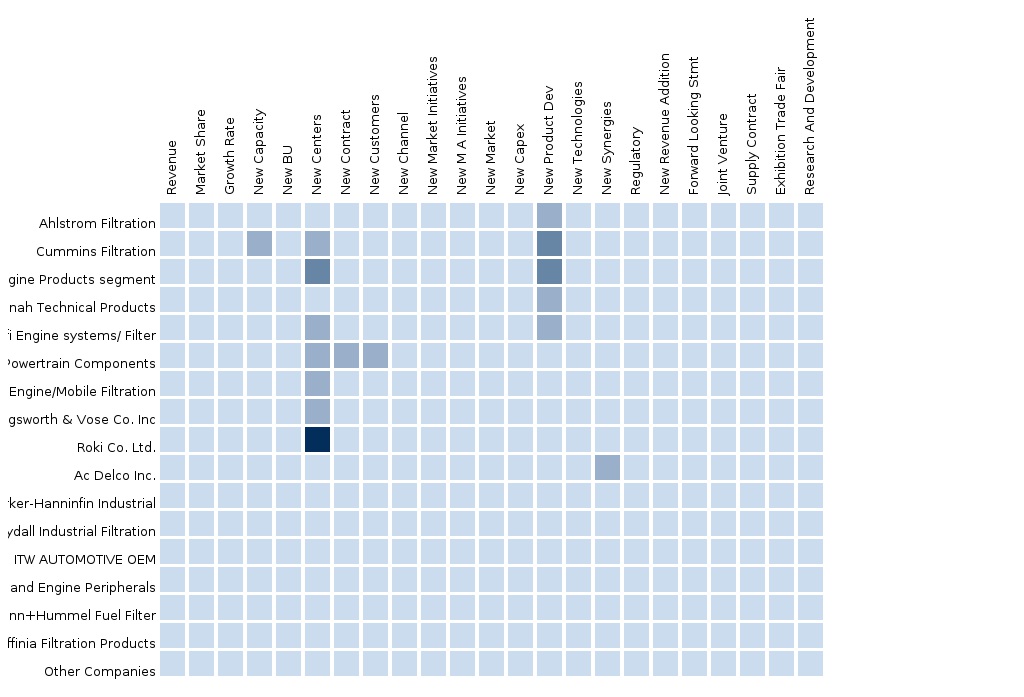 Please fill in the form below to receive a free copy of the Summary of this Report
Custom Market Research Services
We will customize the research for you, in case the report listed above does not meet with your exact requirements. Our custom research will comprehensively cover the business information you require to help you arrive at strategic and profitable business decisions.
Please visit
http://www.micromarketmonitor.com/custom-research-services.html
to specify your custom Research Requirement
PRODUCT TITLE
PUBLISHED
Asia-Pacific Fuel Filter


The rising consciousness regarding the environment has pushed the government of the region to impose regulation norms which is driving the future of fuel filter market which are responsible of restricting the entry of unwanted particles present in the fuel to reach injectors allowing them to function smoothly. This decreases the carbon vehicle emission in the atmosphere. After market plays an important role since in the region fuel used is dirty and also the diesel which consists of high particulate matter is getting popular hence the replacement of these filters will take place frequently opening the opportunities for after-market players. The Asia-Oceania automotive fuel filter market is estimated to grow at a CAGR of 13.1% during 2013 to 2018 generating revenue of $536.78 million by the end of 2018.



Upcoming
Europe Fuel Filter


The stringent emission norms imposed by the government of Europe for controlling the rising levels of the carbon in the atmosphere has accelerated the demand of fuel filters. This has opened up the opportunities both for the OEMs and the after-market players as the replacement of these filters at regular interval of time will become necessary. The Europe automotive fuel filter market is estimated to grow at a CAGR of 9.5% during 2013 to 2018 reaching a value of $220.46 Million by 2018.



Upcoming
North America Fuel Filter


The demand of fuel filter is increasing in North America owing to the stringent emission norms imposed by the government of the region. In order to control the carbon emission levels in the atmosphere, awareness program are being run by the OEMs to tell people about the benefit of the replacement of these filters at regular interval of time opening up the opportunity for after-market players in North America. The North America automotive fuel filter market is estimated to grow at a CAGR of 15.5% during 2013 to 2018 reaching a value of $143.78 Million by 2018.



Upcoming
3 of 3 items
3 reports | Show