Engineering Plastics and its peer markets - Oilfield Chemicals, Cosmetics Ingredients & Additives, Levulinic Acid, Renewable Chemicals, Industrial and Specialty Gases, Bio-chemicals, Polymers Substrate, Energy Materials, High Performance Polymers and 21 other markets - adds up to total Specialty Chemicals market.

Engineering Plastics can be segmented by Geographies, Types, Applications, Companies, Ingredients and Submarkets. Geographies of this market are North America, Europe, Asia-Pacific and Rest of World. Types of this market are Acrylonitrile butadiene styrene, Polycarbonate (PC), Thermoplastic Polyester Engineering Resins, Polyacetal Resins OR Polyoxymethylene (POM), Thermoplastic Polyurethane (TPU), Polyamide (PA), Fluoropolymer and PET/PBT. Applications of this market are Electrical & Electronics, Consumer Goods & Appliances, Transportation (I), Machinery and Packaging. Companies of this market are BASF SE , Bayer MaterialScience, Chi Mei Corporation, ROYAL DSM N.V, E.I. du Pont de Nemours and Company (DuPont), Eastman Chemical Company, Evonik Industries, INVISTA, Lanxess AG, Rhodia S.A., Polyplastics Co. Ltd. ., Sabic Innovative Plastics Holding Us Lp, Ascend Performance Materials Operations Llc, Honeywell Performance Materials and Technologies, Styrolution Group GmbH, Celanese Corporation, DSM Engineering Plastics, Teijin Limited, Jilin Petrochemicals Limited and Zig Sheng Industrial Co. Ltd.. Ingredients of this market are Bisphenol A, Diphenyl Carbonates, Dimethyl Carbonates, Phosgene, Acrylonitrile, Butadiene, Styrene, Hexamethylenediamine (HMDA)/Adiponitrile, Polyester and Ingredients (Others). Submarkets of this market are Plastic.

Key Questions Answered
What are market estimates and forecasts; which of Engineering Plastics markets are doing well and which are not?
What is the competitive landscape; How companies like BASF SE , Bayer MaterialScience and Chi Mei Corporation doing in Engineering Plastics?

What makes our report unique?

This reports provides most granular segmentation on Plastic.
It will provide you market insights into Electrical & Electronics, Consumer Goods & Appliances, Transportation (I) and Machinery.
This report provides market sizing and forecast for the Engineering Plastics market. It also provides market sizing and forecast along with the drivers/inhibitors/opportunity analysis for each of the micro markets.
The report provides deep dive competitive landscape covering the top players such as BASF SE , Bayer MaterialScience, Chi Mei Corporation and ROYAL DSM N.V.
The reports provides benchmarking insight on the top players BASF SE , Bayer MaterialScience, Chi Mei Corporation and ROYAL DSM N.V.
The report provide competitive intelligence on BASF SE , Bayer MaterialScience, Chi Mei Corporation and ROYAL DSM N.V.
Many times, customers do not get specific intelligence they are looking for in multi-client syndicated studies. So we offer 10% customization which will ensure you get the desired market intelligence, may it be specific to Electrical & Electronics, Consumer Goods & Appliances, Transportation (I) and Machinery applications or Engineering Plastics market in North America, Europe, Asia-Pacific and Rest of World.

Audience for this report

Global Engineering Plastics companies
Manufacturing Companies
Traders, distributors, and suppliers
Governmental and research organizations
Associations and industry bodies
Technology providers

Top developments

Chi Mei Corporation and SANYO KAKO inked an agreement to enhance technology collaboration of high value products like engineering plastics
Chargepoint, world's largest EV charging network has decided to use Bayer Material Sciences Markolon polycarbonate for its charging stations since they are more flame retardant and impact resistant
BASF inaugrtaes its first Ultrason plant outside Germany with a capacity of 6,000 metric tons per year
BASF to build an integrated plant for the manufacturing of Ultramid and Ultradur with the startup expected in last quarter of 2015
Bayer sets up a new production facility and a new technical center at Leverkusen
With the introduction of 'Apec', the brand name of specialized polycarbonate for camera flashes
DSM enters into a JV with Petropol for high quality engineering plastics
Lanxess launches Durethan TC
At Ludwigshafen, Germany BASF has started a customised polyamide coextrusion line in collaboration with other players of film industry
DSM has entered into an agreement with Indian Electrical Research and Development Association




1 Introduction
1.1 Analyst Insights
1.2 Market Definitions
1.3 Market Segmentation & Aspects Covered
1.4 Research Methodology
2 Executive Summary
3 Market Overview
4 By Submarkets
4.1 Plastic
5 By Applications
5.1 Electrical & Electronics
5.2 Consumer Goods & Appliances
5.3 Transportation (I)
5.4 Machinery
5.5 Packaging
6 By Types
6.1 Acrylonitrile butadiene styrene
6.2 Polycarbonate (PC)
6.3 Thermoplastic Polyester Engineering Resins
6.4 Polyacetal Resins OR Polyoxymethylene (POM)
6.5 Thermoplastic Polyurethane (TPU)
6.6 Polyamide (PA)
6.7 Fluoropolymer
6.8 PET/PBT
7 By Ingredients
7.1 Bisphenol A
7.2 Diphenyl Carbonates
7.3 Dimethyl Carbonates
7.4 Phosgene
7.5 Acrylonitrile
7.6 Butadiene
7.7 Styrene
7.8 Hexamethylenediamine (HMDA)/Adiponitrile
7.9 Polyester
7.10 Ingredients (Others)
8 By Geographies
8.1 North America
8.2 Europe
8.3 Asia-Pacific
8.4 Rest of World
9 By Companies
9.1 BASF SE
9.2 Bayer MaterialScience
9.3 Chi Mei Corporation
9.4 ROYAL DSM N.V
9.5 E.I. du Pont de Nemours and Company (DuPont)
9.6 Eastman Chemical Company
9.7 Evonik Industries
9.8 INVISTA
9.9 Lanxess AG
9.10 Rhodia S.A.
9.11 Polyplastics Co. Ltd. .
9.12 Sabic Innovative Plastics Holding Us Lp
9.13 Ascend Performance Materials Operations Llc
9.14 Honeywell Performance Materials and Technologies
9.15 Styrolution Group GmbH
9.16 Celanese Corporation
9.17 DSM Engineering Plastics
9.18 Teijin Limited
9.19 Jilin Petrochemicals Limited
9.20 Zig Sheng Industrial Co. Ltd.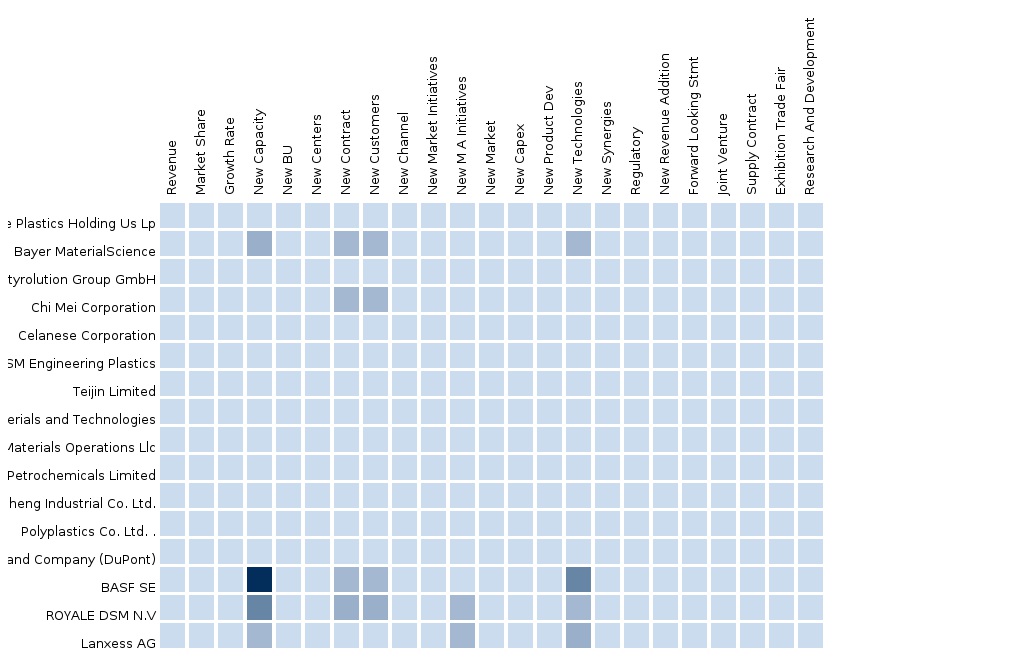 Please fill in the form below to receive a free copy of the Summary of this Report
Custom Market Research Services
We will customize the research for you, in case the report listed above does not meet with your exact requirements. Our custom research will comprehensively cover the business information you require to help you arrive at strategic and profitable business decisions.
Please visit
http://www.micromarketmonitor.com/custom-research-services.html
to specify your custom Research Requirement
PRODUCT TITLE
PUBLISHED
North America Engineering Plastics


Engineering Plastics-North America can be segmented by Types, Applications, Companies, Ingredients and Submarkets. Types of Engineering Plastics-North America are Acrylonitrile butadiene styrene, Polycarbonate (PC), Thermoplastic Polyester Engineering Resins, Polyacetal...



Upcoming
Asia-Pacific Engineering Plastics


Engineering Plastics-Asia-Pacific can be segmented by Types, Applications, Companies, Ingredients and Submarkets. Types of Engineering Plastics-Asia-Pacific are Acrylonitrile butadiene styrene, Polycarbonate (PC), Thermoplastic Polyester Engineering Resins, Polyacetal...



Upcoming
Europe Engineering Plastics


Engineering Plastics-Europe can be segmented by Types, Applications, Companies, Ingredients and Submarkets. Types of Engineering Plastics-Europe are Acrylonitrile butadiene styrene, Polycarbonate (PC), Thermoplastic Polyester Engineering Resins, Polyacetal Resins OR...



Upcoming
3 of 3 items
3 reports | Show