Emulsification and Thickening, Gelling , Stabilization, Coating and Texturant Functions - Other adds up to total Food & Beverage Texturants market.

Companies of this market are Ajinomoto Co., Inc., Archer Daniels Midland Company, Ashland Inc, Del6, CP KELCO, E.I. du Pont de Nemours and Company (DuPont), FMC Corporation, Ingredion Incorporated, Kerry Group plc, Lonza Group Ltd, Naturex S. A., PALSGAARD A/S, Penford Corporation, Puratos Group, RIKEN VITAMIN CO. LTD, ROYAL DSM N.V, Tate & Lyle PLC and Tic Gums Incorporation.

Key Questions Answered
What are market estimates and forecasts; which of Emulsification markets are doing well and which are not?
What is the competitive landscape; How companies like Ajinomoto Co., Inc., Archer Daniels Midland Company and Ashland Inc doing in Emulsification?

What makes our report unique?

This report provides market sizing and forecast for the Emulsification market. It also provides market sizing and forecast along with the drivers/inhibitors/opportunity analysis for each of the micro markets.
The report provides deep dive competitive landscape covering the top players such as Ajinomoto Co., Inc., Archer Daniels Midland Company, Ashland Inc and Del6.
The reports provides benchmarking insight on the top players Ajinomoto Co., Inc., Archer Daniels Midland Company, Ashland Inc and Del6.
The report provide competitive intelligence on Ajinomoto Co., Inc., Archer Daniels Midland Company, Ashland Inc and Del6.

Audience for this report

Global Emulsification companies
Manufacturing Companies
Traders, distributors, and suppliers
Governmental and research organizations
Associations and industry bodies
Technology providers

Top developments

Product showcase
Expansion
Expansion
Expansion
Acquisition
Expansion
Product showcase
New product launch
Distribution agreement
Expansion




1 Introduction
1.1 Analyst Insights
1.2 Market Definitions
1.3 Market Segmentation & Aspects Covered
1.4 Research Methodology
2 Executive Summary
3 Market Overview
4 By Companies
4.1 Ajinomoto Co., Inc.
4.2 Archer Daniels Midland Company
4.3 Ashland Inc
4.4 Del6
4.5 CP KELCO
4.6 E.I. du Pont de Nemours and Company (DuPont)
4.7 FMC Corporation
4.8 Ingredion Incorporated
4.9 Kerry Group plc
4.10 Lonza Group Ltd
4.11 Naturex S. A.
4.12 PALSGAARD A/S
4.13 Penford Corporation
4.14 Puratos Group
4.15 RIKEN VITAMIN CO. LTD
4.16 ROYAL DSM N.V
4.17 Tate & Lyle PLC
4.18 Tic Gums Incorporation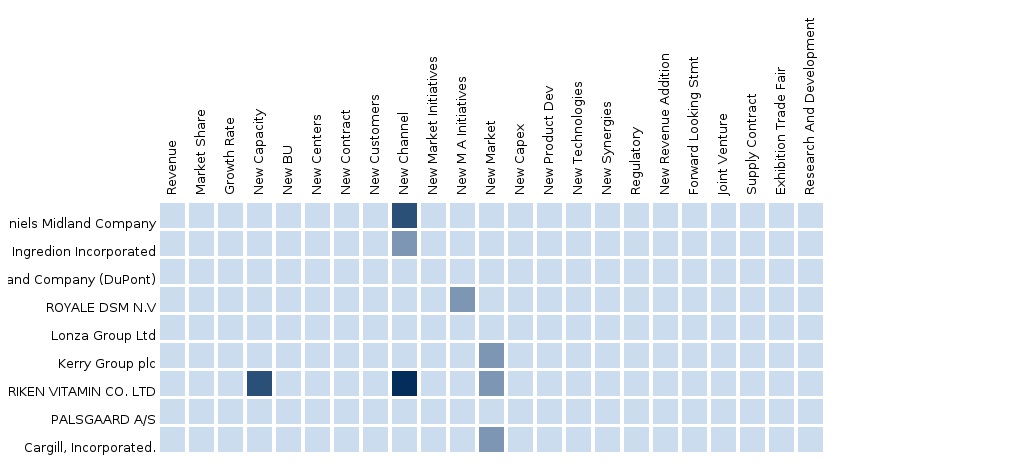 Please fill in the form below to receive a free copy of the Summary of this Report
Custom Market Research Services
We will customize the research for you, in case the report listed above does not meet with your exact requirements. Our custom research will comprehensively cover the business information you require to help you arrive at strategic and profitable business decisions.
Please visit
http://www.micromarketmonitor.com/custom-research-services.html
to specify your custom Research Requirement
Food & Beverage Texturants