A DNA microarray is a collection of microscopic DNA spots attached to a solid surface. It is a high throughput technology used to measure the expression levels of genes. Oligonucleotide-based arrays and complementary DNA chips are the technology segment of this market. Oligonucleotide (oDNA) microarrays are constructed by spotting short DNA oligonucleotides on a silicon wafer or glass array using either inkjet print technology or photolithography. Complementary DNA chips are constructed by immobilizing it onto a solid surface, such as glass, using either inkjet print or mechanical microspotting technology.
The DNA microarray market report analyzes its driving forces, new opportunities, winning imperatives, and burning issues. The restraints, challenges, and regulatory affairs relevant to the market have also been discussed. The DNA microarray ecosystem, Porter's Five Forces Analysis, product lifecycles, and market chasm analysis are also in the scope of the market study. Government-funded research in gene-related diagnostics and drug development fuels the market growth.
The report provides an in-depth analysis of market landscape and market trends information on the DNA microarray market based on products, applications, and geography. The market segmented by applications include diagnostics, drug discovery, academic research, agriculture& animal research, personalized medicine, and others. On the basis of products, the market is segmented into DNA microarray instruments, DNA microarray reagents, and DNA microarray services. The market covers North America, Europe, Asia-Pacific, and Rest of the World in terms of geography.
In addition to this, the report also provides comprehensive information on the key trends affecting and market landscape of this market, by applications: Diagnostics, Drug discovery, Academic research, Agriculture& Animal research, personalized medicine, and others.
In-depth market share analysis, by revenue, of the top companies is also included in the report. These numbers are arrived at, based on key facts, annual financial information from SEC filings, annual reports and interviews with industry experts, key opinion leaders such as CEOs, directors, and marketing executives. Detailed market share analysis of the major players in the DNA Microarray market is covered in this report.
1 Introduction
1.1 Analyst Insights
1.2 Market Definitions
1.3 Market Segmentation & Aspects Covered
1.4 Research Methodology
2 Executive Summary
3 Market Overview
4 By Applications
4.1 In Vitro Diagnostics
4.2 Drug Discovery
4.3 Academics
4.4 Agrigenomics
4.5 Personalized Medicine
4.6 Other Applications
5 By Technologies
5.1 Oligonucleotide Based Gene Chip
5.2 Complimentary DNA Chips
6 By Products
6.1 DNA Microarray Instruments
6.2 DNA Microarray Reagents
6.3 Genechips/Probes
6.4 DNA Microarray Services
6.5 DNA Microarray Consumables
7 By Geographies
7.1 North America
7.2 Europe
7.3 Asia-Pacific
7.4 Rest of World
8 By Companies
8.1 Illumina
8.2 Agilent Technologies
8.3 Affymetrix
8.4 Roche Diagnostics
8.5 Sequenom, Inc.
8.6 Bio-Rad Laboratories, Inc.
8.7 Oxford Gene technology
8.8 Other Companies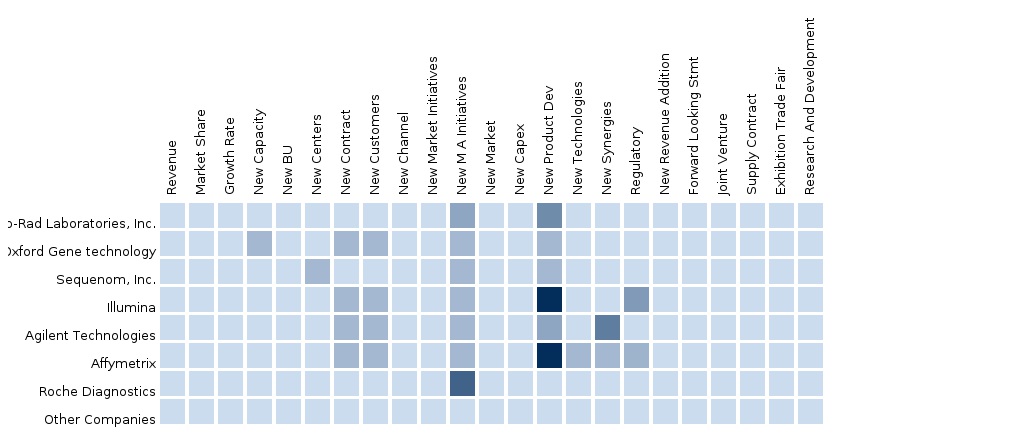 Please fill in the form below to receive a free copy of the Summary of this Report
Custom Market Research Services
We will customize the research for you, in case the report listed above does not meet with your exact requirements. Our custom research will comprehensively cover the business information you require to help you arrive at strategic and profitable business decisions.
Please visit
http://www.micromarketmonitor.com/custom-research-services.html
to specify your custom Research Requirement
PRODUCT TITLE
PUBLISHED
Oligonucleotide Based Gene Chip


Oligonucleotide Based Gene Chip and Complimentary DNA Chips adds up to total



Upcoming
Complimentary DNA Chips


Complimentary DNA Chips and Oligonucleotide Based Gene Chip adds up to total



Upcoming
DNA Microarray Consumables


DNA Microarray Consumables and DNA Microarray Instruments,



Upcoming
Photolithographic (light generated) oligonucleotide chips


Photolithographic (light generated) oligonucleotide chips and Inkjet print technology generated oligonucleotide chips adds up to...



Upcoming
Inkjet print technology generated oligonucleotide chips


Inkjet print technology generated oligonucleotide chips and Photolithographic (light generated) oligonucleotide chips adds up to...



Upcoming
Mechanical microspotting generated cDNA chips


Mechanical microspotting generated cDNA chips and Inkjet print technology generated cDNA chips adds up to total



Upcoming
Inkjet print technology generated cDNA chips


Inkjet print technology generated cDNA chips and Mechanical microspotting generated cDNA chips adds up to total



Upcoming
North American DNA Microarray


The North American geographic segment of the global DNA Microarray market was valued at $423.2 million in 2013 and is the largest regional contributor to the global genomics market. The North American region is expected to witness a relatively large number of innovations in genomics research in terms of technology and expansion of application areas to improve human health.



Upcoming
European DNA Microarray


The market value was pegged at $337.5 million in 2013 and is expected to grow at a CAGR of 16.2% from 2014 to 2019.The market can be segmented on the basis of types and applications, the report further segments the market into major geographies, end users, companies, and macro indicators. Deep-dive analysis of the top players of this market have been considered in this report



Upcoming
Asia-Pacific DNA Microarray


The Asn DNA microarray market has gained a significant share in the total DNA microarray market. The market was pegged at $274 million in 2012 and is estimated to achieve $791 million by 2018, with a growing CAGR of 21.5%. The market can be segmented on the basis of types and applications, the report further segments the market into major geographies, end users, companies, and macro indicators. Deep-dive analysis of the top players of this market have been considered in this report



Upcoming
10 of 10 items
10 reports | Show