The European data center cooling market is expected to grow from $1.33 billion in 2013 to $2.12 billion in 2018, at an expected CAGR of 9.77% from 2013 to 2018.
The major players in the European data center cooling market are OEMs (original equipment manufacturers), solution providers, service providers, system integrators, and distributors. The number of data center establishments is increasing, resulting in a rise in the investment in setting up cooling infrastructure. The growth opportunities in this market are immense, with growing amount of data flow across enterprises in the form of big data, increasing heat density in data centers, and increasing storage requirements and cloud-based systems. More than technical innovations, inherent improvements are sought in hardware and network architecture.
Europe is the second-largest market for data center cooling. The region offers better and eco-friendly data center cooling technologies for businesses. Furthermore, the skilled labor required for various operations in a data center cooling system is available. In a very short duration, Europe has adopted green data center technologies. The government, due to new developments and advancement in green cooling solutions, is supporting this market in Europe. This green technology also satisfies the environmental protection standard regulations of the European government.
MicroMarketMonitor analyzes the adoption trends, future growth potential, key drivers, restraints, opportunities, and best practices in the European data center cooling market. The report covers the deep dive analysis of the top players in the market including APC, Emerson, STUZ, Hitachi, Mitsubishi Electric, Cisco, Allied Control, Microsoft, NEC, Stellar Energy, and Siemon. The report also examines growth potential, market sizes, and revenue forecasts across different platforms, solutions, and services.
Report Options
By Solutions: Air conditioners, chillers, economizers, cooling towers, servers/racks, and management systems
By User Types: Cloud, colocation, and enterprise
By Service Offered: System integration, monitoring services, and professional services
By Industry Verticals: Banking, financial services and insurance (BFSI), telecom and information technology (IT), oil and gas, healthcare, and government and public
Customization Options
Along with the MMM assessment, you can customize the report in alignment with your company's specific needs. Customize this report to obtain a comprehensive summary of the industry standards and a deep-dive analysis of the following considerations.
Solutions Matrix
Comprehensive analysis and benchmarking of services, solutions, user types, verticals, and regions in the data center cooling market
Competitive Benchmarking
Value-chain evaluation using events, developments, and market data for vendors in the market ecosystem, across various industrial verticals, market segmentation, and categorization

Identification of hidden opportunities by connecting related markets using cascaded value-chain analysis; validation of growth in the data center cooling market to corresponding growth in the use of the Internet
Emerging Advancement in Data Center Cooling
Free cooling technology

Liquid cooling technology

Evaporative technology

Measurement and management technology (MMT)

Robotic cooling assessment
Vendor Landscaping
Vendor market watch and predictions, vendor market shares and offerings, categorization of adoption trends, and market dominance (leaders, challengers, followers, nichers)
Environmental Analysis
Listing of eco-friendly solutions and tools

Green cooling technology

Corporate social responsibility strategic plans
Data Center Cooling Watch
Smarter hardware and middleware

Closed loop control system

Air-cooled DX system

Glycol-cooled system

Indoor air-cooled self-contained system

Self-contained roof-top system
Market Data Tracker
Regional and country-specific market forecast and analysis

Identification of key end-user segments, by country

Market opportunity plotting and portfolio comparison
1 Introduction
1.1 Objectives of the Study
1.2 Market Segmentation & Coverage
1.3 Stakeholders
2 Research Methodology
2.1 Integrated Ecosystem of Data Center Cooling Market
2.2 Arriving at the Europe Data Center Cooling Market Size
2.2.1 Top-Down Approach
2.2.2 Bottom-Up Approach
2.2.3 Demand Side Approach
2.2.4 Macroindicator-Based Approach
2.3 Assumptions
3 Executive Summary
4 Market Overview
4.1 Introduction
4.2 Europe Data Center Cooling Market Growth Analysis: Comparison with Data Center Market
4.3 Market Drivers and Inhibitors
4.4 Key Market Dynamics
4.5 Demand Side Analysis
5 Data Center Cooling Market, By Vertical
(Overview, Market Size and Forecast)
5.1 Introduction
5.2 BFSI
5.3 Telecom & IT
5.4 Government
5.5 Energy
5.6 Healthcare
5.7 Education
5.8 Others
6 Data Center Cooling Market, By Types of Cooling
(Overview, Market Size and Forecast)
6.1 Introduction
6.2 Room Cooling
6.3 Rack/Row Cooling
7 Data Center Cooling Market, By Solution
(Overview, Market Size and Forecast)
7.1 Introduction
7.2 Air Conditioning
7.3 Chillers
7.4 Economizers
7.5 Cooling Towers
7.6 Servers Cooling
7.7 Management Systems
7.8 Others
8 Data Center Cooling Market, By Service
(Overview, Market Size and Forecast)
8.1 Introduction
8.2 System Integrators
8.3 Monitoring Services
8.4 Professional Services
9 Data Center Cooling Market, By User Type
(Overview, Market Size and Forecast)
9.1 Introduction
9.2 Cloud Provider
9.3 Colocation Provider
9.4 Enterprise
10 Data Center Cooling Market, By Geography
(Overview, Market Size and Forecast)
10.1 Introduction
10.2 U.K.
10.3 Germany
10.4 France
10.5 Italy
10.6 Rest of Europe
11 Data Center Cooling Market: Competitive Landscape
11.1 Company Presence in the Data Center Cooling Market
11.2 Mergers & Acquisitions
11.3 New Product Development
11.4 Joint Ventures, Partnerships, and Collaborations
12 Data Center Cooling Market, By Company
(Overview, Key Financials, Product and Service Offerings, Related Developments, MMM Analysis)
12.1 Adaptivcool
12.2 Airedale International Air Conditioning Ltd
12.3 American Power Conversion Corporation
12.4 Black Box Corporation
12.5 Emerson Network Power
12.6 Rittal GmbH & Co
12.7 Coolcentric
12.8 Stulz GmbH
12.9 Itaire, Inc
12.10 Vigilent Corporation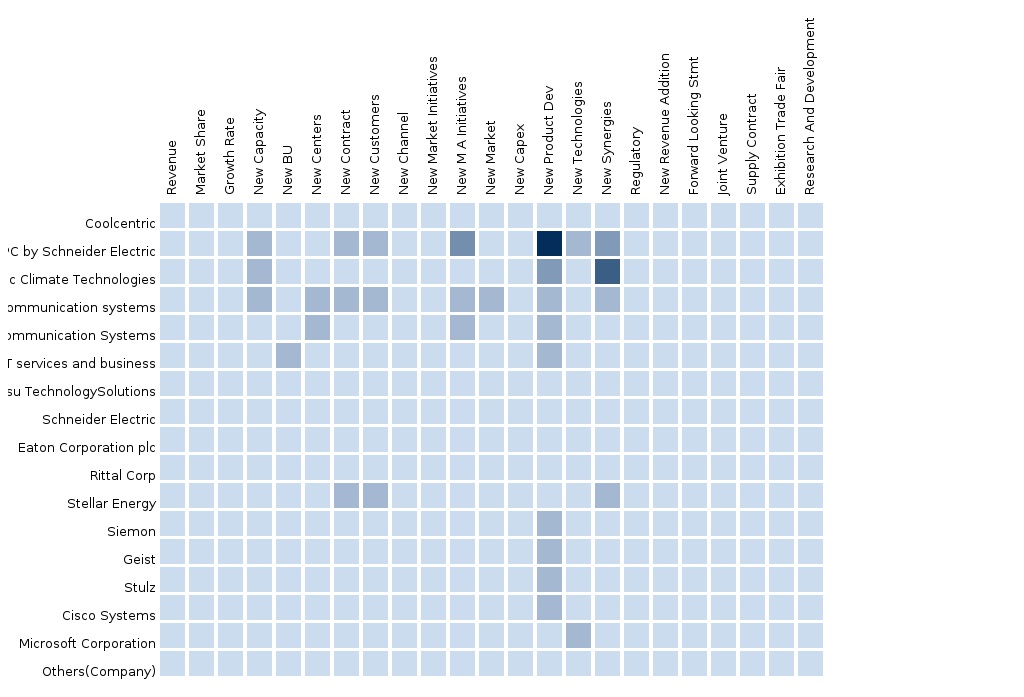 Please fill in the form below to receive a free copy of the Summary of this Report
Custom Market Research Services
We will customize the research for you, in case the report listed above does not meet with your exact requirements. Our custom research will comprehensively cover the business information you require to help you arrive at strategic and profitable business decisions.
Please visit
http://www.micromarketmonitor.com/custom-research-services.html
to specify your custom Research Requirement
Europe Data Center Cooling (ICT)