Global Clinical Trial Management Systems (CTMS) Market Research Report
The global clinical trial management systems market, mainly driven by the increasing R&D investments in pharmaceutical, life sciences, and clinical research industries, along with integration of CTMS with HIS, and also the rising prevalence of diseases and increased clinical research outsourcing, was valued at $881.6 million in 2013 and is expected to reach $1,745.4 million by 2018, at a CAGR of 14.6% from 2013 to 2018.
The report analyzes the market in terms of 2 segments, such as enterprise CTMS, and site CTMS. The site CTMS market is the largest segment of the clinical trial management systems market.
North America dominated the global CTMS market with 62% share in 2013. Majority of the global clinical trials are conducted in North America, especially in the U.S., and this is attributed to the presence of major clinical trial & research centers, clinical research organizations (CROs), and pharmaceutical companies in the U.S.
Europe holds the second position with 28% share and this is attributed to the development in the clinical trial sector, along with the improving government regulations and investments towards clinical trials, and drug research & development.
Currently, the clinical trial outsourcing from Asian countries is increasing due to cost effectiveness and large patient population availability. Asia and ROW contribute around 7% and 3% respectively as CTMS is less penetrated in these regions. The Asian market is believed to offer good growth opportunities to the CTMS market due to the increased clinical trial outsourcing trend from the western countries into this region.
The industry segment holds the major share of 87% in the clinical trials market. 58% of the trials are handled by the industry, while 2% of the trials are handled by the industry segment in collaboration with healthcare providers, funded by grants. Nearly 14% of the trials are handled by industry in collaboration with healthcare providers, and all of these trials are self-financed trials without any grants.

Healthcare providers such as academic medical centers (AMCs), hospitals, cancer research centers, universities, and individual research centers also handle clinical trials that are outsourced by the pharmaceutical companies. The healthcare providers' segment holds 19% of the total clinical trials, where all these trials are sponsored by the pharmaceutical industry and have been outsourced to the healthcare providers' segment. These statistics indicate that the percentage of clinical trials that are outsourced to healthcare providers are very less compared to CROs, wherein financial dependency of healthcare providers on the funds and grants received from NIH, the U.S. Federal Agency, and other organizations and state governments, is considered as the major restraint of the healthcare providers' market, limiting the number of clinical trials outsourced to healthcare providers.
The report also provides an extensive competitive landscaping of the leading companies operating in this market. The main companies that are extensively covered in this report include Oracle Corporation, Perceptive Informatics (PAREXEL), Medidata Solutions, eResearch Technology Solutions, Bioclinica, Datatrak international, Inc., and Pharmaceutical Product Development, Llc. Furthermore, segment and country-specific company shares, news & deals, M&A, segment-specific pipeline products, product approvals, and product recalls of the major companies have been detailed in this report.
Customization Options:
Along with the market data, customize the MMM assessments to meet your company's specific needs. Customize to get a comprehensive summary of the industry standards and deep dive analysis of the following parameters:
Product Analysis
Usage pattern (in-depth trend analysis) of products (segment-wise)
Product matrix, which gives a detailed comparison of product portfolio of each company, mapped at country and sub-segment levels
End-user adoption rate analysis of the products (segment-wise and country-wise)
Comprehensive coverage of product approvals, pipeline products, and product recalls
Pharmacists' Forum
Fast turn-around analysis of pharmacists' responses to market events and trends
Pharmacists' opinions about products from different companies
Pharmacists' qualitative inputs on epidemiology data
Pattern analysis of usage of drugs by physicians
Brand/Product Perception Matrix
A comprehensive study of customers' perception and behavior through our inbuilt social connect tool checking the virality and tonality of blogs
An analysis of overall brand usage and familiarity and brand advocacy distribution (detractor/neutral/familiar)
1 Introduction
1.1 Analyst Insights
1.2 Market Definitions
1.3 Market Segmentation & Aspects Covered
1.4 Research Methodology
2 Executive Summary
3 Market Overview
4 By Components
4.1 Hardware (Healthcare IT)
4.2 Software (Healthcare IT)
4.3 Services (Healthcare IT)
5 By Deployments
5.1 Web-based
5.2 On-premise
5.3 Cloud-based
6 By Endusers
6.1 Contract Research Organization (CRO)
6.2 Pharmaceuticals
6.3 Healthcare Providers
7 By Types
7.1 Site CTMS
7.2 Enterprise CTMS
8 By Geographies
8.1 North America
8.2 Europe
8.3 Asia
8.4 Rest of World
9 By Companies
9.1 Oracle Corporation
9.2 PAREXEL International Corporation
9.3 Medidata Solutions, Inc.
9.4 eResearch Technology Inc.
9.5 BioClinica Inc.
9.6 DATATRAK International, Inc.
9.7 Pharmaceutical Product Development, LLC
9.8 Other Companies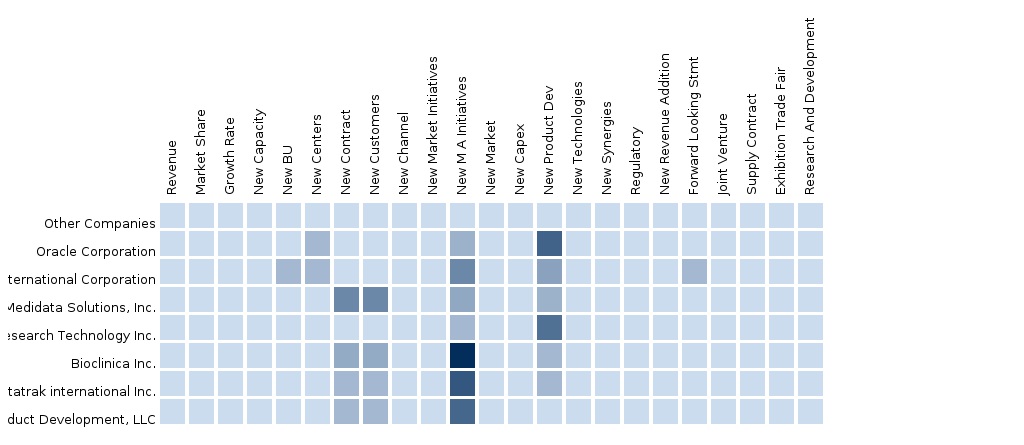 Please fill in the form below to receive a free copy of the Summary of this Report
Custom Market Research Services
We will customize the research for you, in case the report listed above does not meet with your exact requirements. Our custom research will comprehensively cover the business information you require to help you arrive at strategic and profitable business decisions.
Please visit
http://www.micromarketmonitor.com/custom-research-services.html
to specify your custom Research Requirement
PRODUCT TITLE
PUBLISHED
Site CTMS


Site CTMS and Enterprise CTMS adds up to total



Upcoming
Enterprise CTMS


Enterprise CTMS and Site CTMS adds up to total



Upcoming
North American Clinical Trial Management Systems (CTMS) Market


The North American Clinical Trial Management Systems Market is mainly driven by increasing R&D investment in pharmaceutical, life science and clinical research industries, Integration of CTMS with HIS, and rising prevalence of diseases and increased clinical research outsourcing.The Market was valued at $548.32 million in 2013 and expected to be $1107.57 million by 2018, growing at a CAGR of 15%. The Clinical Trial Management Systems Market analyzes the market by 2 segments such as Enterprise CTMS, and Site CTMS.The prominent players in the Clinical Trial Management Systems Market are Oracle Corporation, Perceptive Informatics (PAREXEL), Medidata Solutions, eResearch Technology Solutions, Bioclinica, Datatrak international inc., Pharmaceutical Product Development, LLC.



Upcoming
European Clinical Trial Management Systems (CTMS) Market


The European Clinical Trial Management Systems Market is mainly driven by increasing R&D investment in pharmaceutical, life science and clinical research industries, Integration of CTMS with HIS, and rising prevalence of diseases and increased clinical research outsourcing.The Market was valued at $242.9 million in 2013 and expected to be $466 million by 2018, growing at a CAGR of 13.9%. The Clinical Trial Management Systems Market analyzes the market by 2 segments such as Enterprise CTMS, and Site CTMS.The prominent players in the Clinical Trial Management Systems Market are Oracle Corporation, Perceptive Informatics (PAREXEL), Medidata Solutions, eResearch Technology Solutions, Bioclinica, Datatrak international inc., Pharmaceutical Product Development, LLC.



Upcoming
Asian Clinical Trial Management Systems (CTMS) Market


The Asian Clinical Trial Management Systems Market is mainly driven by increasing R&D investment in pharmaceutical, life science and clinical research industries, Integration of CTMS with HIS, and rising prevalence of diseases and increased clinical research outsourcing.The Market was valued at $63.8 million in 2013 and expected to be $133.9 million by 2018, growing at a CAGR of 16%. The Clinical Trial Management Systems Market analyzes the market by 2 segments such as Enterprise CTMS, and Site CTMS.The prominent players in the Clinical Trial Management Systems Market are Oracle Corporation, Perceptive Informatics (PAREXEL), Medidata Solutions, eResearch Technology Solutions, Bioclinica, Datatrak international inc., Pharmaceutical Product Development, LLC.



Upcoming
5 of 5 items
5 reports | Show
Global Clinical Trial Management Systems (CTMS) Market