Ceramic Sanitary Ware can be segmented by Companies and Types. Companies of this market are KOHLER CO., AS America, Inc., Annwa Ceramic Sanitaryware Co., Ltd., Ceramica Althea S.p.A, CORONA ORGANIZATION, Duratex S.A., Duravit AG, Eczacibasi Holding A.S., EGE VITRIFIYE SAGLIK GEREÇLERI SAN. VE TIC. A.S., HSIL Ltd., Ideal Standard International BVBA, Lecico Egypt (S.A.E.), LIXIL Group Corporation., Roca Sanitario, S.A., Sanitec Oyj,, Star Sanitaryware Public Company Limited , SSWW SANITARYWARE CO. LTD, TANGSHAN HUIDA CERAMIC GROUP CO. LTD, Toto Ltd. and Villeroy & Boch AG. Types of this market are Wash Basin, Water Closets, Cistern and Bidets.

Key Questions Answered
What are market estimates and forecasts; which of Ceramic Sanitary Ware markets are doing well and which are not?
What is the competitive landscape; How companies like KOHLER CO., AS America, Inc. and Annwa Ceramic Sanitaryware Co., Ltd. doing in Ceramic Sanitary Ware?

What makes our report unique?

This report provides market sizing and forecast for the Ceramic Sanitary Ware market. It also provides market sizing and forecast along with the drivers/inhibitors/opportunity analysis for each of the micro markets.
The report provides deep dive competitive landscape covering the top players such as KOHLER CO., AS America, Inc., Annwa Ceramic Sanitaryware Co., Ltd. and Ceramica Althea S.p.A.
The reports provides benchmarking insight on the top players KOHLER CO., AS America, Inc., Annwa Ceramic Sanitaryware Co., Ltd. and Ceramica Althea S.p.A.
The report provide competitive intelligence on KOHLER CO., AS America, Inc., Annwa Ceramic Sanitaryware Co., Ltd. and Ceramica Althea S.p.A.

Audience for this report

Global Ceramic Sanitary Ware companies
Manufacturing Companies
Traders, distributors, and suppliers
Governmental and research organizations
Associations and industry bodies
Technology providers

Top developments

American Standard participated in the Reinvent the Toilet Fair: India event
Duravit announced the expansion of its expertise in the product segments - Bathtubs & Wellness and Senowash
Villeroy & Boch Group introduced new hygiene standards with the WC innovation DirectFlush.
LIXIL acquired 87.5% of the share capital of GROHE Group S.à r.l. (France)
LIXIL announced investment of at least Bt230 million to expand its 'Lixil American Standard' sanitaryware plant.
LIXIL partnered with UNICEF for the launch of its Improved Sanitation in Schools (ISIS) 2018 project.
American Standard introduced new models and color options to its two-piece Champion PRO line of toilets.
American Standard donated hundreds of thousands of toilet systems to Bangladesh on the 12th annual World Toilet Day.
American Standard awarded with a grant from the foundations
American Standard awarded with 'Best of What's New' award




1 Introduction
1.1 Analyst Insights
1.2 Market Definitions
1.3 Market Segmentation & Aspects Covered
1.4 Research Methodology
2 Executive Summary
3 Market Overview
4 By Types
4.1 Wash Basin
4.2 Water Closets
4.3 Cistern
4.4 Bidets
5 By Companies
5.1 KOHLER CO.
5.2 AS America, Inc.
5.3 Annwa Ceramic Sanitaryware Co., Ltd.
5.4 Ceramica Althea S.p.A
5.5 CORONA ORGANIZATION
5.6 Duratex S.A.
5.7 Duravit AG
5.8 Eczacibasi Holding A.S.
5.9 EGE VITRIFIYE SAGLIK GEREÇLERI SAN. VE TIC. A.S.
5.10 HSIL Ltd.
5.11 Ideal Standard International BVBA
5.12 Lecico Egypt (S.A.E.)
5.13 LIXIL Group Corporation.
5.14 Roca Sanitario, S.A.
5.15 Sanitec Oyj,
5.16 Star Sanitaryware Public Company Limited 
5.17 SSWW SANITARYWARE CO. LTD
5.18 TANGSHAN HUIDA CERAMIC GROUP CO. LTD
5.19 Toto Ltd.
5.20 Villeroy & Boch AG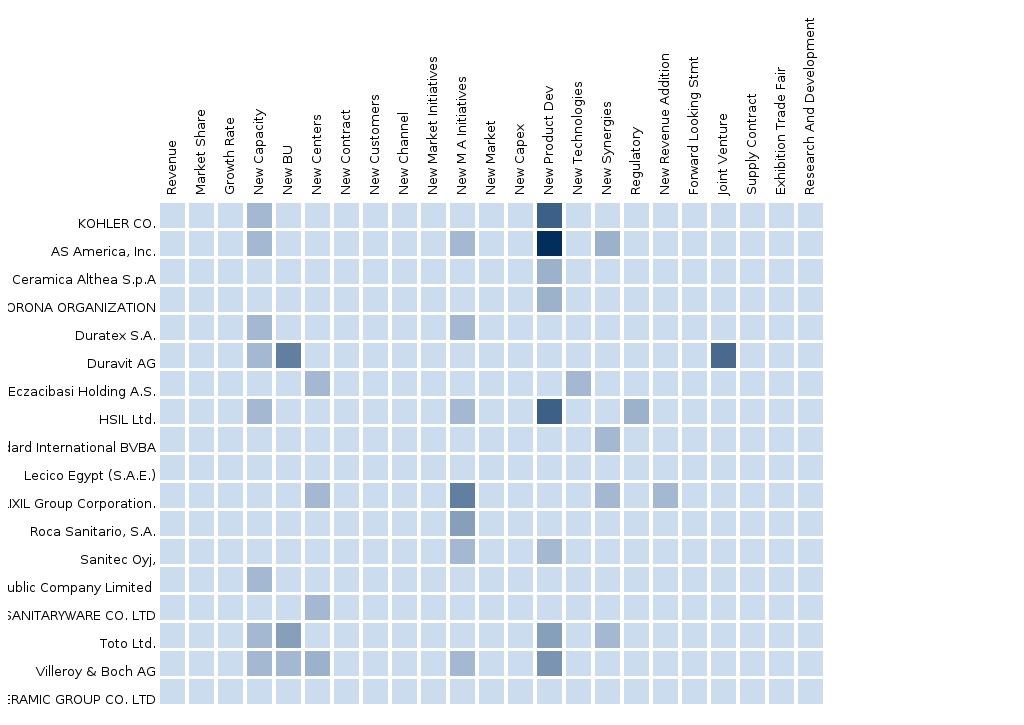 Please fill in the form below to receive a free copy of the Summary of this Report
Custom Market Research Services
We will customize the research for you, in case the report listed above does not meet with your exact requirements. Our custom research will comprehensively cover the business information you require to help you arrive at strategic and profitable business decisions.
Please visit
http://www.micromarketmonitor.com/custom-research-services.html
to specify your custom Research Requirement
PRODUCT TITLE
PUBLISHED
Wash Basin


Wash Basin and Water Closets, Cistern and



Upcoming
Water Closets


Water Closets and Wash Basin, Cistern and



Upcoming
Cistern


Cistern and Wash Basin, Water Closets and



Upcoming
Bidets


Bidets and Wash Basin, Water Closets and



Upcoming
4 of 4 items
4 reports | Show