Global Advanced Phase Change Materials Market Research Report
Advanced Phase Change Materials and Advanced Functional Materials and Honeycomb Paper Materials adds up to total Advanced Materials market.

Advanced Phase Change Materials can be segmented by Geographies, Ingredients, Applications, Companies and Submarkets. Geographies of this market are Europe, Americas, Asia-Pacific and Middle East and Africa. Ingredients of this market are Fatty acids, Plants, Animal Fat, Sodium Salts and Ingredients (Others). Applications of this market are HVAC System, Supply chain, Textiles Manufacturing, Energy Storage Systems, Phase change memory, Refrigeration and Building & Construction. Companies of this market are SGL ROTEC GMBH & CO. KG, Rubitherm Technologies GMBH, Ewald Dörken AG, Climator Sweden AB, SALCA BV, Phase Change Material Products Limited, Cryopak Inc., PCM Energy P. Ltd, Pluss Polymers Pvt. Ltd, Rgees LLC, BASF SE , Outlast Technologies LIC, Emco Klimatechnik Gmbh & Co. KG, Phase Change Energy Solutions Inc., Entropy Solutions Inc., Datum Phase Change Ltd, E.I. DU Pont DE Nemours, Honeywell Business Segments, Sonoco Products Co., MICRON TECHNOLOGY INC, The Bergquist Company, Laird PLC, Samsung Electronics, Honeywell Electronic Materials Inc., National Gypsum Company, TROX GmbH, CIAT group, Magellan's, Triumph Group Inc, Yamaha, Vanity Fair Brands, LP, Wigwam Mills Inc., Encapsys, Mouser Electronics, Incorporated, Baltes Schuhtechnik und Arbeitsschutzprodukte GmbH, Timberland LLC, SURVIVAL-ONE LTD, Gbb, Waxman Fibres Ltd., Jockey International Inc., Tegrant Corporation, Numonyx Inc., Bekaert Textiles Nv, Intel Corporation, Advansa B.V., Ovonyx Inc, XJTAG and AIXTRON SE     . Submarkets of this market are Inorganic Advanced Phase Change Materials, Organic Advanced Phase Change Materials and Bio-based Advanced Phase Change Materials.

Key Questions Answered
What are market estimates and forecasts; which of Advanced Phase Change Materials markets are doing well and which are not?
What is the competitive landscape; How companies like SGL ROTEC GMBH & CO. KG, Rubitherm Technologies GMBH and Ewald Dörken AG doing in Advanced Phase Change Materials?

What makes our report unique?

This reports provides most granular segmentation on Inorganic Advanced Phase Change Materials, Organic Advanced Phase Change Materials and Bio-based Advanced Phase Change Materials.
It will provide you market insights into HVAC System, Supply chain, Textiles Manufacturing and Energy Storage Systems.
This report provides market sizing and forecast for the Advanced Phase Change Materials market. It also provides market sizing and forecast along with the drivers/inhibitors/opportunity analysis for each of the micro markets.
The report provides deep dive competitive landscape covering the top players such as SGL ROTEC GMBH & CO. KG, Rubitherm Technologies GMBH, Ewald Dörken AG and Climator Sweden AB.
The reports provides benchmarking insight on the top players SGL ROTEC GMBH & CO. KG, Rubitherm Technologies GMBH, Ewald Dörken AG and Climator Sweden AB.
The report provide competitive intelligence on SGL ROTEC GMBH & CO. KG, Rubitherm Technologies GMBH, Ewald Dörken AG and Climator Sweden AB.
Many times, customers do not get specific intelligence they are looking for in multi-client syndicated studies. So we offer 10% customization which will ensure you get the desired market intelligence, may it be specific to HVAC System, Supply chain, Textiles Manufacturing and Energy Storage Systems applications or Advanced Phase Change Materials market in Europe, Americas, Asia-Pacific and Middle East and Africa.

Audience for this report

Global Advanced Phase Change Materials companies
Manufacturing Companies
Traders, distributors, and suppliers
Governmental and research organizations
Associations and industry bodies
Technology providers

Top developments

Pacific Coast Feather Company and ADVANSA jointly developd Suprelle® Extralife
the new website from TROX,
DVANSA and Standard Fiber Announced Partnership
Cryopak, USA appoints Vacker Group, UAE as distributor to expand
Datum Phase Change Ltd announced the signing of distribution agreements
SGL Carbon SE launched Euro denominated Senior Secured Notes offering and enters into new Credit Facility
Outlast Technologies, market leader for temperature regulating phase change materials (PCMs), enhanced its product range
Sonoco ThermoSafe started a Production and Distribution Site
Coors Light acquired Outlast Technologies,
onoco launched ThermoSafe launched Aeris™ Series of Pre-Qualified Shippers




1 Introduction
1.1 Analyst Insights
1.2 Market Definitions
1.3 Market Segmentation & Aspects Covered
1.4 Research Methodology
2 Executive Summary
3 Market Overview
4 By Submarkets
4.1 Inorganic Advanced Phase Change Materials
4.2 Organic Advanced Phase Change Materials
4.3 Bio-based Advanced Phase Change Materials
5 By Applications
5.1 HVAC System
5.2 Supply chain
5.3 Textiles Manufacturing
5.4 Energy Storage Systems
5.5 Phase change memory
5.6 Refrigeration
5.7 Building & Construction
6 By Ingredients
6.1 Fatty acids
6.2 Plants
6.3 Animal Fat
6.4 Sodium Salts
6.5 Ingredients (Others)
7 By Geographies
7.1 Europe
7.2 Americas
7.3 Asia-Pacific
7.4 Middle East and Africa
8 By Companies
8.1 SGL ROTEC GMBH & CO. KG
8.2 Rubitherm Technologies GMBH
8.3 Ewald Dörken AG
8.4 Climator Sweden AB
8.5 SALCA BV
8.6 Phase Change Material Products Limited
8.7 Cryopak Inc.
8.8 PCM Energy P. Ltd
8.9 Pluss Polymers Pvt. Ltd
8.10 Rgees LLC
8.11 BASF SE
8.12 Outlast Technologies LIC
8.13 Emco Klimatechnik Gmbh & Co. KG
8.14 Phase Change Energy Solutions Inc.
8.15 Entropy Solutions Inc.
8.16 Datum Phase Change Ltd
8.17 E.I. DU Pont DE Nemours
8.18 Honeywell Business Segments
8.19 Sonoco Products Co.
8.20 MICRON TECHNOLOGY INC
8.21 The Bergquist Company
8.22 Laird PLC
8.23 Samsung Electronics
8.24 Honeywell Electronic Materials Inc.
8.25 National Gypsum Company
8.26 TROX GmbH
8.27 CIAT group
8.28 Magellan's
8.29 Triumph Group Inc
8.30 Yamaha
8.31 Vanity Fair Brands, LP
8.32 Wigwam Mills Inc.
8.33 Encapsys
8.34 Mouser Electronics, Incorporated
8.35 Baltes Schuhtechnik und Arbeitsschutzprodukte GmbH
8.36 Timberland LLC
8.37 SURVIVAL-ONE LTD
8.38 Gbb
8.39 Waxman Fibres Ltd.
8.40 Jockey International Inc.
8.41 Tegrant Corporation
8.42 Numonyx Inc.
8.43 Bekaert Textiles Nv
8.44 Intel Corporation
8.45 Advansa B.V.
8.46 Ovonyx Inc
8.47 XJTAG
8.48 AIXTRON SE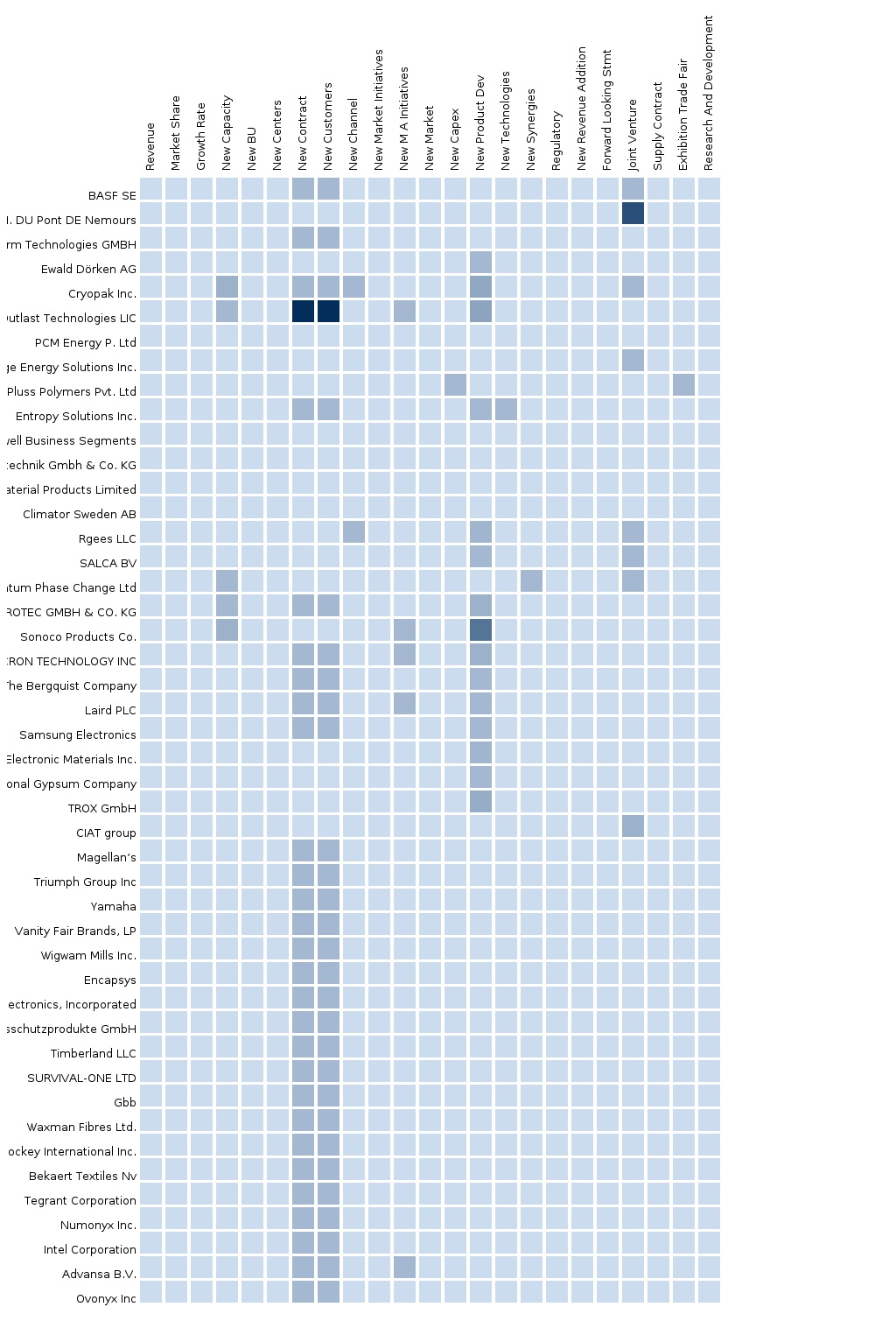 Please fill in the form below to receive a free copy of the Summary of this Report
Custom Market Research Services
We will customize the research for you, in case the report listed above does not meet with your exact requirements. Our custom research will comprehensively cover the business information you require to help you arrive at strategic and profitable business decisions.
Please visit
http://www.micromarketmonitor.com/custom-research-services.html
to specify your custom Research Requirement
19 of 19 items
19 reports | Show
Advanced Phase Change Materials