Predictive analytics is the practice of extracting information from existing data sets in order to determine patterns and predict future outcomes and trends. Predictive analytics support organizations to predict future events so that they can plan and carry out strategies that improve the decision-making process.
The United States predictive analytics market is expected to grow from $543.1 million in 2014 to $1,549.5 million in 2019 at an estimated CAGR of 23.3% during the forecast period. The use of new technologies is one of the driving factor drivers of this market.
United States has the largest market share in the predictive analytics market and is expected to boom in the near future. In today's dynamic world, we are seeing developments such as increasing usage of computing technology, mobile devices, social media, broadband network, and analytics technology. New tools that support the software and automation for predictive analytics include statistical analysis, text, and data mining tools.
The U.S. predictive analytics market report provides a competitive benchmarking of leading players in the industry such as SAS, IBM, SAP, Tibco, Oracle, and others in terms of their product offerings, key strategies, and operational parameters. The report provides market trends, overall adoption scenarios, competitive landscape, and key drivers, restraints, and opportunities in this market. It aims to estimate the current size and the future growth potential of this market across the different applications, verticals, and regions.
Report Options
The report has been segmented as follows:
By Application: Customer Profitability, Workforce Management, Internal Fraud, Corporate Fraud, Credit Risk Management, and Others
By Vertical: BFSI, Healthcare, Insurance, Government, Consumer Goods and Retail, Transportation and Logistics, Manufacturing, and Others
Customization Options
With the MMM assessment, we will best meet your company's specific customization requirements. The following customization options provide an insight into comprehensive industry standards and a deep-dive analysis:
Solutions Matrix
Comprehensive analysis and benchmarking of applications and solutions in the predictive analytics market
Comprehensive analysis of software offered by vendors such as SAS enterprise miner, IBM SPSS Modeler, Angoss predictive analytics, MATLAB, and others
Competitive Benchmarking
Value-chain evaluation using events, developments, and market data for vendors in the market ecosystem across various industrial verticals, market segmentation and categorization
Identification of hidden opportunities by connecting related markets using cascaded value-chain analysis; for example, validation of the growth in the predictive analytics market due to corresponding growth in the big data market
Vendor Landscaping
Vendor market watch and predictions, vendor market shares and offerings, categorization of adoption trends, and market dominance (leaders, challengers, followers, nichers)
R&D Watch
Market movement tracking in R&D space; for instance, algorithm optimization firms, statistical analysis firms, deep learning firms, academic institutions (tier-1 firms and major emphasis on tier-2/3 firms)
Client Tracker
Listing and analysis of deals, case studies, R&D investments, events, discussion forums, alliances, and partners of tier-1 and tier-2/3 vendors for the last 3 years
Analysis of events such as new product developments, mergers and acquisitions, and others for the last two years as well as the current year
Vertical Analysis
Analysis of different industrial verticals by technologies and solutions
Industry verticals: Defense, Healthcare, BFSI, Retail, Manufacturing, Education, Security, Logistics, IT and Telecom, and others
Market Data Tracker
Regional and country-specific market forecast and analysis
Identification of key end-user segments by country
Channel Analysis
Channel/distribution partners/alliances for tier-1 vendors
Application-specific products being built towards the customer end of value chain
1 Introduction
1.1 Objective of the study
1.2 Market Definitions
1.3 Market Segmentation & Aspects Covered
1.4 Research Methodology
1.4.1 Assumptions (Market Size, Forecast, etc)

2 Executive Summary
3 Market Overview
4 Predictive Analytics-U.S., By Companies
4.1 Competitive landscape
4.2 Predictive Analytics-Actuate-U.S.
4.3 Predictive Analytics-General Electric-U.S.
4.4 Predictive Analytics-Hewlett-Packard-U.S.
4.5 Predictive Analytics-International Business Machines Corporation (IBM)-U.S.
4.6 Predictive Analytics-Oracle Corporation-U.S.
4.7 Predictive Analytics-Pervasive-U.S.
4.8 Predictive Analytics-SAP-U.S.
4.9 Predictive Analytics-Teradata-U.S.
4.10 Predictive Analytics-TIBCO SOFTWARE INC.-U.S.
4.11 Predictive Analytics-SAS-U.S.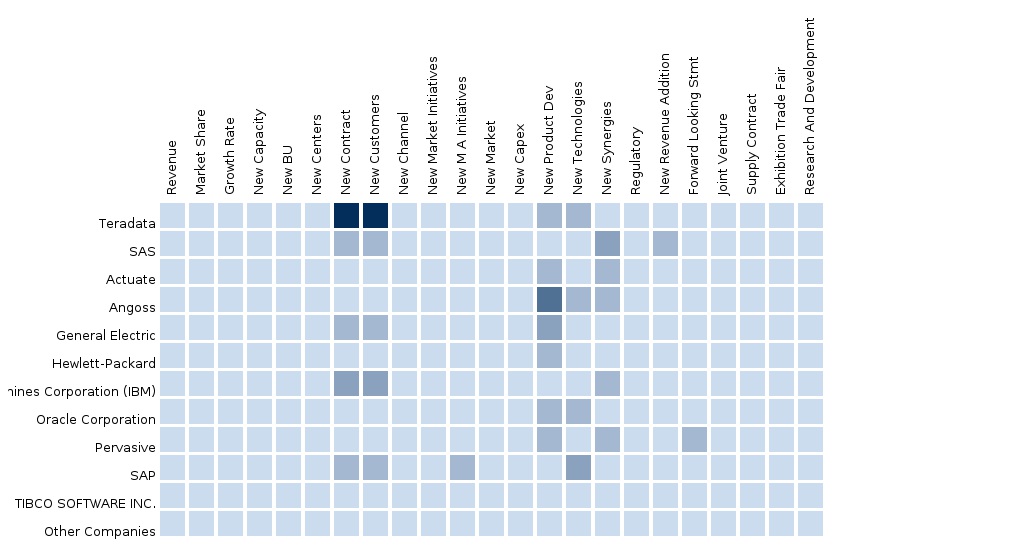 Please fill in the form below to receive a free copy of the Summary of this Report
Custom Market Research Services
We will customize the research for you, in case the report listed above does not meet with your exact requirements. Our custom research will comprehensively cover the business information you require to help you arrive at strategic and profitable business decisions.
Please visit
http://www.micromarketmonitor.com/custom-research-services.html
to specify your custom Research Requirement
U.S. Predictive Analytics