The United States cloud analytics market is expected to grow from $2,715.3 million in 2014 to $7,962.9 million by 2019, at a CAGR of 24% during the forecast period. The easy installation in organizations is one of the major driving factors for the United States cloud analytics market.
Cloud analytics is mainly a cloud-enabled solution that allows an organization or individual to perform business analysis or intelligence procedures. These solutions and services are delivered through cloud models, such as hosted data warehouses, SaaS business intelligence (BI), and social media analytic products powered by the cloud. Cloud analytics services work similar to a typical data analytics service, providing similar features and capabilities. The only difference is that cloud analytics integrates some or all of the service models of cloud computing in delivering that solution.
The United States cloud analytics market shares the highest percentage of the overall market in the North American region and is expected to continue growing at a similar pace in the coming years. The quick deployment of cloud analytics and its cost advantage is driving the U.S. market. On-demand business analytics reduces the cost of business intelligence, that is, reduction of upfront cost and total ownership cost of the analytics system. Cloud analytics systems help utilize financial resources effectively, because it decreases the overall capital expenditure (CAPEX) and operating expenditure (OPEX) for purchasing servers and necessity equipment to support analytics.
The market report further provides a competitive landscaping of the leading players in the industry such as SAS, SAP, Oracle, IBM, and Salesforce in terms of their product offerings, key strategies, and operational parameters. The market report provides market trends, overall adoption scenarios, competitive landscape, and key drivers, restraints, and opportunities in this market. The report also aims in estimating the current size and the future growth potential of this market across different applications, verticals, and regions.

Report Options
We have the following market segmentation in the cloud analytics market report:
By Solutions

Cloud business intelligence tools, hosted data warehouse solutions, complex event processing, and analytics solutions
By Organization Size

Small business, medium business, and large enterprises

By Delivery Models

Public cloud, private cloud, hybrid cloud, and community cloud

By Verticals

BFSI, healthcare and life science, consumer goods and retail, and hospitality, telecommunications, and government
Customization Options
Along with the MMM assessment, customize the report in alignment with your company's specific needs. Customize to obtain a comprehensive summary of the industry standards and a deep dive analysis of the following parameters:
Solutions and Segments Matrix
A comprehensive analysis and benchmarking solutions such as enterprise performance and information management, and risk & compliance management

A comprehensive analysis of cloud analytics segments such as data integration tools, reporting and online analytical processing (OLAP) tools, and customer relationship management (CRM) software
Competitive Benchmarking
Value-chain evaluation using events, developments, market data for vendors in the market ecosystem, across various industrial verticals, market segmentation, and categorization

To discover hidden opportunities by connecting related markets using cascaded value chain analysis
Vendor Landscaping
Vendor market watch and predictions, vendor market shares and offerings, categorization of adoption trends, and market dominance (leaders, challengers, and followers)
R&D Watch
To track market movements in the R&D space. For instance, algorithm optimization firms, statistical analysis firms, deep learning firms, and academic institutions (tier-1 firms and major emphasis on tier-2/3 firms)
Client Tracker
The listing and analysis of deals, case studies, R&D investments, events, discussion forums, alliances and partners of tier-1 and tier-2/3 vendors for the last 3 years
Vertical Analysis
An analysis of different industrial verticals, by technologies and solutions

Industry verticals: healthcare, BFSI, retail, manufacturing, hospitality, and telecommunication
Market Data Tracker
The regional and country-specific market forecast and analysis

The identification of the key end-user segments, by country
1. Introduction
1.1. Objectives of the Study
1.2. Market Segmentation & Coverage
1.3. Stakeholders
2. Research Methodology
2.1. Integrated Ecosystem of Cloud Analytics Market
2.2. Arriving At the U.S. Cloud Analytics Market Size
2.2.1. Top-Down Approach
2.2.2. Bottom-Up Approach
2.2.3. Macroindicator-Based Approach
2.3. Assumptions
3. Executive Summary
4. Market Overview of U.S. Cloud Analytics
4.1. Introduction
4.2. U.S. Cloud Analytics Market: Comparison with Parent Market
4.3. Market Drivers and Restraints
4.4. Key Market Dynamics
4.5. Demand Side Analysis
5. U.S. Cloud Analytics: Market Size and Forecasts, by Device
(Overview, Market Size & Forecast)
5.1. Introduction
5.2. Cloud BI Tools
5.3. Hosted Data Warehouse Solutions
5.4. Enterprise Performance Management
5.5. Enterprise Information Management
5.6. Governance, Risk and Compliance
5.7. Analytics Solutions
5.7.1. Predictive Analytics
5.7.2. Spatial Analytics
5.7.3. Video Analytics
5.7.4. Text Analytics
5.7.5. Speech Analytics
5.7.6. Web Analytics
5.7.7. Machine Analytics
6. U.S. Cloud Analytics: Market Size and Forecasts, by Solutions
6.1. Introduction
6.2. Mobile Device Management (MDM)
6.3. Mobile Application Management (MAM)
6.4. Mobile Email Management (MEM)
7. U.S. Cloud Analytics: Market Size and Forecasts, by Verticals
7.1. Introduction
7.2. Banking, Financial Services, and Insurance
7.3. Consumer Goods & Retail
7.4. Telecommunications
7.5. Government
7.6. Business & Consulting Services
7.7. Manufacturing
8. U.S. Cloud Analytics: Competitive Landscape
8.1. Introduction
8.2. Company Presence in U.S. Cloud Analytics Market
8.3. Mergers and Acquisitions
8.4. New Product Development
8.5. Joint Ventures
9. Company Profiles
(Overview, Products & Services, Key Financial, Recent Developments, MMM View)
9.1. Oracle
9.2. IBM
9.3. SAP
9.4. SAS
9.5. Teradata
9.6. Microsoft
9.7. Tableau Software
9.8. Tibco
9.9. Microstrategy
9.10.Cisco Systems
10. Appendix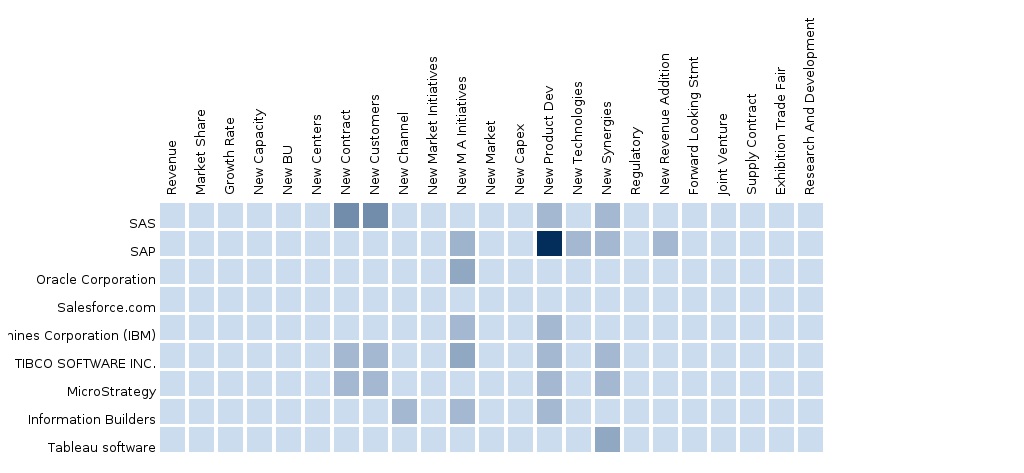 Please fill in the form below to receive a free copy of the Summary of this Report
Custom Market Research Services
We will customize the research for you, in case the report listed above does not meet with your exact requirements. Our custom research will comprehensively cover the business information you require to help you arrive at strategic and profitable business decisions.
Please visit
http://www.micromarketmonitor.com/custom-research-services.html
to specify your custom Research Requirement