South America Lubricant Market, By Type (Mineral Oil Lubricants, Synthetic Lubricants, Bio-Based Lubricants, and Greases), By Application (Transportation and Industrial Machinery & Equipment), and By Country (Brazil, Argentina, Chile, Colombia, and Rest of South America) – Global Forecast to 2021
The South America lubricant market is estimated to be USD 10.7 Billion in 2016 and is projected to reach USD 12.2 Billion by 2021, at a CAGR of 2.6% from 2016 to 2021.
This research report categorizes the South America lubricant market on the basis of type, application and country along with forecasting area, value, and analyzing trends in each of the sub-markets. Rapid expansion of the Transportation, and intensive growth of industrialization are driving the overall demand for lubricants. The base year used for study is 2015 and the forecast period is 2016 to 2021.
Research Methodology
This research study involves data from both secondary and primary sources. Secondary sources include directories, and data bases, such as Factiva, Bloomberg, BusinessWeek, and Hoovers are used to collect and identify the information for this technical, market oriented, and commercial study of lubricant market. To validate the critical information collected from the secondary sources primary interviews were conducted. The breakdown of primaries conducted in shown in the figure below.
"To know about assumptions considered for this research report, download pdf brochure".
Market Ecosystem:
The ecosystem for South America lubricant markert consists of key suppliers, including Lubricant and base oil manufacturers. These are important participants in the ecosystem of lubricant markets as they play crucial role in the entire value chain. Various companies, in Lubricant market include Royal Dutch Shell PLC (Netherlands), Exxonmobil Corporation(U.S.), BP PLC (U.K.), Chevron Corporation (U.S.), Total S.A. (France), Petróleo Brasileiro S.A. (Brazil), Shamrock (U.S.), Petronas (Malaysia), and Halliburton (U.S.). Further the products manufactured by these companies are used in automobile and industrial machinery & equipment related companies such as Renault (France), Nissan (Japan), Toyota (Japan), General Motors (U.S.), Hundai (South Korea), and others.
Target audience: Lubricants manufacturers & Distributors, Automobile manufacturers.
Regional manufacturers' associations and general lubricants associations
Automotive manufacturers
Government and regional agencies and research organizations
Scope of the report:
Each segment is described in detail in the report with volume and revenue forecasts.
By Type:
Mineral Oil Lubricants
Synthetic Lubricants
Bio-Based Lubricants
Greases
By Application
Transportation
Industrial Machinery & Equipment
By Region
Brazil
Argentina
Chile
Colombia
Rest of South America
1 Introduction
1.1. Objectives Of The Study
1.2. Market Definition
1.3. Market Scope
1.3.1. Years Considered For The Report
1.4. Currency
1.5. Limitations
1.6. Stakeholders
2 Research Methodology
2.1. Research Data
2.1.1. Secondary Data
2.1.1.1. Key Data From Secondary Sources
2.1.2. Primary Data
2.1.2.1. Key Data From Primary Sources
2.1.2.2. Key Industry Insights
2.1.2.3. Breakdown Of Primaries
2.2. Market Size Estimation
2.2.1. Bottom-Up Approach
2.2.2. Top-Down Approach
2.3. Market Breakdown And Data Triangulation
2.4. Research Assumptions
3 Executive Summary
4 Premium Insights
4.1. Significant Opportunities For The Lubricants Market
4.2. South America Lubricants Market, By Application And Country
4.3. South America Lubricants Market Attractiveness
4.4. South America Lubricants Market, By Type, 2016 Vs 2021
4.5. South America Lubricants Market Share, By Application And By Country, 2015
4.6. Life Cycle Analysis, By Country
5 Market Overview
5.1. Introduction
5.2. Market Segmentation
5.2.1. South America Lubricants, By Type
5.2.2. South America Lubricants, By Application
5.3. Market Dynamics
5.3.1. Drivers
5.3.2. Restraints
5.3.3. Opportunities
6 Industry Trends
6.1. Introduction
6.2. Value-Chain Analysis
6.3. Porter's Five Forces Analysis
6.3.1. Threat Of New Entrants
6.3.2. Threat Of Substitutes
6.3.3. Bargaining Power Of Suppliers
6.3.4. Bargaining Power Of Buyers
6.3.5. Intensity Of Competitive Rivalry
7 Lubricants Market, By Type
7.1. Introduction
7.2. Market Size Estimation
7.3. Mineral Oil Lubricants
7.4. Synthetic Lubricants
7.5. Bio-Based Lubricants
7.6. Greases
8 Lubricants Market, By Application
8.1. Introduction
8.2. Market Size And Projection
8.3. Transportation
8.4. Industrial Machinery & Equipment
9 South America Lubricants Market, By Country
9.1. Introduction
9.2. Brazil
9.3. Argentina
9.4. Chile
9.5. Colombia
9.6. Rest Of South America
10 Competitive Landscape
10.1. Overview
10.2. Ranking Of Key Market Players
10.3. Strategic Benchmarking
10.3.1. Expansions
10.4. Competitive Situation And Trends
10.4.1. Expansions
10.4.2. Contracts & Agreements
10.4.3. New Product Lauches
10.4.4. Acquisitions
10.4.5. Joint Ventures
10.4.6. Divestments
10.4.7. Partnerships & Collaborations
11 Company Profiles
11.1. Introduction
11.2. Royal Dutch Shell Plc.
11.3. Exxonmobil Corporation
11.4. Bp Plc.
11.5. Chevron Corporation
11.6. Total S.A.
11.7. Petróleo Brasileiro S.A.
11.8. Shamrock
11.9. Petronas
11.10. Halliburton
12 Appendix
12.1. Insights From Industry Experts
12.2. Recent Developments
12.2.1. Expansions, 2012-2013
12.2.2. Contracts & Agreements, 2012-2013
12.2.3. New Product Launches, 2012-2013
12.2.4. Acquisitions, 2012-2013
12.2.5. Joint Ventures, 2012-2013
12.3. Discussion Guide
12.4. Introducing Rt: Real Time Market Intelligence
12.5. Available Customizations
12.6. Related Report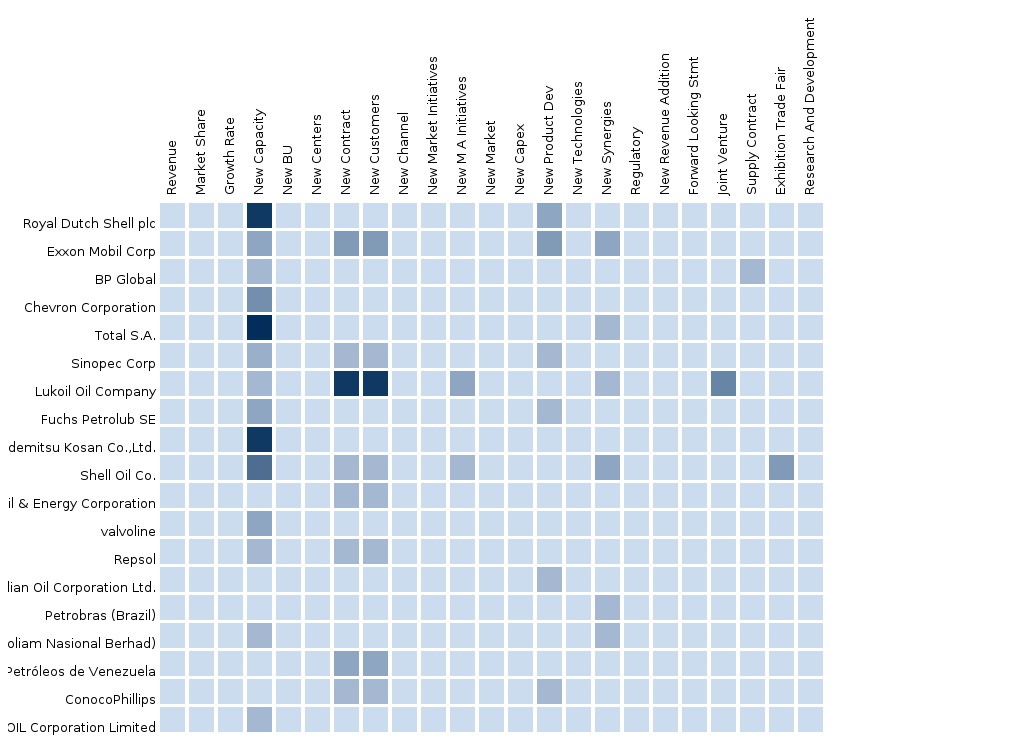 Please fill in the form below to receive a free copy of the Summary of this Report
Custom Market Research Services
We will customize the research for you, in case the report listed above does not meet with your exact requirements. Our custom research will comprehensively cover the business information you require to help you arrive at strategic and profitable business decisions.
Please visit
http://www.micromarketmonitor.com/custom-research-services.html
to specify your custom Research Requirement